POV Holder:
Donny
Next POV
July 19th
POV Used
?
POV Ceremony
July 14th
HOH Winner 1:
 Nicole
HOH Winner 2:
 Derrick
Battle of the Block Winner
Donny/Amber
Next HOH/ Next BOB
July 17/July 18
Original Nominations:
Derrick's Noms (Caleb & Jocasta) Nicole's Noms (Donny & Amber)
Final Nominations:
Have Nots
Caleb, Amber, Devin, Hayden
POV Players
Derrick, Jocasta, Caleb, Christine, Devin, Donny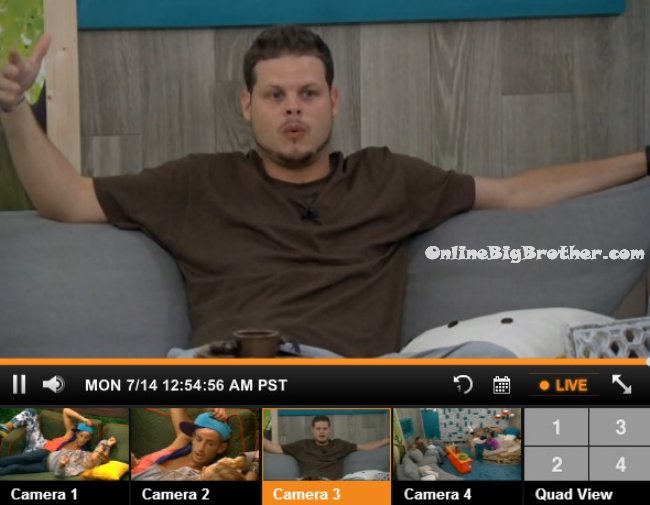 1am – 1:35am Up in the HOH room – Derrick, Amber and Brittany are talking. Derrick says if I could have worked with Devin I would keep him here. Brittany says yeah because he lies about everything. Derrick says I am sure that when it gets closer to Thursday I'm sure there will be a lie about Caleb like saying he is working with a large group in the house. Derrick says I think tomorrow will see when Devin goes on the block. Then you guys can decide and vote him out. You'll see when Devin is gone the rumor mill will be cut in haf. Derrick says the Donny will use the veto on Jocasta because it would be stupid to leave your friend on the block. Cody joins them. Derrick tells him that apparently I might not put Devin on the block. Cody says who said that. Derrick says Deivn. The lies are going to be cut in half when he leaves. Jocasta joins them to pray. They talk about how Devin twisted Amber saying that Devin was her type. Amber says I just want to yell it at the house – I do not have the hots for Devin!! Amber says I have the hots more for Cody than I do for Devin! Jocasta says oh you have the hots for CODY! Amber says as my friend! They start praying.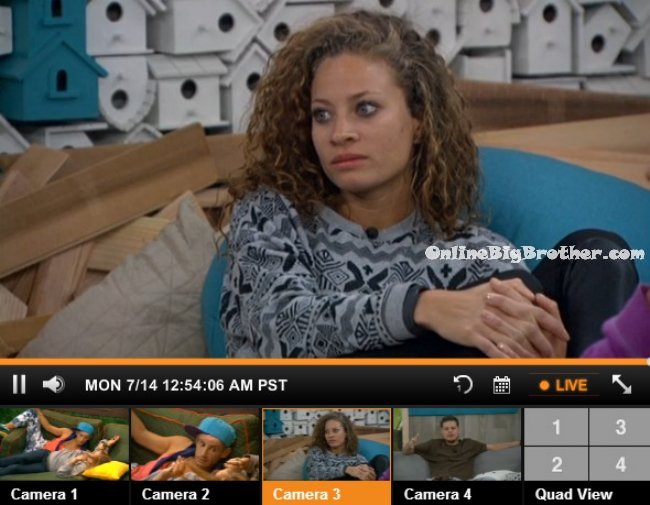 1:25am Out in the backyard – Nicole is laying out with Hayden by the hot tub. They move over to the couch to join Christine, Victoria and Frankie on the couch. They talk about Frankie's religious bracelet. Frankie then joins Caleb on the hammock. Caleb says I really want to know what they're (Amber, Brittany, Derrick) talking about. She has never been so secretive about something. Frankie says that people have been putting a lot of bullsh*t in her head. People have been telling her not to trust me. Frankie asks why, what have I done to me you not trust me? Caleb says the only thing is that you talk to everyone. The only people I fully trust are you, Amber and Derrick. Frankie says exactly. Caleb says Derrick will tell me what they talked about. Frankie says I can't be her babysitter to stop her from talking to them. Caleb says I think they went up to the HOH room to discuss Devin. Frankie says that Brittany and Amber are convinced they're the targets next week. Caleb says I don't know why they feel that. Derrick joins them.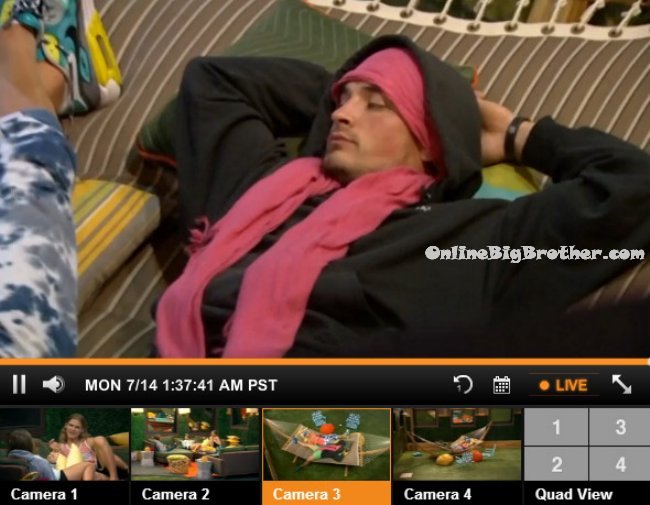 Derrick tells them what Amber/Brittany came up to talk to me about how they heard Donny might not use the veto on Jocasta and that I might not put up Devin. They did exactly what I want anyone to do if they hear something.. to come directly to me and ask me. Derrick says Donny is using the veto on Jocasta and I am putting Devin up. Caleb says I want to sit next to Devin to watch him walk out the door. Caleb tells Derrick now would be a good time to talk to Amber. Derrick goes inside to tell Amber that Caleb wants to talk to him. Derrick comes back out and says its too suspicious me telling her to talk to you right after I talked to them.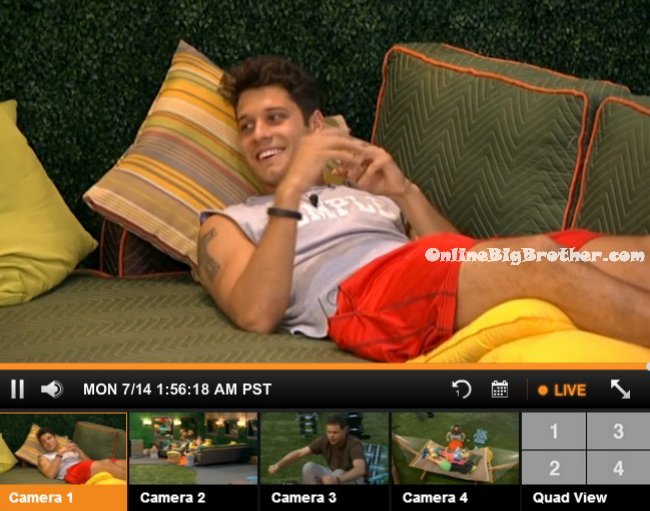 2am Over on the backyard couch – Cody, Christine, Victoria, Amber, Hayden and Nicole are chatting about random things. Hayden says I had a dream that Donny was a serial killer. Cody asks did you tell him. Hayden says nope! It was scary, not going to tell him. Amber and Cody head inside. Hayden and Nicole argue about their differing views on movies and music. Derrick says I can fix this, I'm a professional at this. Let me show you how it goes. Derrick grabs Nicole's hand and says babe, you know I am stupid. You're smart. I'm ugly, You're beautiful. And some times I say some stupid things and I'm sorry. Lets go get you a new purse. Hayden then tries and says he regrets nothing. Everything I said was the truth. Derrick tells that that someone with the name that starts with "D" and its not me .. is going around telling lies. I am putting him up on the block. There is no doubt. period! Derrick heads inside and looks at the camera and says BYE! BYE DEVIN!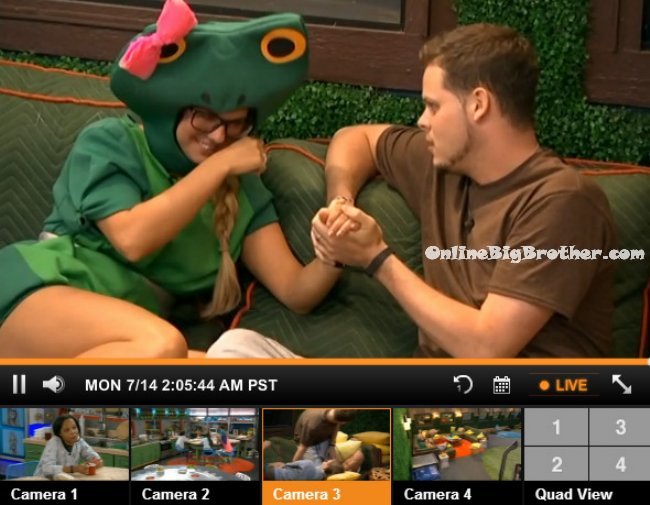 2:25am Derrick and Cody start a game of pool. Cody comments on how he thinks Amber is stressing like crazy. Derrick says it's the down time. There's a reason there is so much down time. Cody says its driving me crazy. Cody comments on how I don't get how Zach sleeps ALL DAY! Like all day! Frankie comes out and talks to Cody about how his bracelet broke and BB won't give him another one. He and Cody hold hands. Frankie talks about missing his sister Ariana, his mom, and his aunt.
Watch the ENTIRE SEASON of Big Brother 16 for ONLY $26.99 – TRY it For FREE for 2 Days!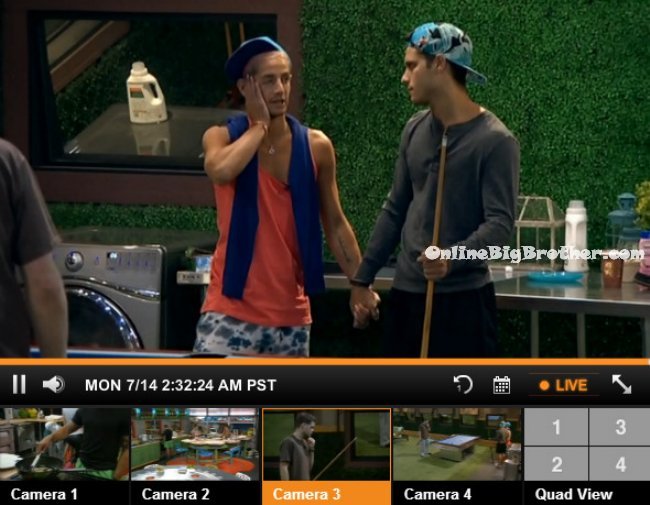 2:45am – 3:30am Frankie heads into the fire room and Jocasta helps talk to his bracelet. Amber joins them and rubs Frankie's back. Frankie says that he feels used and abused. No one understands me. I miss my sister and my family. Amber and Jocasta hold arms around Frankie as he reads a verse from the bible. Victoria joins them. Then Cody and Christine. They all curl up in one bed.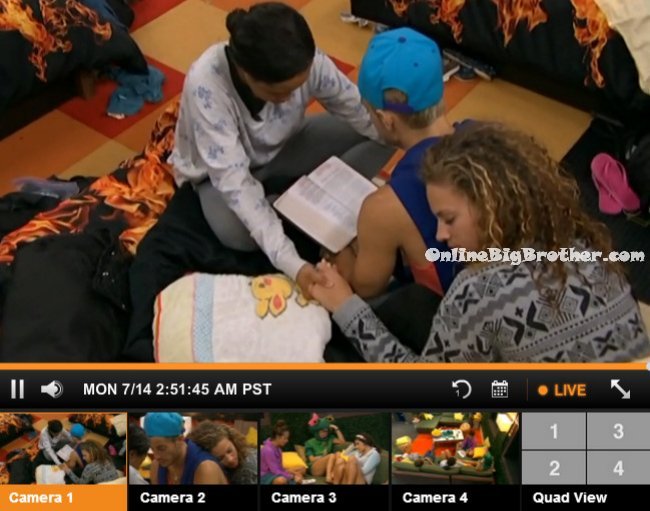 3:10am – 3:30am In the kitchen – Cody, Nicole, Victoria, Derrick and Amber are chatting and eating. Victoria heads to bed. Cody comes over and hugs and kisses Nicole on the cheek. Zach wakes up and joins them. Brittany tells him to go to the bathroom and go back to bed .. nothing is happening right now. Hayden comments on how he loves this game and has studied it. I've watched 5 and a half seasons and watched 2 of them twice.