POV Holder:
Frankie
Next POV
Sept 6th
POV Used
No
POV Ceremony
Sept 7th
HOH Winner
Frankie
Next HOH
Sept 10th
Nominations:
Cody and Victoria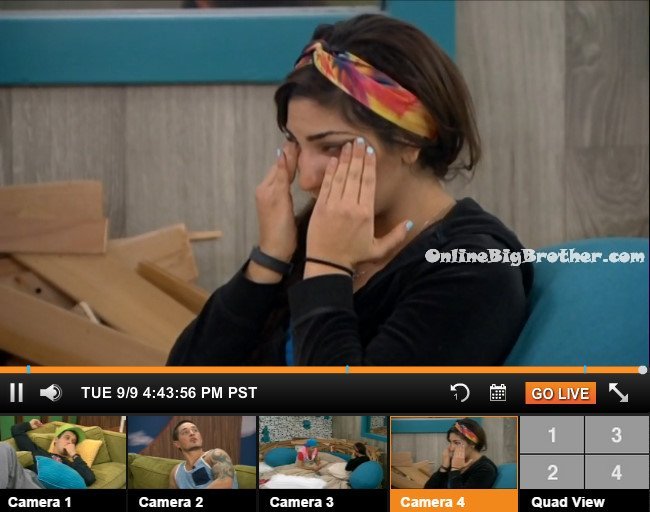 BB16 Live Feeds TWO Day FREE Trial – FLASHBACK to watch everything you've missed!
The following conversation is all part of Derricks plan
4:30pm – 5:10pm Up in the HOH room – Victoria comes up to talk to Frankie about her conversation with Derrick last night. Victoria says that she didn't sleep last night at all. So I am fine and I am going to try. I didn't even think I would have to campaign to Derrick. I thought just maybe if I campaigned to you or Caleb that maybe I could pull off some kind of miracle. And I talked to Derrick before to see what to say and .. I don't want to cry. Frankie says I'll hold your hand. When we had the blow out 3 or 4 weeks ago I felt like someone took out my heart and went like this.. and then I thought we mended things. But last night he said that he isn't voting for me at all and that he's been loyal to the guys. Even if I didn't convince one of you I didn't think my life would depend on him. Do you know what I mean? Frankie says I know what you mean. Victoria says if it was one on one and then you decide that was fine. But that fact that he isn't is hurtful. He just used me and then said peace out! Loyalty is huge with me. Now comes a time when I really need him.. he isn't there for me. I just feel really disgusted by him. I don't even want to talk to him. I know I am always happy go luck but literally cried all night. I am extremely hurt. Its like when someone cheats on you. Its like when Caleb stabbed you in the back. My life didn't have to be in his hands it could have been you choosing it. Frankie says I don't think what you're saying … he is cheating .. is what he's done. Victoria says he said that he would be loyal to me till the end and if I was ever on the block he was a vote for me… which isn't the case. I am disgusted by him. I can't stand him. I think he is very good with his words but I .. you know when you're done.. you're done. Its embarrassing. Frankie says when you get to a certain point in the game.. you have to. Victoria says if he had said he is with the boys from the beginning that would have been fine. Frankie says at this point in the game .. my personal relationships and game relationships have to be different. Victoria says exactly but when there is one person that you trust completely … I just feel so betrayed. I speak so highly of him and now he does this to me. Today he doesn't exist, I am just ignoring him.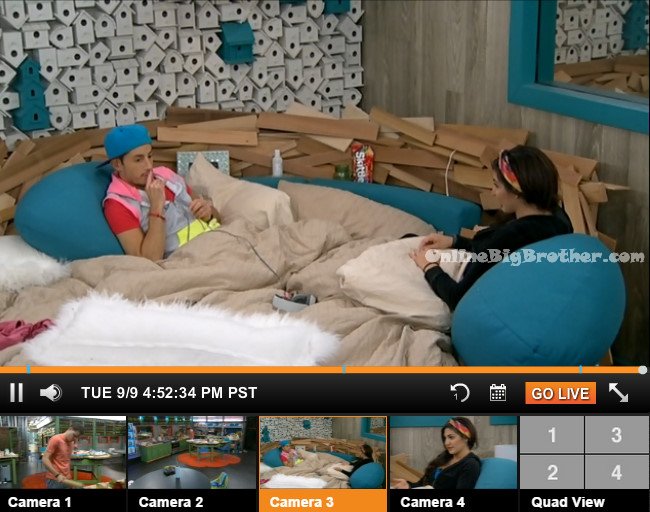 Frankie says I wanted you to walk out of here at peace with everyone. I don't know what you and Derrick talked about he doesn't tell me anything. Frankie says the 4 of us have fought tooth and nail to be in this place. Frankie says its basically like he had you till the final 5 .. that would have been better. Victoria says yes. Frankie says he told you because he didn't want you to be blind sided. Victoria says I am just so hurt by him. It's like Caleb choosing Cody over you at this point. Not final 2, not final 3 .. final 5. Frankie says I would be hurt. I think at this point he feels that he owes more to Cody than to you. Victoria says well fine if he wants to play dirty, then I'll play dirty! Frankie laughs and asks what do you mean? Victoria says you know what I mean. Frankie says you've been on the block 6 times and he's never voted against you. Victoria says twice.. I've taken myself off the other times. I don't want to be around him. I am done! Victoria says I would have preferred him being straight up with me. Or lie to me and vote me out. Frankie says but he is being straight up with you. Victoria says but from the beginning. Victoria says used you, abused you! DONE! Frankie says he has kept you safe twice now. Victoria says he put me on the block once… that should have been my first clue! Frankie says don't think this doesn't scare the sh*t out of me.. but at this point you have to win to save yourself. Victoria says let things be personal .. I cant even look at him.
See what they can't show you on TV! -Try the Big Brother 16 live feeds for FREE!
Meanwhile –
At 4:30pm All the house guests said goodbye to Izzy as she left the big brother house. In the bathroom – Derrick and Cody look at the bathroom stall door and read the signatures of past house guests. Cody reads the "Circle of Thrust" (Jeremy, Kaitlin and Aaryn BB15). Derrick heads into the kitchen and beats his meat with the rolling pin.
5:25pm – 6:45pm All the house guests are hanging out in the kitchen Chatting. In the bathroom – Frankie has a quick chat with Derrick to tell him about his conversation with Victoria. Frankie says that she just feels worse that it came from you. She feels really hurt. Derrick says I still feel good about it. Frankie says I had your back 100 billion percent. I left it very vague our pact. I told her when she goes home she will see that this was not a personal attack against her. I hope I lessened the hurt. Derrick says this isn't fixable in this house. Frankie agrees. They head back to the kitchen. All the house guests discuss the upcoming HOH. Caleb thinks they're going to offer something really good to jump off. Caleb says I don't think you will get to play in it Frankie unless the button let you do that. Derrick thinks its going to be a luxury competition. Caleb, Cody and Frankie head into the havenot room and push the button a few more times. The house guests speculate on what is going to happen as a result of pushing the button. They discuss whether or not everyone would have pushed the button if they hadn't done it all together. To day is the day of arguing about useless facts in the house. Now the topic is who is more famous Brett Eldredge or Jeff Schroeder.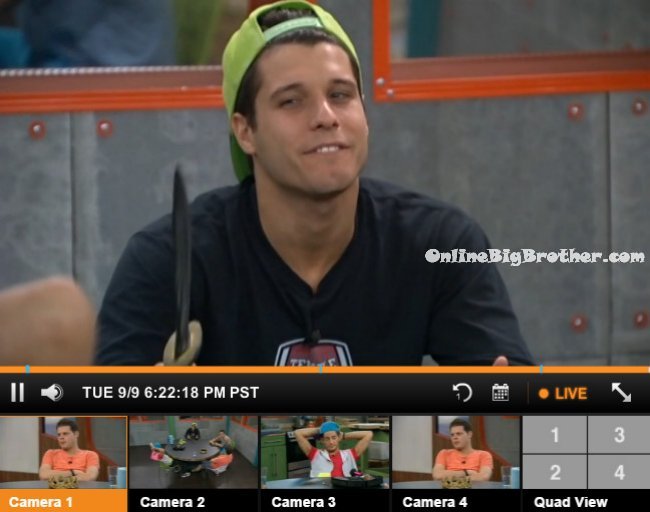 6:50pm Caleb and Frankie are now arguing over what is more expensive crocodile or python boots. Frankie says crocodile boat aren't that expensive. Python boots are way more expensive. I'm a fashionista I look at prices all the time. Derrick leaves and heads into the fire room complaining of having a headache. Caleb says if he wins first, second or even America's Favorite he will go get himself some new boots. One pair of Ostrich boots and 1 pair of crocodile boots. Frankie says so you're going to support the economy that's great. Frankie comments on how they calculated it and figure there are 1500 people watching the live feeds at any one time.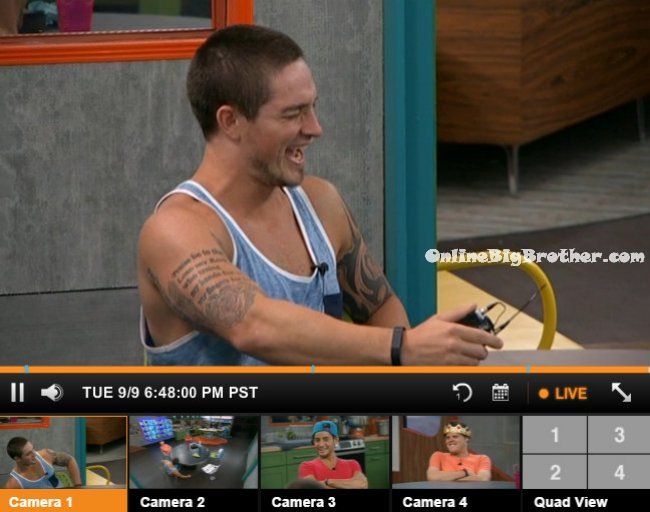 7:25pm In the fire room –
Derrick talks to Victoria about her conversation with Frankie. Derrick says its perfect that Frankie didn't tell me how much you were crushing me. That means he doesn't trust me. Derrick tells Victoria that she can tell them that Nicole told you to trust Celab. Victoria starts packing her suit case. Derrick heads back the the kitchen table and tells the others that he walked past Victoria and she told him not to talk to him and kept walking. Frankie, Caleb and Cody talk about twitter/instagram and how to gain followers. Caleb says he can't wait to get out. Maybe we'll have a new president. Cody says I want to shower up in the HOH. Caleb says I want to watch you. Cody looks at Caleb questioning what he just said. Caleb says that's what Frankie was thought. Cody says no those were your thoughts. Caleb says when he gets out he is going to get a soccer ball tattoo to remember Cody by and a pink flamingo to remember Frankie. I just ask that you guys get a tattoo of "Hurr'd dat!" Frankie and Cody both say we've never heard you say that. Derrick comes out of the storage room with 4 beer and a miniature bottle of wine. Caleb says I've said that ever everyday its my signature phrase. Frankie says your signature phrase is Channing Tatum's going to walk into this house! Caleb says I've said that once. Caleb says I don't know what a douche looks like but I'm going to get that for you (Cody). Derrick says you do say hurr'd dat but not very much. Things you say more are "At the end of the day" and "It's that simple." or "Check this out!".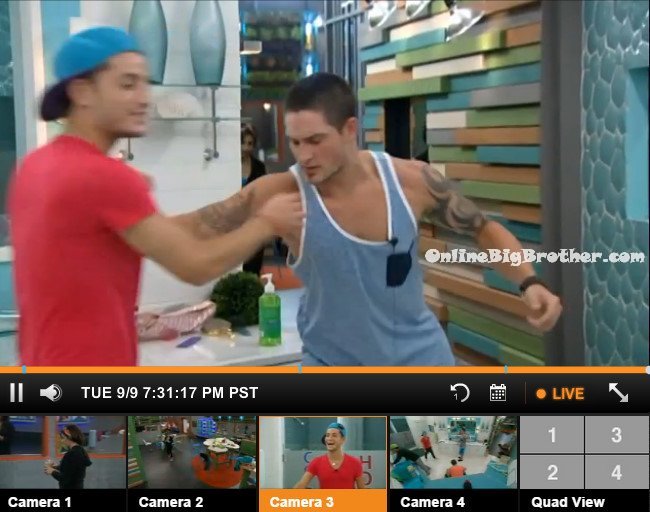 7:45pm Caleb and Frankie are dancing in the HOH bedroom. Cody is showering in the HOH shower. Victoria is showering in the common shower and Derrick's clipping his nails all over the floor of the bathroom.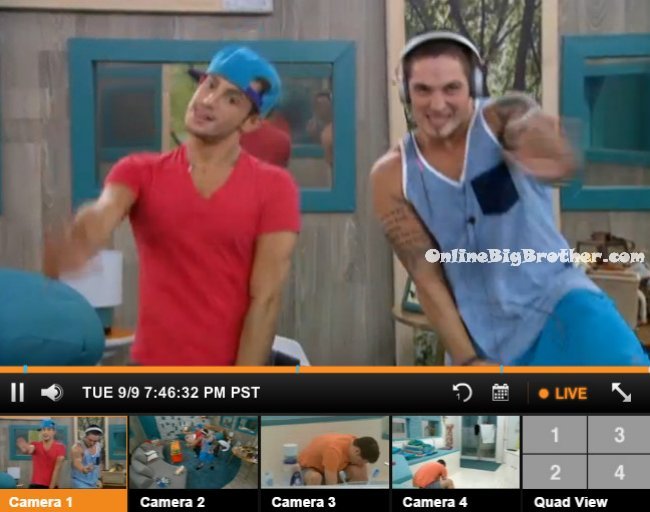 Beast mode and Frankie are 'Crushing it" in the HOH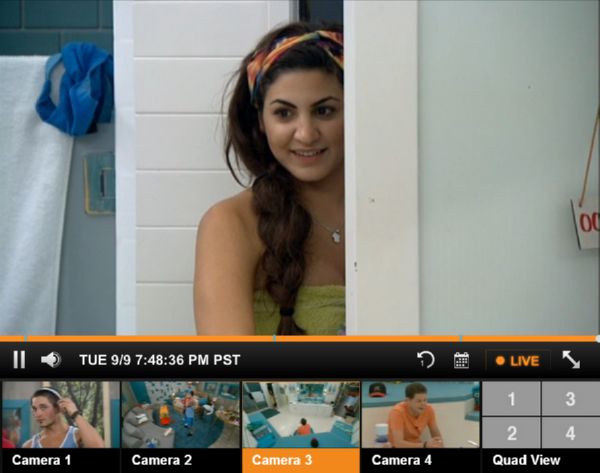 7:53pm Victoria tells Derrick she's going to be acting up how tipsy she is while talking to Frankie. She's going to really press how much the Jury hates Derrick.