POV Holder:
Frankie
Next POV
Sept 6th
POV Used
No
POV Ceremony
Sept 7th
HOH Winner
Frankie
Next HOH
Sept 10th
Nominations:
Cody and Victoria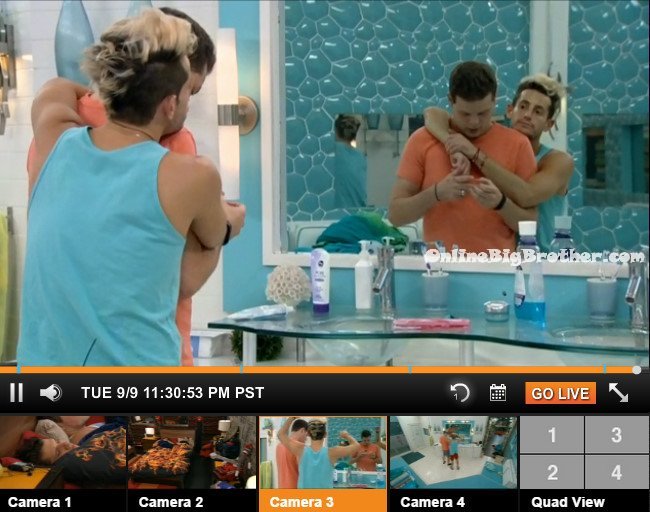 11:30pm Derrick and Frankie are in the bathroom talking. Derrick says he;s just thinking about how how its a big day this week. Frankie asks him if he wants to talk. Derrick says I'm just going over things. If I don't know it by now, I'm not going to know it. I'm thinking about the positives about why I'm here. Derrick says I need to win HOH. Frankie says and I'm counting on that. Derrick says Not only to get further but I've got to have it for the resume. Frankie says don't think I didn't think about that when I won this veto. Derrick says your resume is stacked! Frankie says you know what I'm saying.. did you need to win this? I don't understand that question. Like I don't understand that question especially when you don't see anyone else. You know what I'm saying .. its like yeah! What do you mean did I need to?! Big Brother calls Derrick to the diary room.
11:40pm In the kitchen – Victoria says Amber's going to be wanting him so bad! Frankie says no. Victoria says even if he wins the half a million? Frankie says no. Victoria says he's opened up a lot. I think she also sees he's getting a lot of publicity too now that she's home. Frankie says that's true. Frankie talks to Victoria and tells her we're so close to the finale! My god 10 days! Frankie says I don't know I just didn't think that was the right match. Victoria says I think he's a changed person. Frankie says I think he's a better person without her. Victoria says oh yeah well me too. That's what I'm saying. I think she'll realize what's the real Caleb and then be like what the f**k! Maybe, I think so. Frankie says I just don't think she was interested. Victoria says I just think she would be thinking F**k because he could have brought her to the end. And he's extremely loyal. If he says something he doesn't go back on it. He has like the army mind. Frankie says yeah, well anything is possible. Victoria says well no, not really she's gone. Frankie says no I mean anything is possible for the finale. Victoria says yeah. Frankie says if I win half a million I don't think I am going to trust anyone. Like oh my god you're so attractive. ..umm yeah thank you very much. Victoria agrees. Frankie heads to bed in the HOH room. Victoria lays in the bathroom and plucks.

One way to support this site that doesn't cost you anything extra is making your
Amazon purchases through the links Below
For in Canada use the following link:
Amazon.ca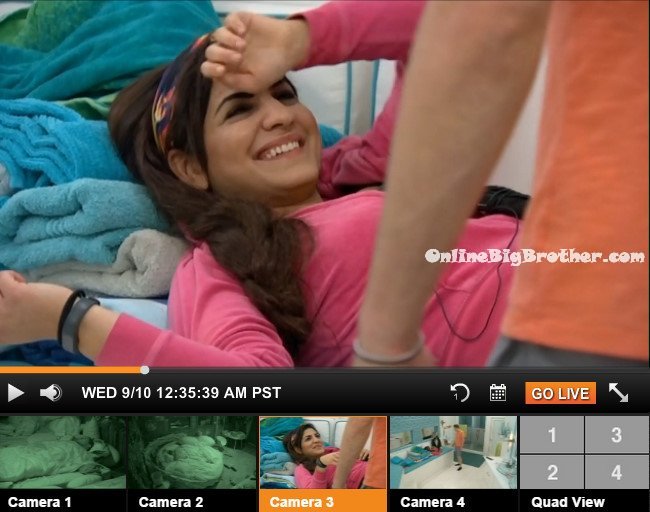 12:35am – 1:10am Derrick comes into the bathroom. Derrick tells Victoria to try to go to sleep. You don't know what's going to happen tomorrow. Victoria says I know. Derrick says like what if you have to compete in something. Victoria says oh my god. Wait I'm scared that they put our conversation in the episode .. about you, Tenley and Rocky. Derrick asks you're scared? Don't say it because I don't want to them to call us out. About how we had the conversation about Tenley being the only child. Derrick says yeah. Just talk about but don't talk about your DR's. Victoria says I was asking you if you had a choice between having your 3 dogs or another child. Derrick says oh that you might looks stupid!? Derrick says what if there's a competition and you're not sleeping? Victoria says its only f**king 12. Derrick shakes his head. Victoria asks him if they've asking him about them? Derrick says no but its better that way. Derrick asks do you think Caleb believes you ..don't be too obvious with it. Derrick says do you eye brows and go to be. What if tomorrow is a competition where you can stay in the game and you're dragging a$$. Victoria says okay. Derrick goes back to bed. Victoria stays up for another 35 minutes and then goes to bed.
See what they can't show you on TV! -Try the feeds for FRREE!
1:10am All the house guests are sleeping..
10am The house guests are still sleeping..
10:30am – 10:45am Big Brother blocks the live feeds to wake up the house guests. When the live feeds return – Victoria is awake in the bathroom. In the fire room – Caleb walks in and calls Cody and Derrick a bunch of froot loops. He tells them we need to be upstairs in 10 minutes.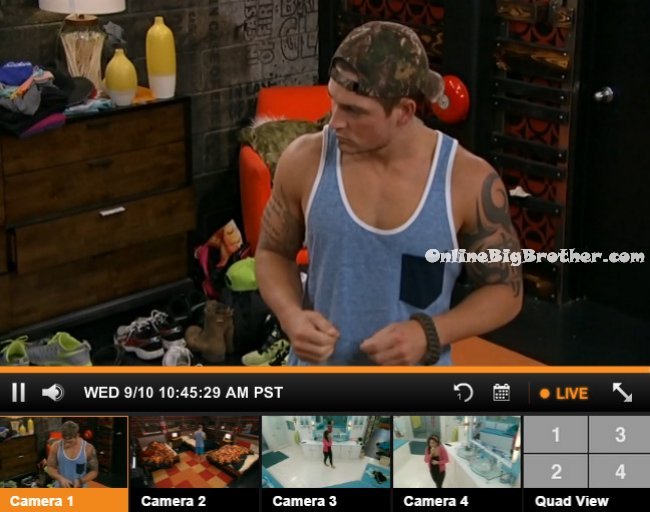 10:50am – 12pm Big Brother switches the live feeds to the live feed highlights with Jeff Schroeder.
12:55pm Still blocked..
If you're enjoying the live feed updates this season, please consider donating. Simon and I work 24/7 all season long to keep you updated on everything that happens inside the house. Any amount is greatly appreciated! Your donations go directly to paying the fees required to run this site.
[polldaddy poll=8285104]