POV Holder:
Frankie
Next POV
Sept 6th
POV Used
No
POV Ceremony
Sept 7th
HOH Winner
Frankie
Next HOH
Sept 10th
Nominations:
Cody and Victoria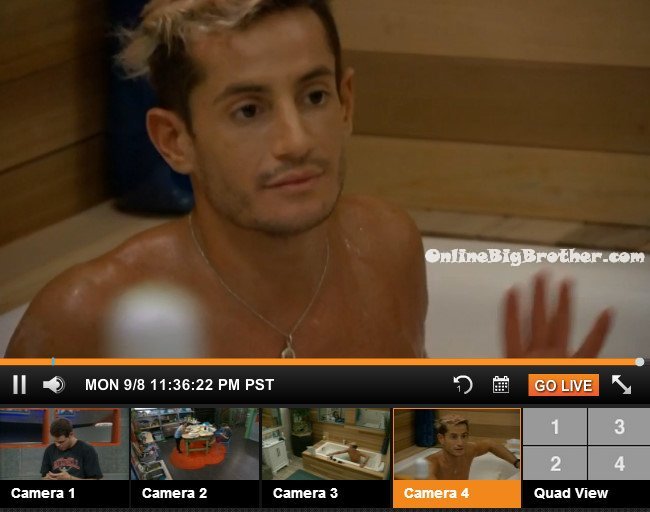 11:30pm Up in the HOH room – Frankie is taking his bath and talking to Victoria. He comments on how he wants his blog to be good because its his last one. He says I can't play in the next one and the final HOH doesn't write a blog. Frankie talks to Victoria about what her eviction speech could be. VIctoria says I do want to talk to everyone to find out where everyone is at because I don't want to go down without a fight.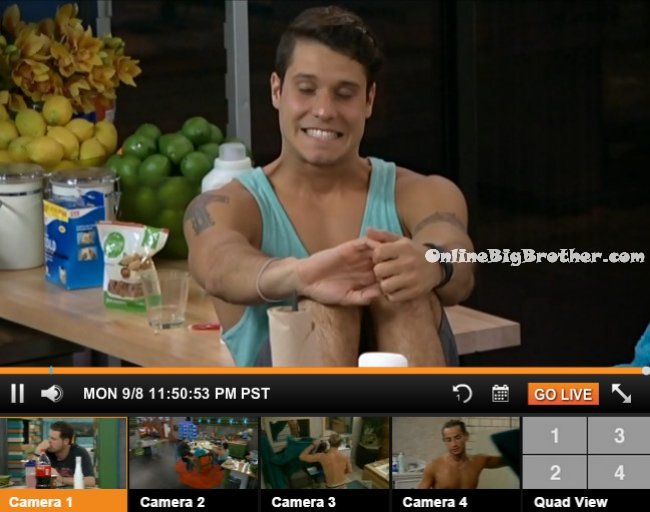 In the kitchen – Derrick, Caleb and Cody are talking about the Reset Button. Caleb says final 4. Cody says I really hope that twist doesn't do something to f**k it up. Derrick says he's getting a lot (From production) of what would you do if it f**Ked up your game. I don't know what would you do?!! Caleb says I have not been asked that. Cody says I am getting f**king real nervous. Derrick agrees. If its something bad, then we have to roll with it together. Frankie said maybe it's America's vote like they vote up a third nominee. And the remaining person votes to evict. Or Frankie is voted up and we vote to evict. Cody says oh my god dude I don't know what's going to happen! Caleb says I don't know but its going to be cool. Cody says whatever it is its going down during the live show. Derrick says 36 minutes into the show is about when we go outside for a comp. There ain't no going back now, we pushed it. One thing I don't see happening is us saying is that it!? Cody says there is no way that button wasn't going to get pressed. Derrick says the only thing I don't want is if its a buy back. Cody says imagine if Jocasta came back and won a comp to be in the final 3. Caleb says I'd judi-chop her before she won anything. Cody says eviction is around 5:15pm. Derrick says it said it only takes one to push the button. So if you knew you were going home you could push the button and it could be one final f**k you to the people left in the house.
One way to support this site that doesn't cost you anything extra is making your
Amazon purchases through the links Below
For in Canada use the following link:
Amazon.ca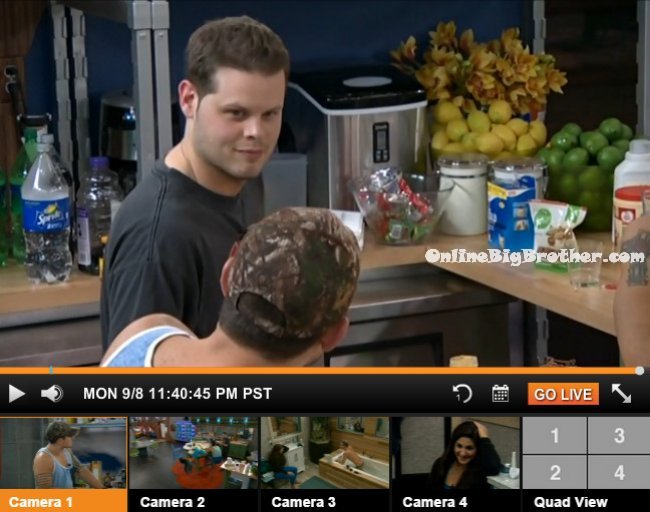 In the living room – Derrick talks to Cody. Cody asks how are you going to start it? Derrick says I think you're great inside and out. Cody says I think you should say I wanted to talk to you about the vote coming up. I don't know what's going down with all this stuff but you know. Derrick asks did you say the name in your thing? (Goodbye message) Cody says I didn't say it. Derrick says I'm not going to say it. I might say I'm loyal to you but not anything else. Frankie joins them. He tells Derrick he can thank him. She talked to me about being pressured. Big Brother blocks the feeds. When the feeds return – Frankie talks about how Victoria said she knows she's going but she's not going to go without saying her piece. I just told her she should have a conversation with everyone because you never know. Derrick says thanks Frankie you just gave the girl hope and now I have to crush her dreams. Frankie says I didn't give her hope I just said do what's right for you.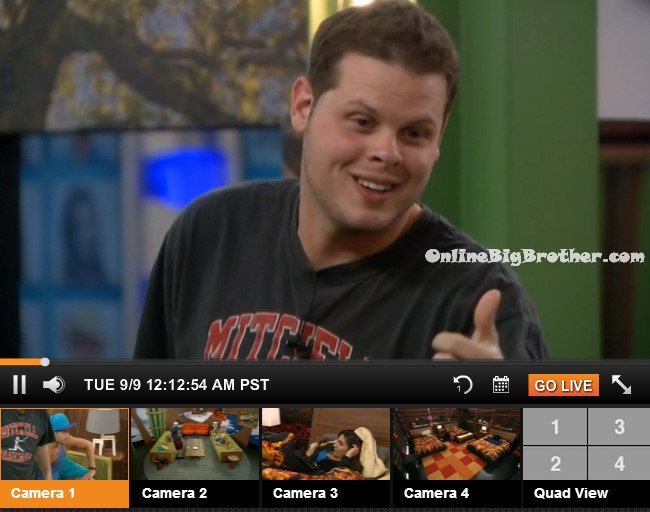 12:20am Derrick goes into to fire room to talk to Victoria. He talks to her about what she talked to Frankie about in the HOH room. Victoria says obviously this situation sucks. Its gender based. Derrick says either way if there is the twist and you stay this is good for us because if he thinks you two are good that's good for us. Victoria asks should I even talk to Caleb. Derrick says you can do what you want to do but Nicole wasn't lying when she said he wanted to go to the final two with him so why would he switch it now. If Nicole was right he is close with Cody. Derrick says even if you have my vote you still need Frankie's and you're not a dumb girl you already know you don't have his vote. Victoria says the only person I can campaign to is Frankie ..who I only have a slight chance with. Victoria says me and Caleb never talk game like we never exchange words. Derrick says Frankie's out there on the couch with Cody right now. Victoria says so basically we spoke and you told me you're not voting for me in the end or voting for me to stay? Both? Derrick says I came to you and told you I love you, you're a great person. Victoria asks did I try to campaign to you or no? Derrick says yeah. I think I can stay, I think I can get Frankie's vote. Victoria says no. Derrick says okay don't say that. I am just going to say you know I don't want you to get your hopes up I think you're a great person and a great friend but I've been loyal to Cody. You know me and Cody have been working together. And I'm going to say that I'm not even going to say that I've been loyal to Cody I'll say that I've been loyal to all the guys. And we chose to keep Cody this week. And essentially I am not going to be able to give you my vote. Like I do want to remain friends outside of here and sh*t. Just say that I was trying to sugar coat it but that you weren't buying it. You were pissed. Victoria says so should I say that basically you were using me for my vote at some point. Derrick says that's what you think but I didn't say that to you. Victoria says right. And now you don't need me any more, peace out girlfriend. See yeah! Derrick says you can say that. Basically you can say that I said that all four guys have been working together and we wanted to go to the final 4 and I'm going to vote to keep Cody. Its nothing personal its just a game move. Cody deserves to be here and I'm sorry but you don't have my vote. At some point Frankie is going to talk to you and you can say whatever you want and I won't get mad when I watch it. You can says that I burned you and betrayed your trust and that I would never get your vote. And the sad thing is that Nicole isn't going to give him her vote either because her, Hayden and Donny don't like him because he did the same thing to them. You know, however you want to say it. Victoria says so basically that you're loyal to the guys. Derrick says I don't even know if it will work but it could especially if there is some twist. In your speech you could say to me that loyalty is everything and you broke that so all I have to say is good luck to everyone else. So if you get evicted don't even give me a hug. Derrick says and I'll say that you said it kills you to think that I am the one voting you out when you wanted it to be up to someone else (Frankie breaking the tie). Victoria says that's good.
Derrick says its perfect. Derrick says I want you to know.. just so you know I have been loyal to you this entire game. Victoria says I do know that. Derrick says there is a lot we have to talk about outside of the house and if I thought there was a chance you could stay we wouldn't even be talking about this. I know if I vote for you, they aren't and it would paint a target on my back. Victoria says I hope this gets you to the final 2. Derrick says I appreciate it but I don't want you to do it if you don't think you can do it because if they figure it out.. Derrick says I think I can beat Frankie, Caleb or Cody in the final 2. Derrick says you can sell it to Frankie.. bust out some tears. I've got to try and get there on my own. Victoria says if this works you owe me. Derrick says I want to beat them straight up. I plan to win this HOH. Victoria says this has to work. Derrick says it has to after all you suggested it. I don't think Frankie will pick up on it either even though he's an actor. Victoria says if its not me winning it has to be you. That's how much I love you. Derrick says and if not I'll be seeing you in jury. Derrick leaves and heads up to the HOH room.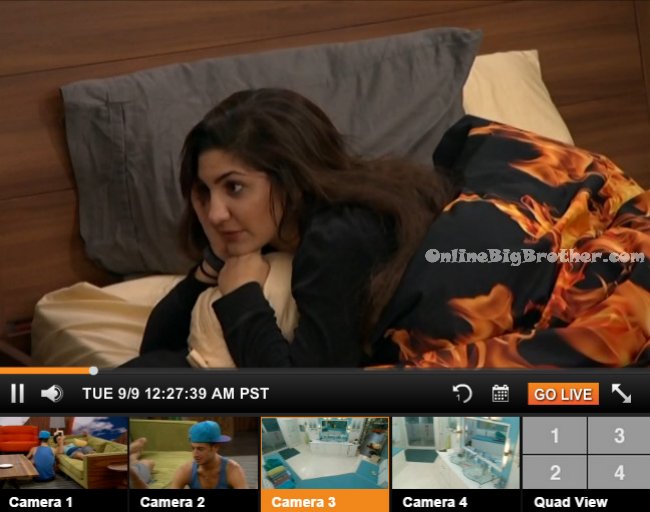 1am – 1:40am Up in the HOH room –
Derrick tells Cody and Frankie it didn't go well.. she tried to campaign to me and I just told her that I've been working with the guys. I didn't say we were in an alliance just that Cody deserves to be here and the guys agreed we were going to be the final 4. She said she didn't want me to be the one to send her him and that she wanted someone else to be the reason she got sent home. Derrick says she's crying down there right now. She felt betrayed because she had a feeling was going to go home but didn't want me to be the one to send her home. Frankie says I didn't give her hope I just told her she shouldn't go home without trying. Derrick says I wanted to keep talking to her but she didn't want to and said to shut off the lights. How can I in good conscience vote for Cody to go when he's won all these comps and she's been last in literally every competition. Cody says what will make it easier is if we all talk to her. Derrick says I didn't say we were in an alliance together. Cody and Frankie say we could tell her that now. They talk about how they didn't like how the Brigade told Britney (BB12) by laughing about it when they told her. Derrick says it didn't go as I planned but it could have gone worse. ..and you know she's done with it because she never just goes to sleep. I know it was the right thing to do. For all I know she could be in power from some twist and she could send me home. Derrick heads downstairs. Frankie and Cody get ready and go to bed.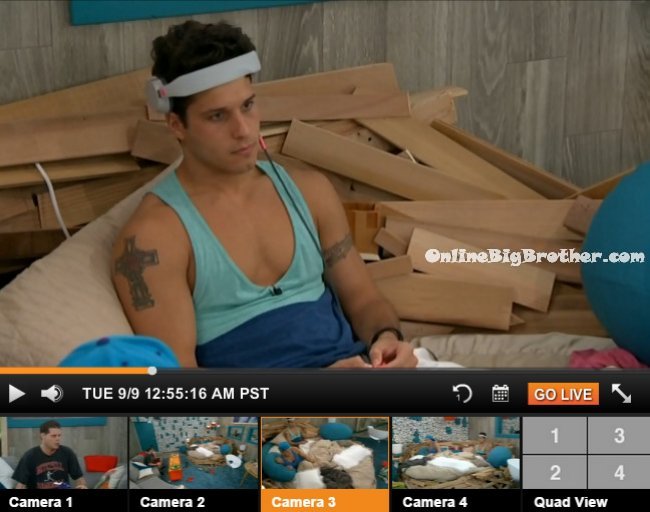 1:40am
All the house guests are sleeping..
8:30am – 9am Big Brother blocks the live feeds to wake up the house guests. When the live feeds return all of the house guests are still sleeping.
If you found value in our site, the work we do and the community we foster please consider leaving a donation using pay pal below.
[polldaddy poll=8285104]