POV Holder:
Frankie
Next POV
Sept 6th
POV Used
No
POV Ceremony
Sept 7th
HOH Winner
Frankie
Next HOH
Sept 10th
Nominations:
Cody and Victoria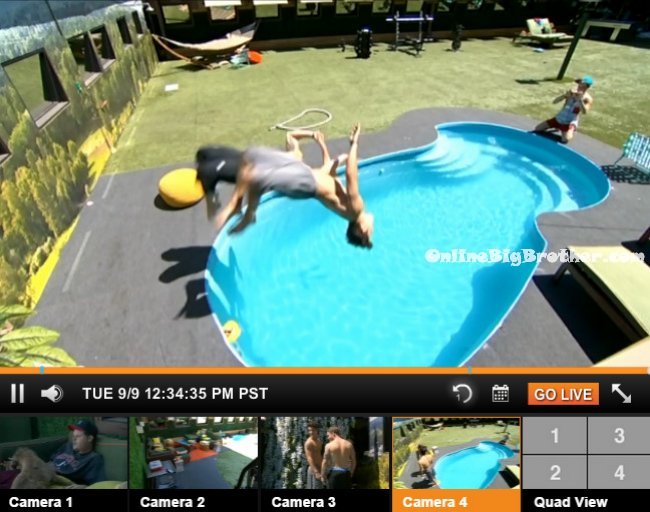 12:35pm – 1:40pm
Frankie takes a photo of Caleb and Cody doing a back flip into the pool. Caleb gets out of the pool and Frankie says show us your pen!s! I have a pic of you grabbing your d**k under water. Frankie and Caleb layout on the lounger to suntan. They speculate about what the twist will be. Frankie says maybe its first two people to finish the comp are safe the other two are on the block. Caleb says I don't think it would be anything like that. They head inside. Derrick is napping on the backyard couch.
In the kitchen – Cody and Victoria make lunch. Caleb starts making a rat trap with the strainer, a stick and some cheese. Cody is helping him figure it out. (For Caleb being a hunter he is having a very hard time trying to create a rat trap.) Victoria asks him if he is trying to make a successful mouse trap. Caleb says I'm trying, I'm trying. Victoria says I'm counting on you Caleb. I spoke very highly of you in the diary room. Caleb finishes his trap and puts it under the sink. Caleb shows Cody and Victoria. Victoria asks you don't think he's going to see it do you? Caleb explains it. Victoria says genius!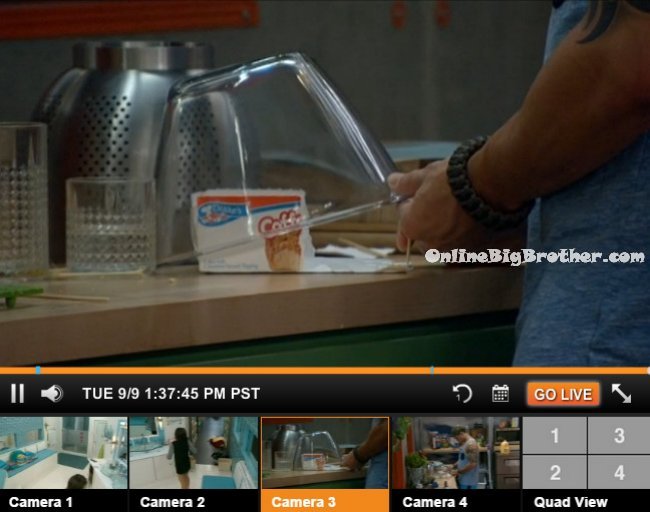 One way to support this site that doesn't cost you anything extra is making your
Amazon purchases through the links Below
For in Canada use the following link:
Amazon.ca
1:45pm – 2pm Out in the backyard – Derrick and Cody are alone. Cody asks what is going down. Derrick says whatever it is I hope it doesn't send us home. Cody says its better that you didn't win that competition because now you get to play in the next. Cody says yeah I threw it. Derrick says that fact that he didn't take a shot at us … Cody says it was a mistake! Derrick agrees. Derrick says the more and more I think about it this veto is so important for us because… Frankie joins them and the conversation ends. Frankie gets called to the dairy room. Caleb heads inside. Derrick says love that kid but he has no clue what's going on.
See what they can't show you on TV! -Try the Big Brother 16 live feeds for FREE!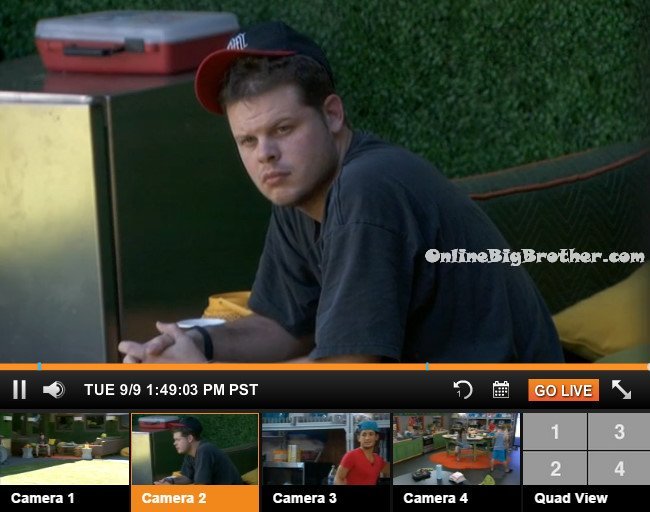 2:15pm All the house guests are in the living room with Izzy. Izzy runs to the diary room door and waits. Derrick says that must be her owner or the person that she knows best that dropped her off at that door. Caleb says that's amazing that she came in the other door but came in and out of this door twice and knows that's the way out. 7
IZZY already wants to SELF EVICT @bigbspoilers #bb16 pic.twitter.com/CFunZcYHc5

— Dawg (@DawgsBigBrother) September 9, 2014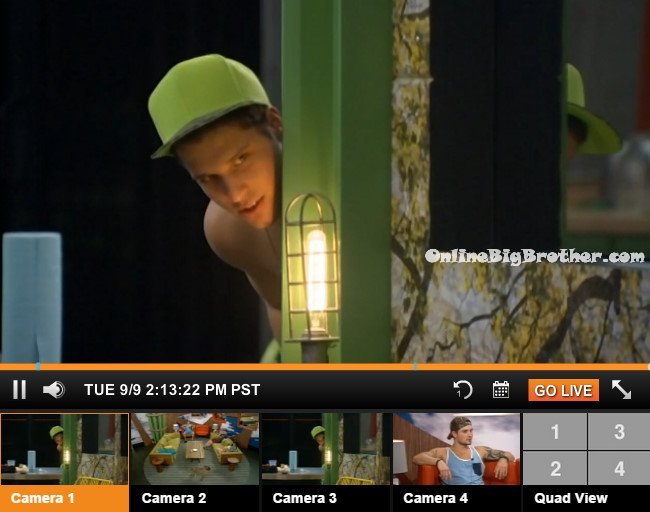 2:20pm – 2:35pm Cody says lets play a game .. put your had up. Never have I ever pee'd in a garbage can. Caleb puts a finger down. Victoria explains you want to have the most finger still up. Caleb says never have I ever had s*xual intercourse in public. Caleb says public display of affection means you have. Cody says it definitely doesn't mean that. Cody puts his finger down. Victoria says never have I ever ate dog food. Cody and Caleb put their finger down. Cody says never have I ever faked being sick to not go to school. Caleb puts his finger down. Caleb says never have I ever eaten an avocado. Cody and Victoria put their fingers down. Victoria then calls Caleb out for eating guacamole in the HOH room. Caleb argues that's not avocado, its been altered. Cody tells Caleb he is so wrong. Cody says never have I ever killed an animal. Caleb puts a finger. Victoria says never have I ever snow boarded. Cody says never have I ever taken a dump in someone's place the first time I went there. Caleb says never have I ever lived in Florida. Victoria says that's an easy one. Caleb says never have I ever sharted.
2:40pm In the fire room – Victoria asks Derrick if she should go up to them and talk to them. Derrick says no, don't. Let them come to you. Frankie already said he would come talk to you. And even if they don't you're going to crush me in your speech so they'll know.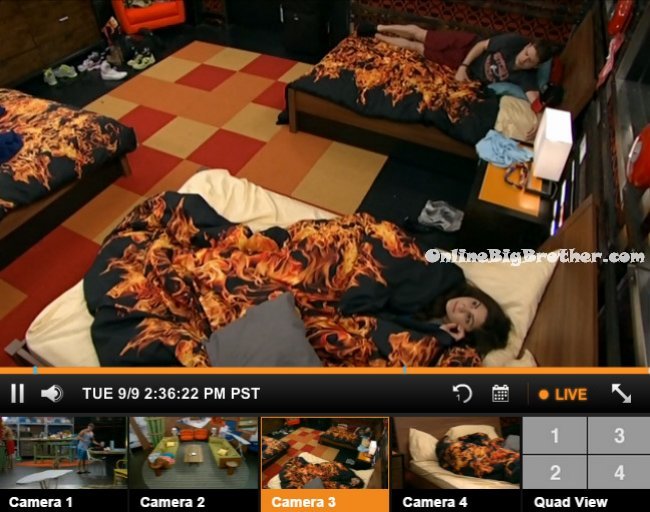 2:50pm – 3:30pm
Caleb and Cody are ironing shirts for the live show tomorrow. Cody is borrowing Caleb's shirt because he only brought 1 button up shirt. In the hallway by the door Caleb tries to teach Cody how to break dance. Frankie tries as well.