POV Holder:
Donny
Next POV
July 19th
POV Used
?
POV Ceremony
July 14th
HOH Winner 1:
 Nicole
HOH Winner 2:
 Derrick
Battle of the Block Winner
Donny/Amber
Next HOH/ Next BOB
July 17/July 18
Original Nominations:
Derrick's Noms (Caleb & Jocasta) Nicole's Noms (Donny & Amber)
Final Nominations:
Have Nots
Caleb, Amber, Devin, Hayden
POV Players
Derrick, Jocasta, Caleb, Christine, Devin, Donny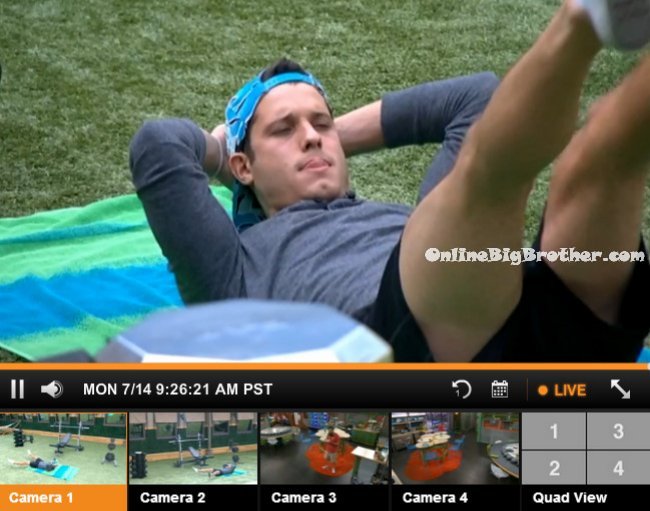 Big Brother 16 Live Feeds Season PASS = The best value at $26.99! PLUS Free 2 day Trial!
9:15am – 9:50am Big Brother wakes up the house guests. When the live feeds return – Cody is out in the backyard working out. Donny comes out to get on the eliptical. Cody asks are you trusting Brittany a bit more? Donny says yeah but if I had to put my trust in someone it would be Nicole. Even though she put me up. I am counting on Hayden pulling her over. The thing that scares me about her is that she is friends with people. Cody says Christine. Donny says yeah I don't like to name names. Cody says its me, you can tell me. Donny says yeah. Cody says that it feels so good to be up. Donny tells him to try and not even nap. Cody says that Pow Pow went to a number of people before she left and told them not to trust me. Donny says I have a plan and its probably similar plan to what you're thinking. Cody asks what's that? Donny says its with a few of the people that we have talked about previously and a couple of the girls. Donny says I just need to make sure I have the numbers if I go up again. Cody says just so you know if I win HOH, I won't put you up. Donny says I can just see being put up again because I handle it so well. Cody says but that's not a good reason. Cody says that Caleb is talking to all the guys. Donny says he is a non factor. He is a liability. Cody says that he has proved to be a non competitor and he's so blinded by her (Amber). When do you think would be a good time to take a shot at him? Donny says sooner, rather than later. Donny says that they are two votes (Caleb & Amber).

10am Out in the hammock – Christine says that she can't take being nice to Devin any more. Brittany says that he is going to start saying stuff to stir stuff up we just have to not feed into any of the lies. Christine says I can't wait to see what I look like. I feel like they're making me look bad but I guess if you make it far it doesn't matter. Brittany says the people that really know you will know the real you.
Meanwhile in the bathroom – Victoria is complaining about someone using her make-up. Do you think people are recording the live feeds? Nicole says yes. Victoria says because I want to go back and see how many times she used my makeup without asking. I already caught her once. My skin is just so sensitive, I don't share my makeup with any one.
10:13am – 10:30am In the kitchen – Derrick comes out of the storage room with his laundry wrapped up in a box … PANDORA's BOX!! Brittany asks is that for me!!? Derrick says no it's my laundry. Zach laughs and says that was f**ked up! Brittany says I didn't even hear what you said, I just saw the box. Zach is up and making a smarties pancake.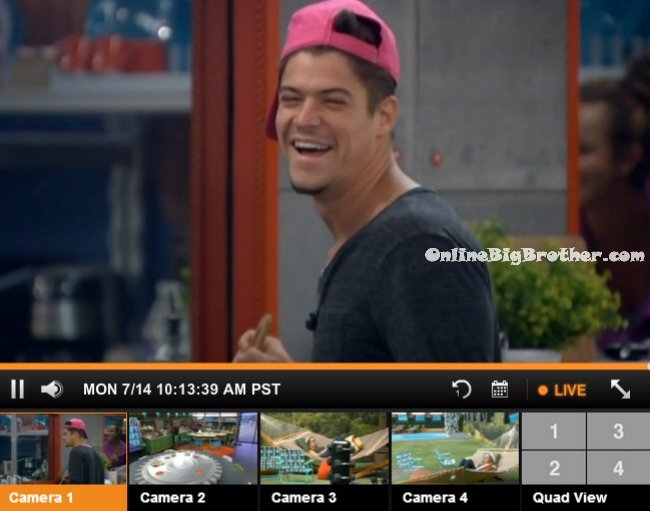 10:35am – 10:45am In the kitchen – Zach, Cody and Derrick are talking. Zach and Cody say they are going for this weeks HOH. Derrick says that would be nice for me. I hope you guys win. That would make for a pretty easy week for me. Zach says it was an easy week this week. Derrick agrees and says yeah I got a volunteer and someone that everyone wants out of the house. Derrick whispers to Cody that Brittany doesn't trust us. She thinks we're going to boot her. Which is true .. just down the road.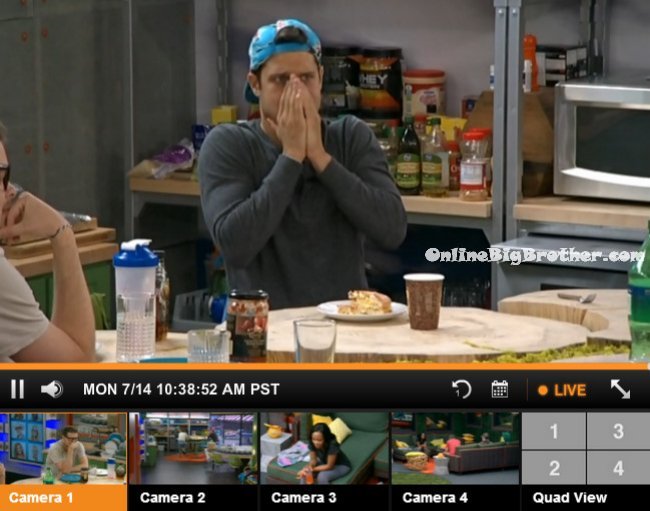 10:45am In the kitchen – Derrick asks Victoria if she's asked her (Brittany) yet? (Team America mission about Zach & Amanda Zuckermans cousin). Victoria heads into the bathroom and asks Brittany did you hear that Zach is Ammanda Zuckerman's cousin? Brittany says no. Brittany says I just heard it. Pow Pow made up a lot of things. She sucked at competitions and knew she wasn't going to be around so she lied to everyone. Victoria says yup.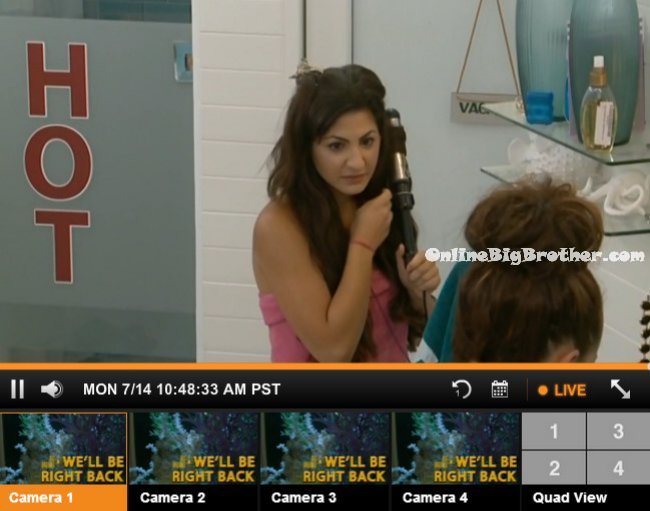 10:50am – 11am Out in the backyard – Zach says he is thinking of going to go up to Victoria and tell her that everyone is talking about her being a floater… and that they think you're not playing the game. I'll tell her my advice to her is that you're not supposed to make an alliance with your friends so that you have your friends and your alliance. I was thinking of telling her to go up to Donny. Cody tells him do not do that! Zach laughs and says he already ran it by Christine .. it was part her idea.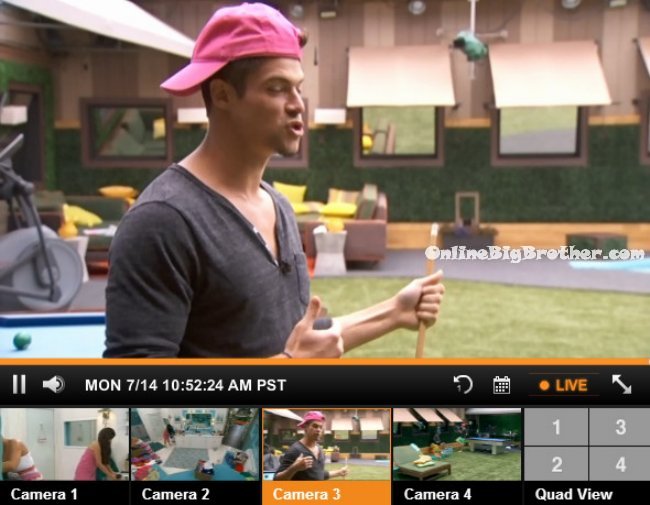 11am The house guests are getting ready for the Veto ceremony happening soon.. Out in the backyard – Devin comments on how funny it was that he didn't talk about his rehab before coming in here and then when he got HOH he was the only one that didn't get alcohol. He says I didn't really care any ways because I don't drink much, just thought it was funny. UP in the HOH room – Derrick asks what did Amber say about the Zach / Amanda thing? Caleb says oh yeah I forgot, she said she didn't hear about it. No hesitation or nothing.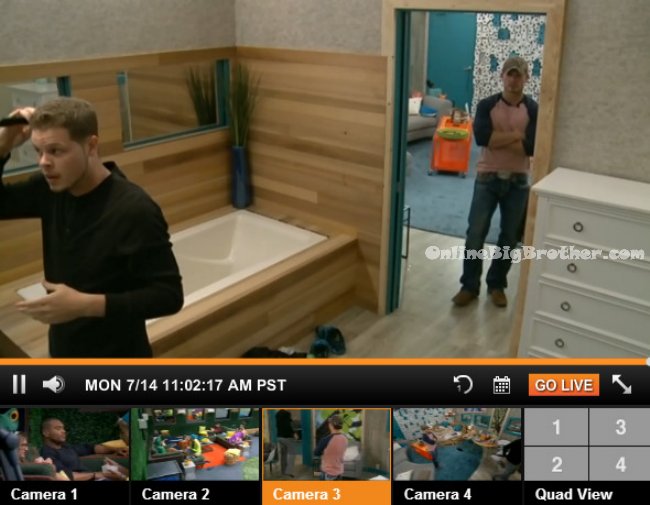 11:05am Big Brother switches the live feeds to the Jeff Schroeder season highlights for the Power of Veto season to take place…
[polldaddy poll=8179403]