| | | | |
| --- | --- | --- | --- |
| POV: | Tyler | Next POV: | Aug 4th |
| POV Used | ? | POV Ceremony | July 30th |
| HOH: | Bayleigh | Next HOH: | Aug 2nd |
| Noms: | Brett & Rachel | Have Nots | Fes, Tyler, Scottie |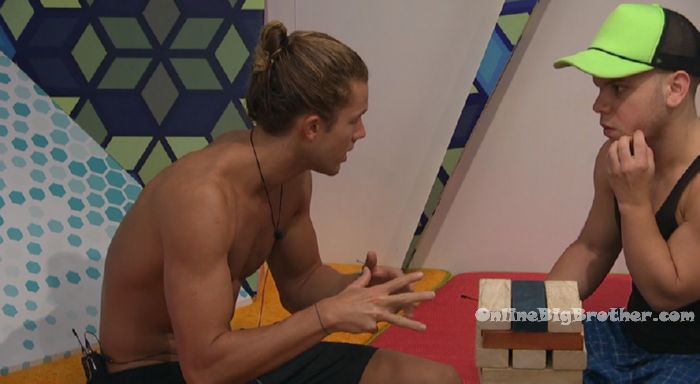 3:40pm Lounge room. JC and Tyler. JC – that was crazy this morning. There is no girls alliance. Tyler – Its not a real thing. Haleigh, Rockstar, Kaitlyn and Bayleigh all think its a solid thing. But Angela, Rachel and Kaycee are not really apart of it.. or Sam. JC – I hope you don't use the veto. Real game I don't talk game with anyone but you. I will do whatever you want me to. Tyler – promise me, if I don't use the veto .. you will keep Brett. JC – once noms are locked just let me know. Tyler – I am not going to use the veto because it would put you in jeopardy. Whatever we do we need to keep Brett. No matter what they say the girls alliance is a real thing. JC – I 100% trust you. The only thing with Brett is I don't trust him 100%. Tyler – I think I can get Angela and Kaycee. Tyler – if you don't vote Rachel out then I am pissed at you because I am saving you this week. Rachel talked herself on the block .. she kept going up there throwing every persons name out. Brett needs to stay. JC – he will. I think that Fes and Haleigh are about to get in a showmance. JC – Sam at some point needs to go. But there is a lot of people ahead of her and we need her to clean the bathroom and kitchen. (lol) I do feel that Brett is being extra paranoid. Tyler – that's because he believes in the all girls alliance.
Try the Live Feeds FREE for 7 DAYS! Click here for your: FREE Trial
3:55pm Angela tells Brett – we need to have a long conversation later.
4pm Sam has made a kite to fly in the backyard. Brett – if she gets that high enough that the wind takes it .. they (BB) is totally going to shut it down.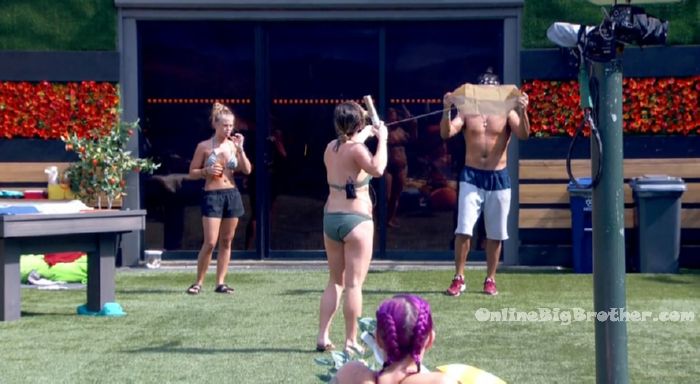 4:20pm Storage room. Scottie – Rachel volunteered to be a pawn. Tyler – I know so f**king dumb. Scottie – and she wants me to take her place. I don't even know where the f**k that came from. I think that's even more evidence that she was the vote and trying to pin it on me. Tyler – she tried to pin it on me and that didn't work so she tries to pin it on you. Tyler – I don't want to use the veto because I don't want Bayleigh even for a split second .. I don't want you to go up. Then we need to decide between Brett and Rachel .. both of them have done something to you. Scottie – I think the house will vote out Brett because its the easier thing. Tyler – I'm worried about this girls thing. Have you heard about that? Scottie – what's that? Tyler – there's an all girls alliance apparently. Like they're f**king running everything. Seven girls after Brett leaves. Scottie – well the plan is next week, I want to win it and two girls go up. Obviously Rachel and the one person that would vote to keep Rachel no matter what. That should be the universal plan. Tyler – I think so too. Everyone is freaking out that I will use the veto even though I told Bay I wouldn't use it. Tyler – are you in good with all of them? Scottie – kind of but they still blame me for the whole Swaggy thing. Tyler – I want to do what Bay wants me to do because I trust her. Scottie – I do too. I agree we should keep it the same. Tyler – we're good .. there is no way I can use it.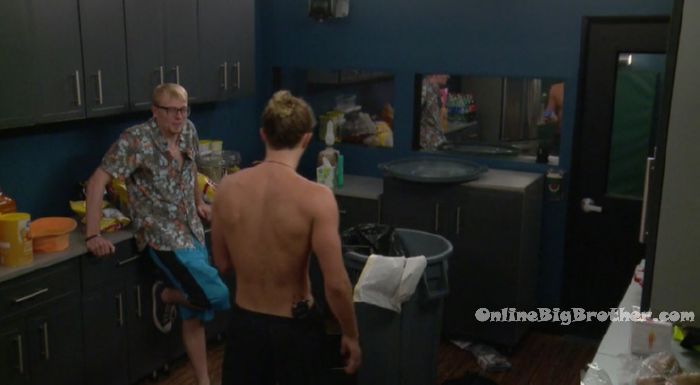 4:30pm Pool. Haleigh and Fes. Haleigh – if I vote him out .. his pitch to me was that its going to be a feeding frenzy for the next target. And it could possibly be me.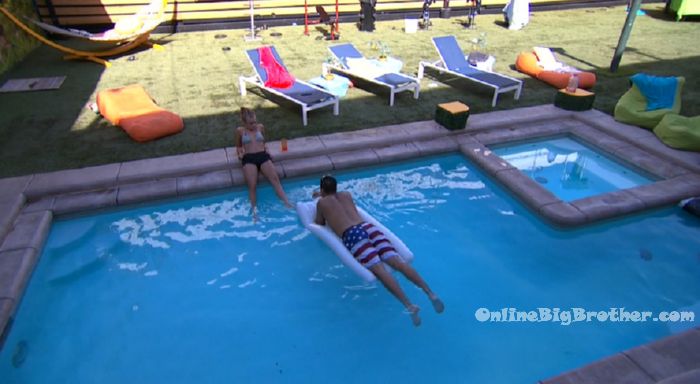 Tyler – JC promised if I keep the noms the same he will keep Brett. Are you okay with that too? Kaycee – yes. He has been more level headed.
5:20pm – 5:50pm All the house guests are lounging around chatting.

6pm The girls (Haleigh, Kaycee, Angela, Bayleigh) and JC are working out together in the backyard. Meanwhile over on the hammock. Fes is telling Rockstar about Big Brother 19. The conversation turn to wondering what the episodes are like and screen time. Fes – The first week I got least trending but since then I think I've gotten a lot of screen time. He recounts all he drama he's been involved in. Rockstar – I think Tyler needs to be backdoored. I think he would win any veto. Fes – I think before that.. Rockstar – Who would JC put up if he won? Fes – I asked him the other day.. He is cool with everyone .. I asked him who he would put up and he said he would tell me when he wins. It was kind of off putting.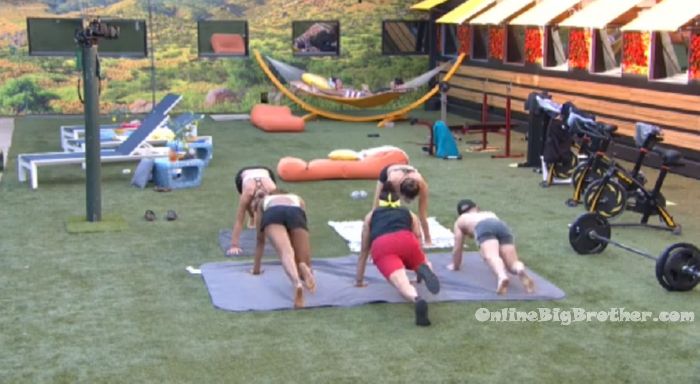 A real easy way to support the site if you are an amazon shopper is to make your purchases through our link. You pay the exact same thing but we get a small % commission. It doesn't cost you anything and helps us out.
Amazon Canada
Amazon USA
Rank the houseguests!
Easiest way to Rank the house guests use link below