| | | | |
| --- | --- | --- | --- |
| POV: | Tyler | Next POV: | Aug 4th |
| POV Used | ? | POV Ceremony | July 30th |
| HOH: | Bayleigh | Next HOH: | Aug 2nd |
| Noms: | Brett & Rachel | Have Nots | Fes, Tyler, Scottie |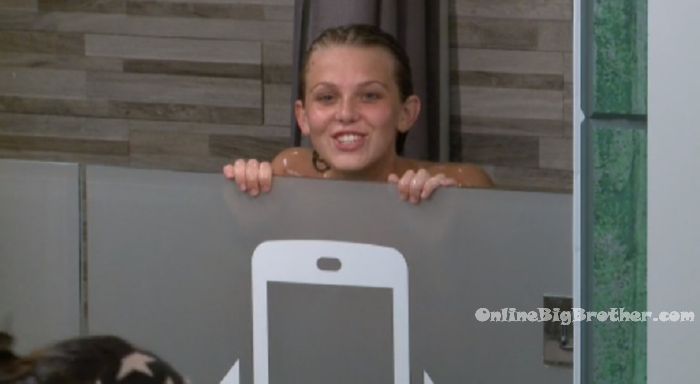 6:30pm Bathroom. Fes and Haleigh. Fes – you had a little buzz going last night. Fes comes over closer to the shower because Haleigh can't hear him. Haleigh – no. You can see me? Fes – no, I don't want to see that.. Not like this. I was like I need to walk away from this conversation (last night). Haleigh – it was just never have I ever. Fes – don't get me wrong I like freaky girls but… hearing y'all talk about it openly I was like … I don't know. It was not really my .. as much as I like a freaky girl. I don't like an openly freaky girl. haleigh – if you don't like the way I was talking… I am not going to apologize. Fes – it was funny. It was entertaining. Haleigh – if you didn't like that .. you should probably not hag out with me. Is that why you were annoyed last night? Fes comes close again and then walks away saying – I forgot I was that talk .. I need to walk away.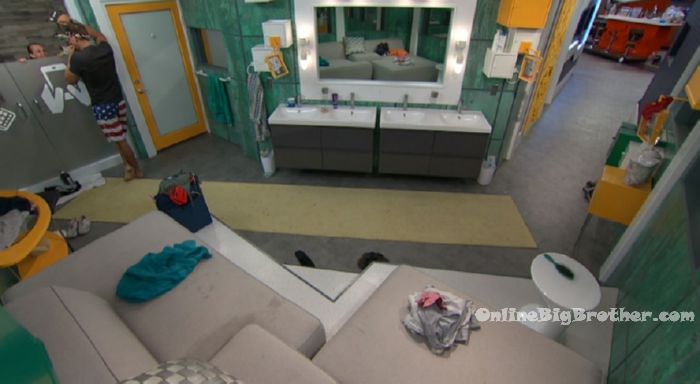 6:35pm Havenot room. Brett and Angela. Angela – so Rachel never wanted the veto used. She was afraid that if the veto was used on you Scottie would be the replacement and he would use his power and send Rachel home. She is worried about her game to the point where she is going to throw us all under the bus to make sure the veto was not used. Last night she came to me and said Tyler just went up stairs and said the only way he (Tyler) is going to use the veto is if you (Angela) get put up. I was like what?! She said Tyler went up there and said he wants me and you on the block and he doesn't care who goes. But Bayleigh doesn't want the veto used so why would Tyler go up there and say that. Rachel f**Ked up her story … she ran to Bayleigh before Tyler and said the only way Tyler is going to use the veto is if Angela is the replacement. She told Bayleigh that then told me the same thing. She didn't realize that Bay doesn't want the veto used so why would she say that. She f**ked up her story and I called her out on it. That makes no sense! Rachel is so worried about Scottie going up next to her. Basically Tyler went to Bayleigh to ask if he use the veto who would go up. Rachel had already gone up there and prefaced Bayleigh to tell Tyler that I am the replacement. Brett – that doesn't make sense the only f**king person she said was safe was you. Angela – after Rachel volunteered she freaked out and ran back up and said that she should put up me or Kaycee. Now Kaycee and Tyler know what she did.. she's f**ked. Shes come to me for a final two. I'm sure she went to Kaycee too. Brett – you have to say yes. I really don't think you were the replacement nom. That's why I want Tyler to use the veto. Angela – well you're not going home if its used or not. I want Rachel to go home and I'm going to make sure of it. Angela – I need to find the right time to talk to JC. Brett – By using it the only person he is pissing off is Bay and Rockstar. If any of the guys were upset he could explain how this is been 4 f**king guys going home. Angela – he could then out the all girls alliance. Brett – I'll out it during my f**King speech! I don't give a f**k! Angela – I want Fes to turn on Bay. I want all the girls to turn on who they're aligned with.
6:47pm Backyard JC notices Rockstar sleeping on the hammock. He runs inside to get a pot and a metal utensil. He runs back out and bangs them over top of Rockstar. She wakes up and says "You f**king Hooker!!" JC – you're going to be on the episode now.
FLASHBACK and watch everything you missed: Live Feed 7 day FREE Trial!
JC waking up Rockstar #BB20 @bigbspoilers pic.twitter.com/5KpIPjXLKE

— Dawg (@DawgsBigBrother) July 30, 2018
7:22pm Bedroom. Rachel, Kaycee and Angela. Rachel – you do see that someone is lying here. Angela – clearly! There are three people in this argument. You, Tyler and Bayleigh. Someone is lying. Rachel – I'm not lying! Angela – I hope to god you aren't! Rachel – WHAT?! No! Angela – three people are telling exactly different things and right now I don't know who to believe. Rachel – you can believe me. Angela – I want to believe you. Rachel – you can believe me because I'm telling the truth. Angela – ok. Rachel – I promise you I am telling truth. I wanted Tyler to use the veto and Scottie to go up. But he is protecting his personal game. If he uses that veto, that whole side is going after him. Angela – so why don't we just tell Tyler if he uses the veto Scottie is going up. Rachel – I am I'll say that Bayleigh said Scottie is the replacement. Angela – then why did someone tell Tyler that I was the replacement? Rachel – he is saying that to all of us because he doesn't want to use it. Bay said Angela would go up .. oh can't use it! Kaycee – I see what you're saying. Angela – it doesn't make sense. Rachel – I get its frustrating because now you feel like you can't trust someone that you've been trusting in this game. I wouldn't be surprised if he is going around advocating for me to go home on Thursday at this point. He sees all us girls getting bigger in numbers.
7:25pm Havenot room. Rachel talks to Tyler. Rachel – so when I talked to Bay she didn't tell me she was going to put up Angela. So I don't understand why you're saying she's going to put up Angela. Tyler – because she told me. Rachel – she told you she would put up Angela? Can you explain your conversation with her? Tyler tells Rachel his conversation with Bay. He tells her about how he planted the seed that Scottie was his best friend so that if he used the veto she would put Scottie up as the replacement as retaliation. Rachel – she told me that YOU wanted Angela to go up. Tyler – that's bullsh*t. Lay low on it .. she has a lot of pull on these people and if she is pissed at you she will make sure you go. Rachel – I trust us. Tyler – she really doesn't want me to use the veto. Rachel – that's why she is threatening you? Tyler – yes.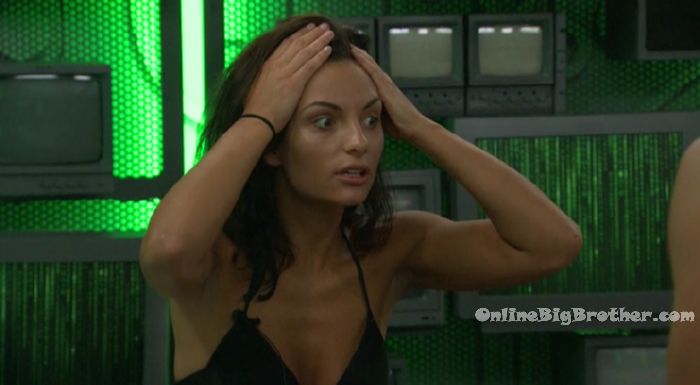 7:53pm Backyard. Scottie, Rachel and JC are laying on a blanket in the backyard. Rachel starts smacking JC's stomach. He then reaches up and hits her in the face. Rachel – dude you just hurt me! You gave me a bloody lip! Its bleeding! Big Brother blocks the feeds.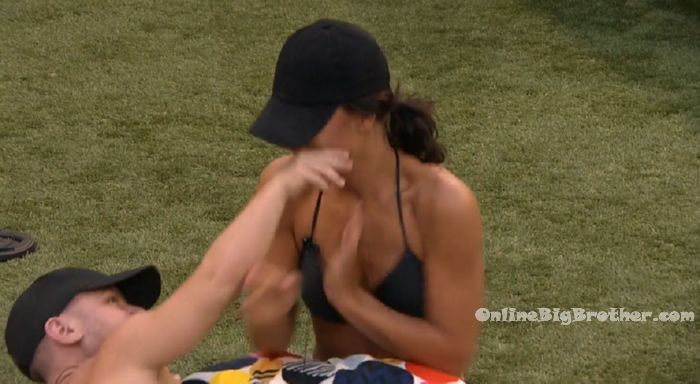 JC gives Rachel a bloody lip #BB20 @bigbspoilers pic.twitter.com/boFCvb7YlC

— Dawg (@DawgsBigBrother) July 30, 2018
7:54pm – 8:17pm Big Brother blocks the feeds
8:23pm Tyler tells Kaycee about how Rachel was confused and apologized to him. Kaycee – do you think you will use it? Tyler – I really don't think I can. I would have the whole house mad at me. Kaycee – what are you thinking Fes, Rockstar, Haleigh and Bayleigh would be coming after you. Tyler – I don't want to risk Angela going up. Kaycee – I don't think she would put her up.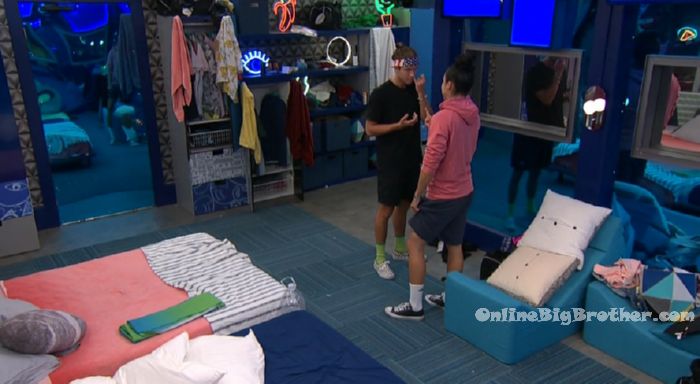 8:50pm – 9pm Tyler and Angela. Angela – I don't trust Rachel. She is always the one to branch out. Tyler – I just have to make sure Sam will vote out Rachel. She is the hardest person to talk to. There are always people around her. Tyler – we need to have a three person talk tonight in the havenot room. Angela – who do you think Fes would put up? Tyler – if he won HOH he would put up you and Rachel. I don't want to use the veto because I'm sure you would go up. Bay has to go. Angela – we have to win HOH next week. If we don't we're f**ked! Its a good thing that Brett and Scottie are hanging out so much so that JC can blame the vote on Scottie and maybe they believe it. And then maybe they go after Scottie.
9:05pm Backyard. Rachel and Fes talk about the power apps. Rachel thinks certain people aren't being touched because people are scared they have a power. Fes thinks people will start targeting people they think have the powers to flush them out.
9:23pm Backyard couches. Bay – hopefully I won't have any more decisions to make. All everything in the world will be good.
9:25pm Hammock. Brett – that's even worse if she is a pawn .. because then this girl thing could be true. Scottie – either way if I get HOH next week and she is still here.. she is going on the block. No f**king doubt! Very sketch. Makes you think how long has it been going on for?
9:30pm Sam is making a dream catcher.
A real easy way to support the site if you are an amazon shopper is to make your purchases through our link. You pay the exact same thing but we get a small % commission. It doesn't cost you anything and helps us out.
Amazon Canada
Amazon USA
Rank the houseguests!
Easiest way to Rank the house guests use link below