| | | | |
| --- | --- | --- | --- |
| POV: | Tyler | Next POV: | Aug 4th |
| POV Used | ? | POV Ceremony | July 30th |
| HOH: | Bayleigh | Next HOH: | Aug 2nd |
| Noms: | Brett & Rachel | Have Nots | Fes, Tyler, Scottie |
1:15pm Kitchen. Kaycee and Angela.
Angela – everything just clicked in my head. Kaycee – just try and be cool with her (Rachel).. like really cool so that she doesn't suspect anything. Angela – remember how I was so stuck on that comment? Now it makes perfect sense. She messed up her story. Kaycee – MMMhhh. Kaycee – I think she might have a little doubt that she did mess it up. Angela – yeah, that's what she told Bayleigh. But what she told me, she told Bayleigh and she told me that by accident. Sam joins them and the conversation ends. Sam – I think I am going to celebrate Rachel. Who is having the hardest week? Angela says that Rachel was but seems better and that Brett is having a hard time. Sam – we will celebrate both of them.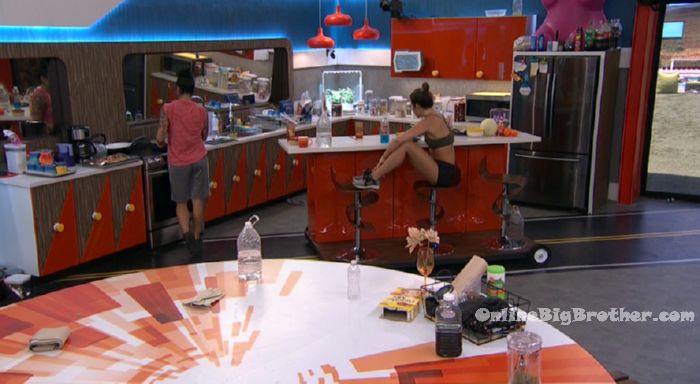 FLASHBACK and watch everything you missed: Live Feed 7 day FREE Trial!
1:35pm Backyard couches. Brett and Scottie. Brett – what do you think is about to happen? Scottie – I haven't talked to Tyler yet. I don't see him using it. Brett – I don't either. Scottie – tell him its not about making moves. Brett – I thought since I picked him. Scottie – did you tell him that? Brett – yeah. The only person I worked with was Winston. I'm a free ranger now.. free agent. Scottie – I am getting a lot of heat about being that rogue vote. Brett – I am literally on an island. Which was why I was surprised I got put up a second time. Scottie – just scared to get blood on their hands so it makes you easy picking. Brett – but I think I am also the target. Brett – it doesn't really make sense ..once I'm gone.. I'm that battering ram. Who's up next? Scottie – yup. From what I am hearing .. people are trying to get him to use it so that I could be the replacement nom. Brett – I don't know. I'm really out of the loop. Scottie – I think people are trying to get me, you and Tyler picked off because we don't really belong anywhere. Brett – I feel you. Scottie – if I had gotten HOH, I wouldn't have gone after you, would have taken the shot at another pair.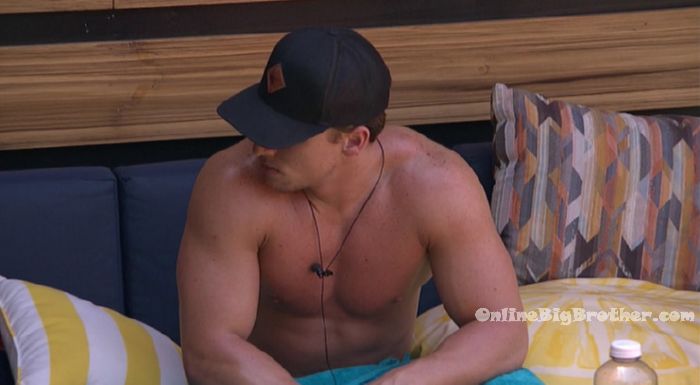 1:35pm Kaycee and Angela. Angela – Rachel told me that Bayleigh said that Tyler said the only way he would use the veto is if I (Angela) went up. Kaycee – how the f**k does it make any sense?! Angela – that's what I'm saying because Rachel f**ked her story up. She meant to say … Rachel told Bayleigh that… when me and Brett were in the bathroom .. Brett was like this is perfect he's going to use the veto on me. We're going to backdoor Scottie. Its going to be perfect. So before Tyler went up there Rachle said .. she told me The only way Tyler would use the veto is if Angela goes up. Those were her words, not Tyler's words. She f**ked her story up and I called her out on it. She said she was confused. It makes no sense.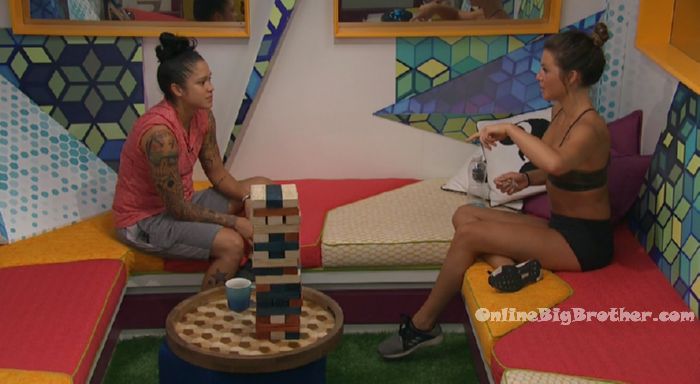 1:40pm Bayleigh comes out of the diary room and tells everyone to gather in the living room. Bayleigh reads a card. Bayleigh – This week the three havenots for the week are the three that were the furthest from winning the last HOH competition. This means that Fes, Tyler and Scottie are havenots for the week! Bay – I am so sorry considering Scottie was just a havenot. Let be real JC WAS going to be a havenot. This meeting is adjourned.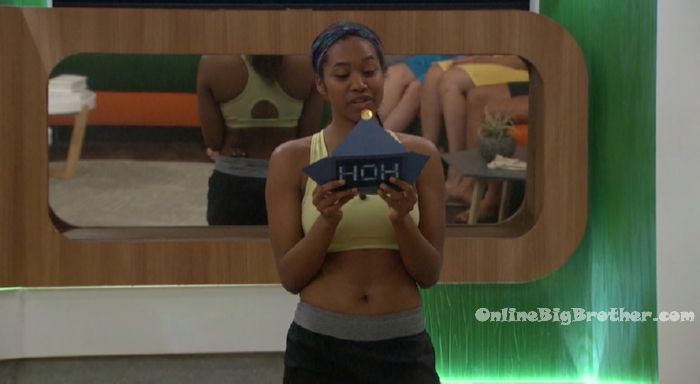 1:45pm Backyard. Brett and Tyler. Brett – she says the replacement nom is Angela. I am telling you dude! We are f**ked! I mean I am definitely f**ked. And you guys are targets next. Tyler – JC already told me that if its you two (Rachel & Brett) on the block he is keeping you. And Sam is going to do whatever. Brett – whatever.. I would feel more comfortable with two girls on the block. I know that Bay is in your head. Tyler – Bay isn't in my head she just wants me to keep the noms the same. That whole side wants me to keep the noms the same. Brett – Even if Angela goes up we can still vote to keep her. Using it is a guarantee that we keep the guys in the house. Tyler – I am going to tell Sam and Kaycee that if I don't use the veto it is saving them so they have to vote how I want them to vote. Brett – I don't know what Kaycee and Sam would do. Tyler – we just talked all day yesterday about how Rachel is freaking them out. JC joins them. JC – are you okay? Brett – No I'm not, I'm on the block! JC – yeah being on the block sucks. You were just sitting there and about to cry. Brett – I'm not about to cry, I'm fine! It just sucks. I'm trying to not let it bother me. Let me sit on the block all f**king year! I'll be the battering ram. I don't give a sh*t. I'm okay, I'm not going to freak out. You guys can always trust me. I know you can count on that. I also don't need your reassurance every five seconds. Saying why are we still good. I can go three days. I am just saying there are some people in the house that get paranoid and freak the F**k out! And they think because you haven't talked to them in an hour that they can't trust you. I don't need your reassurance. I just don't feel good about this and I genuinely think that if I stay on the block I am the next f**king one out. And then what is that 4 out of the 5 weeks guys have gone… then we lose the numbers to the girls. JC – do you think the girls are trying to get out the guys? Tyler and Brett – yes. Brett – how did no one see this coming?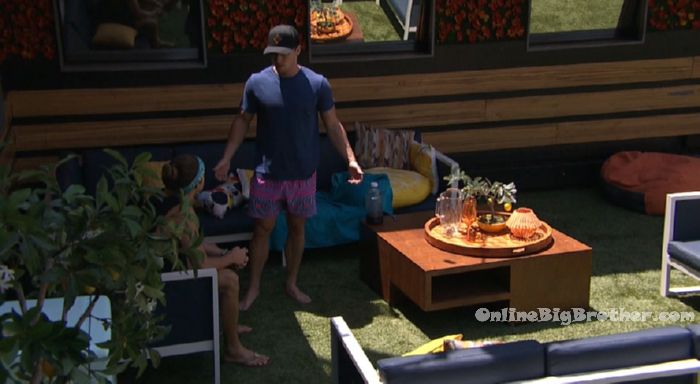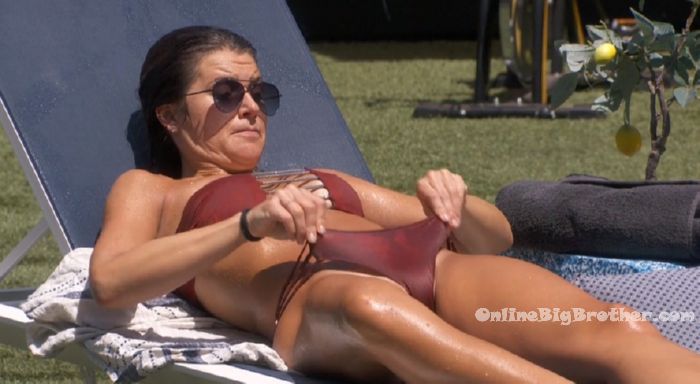 2:27pm HOH room. Fes, Bay and Rockstar. Fes tells them about his conversation with Brett. Fes – Brett's pitch was if he goes, then I am next and basically I could use him as a shield. Bay – Okay what are you thinking. Fes – that part makes sense but he's a threat. Bay – its annoying like who are you to say that Fes is next .. he don't know what you've got going on. And I know a lot of people in this house that are threatened before you. Fes – and then he was like we could work together because we're both good at vetos. Bro you (Brett) haven't won sh*t! Bay – and as you know coming into this house he wasn't interested in working with you. He is going to keep Angela, Kaycee and Rachel safe before you. Bay – Kaycee is a girl but she is close to some guys. Fes – if Kaycee or Angela won, I know I would go up. Fes – I am not voting for Brett over Rachel. I am keeping Rachel.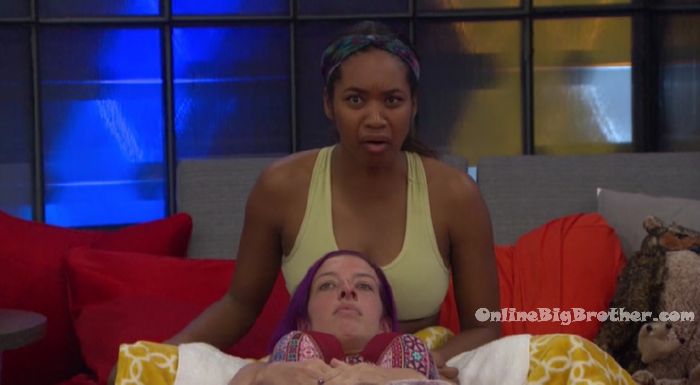 3:05pm JC, FES and Bayleigh. JC – I really think that Tyler will not sure the veto. JC – also do you think there is an all girls alliance? Bay – no there isn't one. Fes – keep an eye on him (Tyler) and Brett. Bay – you keep an eye on him.
A real easy way to support the site if you are an amazon shopper is to make your purchases through our link. You pay the exact same thing but we get a small % commission. It doesn't cost you anything and helps us out.
Amazon Canada
Amazon USA
Rank the houseguests!
Easiest way to Rank the house guests use link below