| | | | |
| --- | --- | --- | --- |
| POV: | Angela | Next POV: | Aug 4th |
| POV Used | ? | POV Ceremony | Aug 6th |
| HOH: | Angela | Next HOH: | Aug 9nd |
| Noms: | ROCKS and Tyler | Have Nots | |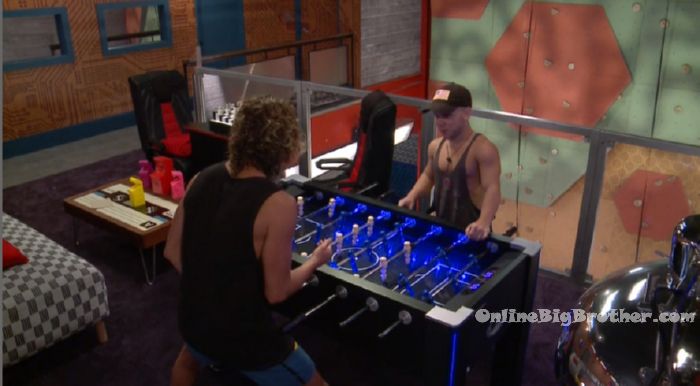 4:10pm Outside the HOH room. Tyler and JC. Tyler – I am going to do a f**king back-flip at the veto ceremony. JC – do it! JC – she already told Fes that she was trying to get you out because of the thingy. Tyler – when did she tell him? JC – I don't know. Fes told me last night. She is a really bad player (Bay) because she has all these powers and she goes out. Tyler – She is going f**king home. JC – goodbye! Tyler – I don't give a f**k about her jury vote. I don't give a f**k about her! JC – I wanted to give you a hug but I can't … people have no idea about you and me. Tyler – heard you every time you said something. I can't wait for some sh*t to happen to you.. because you're not going anywhere.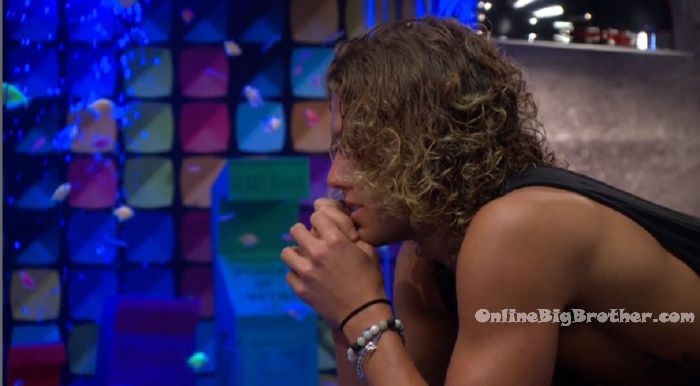 Try the Live Feeds FREE for 7 DAYS! Click here for your: FREE Trial

4:10pm HOH room. Kaycee and Bayleigh come up to talk to Angela. They talk about the veto. Angela – I dropped one bar .. you literally can't make a mistake. Angela – have you talked to Brett. Bay shakes her head no and says – he's mad. Kaycee – that whole switching sh*t.. Angela – in the heat of the moment I didn't understand why Scottie wanted 5k over a veto. I was like what the f**k is going on. This makes absolutely no sense. I see Tyler and Scottie talking game down there.. Bay – I was right there and Scottie was like let me have it.. I am not safe either, let me take you down. Tyler was like no I need it. Angela – I saw all that go down and I was like there is something up. Bay – Scottie kept saying this is a backdoor .. he thought this was a backdoor for him so he wanted the veto. Angela – I didn't know what was in Tyler's box either. Bay – Since we came back in everyone is in a panic. You can do what you want, but it just sucks if you use it you have to nominate a fourth person. Angela – I don't know if I made the wrong decision but what's done is done. Ever since I got HOH I've just felt like I have no idea what the f**k is going on. There is still the cancelled vote. I just wanted some of the power this week. They talk about how Rockstar got a fitness punishment that she has to complete. Kaycee talks about how she was to wear a peanut costume for a week. They comment on how JC threw up. Bay – he wasn't even in the competition?! Kaycee – so you have no idea what you want to do? Angela – no. Kaycee – well you have a day and a half to figure it out. Bay – I need to figure out how to be normal ..everyone is freaking out down there.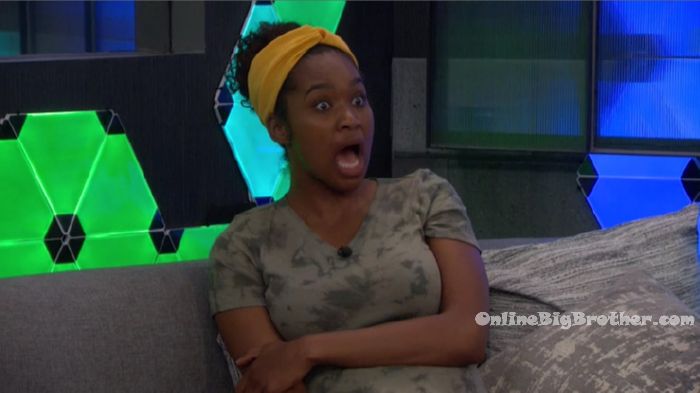 4:50pm Havenot room. Angela and Tyler. Angela – when Scottie offered me that .. my gut was like no don't take it. It worked out perfectly though. Tyler – Scottie wasn't pissed at me for taking the veto because if he had gotten a punishment he would have been pissed and now he built that trust with you and me. Angela – you need to apologize to Brett. Tyler – Basically Brett and I are shifting. I was the lone wolf and now I am working with you guys and he is the lone wolf. I seriously love you guys so much! We are f**king sh*t up and we are going to the end. I hate them so much. Angela – I hate them. Should I hint toward Brett being the replacement? Talking about Brett and his pouty little attitude. Tyler – that wouldn't be the worst move. Make sure you talk to Brett fist though. Angela – I want her (Bay) to have no idea it is coming. Tyler – I don't want her jury vote. I don't care. Its so perfect that Kaycee played too. God dude we are going to the end. Angela – I know!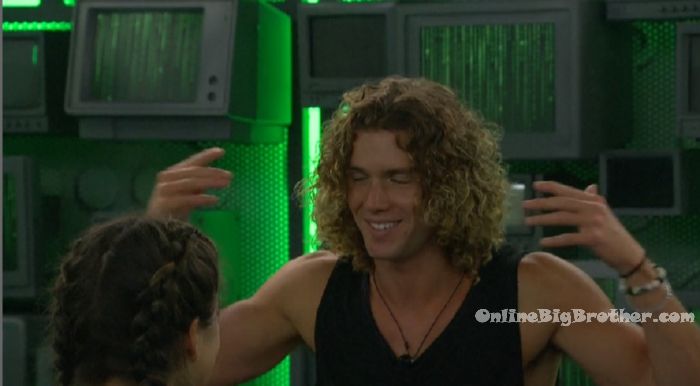 Brett talks to Angela in the havenot room. She explains why she took the veto to keep Tyler safe. I freaked out because it was the only way I knew we were secure. I felt really bad that you got that (granny costume). Brett – I don't even care about that. Angela – it worked out perfectly because now Scottie trusts me. Honestly we don't need Scotties vote. Brett – we do need his vote. Angela – all we need are 4 votes. We are solid, like Bayleigh is going home. This is great! This is fuel for us. I really thought you were unhappy. I thought I did the right thing at the time. Brett – I just needed you to think I was mad. Angela – I am going to go around saying what a little baby he took Kaycee's thing and then someone took his so now he is going around pouting. Then I might be like why is he so upset, maybe there is something he isn't telling us. Do we really know that he isn't the hacker? Brett – no yeah, that's perfect. JC's game is .. he want's both sides to keep targeting each other so that he is never the target. Brett tells Angela about how Bay made Scottie swear on the bible multiple times. Angela – That is f**ked up! I am going to use that in my speech. Brett – I feel like he got bullied. Angela – I am going to tell Sam that is the stuff she hates! Brett – She is going to lose it! She (Bay) is going to freak the f**k out! Or she will probably go back to her corner.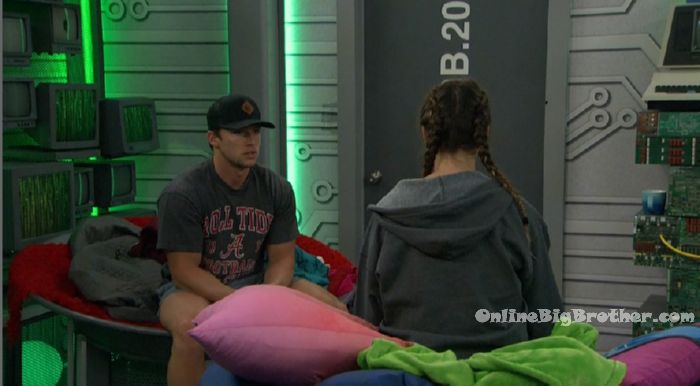 5:15pm Lounge room. JC, Bay, Haleigh, Fes, Scottie, and Rockstar are playing pictionary with the art wall.
5:40pm Sam and Angela are in the kitchen baking.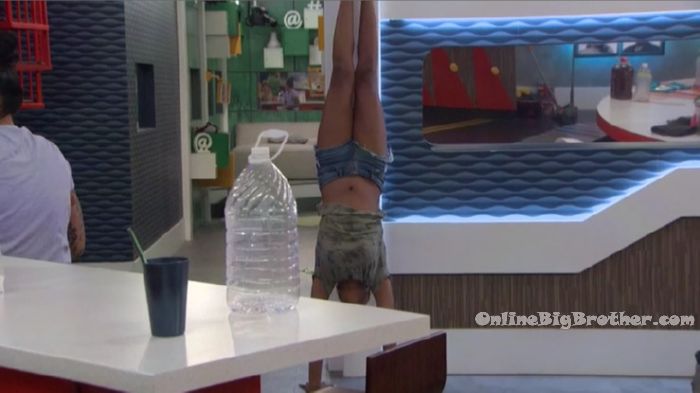 6pm Storage room. Tyler and Angela. Tyler – I am worried about Bayleigh's power. Angela – why? Tyler – maybe she can use it in the veto? Angela – she would have to use it before. Think about how much power that would be? If you have a power you can't lie about it. Tyler – but she could withhold that she can use it during the veto. Did you talk to Brett? Angela – yes. Tyler – I feel like we might have to do that with Scottie too because what if he goes to Bay and then she uses it (her power). Maybe she can use it during the veto? I was thinking a just in case thing. We make people think that Brett is the hacker. Angela tells Tyler about her conversation with Brett. Tyler – maybe you should say that you're thinking about backdooring me.. I think that's a lot easier than pinning it on Brett. Angela agrees. Tyler – ask Bay if she has your back with it. Angela – I'll have her stay up there Sunday night.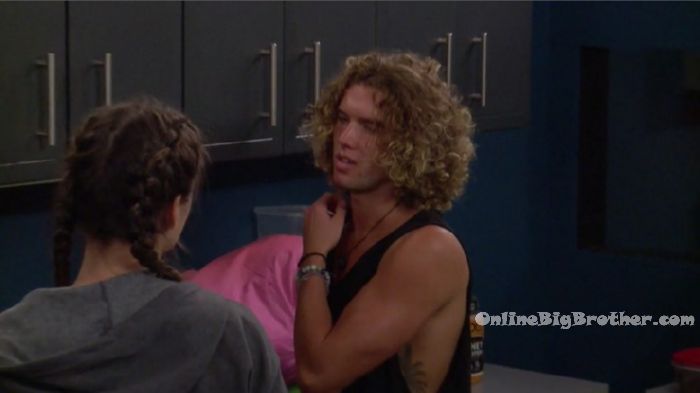 6:20pm – 6:43pm HOH room. Kaycee and Tyler. Kaycee tells Tyler about Bay's conversation with Angela. Kaycee – I don't think Bay could use her power during the veto. Tyler – I was thinking Angela should have Bay stay up here one night and then for her to tell Bay that she is thinking about not using the veto so that Bay doesn't use her power. Tyler, Kaycee and Angela talk about what Bay's power could be. Angela – either way it doesn't hurt for me to go to Bay and ask her for advice on what I should do. Tyler – don't let her say do what ever you want. Make her say what she thinks you should do and then tell her that's what you'll do. In my speech I am going to say everything that she's done. She made Scottie put his hands on the bible. Tyler – Rachel made him do that too. But Scottie is an incredible actor. Kaycee – he goes to improv class. Kaycee – Fes is freaking out. Angela – if he is freaking out that's good. If he stops freaking out that means she is going to use it.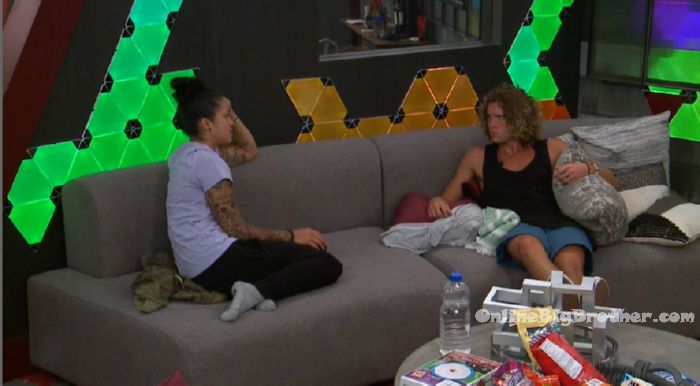 7pm Kaycee and Angela in the HOH room talking. Angela – Brett said this week is going to be tough.. not only do I have to act like I am in the dumps, alone, you're going to act like a b***h to me, I'm going to be a grandma.. Kaycee laughs – this is funny. Its funny how we all have our own roles. I love how we can come together and communicate with each other. I love how we can all trust each other. Angela – the only thing I am worried about is if Scottie is as solid as he says he is. He came up here in tears and I don't think you can fake that. Kaycee – everything is going to work out. Its all going to work out the way you want it to.
Angela – on the production side of things in order to get the message across to America it has to be so straight forward and so black and white because sometimes people aren't that smart. And so every time you go in the DR they simplify it down so that anyone can understand. If the app was like you can change the nominees.. Big Brother changes the feeds.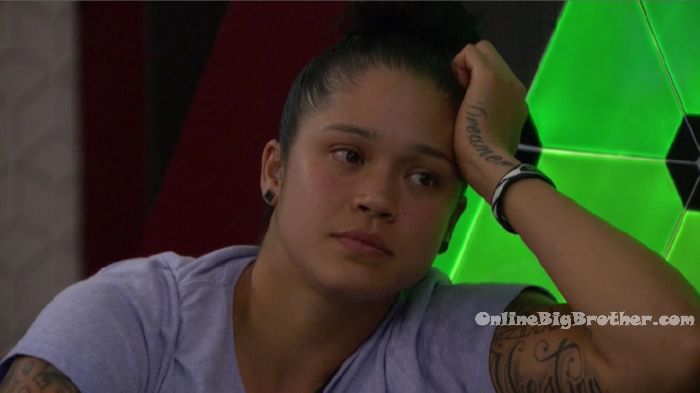 7:15pm – 7:30pm Bay, Haleigh and Rockstar. Bay – it would be amazing for the all girls alliance. Haleigh – but she promised Tyler she would take him down. We need to talk to her. Rockstar – she came up to me and said you were never my target. Haleigh – I really don't think you were. Haleigh – that would be the biggest move if she took you (Rockstar) down and put Scottie up. I am still not convinced that wasn't planned. Bay – and then they split up Tyler and Scottie. Haleigh – I think she just needs to know that we're behind her and that we would never f**k with her. Bay – I just want to know what is going on in this house. The most obvious thing is that Scottie and Tyler is a thing. "Skyer" Haleigh – someone is f**king with us. Three flips and we don't know who they were. I think Scottie and Tyler have a final 2 .. I think that should be brought up. Bay and Haleigh tell Rockstar that she can't be be sad and defeated . Bay tells Rockstar that she needs to tell Angela that if she takes off Tyler she has no idea what they might do .. if you take me off I will be a number for you.. we have our all girls thing. You need to say those words and nothing else. Do not throw yourself under the bus. The boys will not have your back.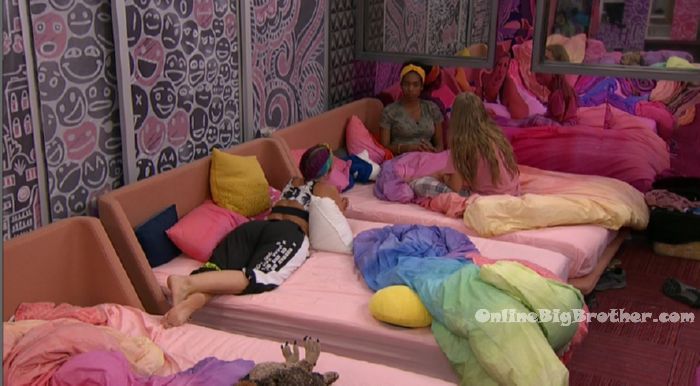 15
If you've enjoyed our live feed updates so far this season, please consider donating.
Any amount is greatly appreciated! Your donations go directly to paying the fees required to run this site.
Rank the houseguests!
Easiest way to Rank the house guests use link below