| | | | |
| --- | --- | --- | --- |
| POV: | Angela | Next POV: | Aug 4th |
| POV Used | ? | POV Ceremony | Aug 6th |
| HOH: | Angela | Next HOH: | Aug 9nd |
| Noms: | ROCKS and Tyler | Have Nots | |

2:34pm The live feed return from being blocked for the Power of Veto competition.
POV WINNER: Angela!
It was the prizes and punishments competition.
Scottie – won 5K
Tyler – won a trip to Hawaii
Brett – Insta-granny panties costume punishment
Kaycee – Peanut costume punishment
Rockstar – got a fitness workout punishment task that she has to complete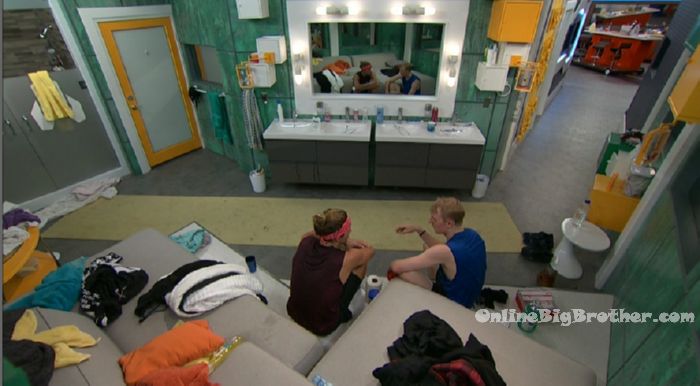 2:35pm Bathroom. Tyler – that was an endurance comp. Scottie you're not going up, if anything I am going home. And I wasn't going to take that 5K away. You earned that. Scottie – as long as you and I are good. She asked me a million times if I would pick the five or you. I said we've got the numbers. Tyler – I hope you said the five. Scottie – I swear all these people making me swear on the bible are doing me dirty! I am tired of this sh*t and people making me swear on the bible!! Tyler – well don't let them Scottie. Don't fu*King let them. Rocktar joins them. Rockstar – neither of you took it (veto) .. that's a lot of trust. Tyler – this just saved you. Rockstar – she just swore she wasn't going to use it on you guys. Tyler – she swore she would use it on me and not put him up. This just saved you Rockstar. Scottie – she apparently has some target she is putting up next to you. Rockstar – I think you (Tyler) should have taken it. Tyler – I think so too. Rockstar – that was your safety.
Try the Live Feeds FREE for 7 DAYS! Click here for your: FREE Trial
2:35pm HOH room. Kaycee and Angela. Kaycee – now Scottie has the $5000. Angela – it all would have worked out perfectly. If anything I am mad at myself. I kept this and through away $5000 to keep Tyler safe. Kaycee – it would have happened naturally. Tyler would have taken himself off. And you still had ower to do hat ever you wanted. Now they've put so much trust in you, now they probably know its a thing. Angela – no I don't think so. Kaycee – yes. Brett was like now they know they're working together. Because he is on the block and he puts so much trust in you. Now they know its a pair. It is what it is. Angela – Scottie was trying to give me $5000. I didn't know what was going to happen. JC joins them. Angela – why did he want this (veto) so bad. There is no reason. Kaycee – he wants to make sure he doesn't get backdoored. JC – is the plan still working? Angela – yes.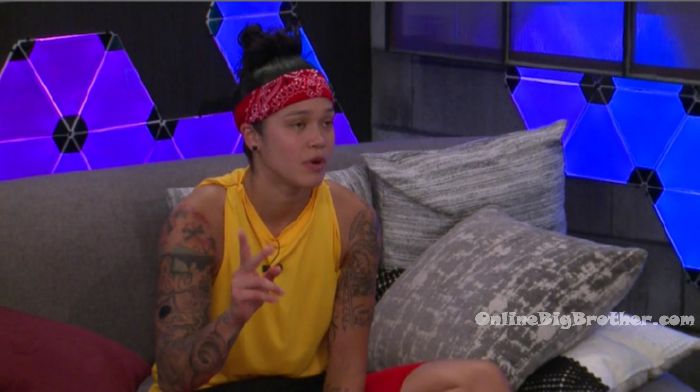 JC, Angela and Kaycee. JC – the only reason I was saying just keep it, just keep it is because Bayleigh was sitting next to me and being like what the f**k is going on? So I was just like keep it. Kaycee – they were thinking that you wanted to keep it the same. JC – I don't understand why Brett is so pissed? Kaycee – he is pissed because now it looks like you and Tyler are … because he is on the block and he is putting so much trust in you to keep the veto. JC – it wasn't a good move. Angela – how was I supposed to know. Socttie was trying to take this for 5k.. does that not look sketchy to you? JC – no yeah. I want to put that word out there so that it doesn't look sketchy. I got it. Angela – how am I supposed to put all this things together in my head. JC – yeah there was no time to think. The other side is now freaking out. Fes thinks he is going to be backdoored. JC – the only thing that I am concerned about … I completely trust you that you're going to use the veto and that we're sticking to the plan. No mentioning anything to Bayleigh. (The plan is to backdoor Bayleigh) Angela – I just announced out loud that I would take him (Tyler) done and now if I don't no one will trust me. Kaycee – its okay. Angela – Tyler was going to take it and use the veto anyways. I just didn't want the granny panties. Kaycee – the house is probably thinking WOW Tyler really trusts Angela on some real stuff. We should all have the same story. Angela – I saw Tyler and Scottie talking. Scottie was throwing 5K to me to take the veto. I figured sh*t was about to go down. I did everything in my power to keep the veto. Tyler pulled out the granny panties and I promised him safety so that I didn't have to get the granny panties. Angela – I have been very public that I thought Tyler and Scottie are working together. Kaycee – this is exactly what we wanted.
Brett – It doesn't make any sense why he wouldn't take it. The veto is the only way to guarantee your safety. I have no idea where Scottie is in this f**king game. Fes – who do you think won the hacker? Brett – I have no f**king idea. At least you didn't get the insta-granny. God Dammit, I am so sick of getting d**ked in this game. I am so F**king pissed off.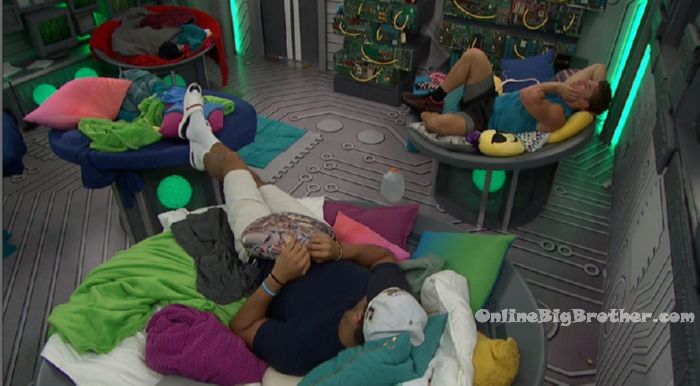 HOH room. Angela, Tyler and Scottie. Angela – I'm sorry I just wanted the veto. Tyler – its okay we trust you. Angela – you're (Tyler) coming down and you're (Scottie) not going up. I told you that and I have been loyal to my word and I am not going break it. Tyler – there are people making him (Scottie) swear on the bible. That he did do something or didn't do something in the past and its f**ked up. THAT's F**KED UP! Angela – WHAT?! ARE you f**king kidding me? Angela goes in to hug Scottie.

3pm Scottie – that's why I couldn't throw someone under the bus when you asked me. Scottie starts crying. Angela – that's f**ked up. Tyler – this is the most trustworthy dude on the face of the earth right here. Angela – Scottie you know I have your back. Scottie – I trust you. Angela – they're doing it because they're scared of you. Scottie – well one of them is gone. Tyler – and its the same one that made me swear on my Dad. And that's why she had to go. Scottie – no that wasn't mine. Tyler – Rachel? Scottie nods. Tyler – he was never going to go was he? Angela – you were always a pawn. With the hacker app I didn't want to put up people that I wanted to go. Tyler – moving forward you've got both of us. Angela – I never trusted them. Tyler – they're going to get what they deserve Scottie. Angela – Justice will be served. Angela – Scottie did you ever think that I was going to back door you? Scottie – someone said it was an option. Angela – well whoever told you that is not someone you should trust. I would never do that. Whatever game is going on .. on their side it is shady as f**k. Angela – its really sucks when you feel like you can't trust anyone. Just so everyone knows I have not decided who the replacement would be. Everyone better start campaigning. So right now we are the only safe people in the house.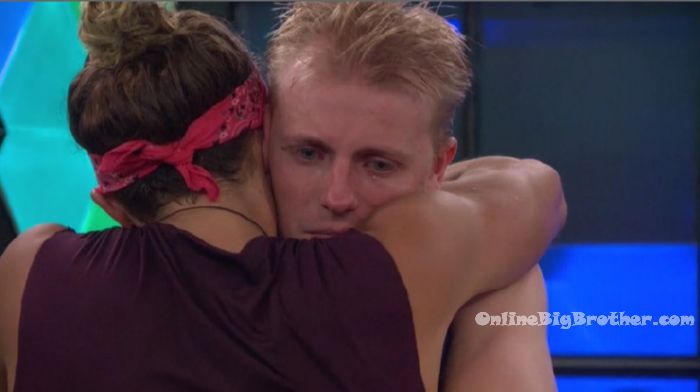 Bedroom – JC, Haleigh, Bayleigh and Rockstar. JC – I told Sam to shut up. I feel bad. Right now I am going crazy because i don't know what is going on. Haleigh – this has to be some sort of backdoor plan. She just promised the first person that she put up (Scottie) that she wouldn't put them up again and promised the other person she would take them down. JC – F**K F**K F**K I don't think she will backdoor me. Worst case if she puts you (Fes) up them we will figure it out. Haleigh – and if he is the target they will cancel one person that will vote for him. She is not putting Brett up. Haleigh – we have a few days to figure it out.
Brett- why not hold up a sign that says we're working together. That is the dumbest thing I have ever heard. The only way to guarantee your safety is to win the veto. JC – I told them that Tyler is f**king stupid. Lets just stick to the plan. Right now we're not up and we don't need them to see us mad. Brett – both of them. For Scottie and Tyler that was a stupid move. The only reason why Scottie is safe is because the hacker took him off. JC – you need to calm down. Brett – I am calm .. that's why I am sitting in this room. I always get d**ked in this game. Do you think that Bayleigh is stupid. She is going to piece that together about Tyler. Bayleigh already doesn't trust Tyler.
3:22pm Havenot room. Brett and Scottie. Brett – I was really surprised that you did not take the veto. Scottie – normally when people promise me something they flinch a little .. I looked in her (Angela) eyes and they were still. That is the most trust I've felt and Tyler said take it. I told him that I was going to win it and take him off .. then we're both safe. Brett – I think you're probably fine. I don't know about myself though. I just don't understand what the f**k just happened.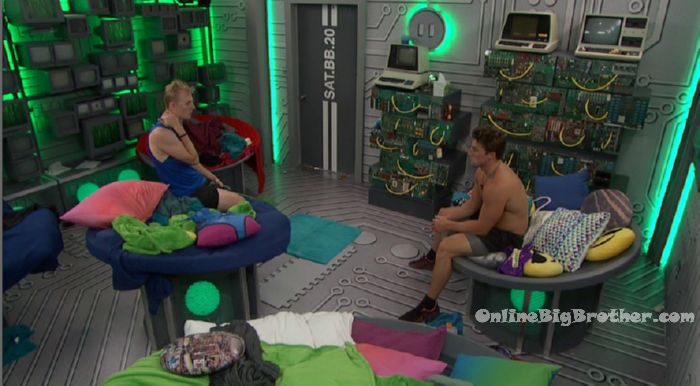 3:20pm HOH room. Angela and Haleigh. Haleigh – you have everyone tripping out down there. Angela explains why she took the veto.
3:33pm Havenot room. Brett and Tyler. Brett – it is going to be really awkward when she goes up. Brett – we're going to backdoor her (Bayleigh). Tyler – once she is gone Fes will latch onto you. Brett – its going to be really awkward when she goes up. Tyler – she is going to flip out!
JC – Bayleigh is freaking out! Tyler – f**k her! JC – freaking out! Tyler – f**k her.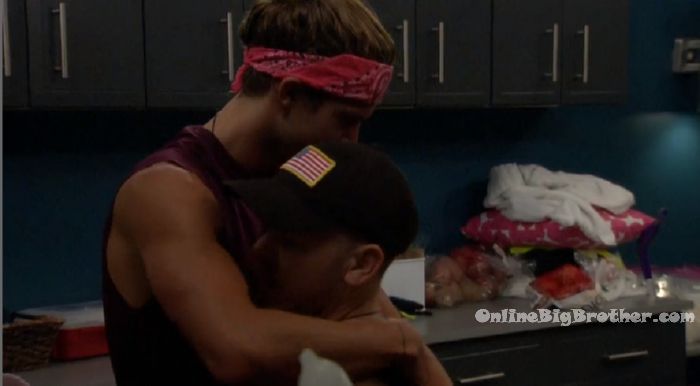 4:04pm Bathroom. Fas and Rockstar. Fes – She promised Scottie safety and then Socttie swore on the bible to you that he would go after you. Bay – no he didn't. He swore he didn't flip. Fes – oh. Bay – He said he would put up one of the three girls.
4pm Storage room. Kaycee and Sam. Sam is wrapping Kaycee's foot. Sam – I'm a doctor. Kaycee – they're all freaking out because they're worried they might go up. Sam – well eventually they'll all go up. Kaycee heads to the lounge room and talks with Bayleigh. Bay – I didn't understand why she was begging him not to take it. Kaycee – she (Angela) is frustrated with this hacker thing .. and how all her power was taken away. I think she just wanted all the power. Bay – well the hacker is still going to steel a vote.
If you've enjoyed our live feed updates so far this season, please consider donating.
Any amount is greatly appreciated! Your donations go directly to paying the fees required to run this site.
Rank the houseguests!
Easiest way to Rank the house guests use link below