| | | | |
| --- | --- | --- | --- |
| POV: | Angela | Next POV: | Aug 4th |
| POV Used | ? | POV Ceremony | Aug 6th |
| HOH: | Angela | Next HOH: | Aug 9nd |
| Noms: | ROCKS and Tyler | Have Nots | |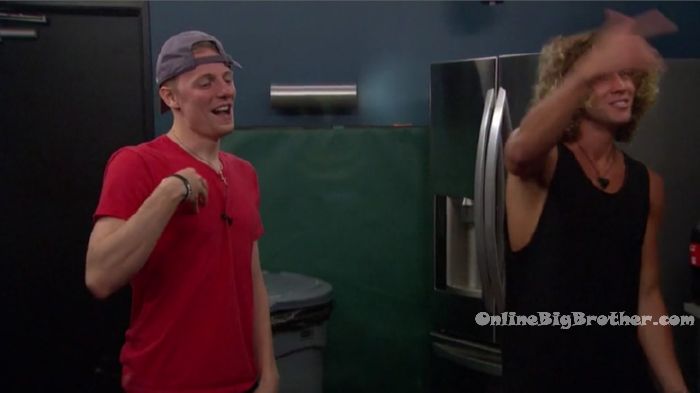 7:15pm Storage room. Scottie and Tyler. Tyler – as far as I know its only me, you and Angela that know what's going to happen. I don't want anyone else knowing because if it gets back to her. Scottie – I've just been saying I hope she stays true to her pinky promise. Tyler – I've been saying I hope she stays true to it. Scottie – people are panicking. Brett is freaking out. I made sure she pinky promised because I know that Sam is all about the pinky promise. Tyler – If she does find out we're telling people that would be enough to .. I just wanted to make sure we're on the same page. Tyler – what if Bay isn't the hacker.. Scottie and Tyler agree they feel good. Scottie and Tyler laugh about how they took money and prizes even though he is on the block. Scottie – worst case if people do start seeing it (Tyler and Scottie working together) we just point out that our votes have never matched .. because they haven't. Scottie laughs — We need to separate these two.. they never vote together. You know how they say that Derrick and Cody are the best pair to play the game.. we are the worst.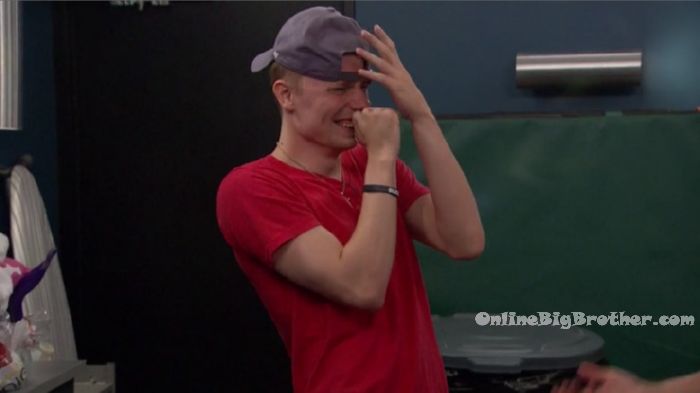 7:52pm Bathroom. JC, Tyler and Rockstar. Rockstar puts on her veto shorts. JC tells her to face the camera and "make it clap". Rockstar – no.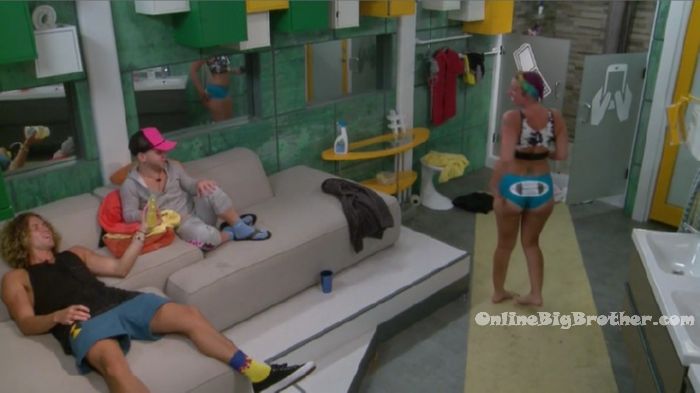 8pm Bayleigh, Angela and Haleigh workout outside the HOH room door.
FLASHBACK and watch everything you missed: Live Feed 7 day FREE Trial!
8:23pm When the feeds come back being blocked – Kaycee has her "Health Nut" peanut costume on. Every time they a certain song she has to dance around and sing along. She says she has to sleep with it on and carry the dumbbells around with her.
Kaycee's health nut costume. She has to dance and sign with the music plays..#bb20 @bigbspoilers pic.twitter.com/rlXUpUPUZ5

— Dawg (@DawgsBigBrother) August 5, 2018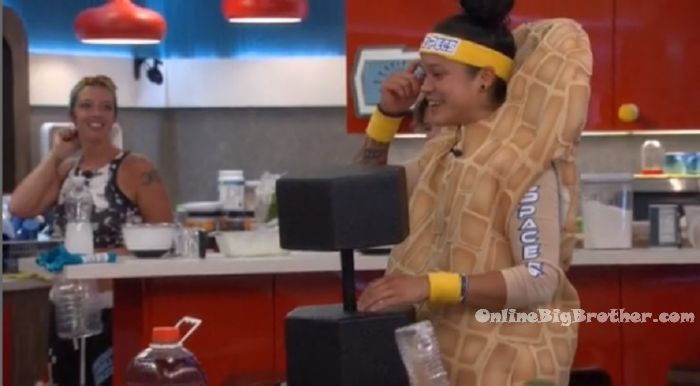 8:32pm Hammock. Rockstar and Kaycee. Rockstar – we were talking about the three of us (Rockstar, Bay and Haleigh) and the two of you (Angela & Kaycee) working together. They we would have five and be able to control everything. We need to filter up to the HOH room to talk about it. Kaycee – sounds good let me know. Rockstar – me, Haleigh and Bay have a very good trust and loyalty with each other and you and Angela have good trust and loyalty with each other .. and we feel like we could all trust and loyalty to each other. (LOL?)
Angela and Bay are running laps back and forth in the backyard. Bay – we need to all have a meeting. Angela – all the girls? Bay – yeah.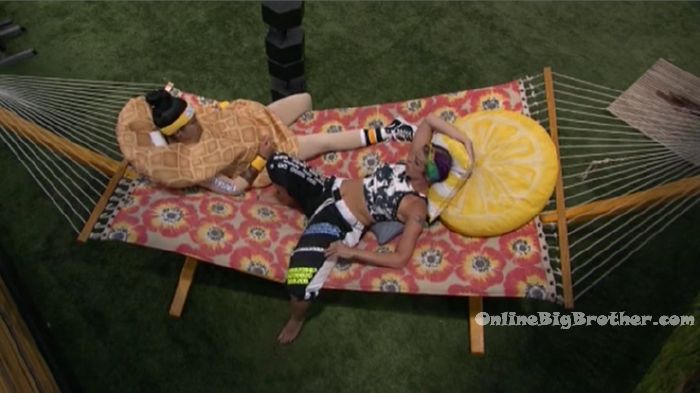 Haleigh has picked who's vote she is going to cancel.. @bigbspoilers @simononlineBB #bb20 pic.twitter.com/evsFthOb6A

— Dawg (@DawgsBigBrother) August 5, 2018
9pm Fes, Brett and JC continue playing corn hole.
9:16pm Outside the HOH room. Kaycee tells Angela about her conversation with Rockstar in the hammock. Kaycee about Rockstar – what makes you think you can just come up to me and do this? What should I do? Angela – tell her we'll meet. Its good though, it shows they're scared. We need to tell Tyler. You come to me because I have all the power. We can be like yeah lets decide who we want to go for and make plan. Kaycee – its about to get messy! I've got your back. Angela – then in the veto ceremony I can say that you guys came to me to make an alliance only after I was in power. The HOH room opens up so they head inside. Angela – why would you approach someone after the veto… that's the worst time. How does that make any sense. They must be really scrambling because none of them feel safe. Lets definitely question it before we say anything. Kaycee – they really think we were born yesterday.
9:25pm Sam tries to catch a bat. JC – why? What are you going to do with it? Sam – just look at it. I've done it before.
9:27pm – 9:50pm HOH room. Bayleigh joins Kaycee and Angela. Bay – here is what I am thinking. I wanted to talk to you before because I don't want to promise Rockstar anything. I just want to talk amongst friends. I am under the impression you want to make a big move.. take Rockstar off, put Scottie up and a boy goes home. And a big competitor and then me saying that gives us a four person chance to win the next HOH. If the person that ends up staying wins HOH, then we can just change the noms. Angela – my question to you is if I think I am going up would you be willing to change the noms to save me if I do this for you? Bay – this is what I am struggling with .. I want this to happen.. and to me in my head I am like absolutely. Everyone knows I have the app. If that is what we are going to do .. I am worried that I will go up on the block and then the girls that I think have my back don't .. then I am going to be pissed. You're taking a big risk by possibly doing this .. and I trust you completely .. I just need to make sure everything is solid. Depending on which one goes home… if Scottie stays he could win the hacker comp. Angela – I have their trust right now .. is there a way to get them with us? Bay – I am comfortable discussing everything with you two but I don't want it getting out. Angela – do you think there is any change Scottie has an app? Bay – They got it the second week. My app lasted a long time. Angela – the two people that I want to put up could have an app… that's what I'm scared about. I want to make the decision to get the least blood on my hands. Bay – we know that Syler is a real thing. Angela – and that's a problem for me. Bay keeps asking Kaycee what her thoughts are? Kaycee spaces out and says sorry I am so tired. Angela – I am all for all girls but if I am going to jump into it .. we need a set plan. Bay – I think we have a solid group of girls that can keep their mouths shut and move forward.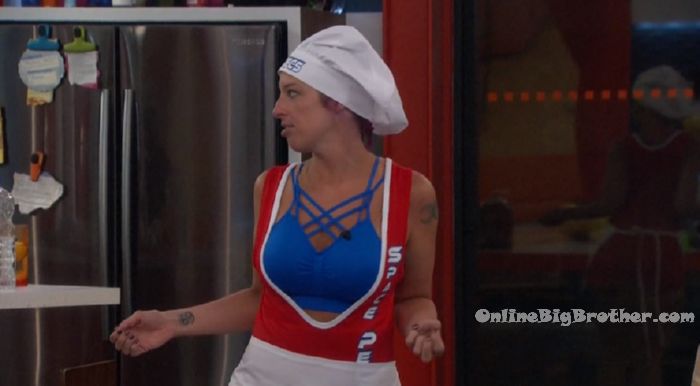 9:50pm Rockstar comes out of the diary room wearing her Jessie's Food & Fitness Program. When Jessie Goderz comes over the PA he will direct her to cook something and do something fitness related. Jessie announces that he wants Rockstar to make a smoothie and run laps in the backyard. Rockstar follows the recipe to make her smoothie.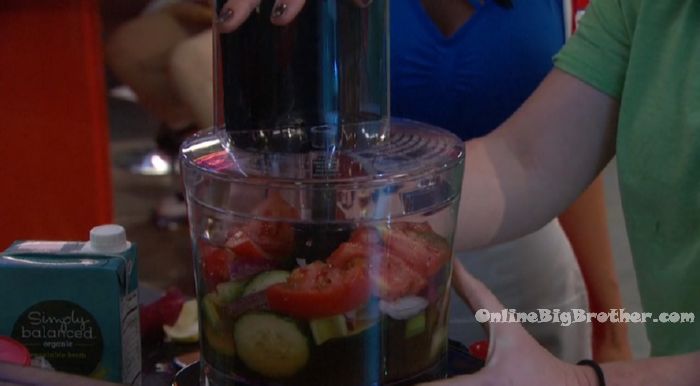 10:18pm Rockstar starts doing the laps in the backyard. Sam does it with her. JC – you're shaking so many things right now!
10:24pm Kitchen. Angela and Sam. Angela – I will tell you when I make up my mind but I haven't made up my mind what I am going to do because there are two people in my ear. When I do come to a conclusion of what I am going to do I will let you know. Sam – I felt like everything was okay and then everything is not okay. Angela – everything between me and you is okay. You and I will always be okay. You will never go on the block if I am HOH. Sam – I thought we were friends like that. I feel like all the girls are trying to do something behind my back. Angela – they are trying to. Sam – and you don't want to? Angela – I feel like I am being pinned against people. Its hard for me to explain because I don't want your feelings to get hurt. Sam – but they will eventually. Angela – people are trying to exculded you .. all the girls from different groups have come to me trying to get me to work with them. And that's what that was .. I want everyone to feel safe right now. They were trying to start back up something that didn't work before. Sam – ah okay. Angela – just know the girls don't have your back. Sam – even Kaycee? Angela – she and I do. The people that voted with you have our back. These girls came to me after I won the veto and they must think I'm stupid. Sam – if you ever don't want me here just tell me. Angela – what no! Never! Sam – I care about you. Angela – I care about you too.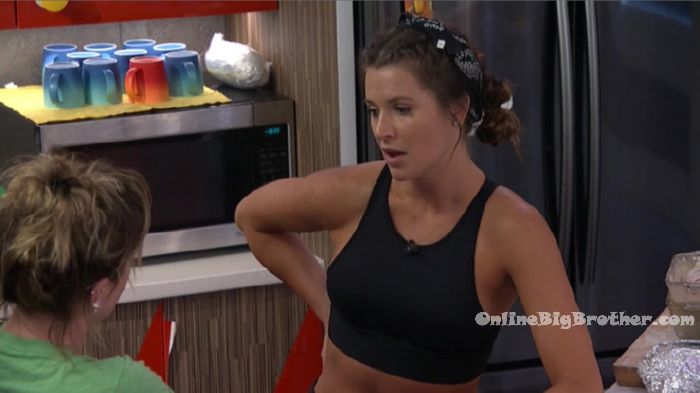 10:35pm – 10:43pmJessie comes over the PA to tell Rockstar to make carrot cake cupcakes and do curls the entire time they bake. Rocstar starts baking..

Backyard. Brett and Fes. Brett – the two guys on the block come off .. where the f**k does that add up!? Fes – I don't know what the f**k is going to happen on Monday. Brett – Like I said I am on an island and no one believe me. Fes – I've come in here playing an honest game and they've rearranged their game knowing that I am always going to be there. Fes – this is still a long a$$ week, there are still powers and the hacker app. Brett talks about how he doesn't understand how Tyler didn't take the veto. I was .. like .. ahh dude! I was so f**king mad! You just made the dumbest move. It doesn't even add up! Fes – they've got pinky promise Brett! Makes f**king sense to me! Brett – do I need to make a pinky promise with you?? Fes – If I am on the blcok I am taking the pinky promise every time!! Brett – and then I come in and everyone acts like I am crazy?!
10:48pm Bay and Haliegh. Bay tells Haleigh about the conversation that she had with Angela and Kaycee. My suggestion is we all have a conversation tonight. Haleigh – did you approach a five person? Bay nods. Haleigh – how did that go? Not well? Bay – it was fine. That's the problem. There are no guarantees if she does it. She feels safe if I save her, but if I save her I am screwed. Haleigh – just say you'll save her and if Fes wins… your power expired. Bay – she knows my power didn't expire. Rachel told her. Haleigh – f**King Rachel. She's not even here and she's f**king things up.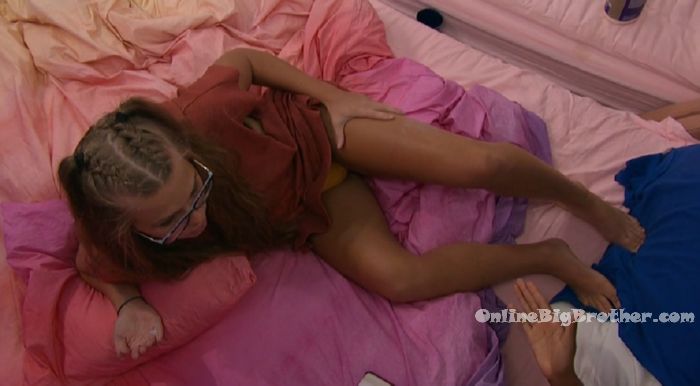 11:18pm – 11:44pm HOH room Bay and Angela. Angela tells Bay about how Sam feels so out of the loop and uncomfortable. Haleigh joins them. Angela tells Haleigh about how Sam feels left out. Haleigh – do you think she would be willing to work with anyone. Bay – would she keep a secret? Haleigh – I need someone to ride with. I am looking for that. I thought the girl thing would work. We just started too early. Haleigh and Bay tells Angela they will support her. Bay leaves. Haleigh tells Angela – I feel very isolated and scared in this game. If you did want to change the noms ..Scottie would be the easiest one.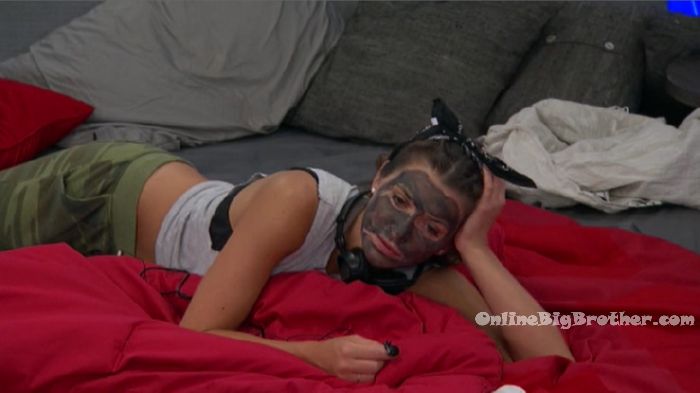 If you've enjoyed our live feed updates so far this season, please consider donating.
Any amount is greatly appreciated! Your donations go directly to paying the fees required to run this site.
Rank the houseguests!
Easiest way to Rank the house guests use link below