| | | | |
| --- | --- | --- | --- |
| POV: | FES | Next POV: | July 21st |
| POV Used | ? | POV Ceremony | July 23rd |
| HOH: | Sam | Next HOH: | July 26th |
| Noms: | Kaitlyn and Haleigh | Have Nots | |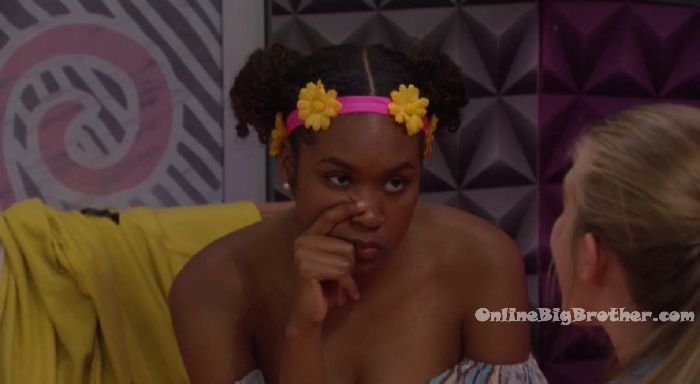 6:40pm Bedroom. Haleigh, Rockstar and Bayleigh. Haleigh tells Rockstar and Bay about JC's plan for how Haleigh should stay on the block and for Fes to not use the veto so that no one else from their alliance will go up as the replacement. Haleigh – its a risk. Its such a risk. Every single eviction we've thought we've had the number and then someone flipped. Rcokstar agrees. Haleigh – I want her (Kaitlyn) out, I don't want to accidentally go out. Haleigh – we have all day tomorrow to figure it out. Bay – at the end of the day Kaitlyn is sneaky but she has always been looking out for Fes. So have you, you've both had his back. Scottie joins them. Haleigh – I wished you played in that veto. Scottie – well you picked the right person, he won. Haliegh – it was hard. Scottie – He made it look easy.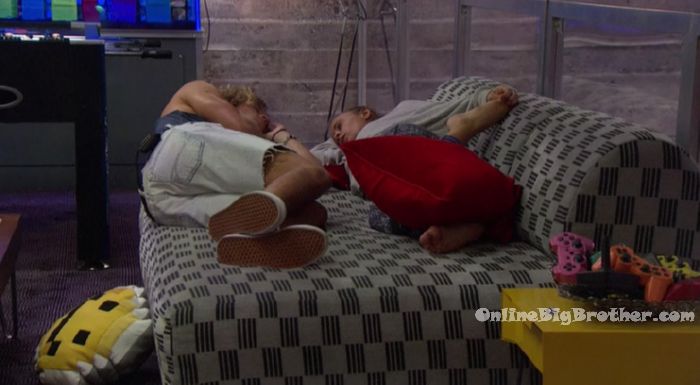 Outside the HOH rom. Kaitlyn and Tyler. Kaitlyn – he is going to use it on me. He has to use it. Tyler – I don't want you or Haleigh to go. I will talk to him. Tyler – I think he knows he has to use it on you. Kaitlyn – why was he so upset about it? I know its a sketchy situation.
FLASHBACK and watch everything you missed: Live Feed 7 day FREE Trial!

6:50pm Storage room. Tyler and JC. JC – she (Kaitlyn) needs to go. Tyler – Fes looked her in the eye and promised her. JC – I talked to Fes and he said that he is going to vote for Haleigh to stay… But Haleigh doesnt think that you are going to vote for her. Tyler – I'll let Haleigh know I will keep her especially if the votes are there. JC – I told Haleigh I would campaign to keep her. I'm going to try to get Fes to not use it. Tyler – don't campaign too hard or Kaitlyn will find out. If he uses the veto then Rockstar will go up as the replacement. And I need Rockstar here. JC – Kaitlyn is going around winning sh*t. She has to go home this week. Tyler – don't tell her (Haleigh) that I'm against Kaitlyn yet. I'll talk to Fes too.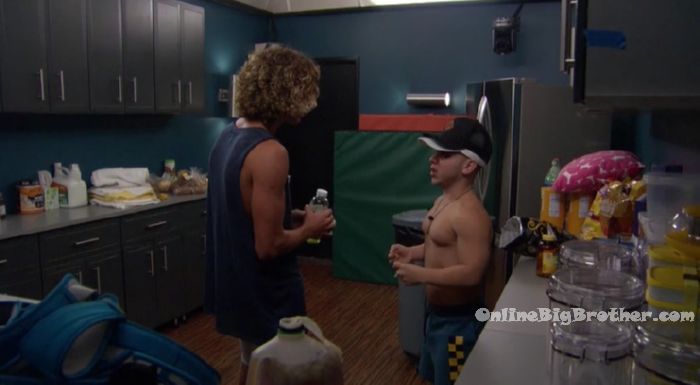 7:10pm – 7:35pm Bedroom. Kaitlyn and Fes. Kaitlyn – part of me thinks that JC has one and Kaycee has the other (power app). Kaitlyn – Just be honest did you tell her (Haleigh) you would use the veto on her? Is she (Haleigh) under the impression that you're going to use the power on her? Fes – she thinks its a possibility that I will. Kaitlyn – and are you? Fes – Kaitlyn you're my best friend but she's really close to me too so I have to figure out what's the best option. The best option is taking you down, putting someone else up or taking her down and putting someone else up. Kaitlyn – I thought I was your number one!? That's what I really though. Fes – this is why I didn't want to talk about it right now .. its stressing me out. Kaitlyn – WHOA! Fes – I trust you 100%! I know you've got my back. You never talked to me when you sent Swaggy out the front door. Kaitlyn – I apologized for that. Fes – and I accepted your apology but am I not allowed to think stuff. Kaitlyn – of course you can but you shouldn't have promised me and gotten me to throw it to you. I could have won. Fes – I don't even want to play this damn game anymore. Kaitlyn – this wouldn't be difficult if you didn't promise both of us the same thing. Fes – I didn't, I'm just close to both of you. Kaitlyn – Tyler knows what I did for you to win. Fes – you didn't throw it. Kaitlyn – YES I F**kING DID! We had a conversation literally five minutes before .. do you not remember that conversation!? Fes – you answered the last question correct Kaitlyn. Kaitlyn – I really don't think I did. I need you to look at me in the face right now and tell me you are using it on me. Fes – I am not doing that. I told you I don't want talk about this right now. Fes – You sent Swaggy home and now I don't have my partner here to win sh*t. Kaitlyn points to herself. Kaitlyn – if you don't save me .. they're (Rockstar, Bay) sending me home. If you don't save me, I am going home. Kaitlyn – right before the veto you shook my hand and promised me. Fes – you cornered me. Kaitlyn – I cornered you?! And now its all changed? Fes – I am telling you straight up I don't know! Kaitlyn – I am asking to go home. I can't do this.. Kaitlyn goes to the DR and takes off her mic.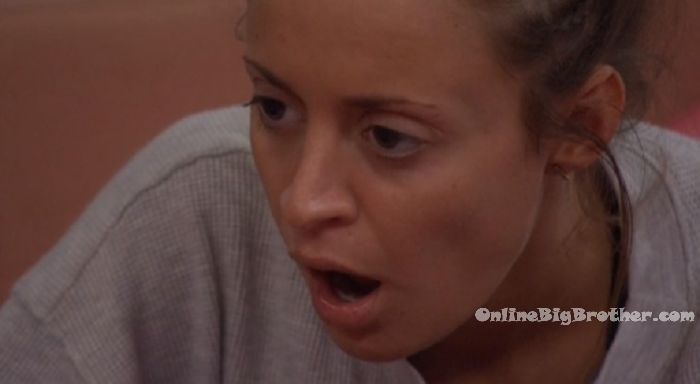 7:55pm – 8pm Bay and Fes outside the HOH room. Fes – I will make the right decision. Just trust me. I have done nothing for you to not trust me. Bay – I just don't want you to get hurt in the process. Fes – no matter what I do I will hurt someone. Bay – it doesn't have to. This sucks. Fes – What does Rockstar say? Bay – it doesn't matter because she wants Brett to go up. I don't think Kaitlyn has your best interest in mind. Fes – does Haleigh. I don't think she does either. If I'm being honest. If Haleigh had your best interest I don't think she would be flirting around the house. If Kaitlyn had your best interest she wouldn't be running around talking sh*t. So I don't think either one of them do. Do I think they both love and care about you… absolutely. I have never once questioned that. But I believe that if Kaitlyn had to choose between you and Tyler she would choose Tyler. She told me she would in the bathroom. (After hearing that there is no way Fes will use the veto on Kaitlyn. Expect Kaitlyn to go bat sh*t crazy when Fes confronts Kaitlyn about this. ) That's what I mean, you don't see it. It honestly doesn't matter. What are your options? Fes – Sam is a wild card. She's not in an alliance. Bay – yes she is. With Tyler and Scottie. Fes – where do you get that information from. Bay – all three of them have told me.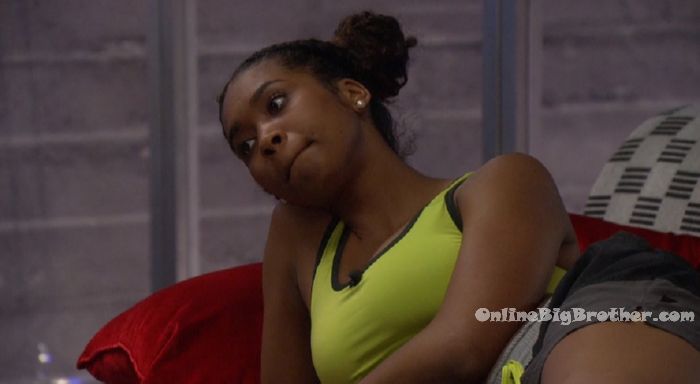 8:10pm Bedroom. Fes and Haleigh. Fes – did Kaitlyn get the lastq question right?! Haleigh – yes. Fes – she told me she would throw it to me. Haleigh – if she is sitting up there she is going home. Are you okay with that? Fes – I'm not okay with you going home. I don't know sh*t about this game. I'm going to win all the vetos and you do the rest .. that's what I told you. I said when you're on the block I will get you off the block. Haleigh – she (Kaitlyn) is not someone you can trust in this game. She tells you what you want to hear. She sent Swaggy home. I have had several people come up to me and say that no matter who I am up against. But each vote hasn't gone the way we thought it would. Fes – don't tell anyone I am taking you off the block Haleigh. Haleigh – I haven't. Fes – bottom line I am taking you off the block so be happy. Haleigh – when you won I wanted to celebrate but I couldn't. Fes – I've got you. Haleigh – promise. Fes – promise. When I use it you better remember that sh*t. Haleigh – Rockstar is going to try and convince you not to use it. Fes – because she doesn't want to go up. Haleigh – I've had 8 people tell me I am fine and not going home.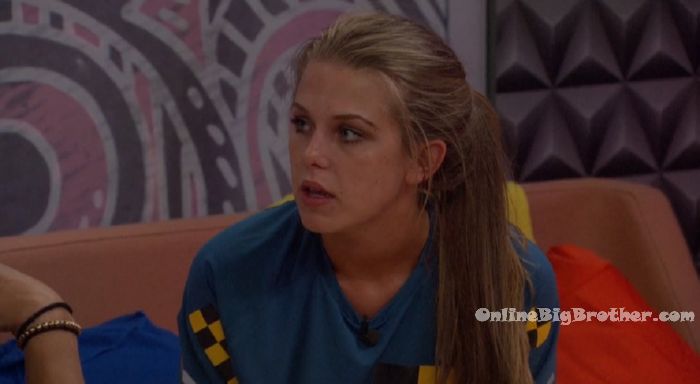 8:58pm Bedroom. Haleigh, Rockstar and Fes. Haleigh tells Rockstar that she needs to talk to Sam. (so that she won't be the replacement.) Haleigh – she is dangerous in this game because she goes off emotion and not strategy. I wouldn't have gone after her, now if given the chance I would put her up and not think twice about it.
9:15pm Bathroom. Fes and Tyler. Tyler – how are you feeling? Fes – stressed out. Tyler – the only good thing is you're safe. Fes – I didn't know if I would be the replacement. Now I have three options .. take Haleigh down, take Kaitlyn down or leave noms the same. Everyone wants something different. Tyler – piss off one person because you take off the other, leave them both up and piss them both off. Do you have a preference. Kaitlyn thinks that you won't use it on her. Fes – Kaitlyn I've been running with since day 1 so it makes sense to use it on her but Haleigh is cool too. Tyler – you've got to use it on one of them. I don't know who will go up. Fes – it makes sense to use it on one and then campaign like hell to save the other one. What I don't want to happen is the one I don't take off stays and then start gunning for me. Tyler – who would stay no matter who they were up against. We can make it happen. Sam said that she wouldn't say who would go up until after the veto was won.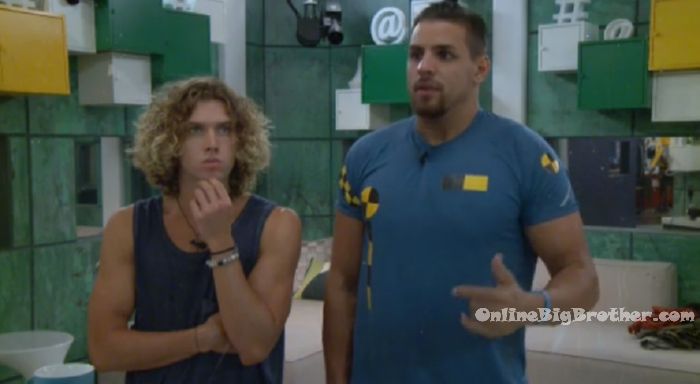 HELP keep the spoilers coming! Show your support by making a donation. ANY amount is greatly appreciated! Your donations go directly to paying the fees required to run this site.
For all you folks that need a VPN I use this one
Rank the houseguests!
Easiest way to Rank the house guests use link below