| | | | |
| --- | --- | --- | --- |
| POV: | FES | Next POV: | July 21st |
| POV Used | ? | POV Ceremony | July 23rd |
| HOH: | Sam | Next HOH: | July 26th |
| Noms: | Kaitlyn and Haleigh | Have Nots | |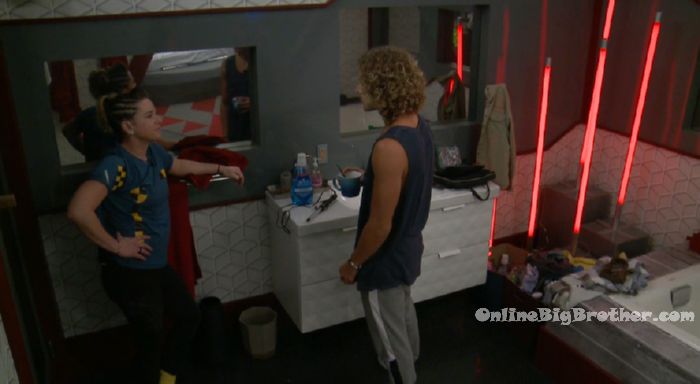 9:30pm HOH room. Tyler and Sam. Tyler – I jsut wanted to let you know that he is definitely going to use it. Sam – okay, who is he going to take down? Tyler – I don't know but still everything is fine. Are you going to not tell him who you are going to put up? Sam – no. I'm not going to tell anyone who I am going to put up until I put them up. And then when I put them up I am going to tell them about the power thing. Tyler – okay is it still Rockstar? Sam – I'm not going to tell you either. Its not you. Tyler – okay. Its not Rockstar? Sam shrugs her shoulders. Tyler – You're not going to tell me? Sam – who would you put up? Tyler – that, because you already told people. (Rockstar)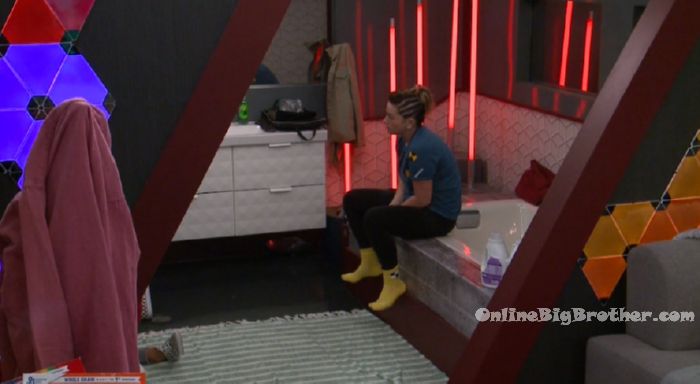 Sam – what if .. what would be equivalent to Kaitlyn but more likely to stay than Kaitlyn? I want Kaitlyn to leave. Tyler – I don't know. Haleigh was the best one. Sam – not Rockstar. Tyler – Kaitlyn's whole side is turning against her. The already have. Sam – who is picking her up? Tyler – not me. Not JC either. JC wants her gone. Sam – then who? Tyler – it is going to be a random a$$ vote if its Kaitlyn and anyone. Sam – who are you thinking? Sam – who would you do? Tyler – Rockstar, its the least amount of blood on your hands. Its not positive that he will use the veto but its looking like he is. I don't know if he will use it on Kaitlyn or if he will use it on Haleigh. Sam – then I will figure it out on the fly. Tyler – I just don't want you to be stressed. Tyler – if Kaitlyn, Haleigh or Rackstar went this week I wouldn't care in the least. Sam – outside of the three of them who else would you be least missing? If you won HOH who would you put up next week? Tyler – which ever one doesn't go. Sam – so whoever wins HOH next week has an easy out with Rockstar. Tyler – but Rockstar going isn't beneficial. Sam – outside of those three who would you least miss? Tyler – I don't talk game with Bayleigh. OR Rachel.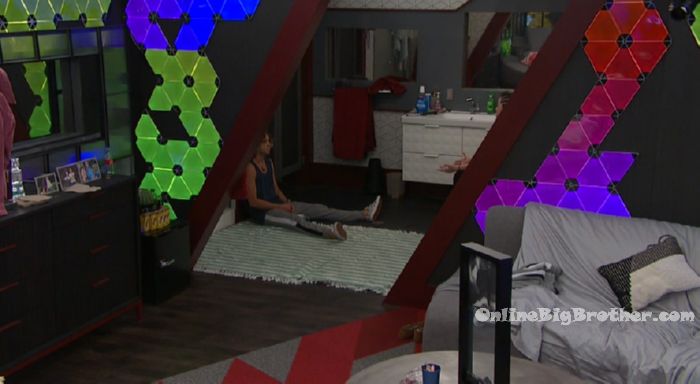 Try the Live Feeds FREE for 7 DAYS! Click here for your: FREE Trial
Sam – going with my ethics and the theory that I have I am not going to tell you what I am going to do but I know what I'm going to do. If Fes uses it, I have a replacement. And I will just spit it out.. and in the same breath I will say that the rumors weren't true and I had the super power all along and I let it expire because I felt that it was unfair. And for that reason it is going to be offered automatically to whoever is evicted. And then maybe that will soften the blow of what I am going to do. And if not then f**k it! I really don't care! Tyler – are you going to tell me what you're not going to do? You're not going to put Rockstar up? Sam – I didnt say that. I am just proud of Fes for winning a competition. Tyler – its a tough spot for him. Sam – yeah but he already doesn't feel like they're genuine so now is his opportunity to stand on his own two feet and be a man about it. So I am giving him that. Tyler – I know you told people that Rockstar would be the replacement. Sam – told two people. Tyler – you told me and Rachel. Sam – you told Kaycee? Tyler – she asked if Rockstar was going to be the replacement and I confirmed it but it sounded like she already knew. Sam – so it was Rachel. Sam – maybe I will ask Kaycee then too. She will probably recommend Rockstar. But Rockstar is not a threat. She sucks. And she's not had her chance. I mean sucks in competitions not in life. Sam – I have options if Fes takes off Kaitlyn and an option if he takes Haleigh off. Sam – I know Kaitlyn is gunning for me and she can try if she wants.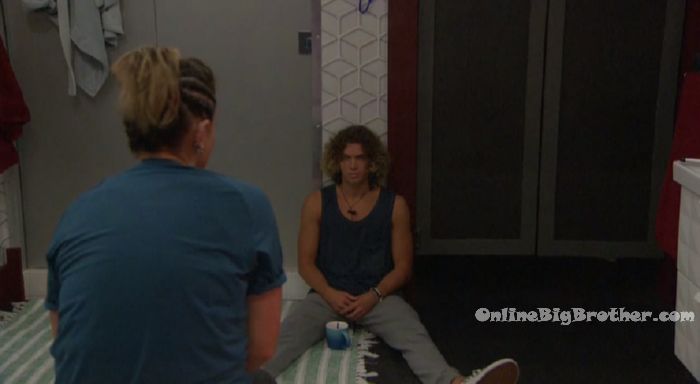 JC – let me see you naked! @bigbspoilers #BB20 pic.twitter.com/5BTfoCjP0b

— Dawg (@DawgsBigBrother) July 22, 2018
9:40pm Bedroom. Kaitlyn and Fes. Kaitlyn is like a broken record telling Fes he promised her that he would use the veto on her to take her off. I care about you so deeply! Fes – it just sucks that you kept secrets from me. Fes – so what if I use it to take off Haleigh and then I make it so you stay? Kaitlyn – Well I would eventually forgive you. Fes – that's what I am worried about with you because you're so emotional.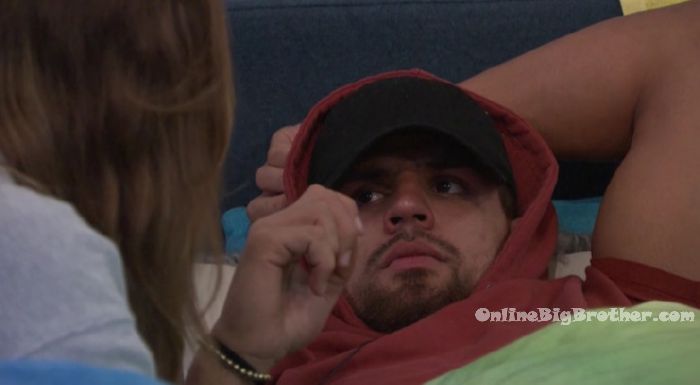 9:40pm HOH room. Bayleigh joins Tyler and Sam. Bay starts crying – I am just at a frustrated place right now. I am just so frustrated that nobody here understands me. I am like pissed. I am pissed. Like literally nobody takes me seriously. I can't ever have feelings or be upset. But every other girl cam fall on the floor and start rolling and everyone is up their a$$. If anything happens to me no one wants to come near me. I am done! I am tired of it! And people can do evil things, be mean and manipulative … I don't do any of that sh*t yet I get blamed. Like that's cool. Tyler – you know what's real though. Bay – what about me do people assume that I can't be funny or have feelings. Is it the way I look, the way I carry myself. I go out of my way to be nice. Sam – I think it was Swaggy. People think you are hard. Bay – maybe I will start being vicious and mean. Tyler – I think people might think you have a vendetta against the people the evicted Swaggy.
FLASHBACK and watch everything you missed: Live Feed 7 day FREE Trial!

Bay – I am not at the top of anyone's list. I give up! I am done! You have no idea how much I've been holding my tongue. And people have not been respectful of me! Sam – that is not fair. You can pop. Bay – What f**king good does that do me!? I am already the angry black woman y'all want me to be! So that's fine! That's who I'll be! That's who y'all have labeled me as. So its fine! Let me be that! Tyler – everyone will eventually lose the person at the top of their list. You're getting it over now. Sam – you're a prime time candidate. Anyone would be lucky to have you as a partner. Bay – thanks. Sam – just chill out. You'll get to know people. And if not then f**k it, you'll do it on our own just like me. Just stay in the kitchen and stay out of it. You are the most beautiful blossom made of steel. You are perfectly balanced and strong. You're like a tall stock with delicate pedals. Bay – I just wish I didn't care so much. I don't want to be nice any more. Tyler leaves.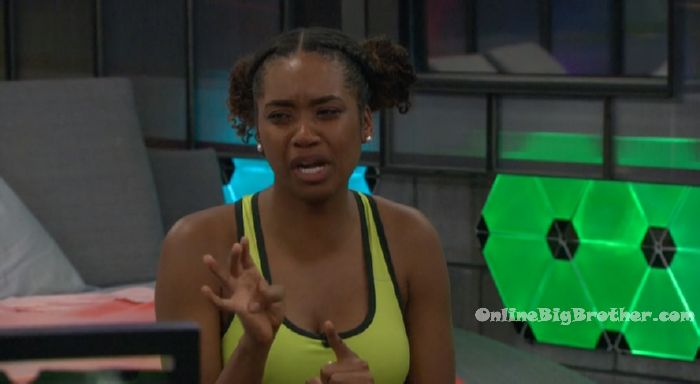 10:15pm HOH room Sam and Bayleigh. Bay talks about how she and Swaggy talked about how there has never been a black person to win the show and how they really wanted to do that. We had that in common. Sam – there has never been more than two black people on a season. Bay – there has been so much that you've missed out on that I've been holding it in. The other night I was so upset because we were in the HOH room and JC said something that hurt my feelings. He was talking about his height and I said you're not even technically considered a midget if you're five feet. And he said I'm a little less than five feet and in order to be considered a dwarf I have to be this height. I was like why do some people call them dwarfs and some people call them midgets? And he was like midget is not the correct word so I was like what is the correct word? He said there really isn't one .. I just say tall and short people. And then he said calling someone a midget is the same thing as calling someone a black person and he said the N-word. I said JC you cannot say that! And he just didn't understand. If it had been Swaggy he would have chewed him out. But I want to educate people. There is a lot of pressure on me. Sam – pressure is what is making you shine so bright. I can't imaging being anything like that, I would be the biggest train wreck.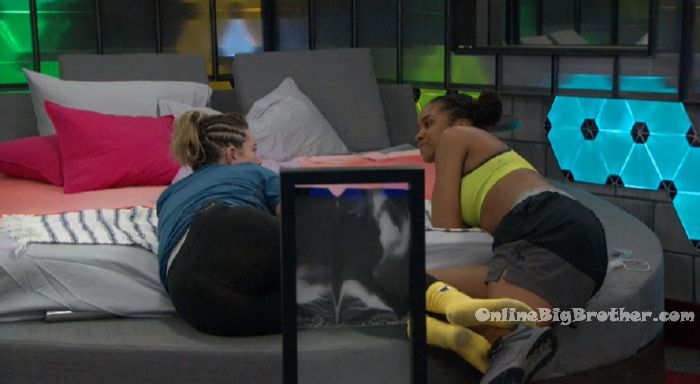 10:40pm Haleigh is ready for the circus.. (JC styled her hair and makeup. He's got a new career after the show. )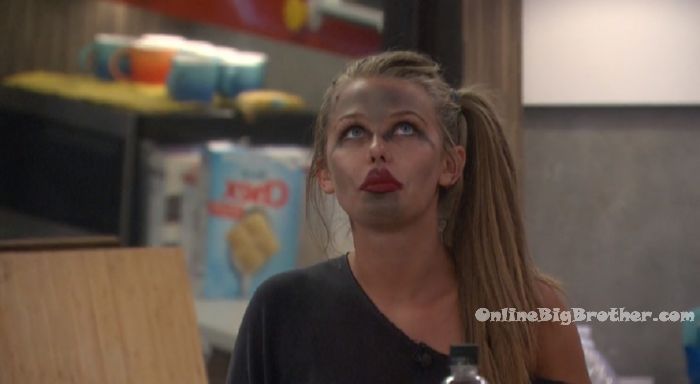 11:35pm – 12am The house guests are in the kitchen making pizzas and nachos..
HELP keep the spoilers coming! Show your support by making a donation. ANY amount is greatly appreciated! Your donations go directly to paying the fees required to run this site.
For all you folks that need a VPN I use this one
Rank the houseguests!
Easiest way to Rank the house guests use link below