| | | | |
| --- | --- | --- | --- |
| POV: | FES | Next POV: | July 21st |
| POV Used | ? | POV Ceremony | July 23rd |
| HOH: | Sam | Next HOH: | July 26th |
| Noms: | Kaitlyn and Haleigh | Have Nots | |
Big Brother Spoilers Power of Veto Players are Kaitlyn, Sam, Haleigh, JC, Fes, ROCKSTAR
POV HOST: Rachel is the host
** Fes is torn about this veto as both the girls nominated are his "friends"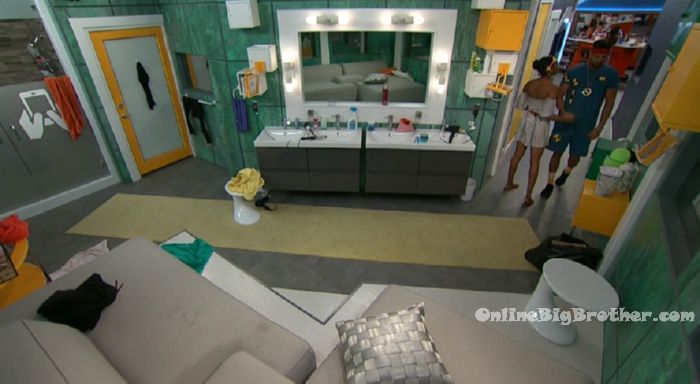 Power Of Veto WINNER: FES
** FES is now in the position he didn't want to be in. He now has to choose to save either Haleigh or Kaitlyn.
5:42pm When the feeds return – Fes is walking into the bathroom with the veto around his neck. Bay – how are you doing? Fes – I don't know. Bay – don't be upset this is a very tough position to be in. Rockstar joins them. Rockstar – best case scenario you tell her (Sam) who you want up. JC joins them. JC – You're the veto queen! Haleigh joins them. Haliegh – your so smart. I got half of them right and I guessed on one. Fes – where's my trip to Greece man! Kaitlyn joins them and hugs Fes. Kaitlyn – what's wrong. Fes – my two best friends are on the block. Fes – I don't know if the best option is to try and pursuade her who to put up. She doesn't like being told what to do. THIS GAME IS F**KED UP MAN! Rockstar – she told me that the biggest thing she hates is a bully. (Rockstar wants Brett up on the block.) Fes – how did I win? I'm the dumbest guy in the house. They all tell him he's not.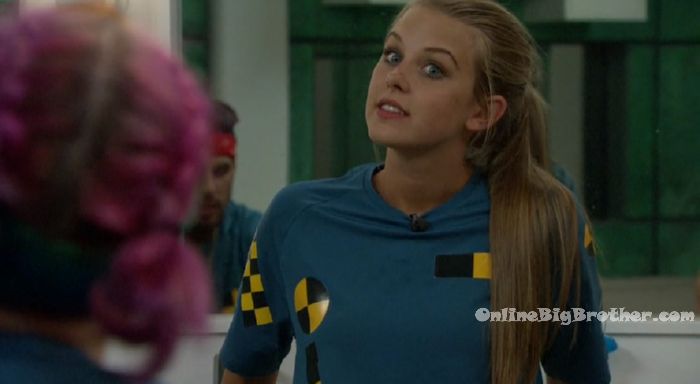 5:52pm Bathroom. Rockstar and Fes. Rockstar tells Fes about what Sam hates the most is a bully. And she goes well win the veto. Rockstar to Fes – there is a clear mean bully in the house that has not acknowledged me as a person since he walked in here. He (Brett) has made up sh*t about Kaitlyn, then me .. doesn't even acknowledge me as a person. She said okay win the veto and we can talk about. I wanted to win it so that I could remind her about that. Fes – if you were to win what would you do? Rockstar – I would tell her what you want. Fes – I don't think she will give me a clear cut answer of what she would do.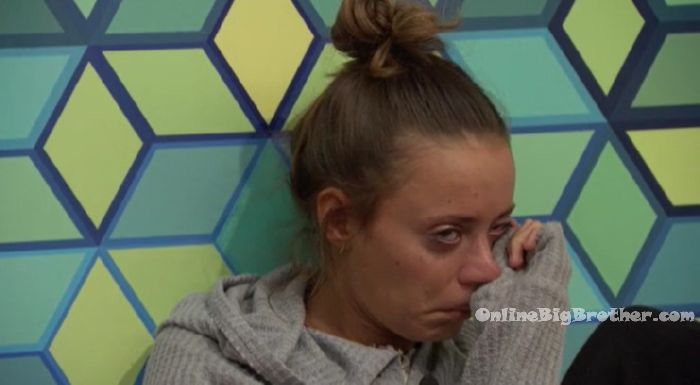 5:54pm Bedroom. Kaitlyn and Bay. Bay – I just feel bad for Fes. Kaitlyn – I almost wish he didn't win and let me win to be honest. So he wouldn't have to be in that situation. Like I was one behind him. If he was like that concerned he could have let me win. This is a weird situation and it all could have been avoided. Bay – but if he had thrown it, then Haleigh would have been mad at him. There was really not win. Kaitlyn – of course but I was right there. Bay – I know Fes wanted to play and he wanted to win but I don't know what he is going to do. Rockstar – I think you should pull Haleigh down. I think JC has a power.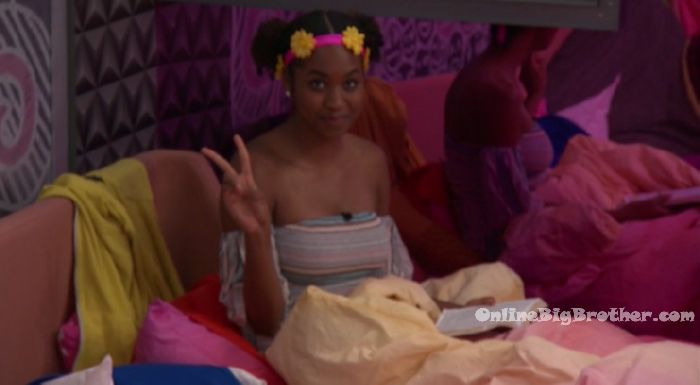 Bathroom. Fes and Kaitlyn. Kaitlyn asks if they can talk in a little? Fes – yes, I am really stressing out. You didn't throw it. Kaitlyn – yes I did. Fes – you got the last one right. If we were both the last ones standing why didn't you throw it to me? Kaitlyn – I got it right, I didn't meant to get it right. Fes starts to walk away. Kaitlyn – where are you going? Fes – I am so stressed out!! Kaitlyn – you shook my hand! Fes – you didn't throw the last one. I would have gone on the block! Kaitlyn – I didn't get it right. Fes – you got the last one right. Kaitlyn – you were one ahead of me. Kaitlyn – I threw it to you. You shook my hand, you remember that right!? Fes – I am so stressed! I don't want to talk about it. Kaitlyn – you promised me! Fes – so you don't have a power? Kaitlyn – no.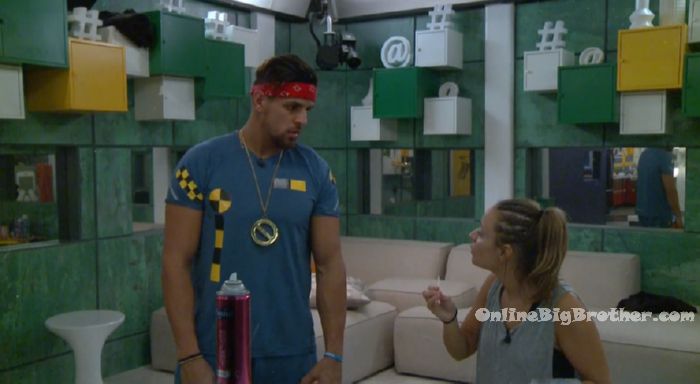 6:05pm Bedroom Kaitlyn, JC, Bay, Rockstar. Rockstar is pushing hard for Brett to be the replacement nominee. She keeps saying "he hasn't acknowledged me as a person". If he pulls off Haleigh and she (Sam) puts me up.. then I would go home.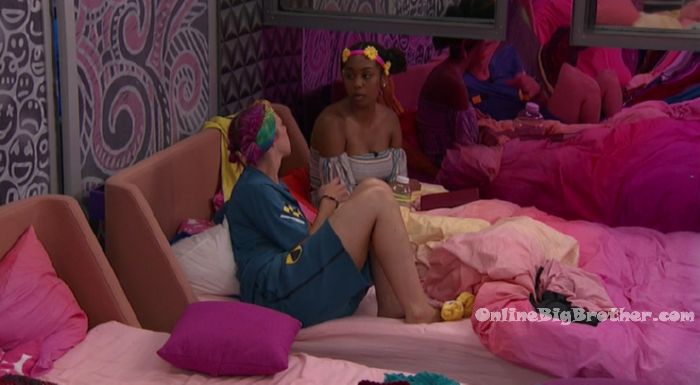 6:23pm Kaitlyn and Kaycee. Kaitlyn – I intuitively knew that Fes was going to win. Last night Fes promised me he would use it on me if he won. Legit five minutes before we went out I told him I would throw the comp to him if he would guarantee he would use it on me. He said deal because he was scared if I won he would be the replacement so if he wins then we're both safe. In the bathroom I reminded him and he said he is so stressed. I said you shouldn't have shook my hand. If he sticks to it then I can trust him. If he doesn't then everything changes. I am so sick of boys! I'm gay! Kaycee – yes finally!!
FLASHBACK and watch everything you missed: Live Feed 7 day FREE Trial!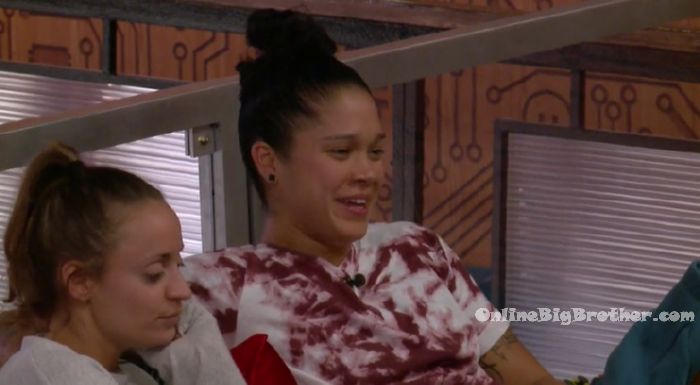 Storage room. JC and Haleigh. JC – I wouldn't have this conversation with you if I wasn't completely sure that you weren't going home. I don't think the veto should be used. Fes is such a good asset to have on our side. And he feels like crap. You're one of his favorite people in the game. Kaitlyn is flipping back and forth telling me stories every single day about something. I don't even know who she is working with. Haleigh – the thing is if she is working with Brett and I am sitting next to her … that's a vote for her. IF Brett is working with someone else like Tyler and is working with someone else ..then that is three. JC – you need 6 votes to stay. You have mine 100%. You have Fes and Rockstar and Bayleigh. I am pretty sure I can get Tylers vote. If you stay on the block this would be the first unanimous vote. Haleigh – why do I have to be the one to sit next to her. JC – I don't know why Sam picked you. I am going to talk to Fes about not using the veto. I would feel very happy if you do feel safe. People here are not stupid. Kaitlyn is a crazy competitor. Haleigh – I agree. I want her to go. I just hate the idea of sitting there on Thursday night. JC – me and Fes will campaign for you. Haleigh – what makes you think he will vote for me if he won't use the veto on me? JC – if Fes uses it on you then Rockstar goes up .. and then we lose a number. I am telling you that you are not going home. JC – I will snap Tyler out of it. Haleigh – Tyler will not vote for me. JC – I am pretty pretty pretty sure you're not going home. I am going to work really hard for you not to go home. Haleigh – we don't know if there is a power or what it is .. what if its to flip the votes? JC – don't be crazy .. there has never been a power to flip votes in the history of big brother. (Thats great reasoning.. its never been done before so they wouldn't do that. Expect the unexpected ?!) Haleigh – Kaitlyn is such a strong campaigner. She is already talking to people.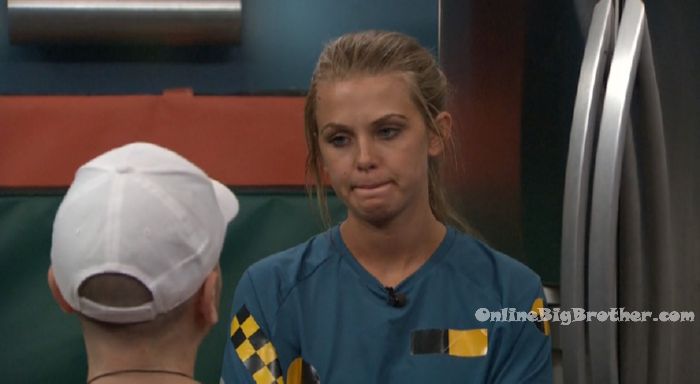 HELP keep the spoilers coming! Show your support by making a donation. ANY amount is greatly appreciated! Your donations go directly to paying the fees required to run this site.
For all you folks that need a VPN I use this one
Rank the houseguests!
Easiest way to Rank the house guests use link below