| | | | |
| --- | --- | --- | --- |
| POV: | Tyler | Next POV: | Aug 4th |
| POV Used | NO | POV Ceremony | July 30th |
| HOH: | Bayleigh | Next HOH: | Aug 2nd |
| Noms: | Brett & Rachel | Have Nots | Fes, Tyler, Scottie |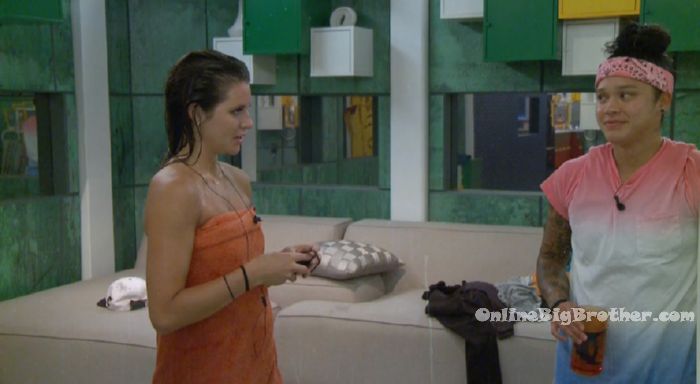 Try the Live Feeds FREE for 7 DAYS! Click here for your: FREE Trial

9:20pm Bathroom – Angela and Kaycee. Kaycee – she (Rachel) asked me if she had my vote. I said yeah, I heard its supposed to be unanimous. .. I just feel so bad. Its sucks but.. Angela – I feel bad because I feel like I've been so loyal to Rachel but you can only do so much for someone. Kaycee – I know how much this game means to her. Angela – the other thing I am going to do before Thursday is I want Bayleigh to say to me that Rachel was the one that said the only way Tyler was going to use the veto is if I went up. I will go to Bay and say I just want to figure something out to see if I can trust Tyler. I will say I just want to get the story straight .. because I have heard something else from Tyler .. that Rachel told me after the veto that Tyler was going to use it. I need to get Bay to tell me that straight up. I need to do it so that I am questioning Tyler's loyalty and not Rachel's. Kaycee – that's good. When are you going to do that? Angela – Wednesday night. Bay heard that Brett told all the guys about the girls alliance. So I am going to tell Bay that is was Rachel that told Brett. And then whatever day Rachel made a deal with Bay .. I am going to say that she came to me and made a final two deal and she also make a final two deal with you .. and we figured it out. Kaycee – and then she threw us under the bus. Tyler – I'm not hiding who I am voting out because Bay told me that she doesn't care who goes. Angela – then we need a reason why JC is voting out Rachel. Tyler – I covered it up by getting Brett to hang out with Scottie a lot so then we can blame it on Scottie. And Sam said she would vote however I tell her. Kaycee – then do we want to tell Bay now? Angela – we are going to ask for forgiveness not permission.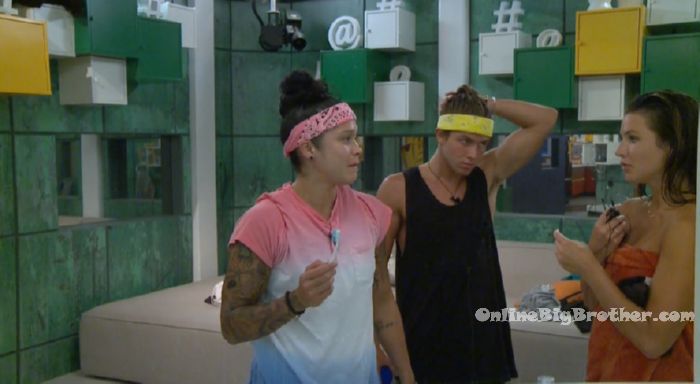 Angela – then we throw Rachel under the bus one more time saying that Rachel told one of us that Bay had a power. Tyler – because she did. Kaycee – after, okay!? Angela – because if she catches word of this before the eviction she is going to out everything! Kaycee – you're right. Angela – she would go crazy! Kaycee – If Bay asks who were voting for we say Brett? Angela – just avoid the conversation. Tyler – just stay away from Bay. Kaycee – f**k I'm staying with her Wednesday night. Angela – just don't talk game. Brett needs to act like he's not safe. JC always comes to be the day before and tells me what to do because he thinks I'm stupid. Tyler – I told him (JC) that I am saving him because he would be the one to go up. Tyler – Okay, we're good. Angela – we just need to win HOH next week.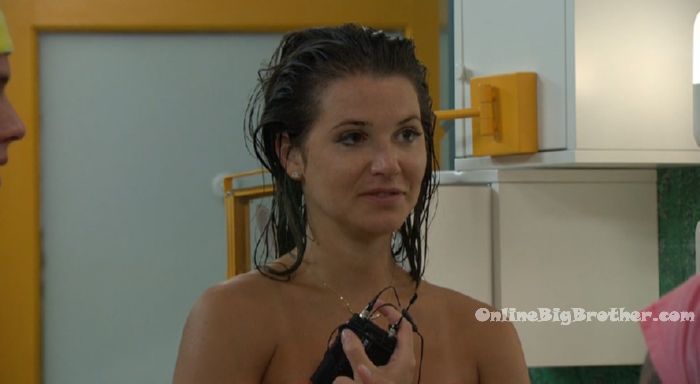 9:55pm – 10:20pm Scottie and Rachel continue playing corn hole.
10:38pm Haleigh and Rockstar. Haleigh – eyes are weird!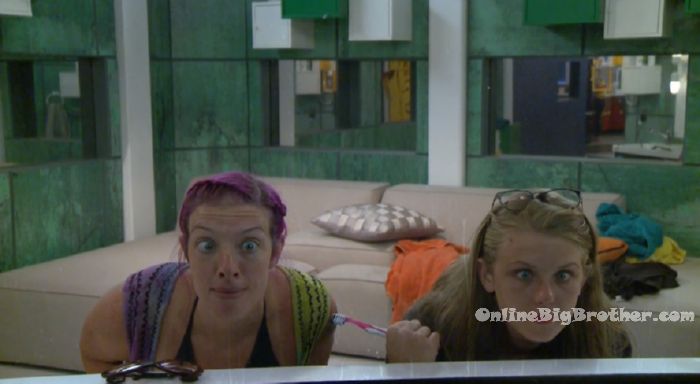 11:25pm Tyler playing pool with himself. Tyler – Kaitlyn I hope you're watching. We talked about karma Kaitlyn. You did me dirty! Or you tried and it didn't work. That's why I don't trust girls like you. That's why I don't date. Sam comes out. Tyler – I was talking to Kaitlyn.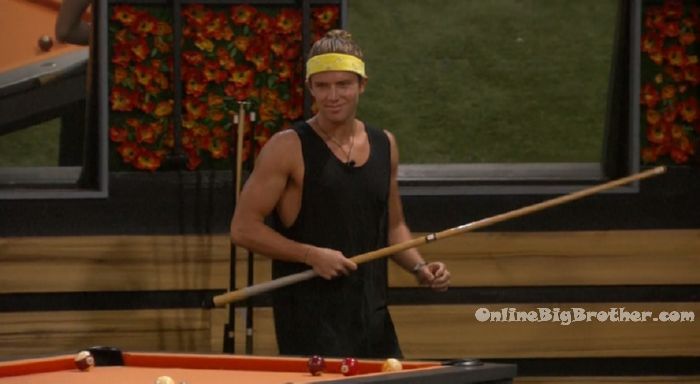 JC comes out and tells Sam – I am going to take you to a city with a lesbian club and I'm going to get you f**Ked up there and I'm going to get you a girl friend. That's my pinky promise. Sam – because you think I'm a lesbian? JC – no, because you need to embrace life more and enjoy it. Tyler – He wants you to understand if you're a lesbian. Sam – I don't .. like so many people.. why is that such a thing? JC – its just a joke right now. I don't really care. Sam – I know but in my hometown or any situation I've just felt really uncomfortable with that. JC – what? Sam – just that I used to feel really self conscious of my arms. JC – your arms? I don't think there is nothing wrong with you. Sam – I don't like people thinking I'm a lesbian .. and I'm not. JC – I tell that to all the girls. Why are you taking it personally? Sam – because its been a personal thing in the past and because you out right asked me one time sitting out here if I was a lesbian. Tyler – JC tells me I'm gay everyday. Sam – you just like to push people boundaries.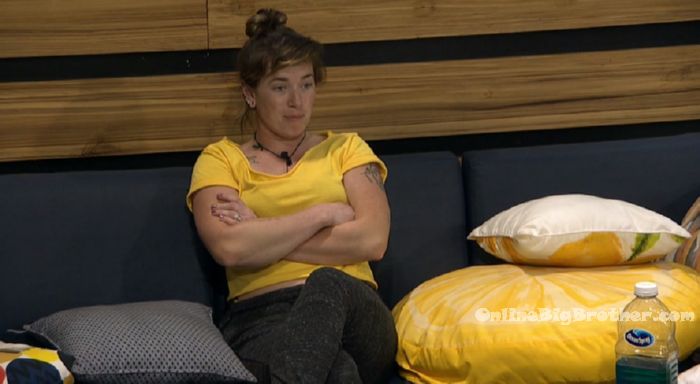 11:45pm Brett heads inside. JC – did you talk to him (Brett)? He hasn't been hanging out with Scottie at all. Tyler – eyes he has. Tyler – dude! We've got to keep him. JC – I am going to keep him. You don't have to try and convince me. Tyler – I will let him know that you need to hang out with him.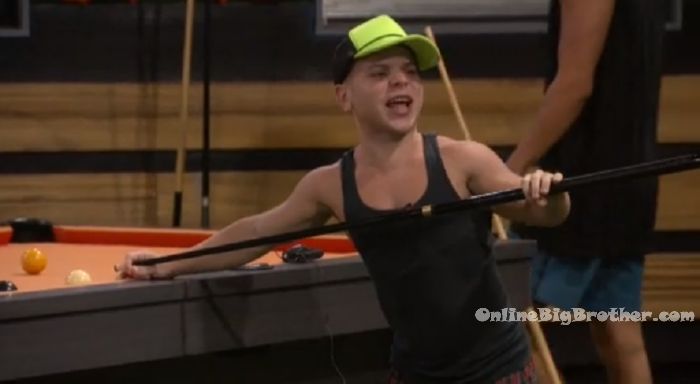 12am Backyard – JC, Brett and Tyler. Brett – do you think she (Kaitlyn) is watching? Depends on if there is a battle back or not. JC – if they took her home she is probably watching. Brett – I don't know if I leave… I don't know if I would watch. JC – but in her case she had a good social game she just went crazy with the boys and doing f**ked up sh*t. Tyler – I honestly just hope America does not hate her. I don't wish that for anybody. Brett – I really hope it wasn't depicted that way. Tyler – she just played kind of dirty that's all. Its a f**king game. And I hope if she does have a boyfriend. I hope that's fine. JC – which is very nice of you because she didn't think twice to f**k you over. Or say thank you when she was leaving. Tyler – but to be honest she didn't even ask me which way I was voting .. she just asked about everyone else. I will be happy to see her outside this game just to see if that's how she really is in the game.
Tyler and Brett. Tyler – Fes is on to me apparently again. So we need to get Fes out soon. Brett – I didn't even speak to her. Brett – I just don't know what more I can do. Tyler – just Scottie.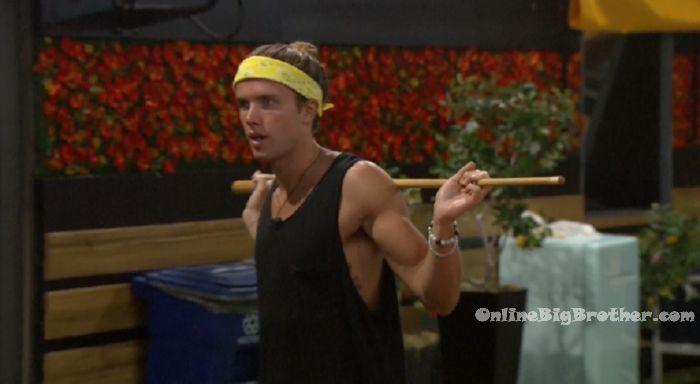 1am Hammock. Haleigh and Brett. Brett – I gave Bay my pitch that night which I thought was good enough. I told her Bayleigh I have never tried to go after you. I am trying to extend an olive branch here and again I have no one in this game right now. I am 100% a free agent. Don't look at me as an enemy, look at me as a potential asset. But she obviously didn't take.. Part of me thinks its not an original thought of hers. Part of me thinks its someone in her ear but I don't know who. I really thought we had a good… I thought she was receptive to it and she was open to the idea. I do feel like I am the target but I don't thinks he is gunning for me. Haleigh – have you talked to Angela? Brett – a little bit but I feel like she is going to go with Rachel. Its sh*tty does everyone not want me in the house? I really don't know where everyone's head is at. Haleigh – Do you know who flipped? Brett – for Kaitlyn? Haleigh – that too but for you? Because maybe if you can find that person. If they flipped once maybe they will again. Brett – I think one of them was Kaitlyn. When you're on the block everyone tells you yeah, yeah, you're good. Brett – you know who was the biggest campaigner for Kaitlyn to stay? Rachel. Brett – who do you think is maybe willing to keep me? Haleigh – Rockstar, I wouldn't even waste my breath. I will bring it up to her. Brett – we made amends. Haleigh – I think she thinks you're still coming after her. I would need a really big con for Rachel to stay. I don't know if I would approach Fes or not. Brett – yeah he is close to Bay. Haleigh – you might want to talk to JC? Brett – he is just so close to Rachel. Haleigh – Scottie? Brett – every time I have pitched to Scottie he has done the exact opposite.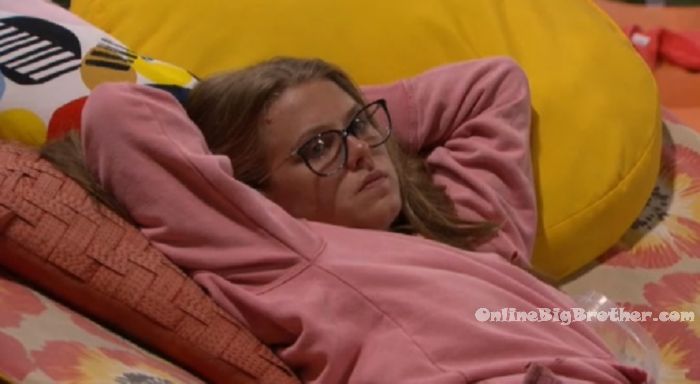 1:38am Fes and Rockstar playing pool. Fes – do you know where your head is at if you win HOH? Rockstar – I think so .. I am thinking Angela & Kaycee (who she would put up on the block). Fes – because they're skating by. Yeah, I'm with you on that one. Rockstar – so if you win, that's what I would like to see as well. Fes – oh if I win, it won't be my decision it will be our decision. Rockstar – I do also think that to get Tyler out of here we will need to backdoor him. Fes – I think I will smoke his a$$ in the veto. I will smoke anyone. I think we have a real shot to go the the top five. Rockstar agrees.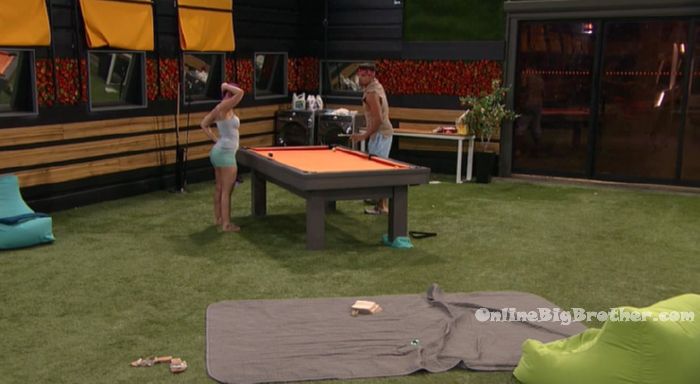 4:45am Hammock Brett and Haleigh. Brett – I will try and have a conversation with Bayleigh. Haleigh – and tell her that you're not her enemy. You would never go after her. Brett – then maybe talk to Sam and Scottie. Haleigh – maybe Fes is a good one to talk to and JC.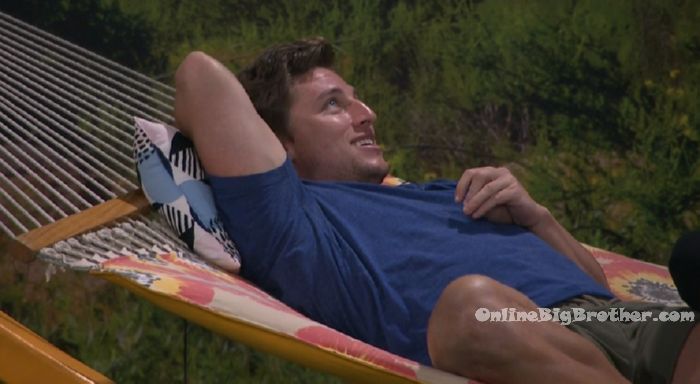 5:15am Fes is up playing pool by himself.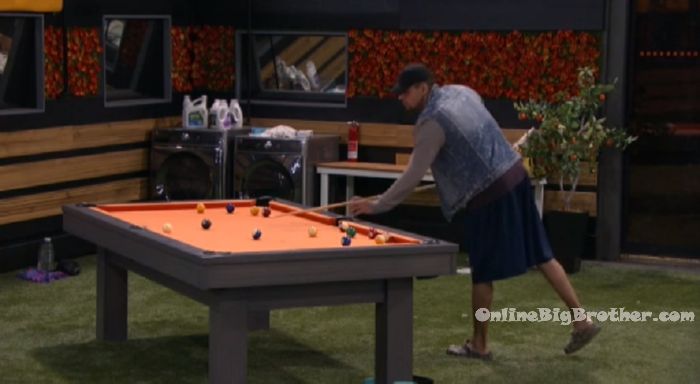 If you've enjoyed our live feed updates so far this season, please consider donating.
Any amount is greatly appreciated! Your donations go directly to paying the fees required to run this site.
Rank the houseguests!
Easiest way to Rank the house guests use link below