Head of Household Winner – Cody
Have nots – Ian, Kevin, Memphis, NicoleA
Nominations -Keesha and Kevin
Power of Veto Players are – Cody, Kevin, Keesha, Enzo, Kaysar, Ian
Power of Veto holder -Enzo
Power of Veto Ceremony – Enzo doesn't use it. Nominations stay the same.
Safety Suite – Kaysar & Janelle
Live feeds —-> Grab your Live feeds here. Try it free.
Rank the houseguests —-> Big Brother 22 Ranking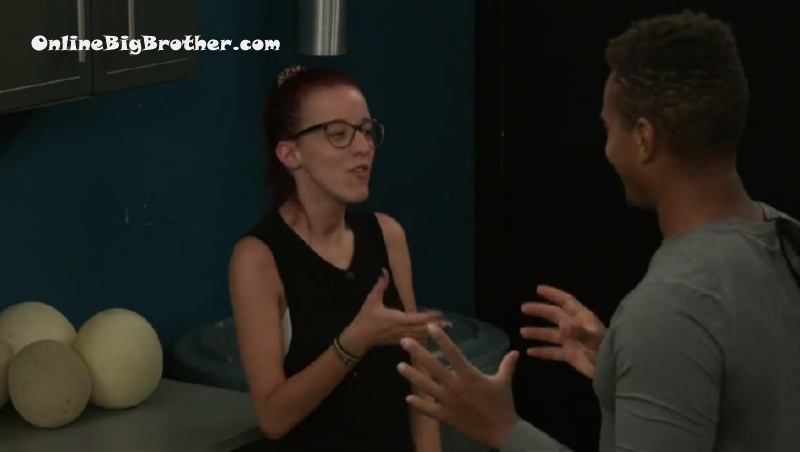 1:35 pm David and NicoleA
NicoleA – I was really hoping the stool was here because I was going to baptize it in the pool.
NicoleA – after the baptism we smash a watermelon it's a rebirth
David wonders if Season 21 is rooting for them.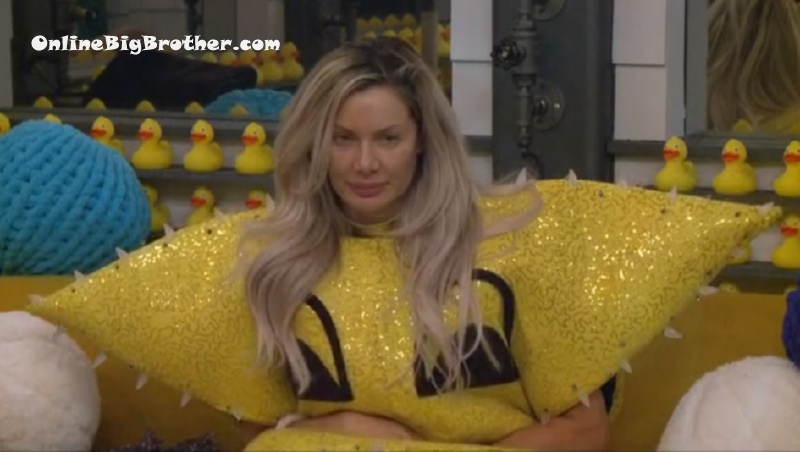 1:42 pm NicoleF, Janelle, NicoleA
Janelle – Boogie is usually pretty nice to me outside of the house
NicF – do you think he got asked
Janelle – umm no. He's having some issues
NicF- Awww
Janelle – like Health
NicF – ohh I didn't know that
Janelle – Even though he's a villain he can be very vengeful ion here there's a soft side to him and he's a good person underneath it all
NicoleF says she never goes to the after-parties doesn't meet a lot of people that weren't on her seasons.
Janelle – I don't want to do that this year I want to go home to my kids
Janelle – I feel bad I was sharing a room with you and her and all me Amanda did was drink Vodka .. were we annoying
NicoleF no
Feeds cut
When we're back Janelle was talking about hanging out with Zach, Rachel, Brenden, Elissa, JUDD.
NicoleF – I hung out with Denna, me, Victoria, and one other person.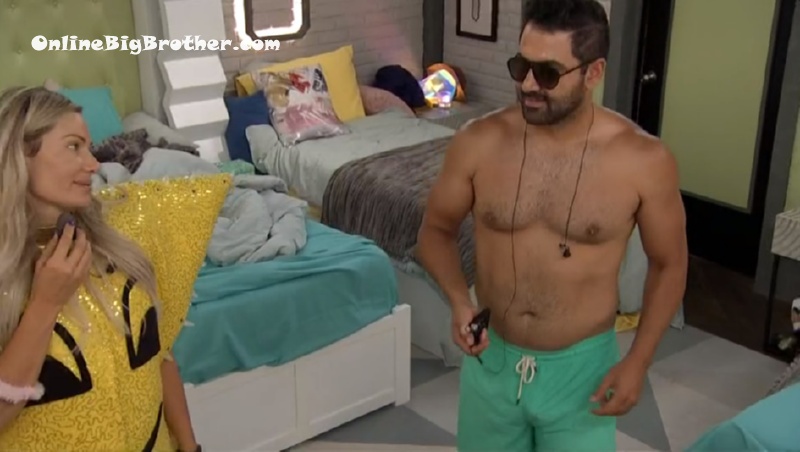 1:54 pm Janelle and Kaysar
Janelle says she has this Japanese foundation that's really good.
Kaysar – What's so good about it
Janelle – I mean have you seen me
they laugh
J – seriously tell me what she said.. come here and groom yourself
K – I don't have anything
Kaysar says he talked to Christmas today
Kaysar plans to talk to Da'Vonne.
Says Christmas told him that he's giving off an I've come here to play vibe
Kaysar says people are getting the feeling that we give off the vibe we're here to play and we don't talk to them they'll think they are on the outskirts.
NicF breaks up the conversation for a minute complains that her clothes are all wet because the outdoors has been closed.
Kaysar – Kevin tried to campaign to me last night. I'll work with you I'll save you anytime He did it with Danielle at the table he didn't give a shit. I don't know what that is all about
Kaysar asked him if anyone is talking what is his position and his reply was "Zero"
J – I talked to NicoleA she's onboard basically pretty much
J – Kaysar, Keesha is terrible at campaigning. She's really bad at it she says things like I won't eat your food.
Janelle says last night Keesha was talking game, "I was like Oh my God"
K – I was asleep
J _ wanted to die I hid under my covers.
J – I was like oh my god what are you doing
Kaysar – I wanted to save her
Kaysar – honestly I don't care that much. It's nice to have her here but it's so early it won't affect the game.
Janelle agrees.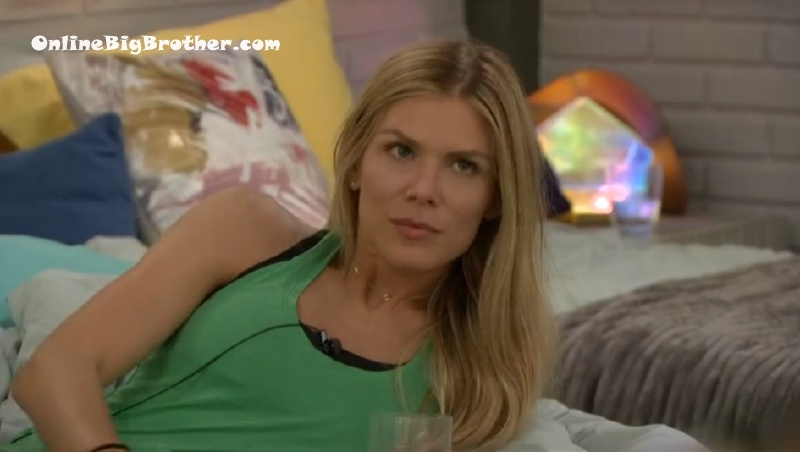 2:11 pm Janelle and Dani
Janelle – I don't think anyone suspects that we're working together. they ask what about Dani. I don't talk to her and I'm not lying
Dani says she knows Zero about David, "Tyler seems nice but what he's doing. is he trying to be a floater this year"
Janelle – I think he's working with Cody
Dani – he is around him often.
J – him and David, it's those three
D – I could see that
J – they're working together
Janelle asks for next week what is she thinking
Dani – I honestly don't know what are you thinking, Maybe a NicA or a David.
Janelle – David for sure. What do you think about Christmas.. the people we don't know their game is super dangerous.. she's going to work with the guys
Dani agrees says Christmas is a guys girl. "She's totally a guys girl and she's a beast"
Janelle says David and Someone else and maybe Christmas backdoor
Dani agrees "Im down with that I'm not close to her at all"
Dani – I'm kinda scared that down the line she's going to POP off on one of us. I don't want it to be me.
Janelle – let's get her out of her. I don't trust her.
Dani – I haven't talked to her at all
Janelle says she hasn't talked a lot of game with Christmas she asked her who she's voting for and the reply "Mhhh I don't know"
Dani – she's told me jack crap.
Feeds cut. when we're back
Janelle suggests that NicF and Cody are working together.
Dani – I don't know
Dani says that NicF really likes Janelle and Kaysar "She really likes Kaysar"
Janelle – ok
Dani – she's easy-going to tell her what to do and she's like Ok.. I don't see her going after you guys art all
Janelle – Okay whatever her and Cody might worry me a little.
Dani points out that Kevin picking Enzo for POV shows he has nobody in this game.
Dani says she's not close to Keesha.
J – I asked her what will you do if you won and she says she's going for HOH and putting up guys. Kevin hasn't told me that he's saying I'll return the favor.
They start to discuss who to keep this week. BAck and Forth ..
Dani – I don't care either way for real"
Janelle – Keesha is weaker than Kevin
Dani – she's weaker .. you think. she wasn't on her season. She says she hikes 30 miles a day
J – there's no way.
Dani – she looked like she was throwing it.
J – I was like why isn't she running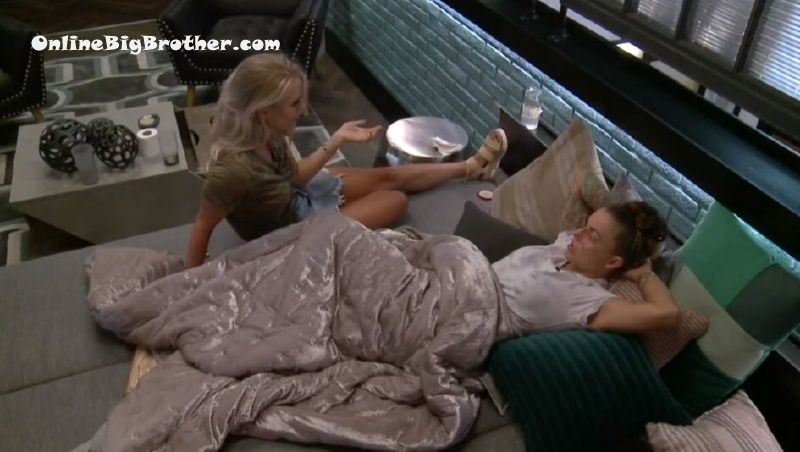 2:30 pm Christmas and NicF
Christmas going on about the "team" they are in and how Cody is solid with the "team"
NicF – there's going to be a girls thing soon.. I don't think you and I will be asked.
Christmas – I have a hard time feeling comfortable in Janelle.
Christmas – I think she is considering me which is good
NicF – you're strong
Christmas – she scares me as a player
NicF – She's a beast
Christmas – she doesn't give a f**
NicF says NicA is with them.
Christmas says that Dani and KAysar go to Janelle but she never sees NicoleA doing it.
NicF – maybe she's getting info for us (Dani)
NicoleF again going on about NicoleA being with Janelle and Kaysar.
NicF – They have a thing I think It's Da'Vonne, Bayleigh, Kaysar, Janelle, and NicoleA
NicF – Bayleigh is 100% working with Janelle
Feeds flip all four on downstairs.. (WTF)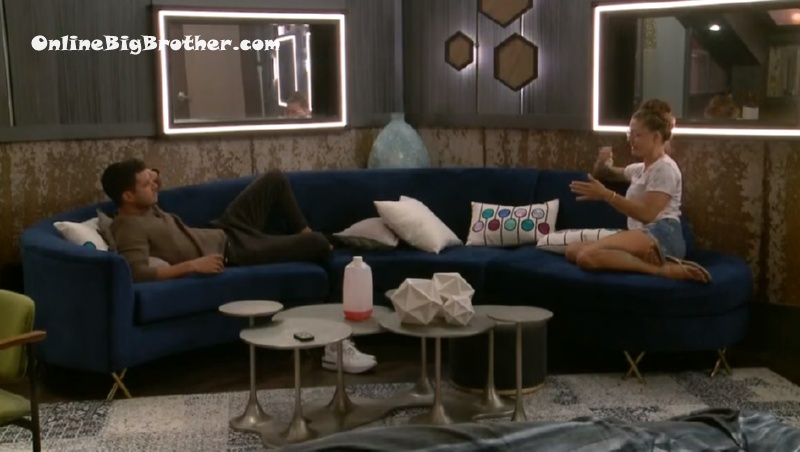 3:19 pm Cody and Christmas
Cody playing down his relationship with NicoleF
Christmas – NicF, and Tyler are really excited about the group
Christmas says Nicole played loyal and Honest on season 18 just like Christmas is playing.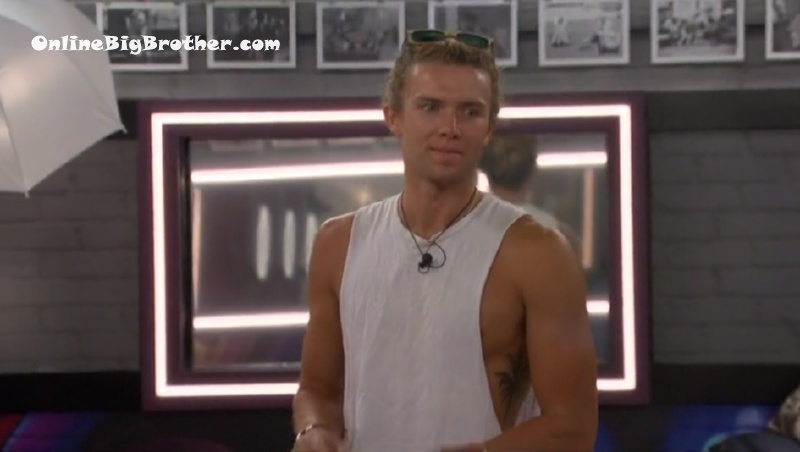 3:20 pm Tyler and Dani
Dani – did you rtalk to Memphis
Tyler – yeah what do you think
Dani – I'm down with that
Tyler – I haven't talked to too many people in it
Dani – I haven't talked to Christmas at all
Tyler – I don't really talk to Nicole that much.
Dani – I haven't talked to too many people nobody wants to start gaming everyone is playing real tight lips it's really weird. I'm totally comfortable with you I felt an instant bond
Tyler – yeah.. we'll starve without each other.. yeah I'm down.
Dani is worried that Memphis is going to "Blow his lid one day"
Tyler says the first time he talked to Memphis is when he approached Tyler about the team.
Dani – that's kinda weird
Tyler- I guess we'll see.. what do you think you want to keep Kevin.
Dani – I want to keep Kevin, I asked Kevin today he wants to keep Kevin. All the girls want to keep Keesha.
Dani – I don't care either way I like Keesha to whatever
Tyler says Keesha "Doesn't seem all here in a way"
Dani – have you talked to anybody
Tyler – nobody has come to me other than Memphis. Cody said we're cool and he'd keep me off the block that's as deep as I've gotten.
Dani says she hasn't talked to Christmas and NciA at all. She talked a bit with David.
Tyler – everyone is scared to make that first jump. Memphis just jumped to stage four can't really say no.
Dani – totally, seems like a good group though. Potentially
Dani says Memphis originally said Bayleigh.
Tyler – I don't know how receptive she would be working with me
4:18 pm Da'Vonne Styling David's hair.
David is excited to cast his first vote on Thursday.
4:26 pm Janelle is doing nicA's makeup
Janelle – sorry if my star hits you in the face.. I'm doing a gold yellowish because it pops with your green eyes. I only have these two palates.. You like them?
NicA – wow Janelle's doing my makeup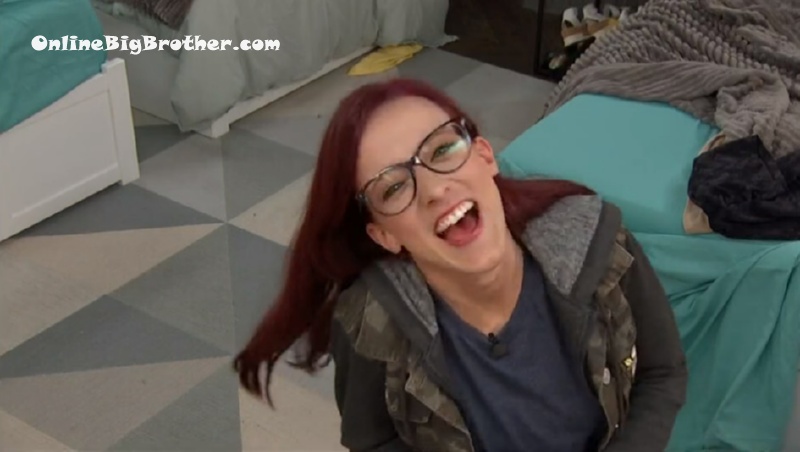 4:50 pm NicA likes the new look
5:22 pm NicA and Da'Vonne
NicA – Janelle came to me was like Keesha will work with the girls Kevin we can't trust him he's unpredictable he's the one that has to go. Kevin makes up lies like on his season he made up lies he can't be trusted.
NicA – I'm thinking Janelle, Kaysar … (they reposition)
NicA – Janelle was really selling me
Da – she's been working you for days
NicA – she was like if you're working with me we need to keep Keesha
Da – Where do Keesha's votes lay
NicA – Janelle, KAysar, Memphis, Ian, they're trying to get me
NicA – Janelle was saying she thinks she can get Enzo
Da – Me, Dani, Kevin was downstairs yesterday he (Kevin) was saying I know you have you two and Enzo
Kevin joins them. Aks if he has the votes
NicA – I think you do but I do think one of them will pull a last minute. Like Janelle or Memphis will declare on Thursday this is what we're doing
Da – My concern is Ian
NicA susgests Kevin talk To Janelle, Kaysar and Ian.
NicA says that Janelle told her that Keesha would never put us up. Said in season 11 Kevin made up lies to get people evicted.
Da – what lie did you make up I don't remember that
NicA – she said that is how you got Jeff out
Kevin – The girl Natalie deserves the credit. I had to implement it. She's like people like you and trusts you. everyone looked at her as the liar as the edit came across it looked like I ..
Feeds cut.
Kevin – I have a clear side I'm 100% with both of you Dani. I'm doubling down. Bayleigh I started to double down.
Kevin – I want to bring in more people
Christmas joins them .. game talk stops.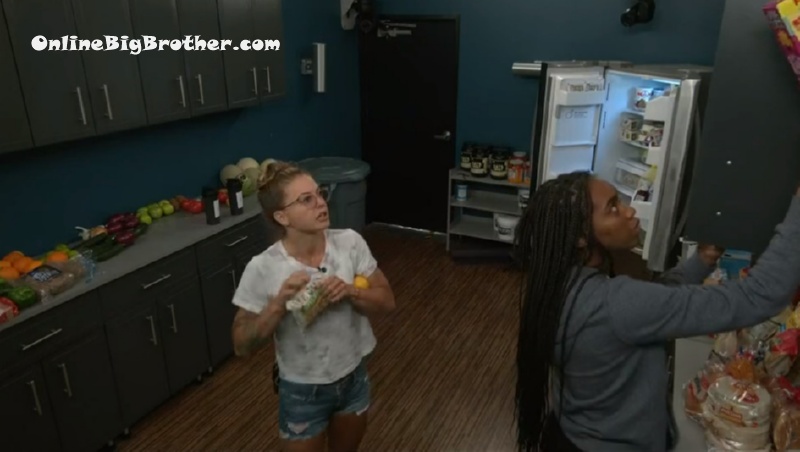 6:12 pm Bay and Christmas
Christmas – have you talked to Janelle at all
Bay – about the vote she keeps saying she's going with the vote
Christmas – do you feel good with her
Bay – I like her I really do I like her a lot
Christmas – we're just feeling each other out
Bay – I really like her really like her
Christmas – I was thinking through Kaysar
bay – he really likes you to
Bay says she's getting the vibe that the house is keeping Kevin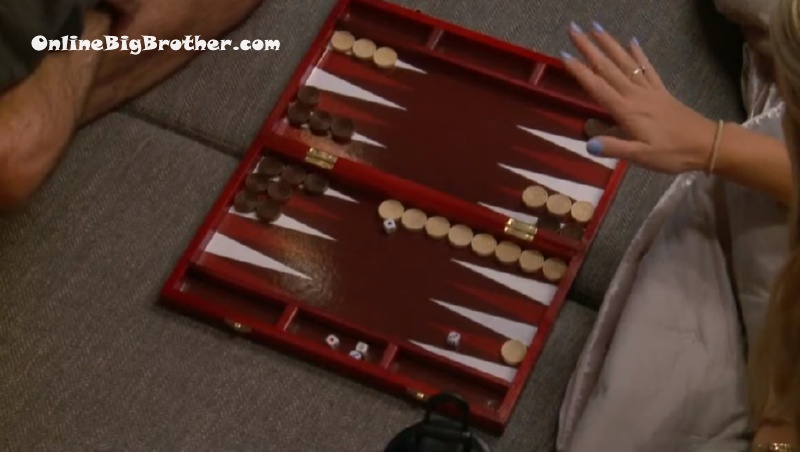 6:21 pm Nicole and Ian
Ian – I think I have a perception problem in here.. People think I'm too smart
NicA – I know I've been trying, We'll figure it out
Nicole stresses how he needs to win HOH.
Nicole tells him to stay on the downlow and don't talk about winning
Ian – It's super frustrating
Ian – you hear a little bit too much like ho you are so smart you played so well last year. It's not what I want to hear.
Nicole tells him not to worry there's bigger fish to fry
Ian – IN the eyes of others
NF – yes
Ian – if neither of us win HOH what I think we do is do the same thing Kaysar and Janelle did last time. If you win I get the plus one and I'll do the stupid punishment
NF – you want me to use it on you
Ian – I think so yeah
Ian recognizes that it might set alarm bells off with people thinking they are working together if she uses the safety suite. Adds why he doesn't think this will happen because Janelle and Kaysar did it and he's not hearing the whole house talking about them working together.
NF – And people already know we hang out
NF – I totally feel comfortable with that
Ian asks who the bigger fish to fry
NF says Kaysar and Janelle are seen as threats
Nf – I don't know for sure Ian it's just my perception
NF – you're not going to do what you did to Boogie to me right
Ian – no
Ian says NF is his number one he knows first hand it'll be hard for them to win again.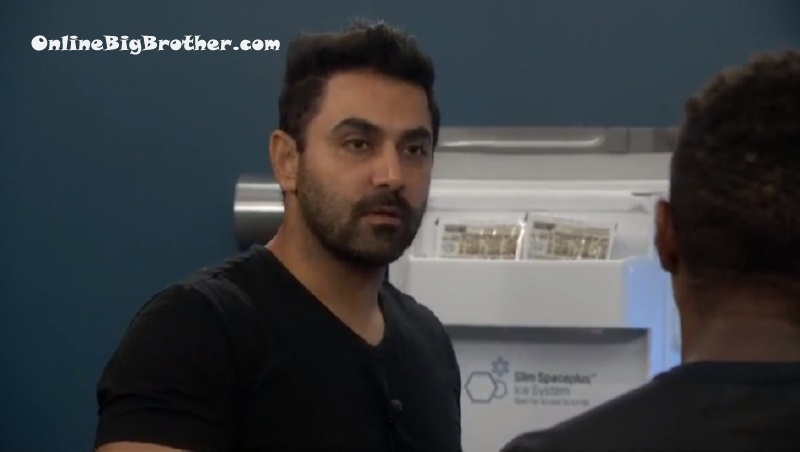 6:40 pm Kaysar and David
They're cleaning out the Storage fridge "This beef is leaking"
Kaysar – as soon as I get an indication where people's heads at I'll be like OK cool. how about you
David – same, I was in their boat last year
Kaysar – they're both nice I don't have much to go with. It doesn't benefit me either way
David – If I get HOH you are not somebody I want to go. From what you said to me upstairs. you said what I tried to do is commendable. It meant something to me.
Kaysar brings up watching David's season and thinking "That dude could really do something"
Kaysar – I want to see more youth black mean that are articulate and smart that meant a lot for me because I didn't feel like I was being well represented.
Kaysar – You're just a good dude man honesty I feel like you got dealt a bad hand so this is great. I appreciate you saying that I meant what I said.
Kaysar – I like you a lot to be honest I know we don't talk a lot. I had nothing to gain I wanted to get that out.
David – it's big brother first week everybody is going to nice things. that is important to me because that gave me a reason to play this game. You recognized that without me having to explain
Kaysar asks him what did his parents think of him going back on the show
David "he asked what about work"
Kaysar – My dad asked the same thing
David – I can be a voice again.. to be a voice that's a dream. that's a dream to be a voice
Kaysar – what did he say
David – he understood
Kaysar – do you feel you were being targeted for the wrong reasons
David – I was being targeted because of fear. I got you out now I'm back
Kaysar asks about the first time he got out.
David says how the choices were made there was gameplay involved. Adds he saw some ugly behavior in the house.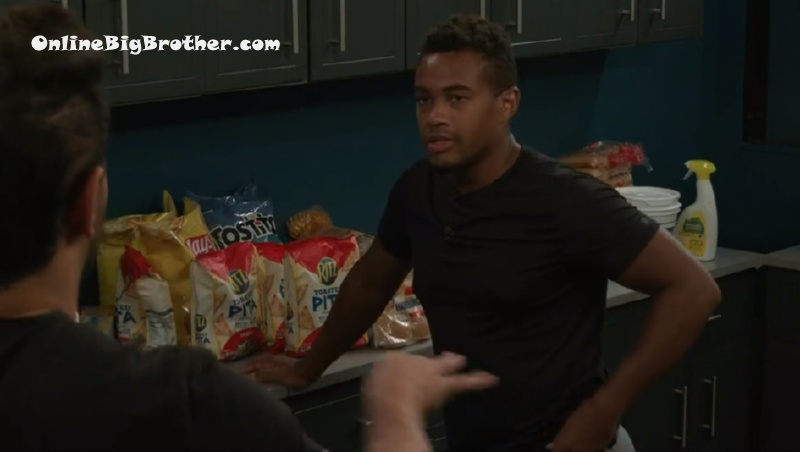 Kaysar – how are you feeling about everybody in the house it's hard to really tell right. there's no strong gameplay happening
David – I want to work with you
Kaysar – I feel the same way
David – Memphis has never come to me he's never said Hey David where are you from what do you do I don't know what that means.
Kaysar – He's very closed off. He keeps it close to the vest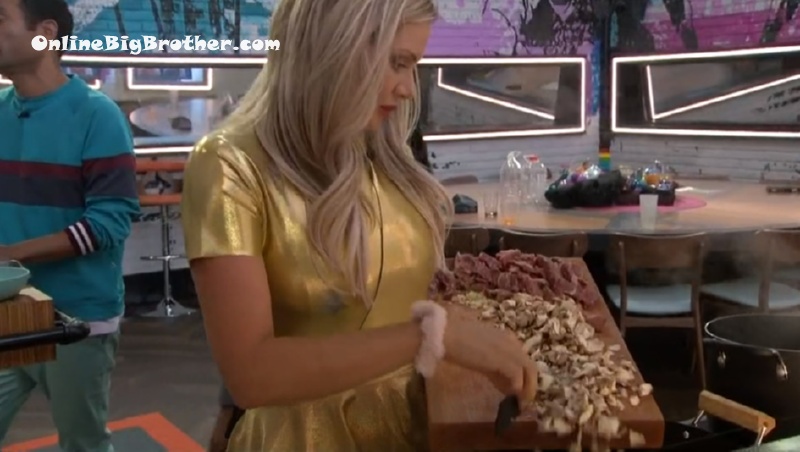 6:56 pm Janelle is making food again .. (Christmas and Kevin are helping.