Head of Household Winner – Cody
Have nots – Ian, Kevin, Memphis, NicoleA
Nominations -Keesha and Kevin
Power of Veto Players are – Cody, Kevin, Keesha, Enzo, Kaysar, Ian
Power of Veto holder -Enzo
Power of Veto Ceremony – Enzo doesn't use it. Nominations stay the same.
Safety Suite – Kaysar & Janelle
Live feeds —-> Grab your Live feeds here. Try it free.
Rank the houseguests —-> Big Brother 22 Ranking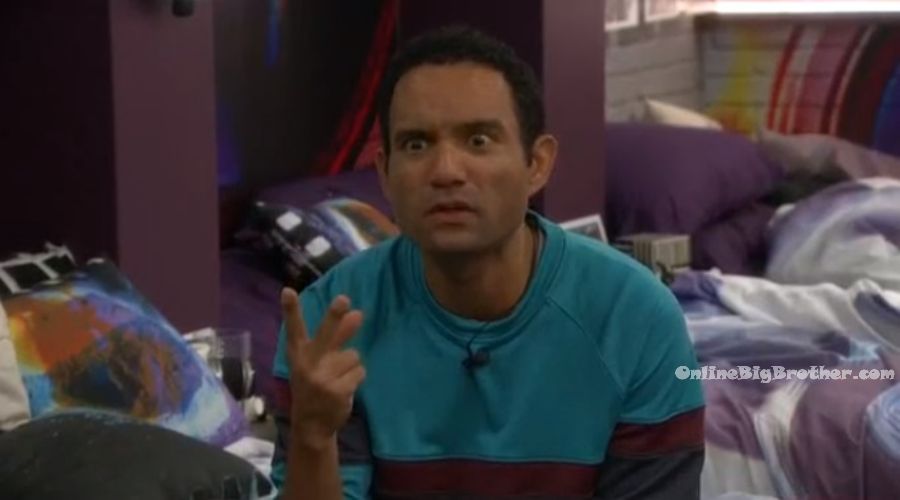 7:10pm Kevin and Bay.
Kevin – I have a feeling they're going to try and keep Keesha to keep the numbers on their side. I need to talk to Cody and Tyler too. These are the people that I am ride or die with .. NicoleA, NicoleF, you, DaVonne and Dani. Bay – and you've secured Dani's vote? Kevin – yes. Like 100%! I am trying to pull David in there. Bay – did you talk to Enzo? Kevin – oh yeah, Enzo shook on it and he is a man of his word. And we have to remember that Keesha won 3 HOHs and one or two vetos. She is not some dumb bombshell. Bay – and that's why they would campaign to keep her. Kevin – I know she can actually do stuff. And I heard that someone was trying to big up my one big move like I am some duplicitous person. That is f**ked up. Bay – who said that? Kevin – I can't guarantee. Its one of the three. By the way keep my ride or die quite. Bay – I will.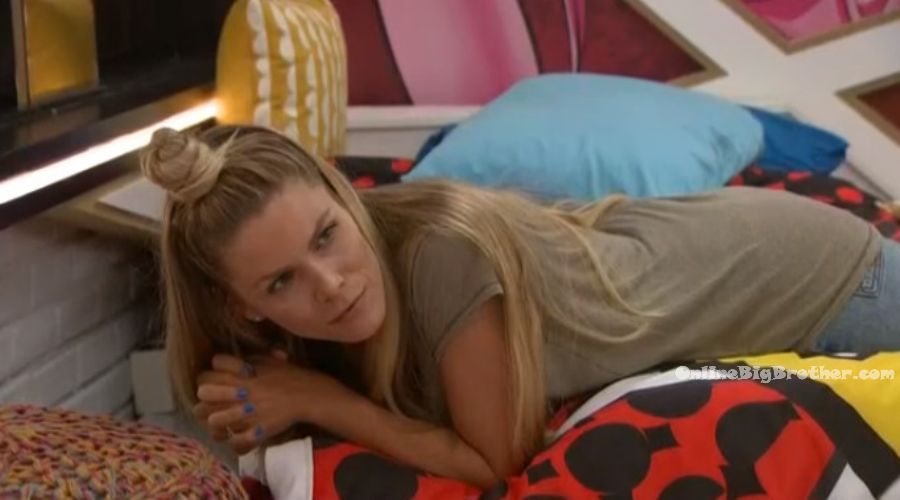 7:45pm Bedroom. Keesha and Tyler.
Keesha – How are you feeling about everything? Tyler – not great. No one has talked to me about votes or anything. Keesha – they haven't? Tyler – no, have you been rounding them up? Keesha – how do you feel about it? Tyler – I feel good. I feel like you and I have connected just like me and Kevin. At the same time neither of you have locked in anything. I don't know what you've got locked in.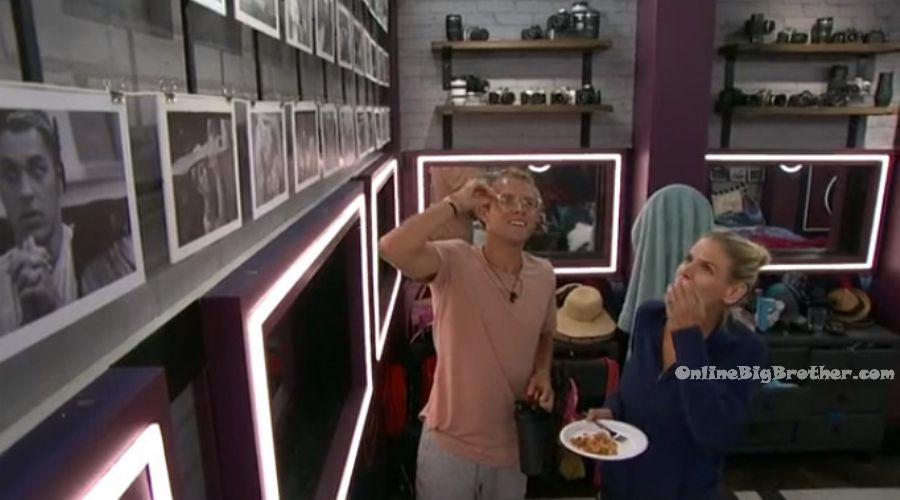 8:15pm HOH room. Christmas and Tyler.
Christmas – NicoleA has been trying to connect with me but I think that she is in with Bay and DaVonne and Janelle. Tyler – and maybe Kevin too. Playing with Bay .. the thing to look for when you're really locked in she will drop what front and she will be more direct. I can't develop that with her because I've already burned her. Tyler – the first time we all come together .. I just remember level 6 .. the 6 of us .. everyone spilled everything they had. If we're not doing that .. then its not a real thing. Christmas – then we can't spill this. Tyler – no not that kind of thing. Everything spill everything outside of the group. You and me .. no one will ever see that. Tyler – if anything I will get closer to Cody so that if anything comes up they will put me up next to him and never even see me and you coming. Christmas – and I'll get close to Bay.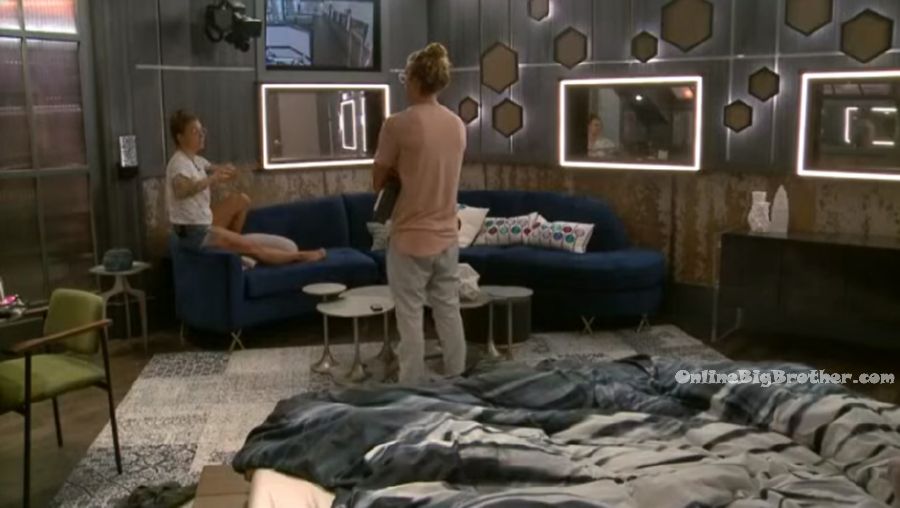 8:25pm HOH room. Cody and Tyler.
Tyler – did you talk to anyone about this alliance? Cody – I talked to her (Christmas). She was talking to me and I was like oh yeah I love Tyler. Memphis, Dani, Nicole.. I love Dani… I really like Nicole. Whatever is going to keep us protected. Tyler – right its not like we're going to say no. Cody – I'm not going to say no.. its just making it hard. Tyler – dude I feel like you and I click really well. Cody – if we're going to be a group we need to be a tight knit group. The bomb squad wasn't like that but then we did other sh*t. Tyler – we need some kind of team building exercise. Cody – if you were to be in something who would it be with? Tyler – I like you. Enzo is a cool dude. Cody – Enzo is tight because he is loyal. I just know that the person I feel most comfortable playing with is you. You get it. You're calm. You're likable. You know how to roll through sh*t. You're who I am taking care of. I love Enzo but he is all over the place. Tyler – if we didn't establish it already .. I got you! Cody – how loyal is NicoleF going to be to Christmas if we don't ever talk and its a random conversation here or there. Tyler – to me Dani and Christmas seem like polar opposites. Like mortal enemies that will just come together. Cody – Christmas said to me that she still needs to get to know Dani. To me it should form around people that are already clicking. And if you're not clicking .. you're not going to be loyal.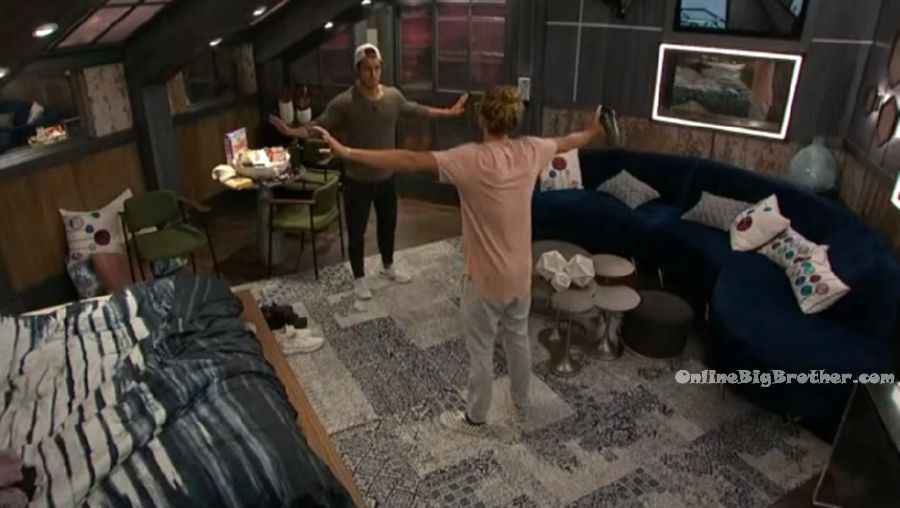 8:30pm – 9:20pm Big Brother gives the house guests alcohol. The house guests share it out and head out into the backyard.
9:32pm -9:38pm Backyard Couch. Enzo and Bay.
Enzo – its going to come Thursday and there are people that we don't know what the f**k they're going to do. Bay – that's why we need to have our hands in everyones pot. Enzo – I think we're good.. to where people all like us. There are only a couple people that I don't have a connection with like Kaysar and Memphis. Its early, its early. Bay – and not on some scandalous sh*t but we don't have time for wild cards. Enzo – What about Janelle though .. you got her? Bay – yes. On LOCK! And Day has Dani on LOCK! Like Dani is obsessed with her. Enzo – I think we should be good for at least a couple of weeks.. until lines start to form. Whoever wins HOH if its not one of us .. we just have to be like look you have to go after the wild cards .. there are always two winners in this house too. Keep that in the back pocket. Bay – yes. Hold on .. who are the two? Enzo – NicoleF and Ian. They're not winning nothing this season .. F**K THAT! Bay – hell no! Enzo – F**K THAT! ITs too early to make that but .. I would be embarrassed. That never happened in big brother history… if that happened I would be embarrassed. Bay – its not happening.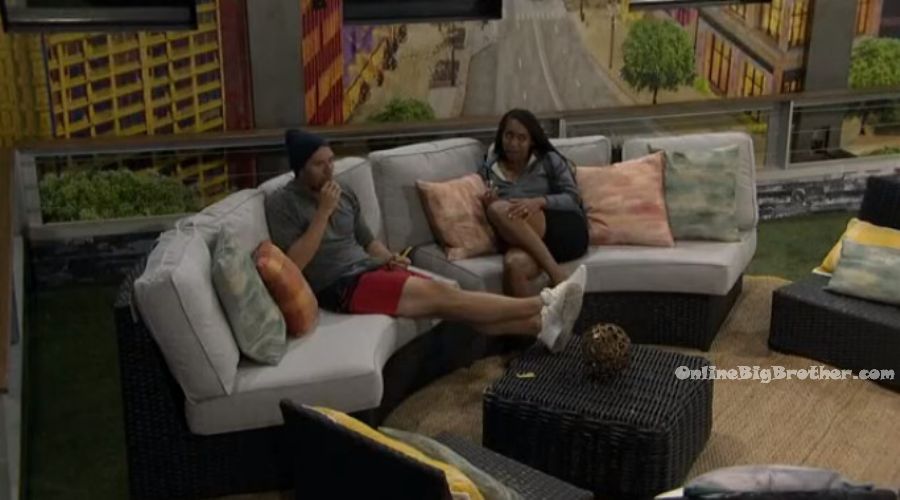 9:50pm Backyard. Kaysar and David are having deep conversations about business and life..
10:15pm – 10:30pm Cody and Ian.
Ian – the vote will happen but the blow back won't be on you depending on who goes. Cody – depending on how people feel. If they feel like there was something to worry about. I don't know. What are you feeling. Gun to the head .. pick right now! Ian – whoa.. gun to my head!? The thing is I talk to Keesha a lot but I talk to Kevin a lot in the havenot room .. but like .. Dani and NicoleF join them.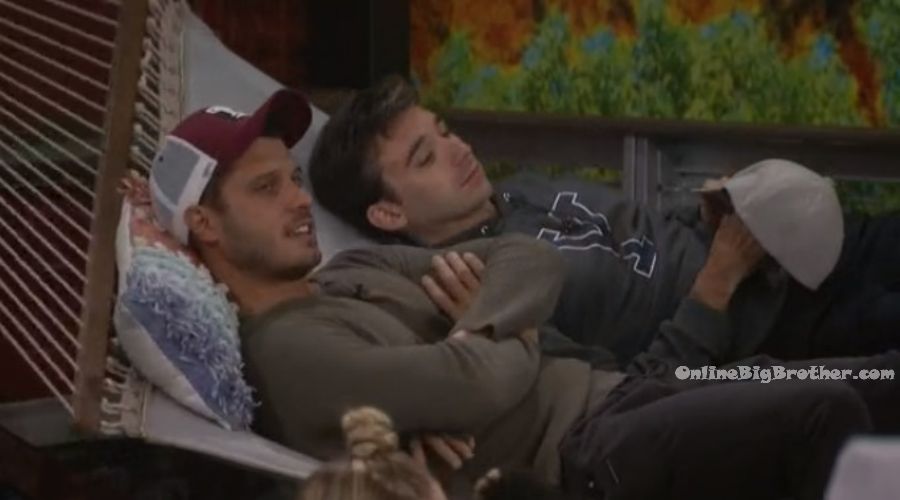 10:45pm Backyard. Enzo talks about his intro videos. He said he was climbing trees, hoping over fences and on top of a house saying "Cats out of the bag the meow meow is back!" Cody laughs and says – I hate you!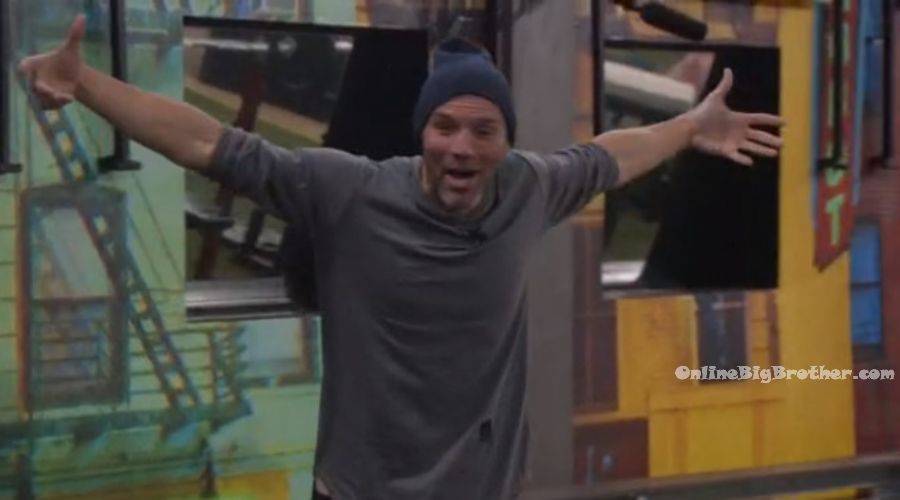 11:08pm Backyard. Dani, Cody, Nicole.
Nicole tells Christmas to go grab Tyler sneakily. Dani – In my DR I kept talking about our group and I was like.. Cody – you're going to get called out.. please stop talking. Big Brother cuts the feeds. The feeds return. Nicole – I love that. Dani – I love it. Cody – I love the "Core Four". Dani – because we're the core. Tyler joins them. Christmas comes back.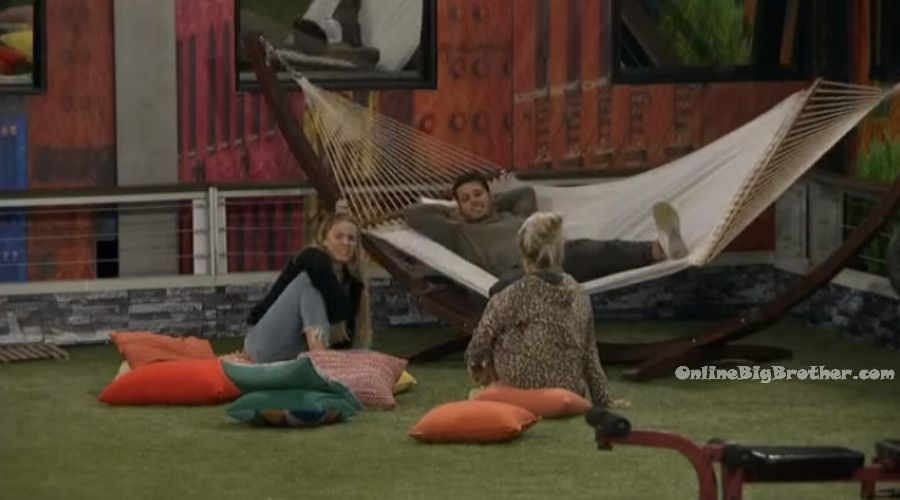 11:45pm HOH room. Cody and Enzo
Enzo – as long as we protect everyone I'm okay with it. Look I love Bay, I love Day and NicoleF. Nicole is at the bottom of the pole because she's a winner. At one point she is going to go YO! Cody – here is the thing she is going to be wildly loyal. At some point that is a good thing because you haven't won and I haven't won. Enzo – exactly! Cody – at some point people are going to start talking about her.. and she will win HOH and not do sh*t to you. Enzo – yeah. So if Janelle wins HOH .. who is she putting up? Cody – probably NicoleF and me. Enzo – why you though? Cody – because I think they might be speculating that NicoleF and I have a final two. Enzo – I think its Keesha, Memphis, Janelle and Kaysar ..they already have something. Cody – well that doesn't really matter because Keesha is going home this week. The thing that I am worried about is Kaysar with Janelle. Kaysar must have been shook because Dani told me that he said something like not good when he walked out .. like not good. Enzo – Kaysar .. we're his targets! I a telling you that right now. Because he talks no game! Does he talk game to you? Cody – no. Enzo – He don't talk game to me. Memphis don't talk game with me. Does he talk game with you? Cody – no. Enzo – so they definitely have some sh*t going on YO! We are stuck in the middle with these girls but I like these girls. I am telling you the truth right now.. the girls on this season are way better than the guys on this season. I am telling you BRO! Cody – if that is how we have to get ourselves moving through this sh*t than that's what we have to do. Tyler is going to be loyal to us too. So there is that. Enzo – Tyler loves me. David likes me too. I am telling you that Ian and Nicole definitely have something on the side. Dani, I love Dani and I want to keep her close but she is definitely got something on the side too. Cody – I want to get in Kaysars ear just in case he wins HOH. Enzo – Memphis isn't going to win sh*t .. he is just going to ping pong around and do nothing. He didn't even ask me if I was going to use the POV. Motherf**kers got to comfortable in here! I think we're okay if Janelle wins HOH but I don't know about Kaysar. Cody – the biggest thing this week if I had said lets put them up and backdoor them.. people would have been like Whoa! Enzo – if NicoleF won HOH who would she put up? Cody – I think she would be too scared to put up Janelle but maybe we can persuade her to put up Kaysar or put up someone else and backdoor them.
12:43am Storage room. Cody and Kaysar.
Cody – we just never get a chance to be alone. Kaysar – its not me, its you. Everyone is swarming around you. Cody – its alright its going to fade in 24 hours. Kaysar – I am getting a little frustrated because I don't know where the house is at. Cody – I am super frustrated because we came to play .. it sucked that I had to nominate these two people and it sucked for my reasoning. Kevin is saying a little more of what you would like to hear. Kaysar – neither of them serve me in any capacity. I think you already did your piece and put them up. Cody – I am not going to force the issue. Everyone is playing it like I don't want to be the one to say anything. I think more will happen tomorrow. Cody – and you don't have a preference at all? Kaysar – I didn't watch either of their seasons. I know that Keesha was a part of a final 4 alliance so she is a more of a capable person of the two. So then the calculus becomes get her out or figure out where her next move is. Cody – and see what her next target is. Kaysar – even if I am not her target she becomes a target. Neutral players in this game are Ian, NicoleA and Kevin. Do you get them out or do you get people who are more targets out? Cody – if it comes down to it tomorrow and no one knows what they're doing I will just do it and get all the blood on my hands. Kaysar – you just have to make sure you know which way the votes are going.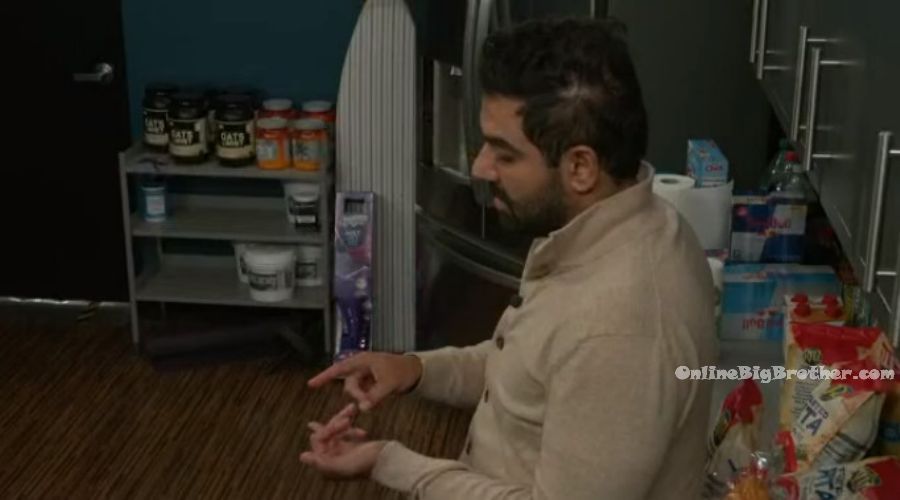 1:50am The house guests are sitting on the backyard couches and chatting about random things.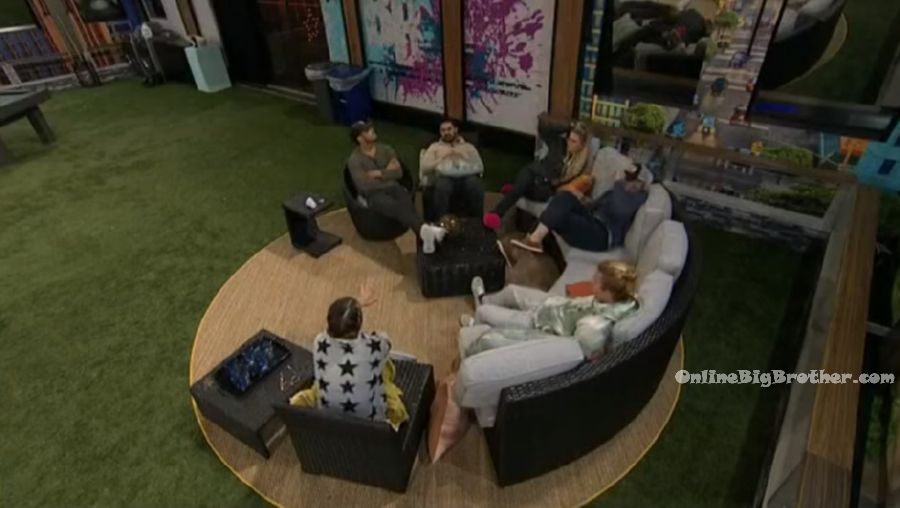 2:15am – 3:40am Hammock. Kevin and NicoleA.
Kevin – we have to continue to socialize with other people. Nicole – I'm trying, you're doing a great job. Kevin – Janelle is so smart! You have to be careful around her. I had a conversation with her and she was dissecting my words. Kevin – once I get off the slop I will be fine because I have slop brain right now. Is a pair of unicorns a blessing? Nicole – I will tell you what is .. a final two. Kevin – I do think that we are going to have to have some muscle. I am working Tyler and Cody.. well not working them but.. talking to them. Its so early. Nicole – its week one! Kevin heads inside. Nicole does soon after.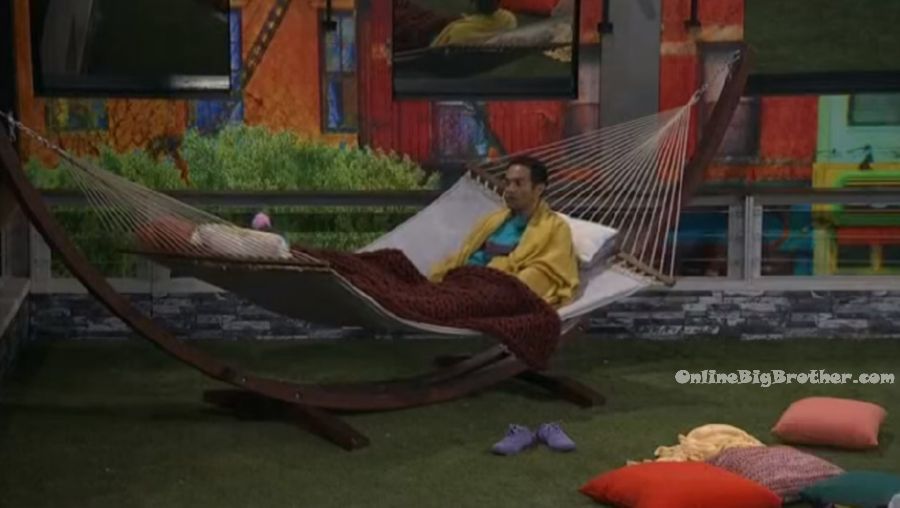 4am All the house guests are sleeping.. except for NicoleA who is getting ready for bed.
8:07 am Sleeping yo