| | | | |
| --- | --- | --- | --- |
| POV: | ? | Next POV: | July 14th |
| POV Used | ? | POV Ceremony | July 16th |
| HOH: | Scottie | Next HOH: | July 19th |
| Noms: | Brett & Winston | Have Nots | ? |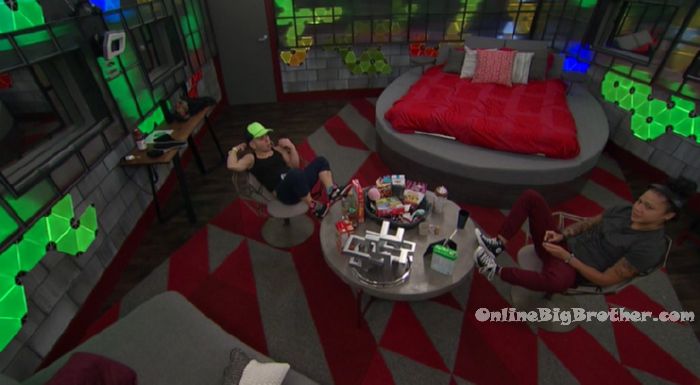 7:40pm JC, Kaycee and Rockstar in the HOH room. JC – If I win the veto, I'm not using it. Rockstar – that's why I don't want to play in the veto. JC – who ever stays now comes after Scottie. Everyone in this house has one target. If you're trusting all these people blindly you're making a mistake. We need to get the bros out. JC – when we send Winston home. Brett and Angela are going to get together. You can tell she is falling for him. She laughs at all his jokes. If they get into a showmance they're going to be a target with the whole house. I can't work with that anymore. Rachel wants to f**k him too. Kaycee – yeah that's annoying. Those girls throw themselves all over.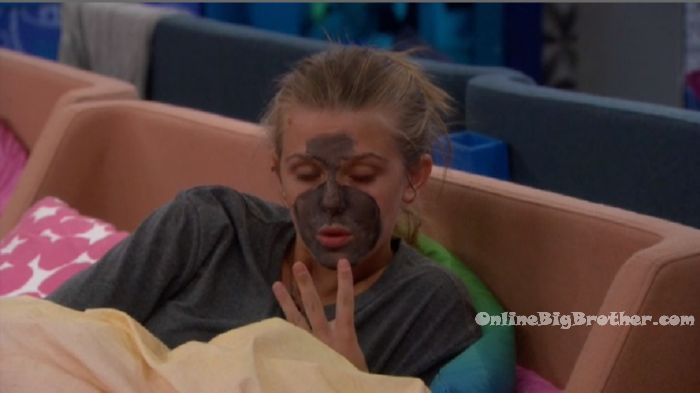 FLASHBACK and watch everything you missed: Live Feed 7 day FREE Trial!

8:30pm Bedroom. Bay, Haleigh and Rockstar. Bay tells Rockstar and Haleigh that she named the Core alliance. Haleigh – so you named it, they didn't name it? Bay – yeah after Swaggy left. Haleigh – we need a name. Rockstar – Kaycee and Angela don't leave each other side. I think that .. and you're not going to like this .. but Brett is the one that needs to go. Winston has no uniqueness or talent. Brett is more threatening of the two. Bay – Scottie told me that Brett is the bigger threat in the game. Haleigh – we will never convince Kaitlyn of that. We have three. Rockstar – Fes and JC goes with the house. Haleigh – Brett is a salesman. Bay – and persuasive. Haleigh – Scottie said after 5 minutes Brett had convinced him not to put him up. And he was going to do exactly what he said. Rockstar – Listen to this, and this is really great and evil.. then I think next week we put Winston back up. Haleigh – and I think we keep putting Winston up until he goes home. Bay tells Rockstar about how Winston snapped on Scottie telling him that he just wrote his own eviction. Haleigh – like to be that aggressive about the game is strange. Bay – he thinks he's going to go home. Haleigh – good. They need to be sparated. One of them can't take a sh*t without the other one being like "Where's Brett!? Where's Winston!?"
One of them can't take a sh*t without the other one being like "Where's Brett!? Where's Winston!?" #BB20 @bigbspoilers pic.twitter.com/txW8Niqgie

— Dawg (@DawgsBigBrother) July 14, 2018
8:55pm Bathroom. Haleigh talks about her app punishment and how she has to stand up on a podium and read aloud a book. She has to read the entire book but can only do it when the tell her. She says that she can read it outside of that but that it doesn't count. Winston – why would anyone do that?! Haleigh says that she has to keep her place bookmarked and if anyone steals it she gets in trouble.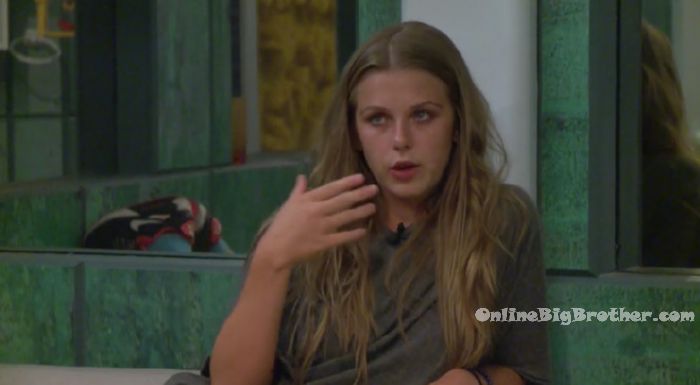 9:12pm HOH room. Kaitlyn, Rockstar, Scottie. Haleigh – you need to think about replacement options. You don't need to sit here and tell us but you need to think about it because there are three powers and we don't know what any of them are. And none of them have been used as far as we know. Kaitlyn – Can you imagine if I won the veto and used it on Winston.. EWWW. Heleigh – I can't even imagine Winston asking me to use it. Rockstar – how dare he call me a floater that sucks up to the HOH when all three HOH's have been people that I like. I am not a floater! I am a dedicated member of getting their side out. Kaitlyn – Rockstar you better win HOH next week.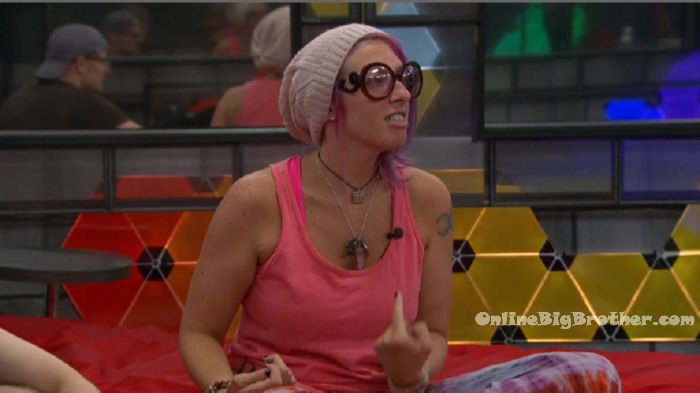 9:35pm – 9:40pm Bedroom. Fes and Bayleigh. Bay – I don't understand why he's stirring up so much. Fes – why is he talking so much? Bay – I don't know, he's just nervous. Fes – just don't talk about it. That's what gets you when other people talk. Bay – I'm not, but she keeps coming over and sitting right by me .. you know. And like wanting to talk. Fes – let her play her game. Bay – did Scottie tell you that everybody has her (Rockstar) name in their mouth. Fes – really? Bay – he said that everybody suggested me to put her up. Fes – so if we suspect we're going up then we use it and you pick the ones you want .. and if they win veto .. they can replace us back up though.. Bay – that's what I'm saying. That's why we have to make sure its very strategic and it won't even be considered. Fes – the HOH isn't going to know who used the power. Bay – exactly. We have to think like other people. So if someone has a problem with someone we have to put them up and they'll suspect its them. Fes – this is the greatest! Bay – I know. Its great but you have to use it right.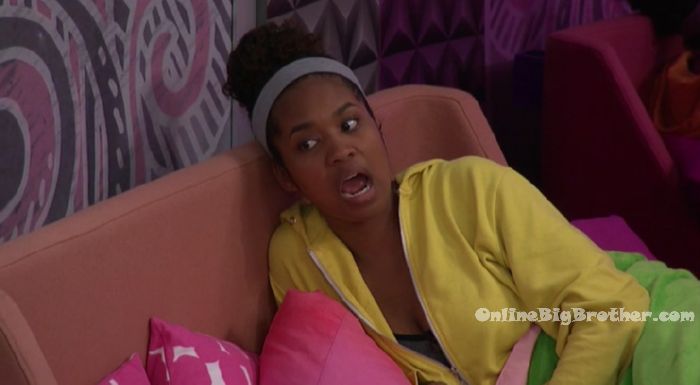 10:10pm Lounge room. Kaycee, Brett and Winston. Brett writes #SAVE THE BROS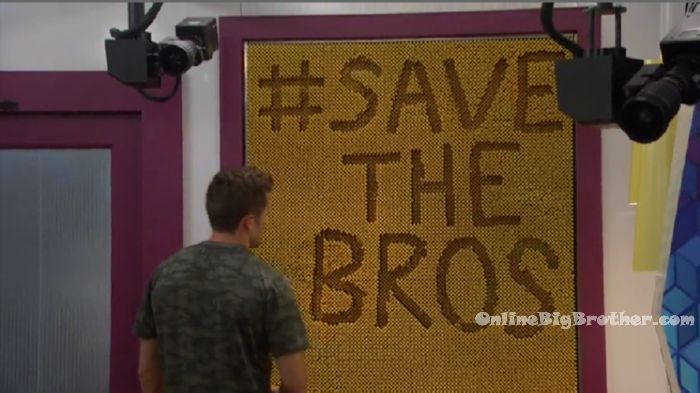 10:40pm Tyler and Rachel. Tyler – Winston and Brett need to start working on their relationship with Sam. I don't think she would save either of them. Rachel – Winston is playing a bad game. Rachel – when I knew it was down to me and him, I was like f**k!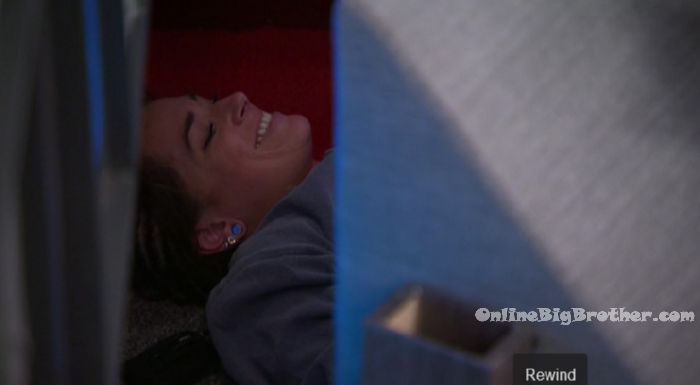 11pm HOH room. Tyler, Scottie and Sam. Scottie – if Winston is the one that wins and takes himself off the block so it will just be Brett on the block .. and those are the two people that we are going to vote for .. so I have to put up someone next to him that no one would vote out vs Brett or Winston. Sam – you can put me up Scottie. Scottie – I wouldn't. Sam – you should. Scottie – why? Sam – trust me. Scottie – you're kitting me. Sam – do it! Tyler puts his hands on his head in frustration. Sam – pinky promise. Scottie – I already don't like this. Sam – pinky promise that if they win veto you will put me up on the block. Scottie – why? I don't want to but I trust you more than anyone else. Tyler (acting) – I don't like this Sammy.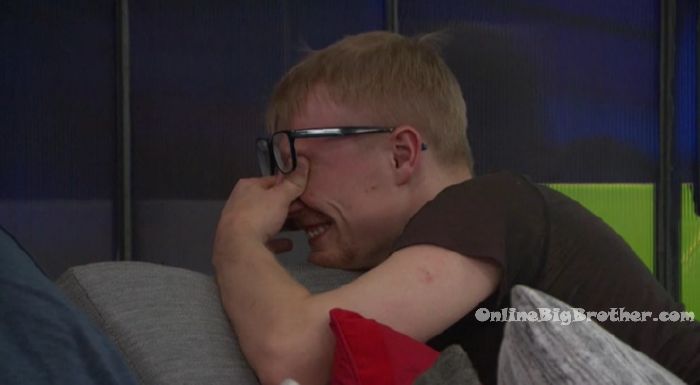 11:05pm Storage room. Winston, Brett and Angela. Winston tells Angela that it would be better you're in the veto for me to throw it to you so that you could use it and then you and I are safe. They question whether Sam would use her power to save one of them. Angela – Scottie told me and Rachel that Fes's plan was to go after you and two. Its Swaggy's plan. I've narrowed it down and Rockstar could have it, but probably not. Or Bayleigh has it. Scottie – I will literally be live if I have to put someone else up, then Iwould ho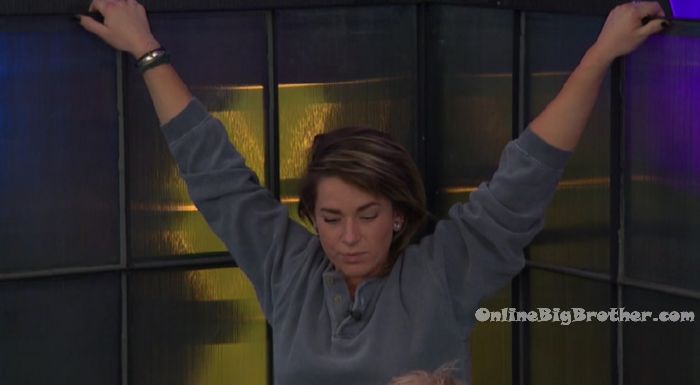 11:50pm HOH room. Scottie, Fes and Tryler. Fes – it looks like everyone is worried about being the replacement nom. However iF you get house guest choice ..if you want me to play. ..to like give us a better shot. Like beating them. Then I will do it. However if everyone is keeping it the same then I am not begging you put pick me. But if you feel more comfortable, then I will do it. Scottie – I would feel absolutely better if you did it. Fes – then I will.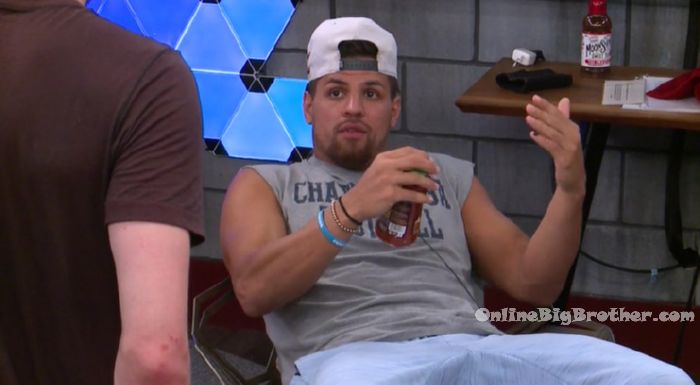 11:57pm Bathroom. Sam to Kaitlyn – in the event that you are put up I will protect you. kaitlyn – I have your back inside and outside this game. Sam – just know that everything will be okay. Scottie – Winston came in hot and left hot.. So I was like okay game on! I think that they thought they could intimidate me.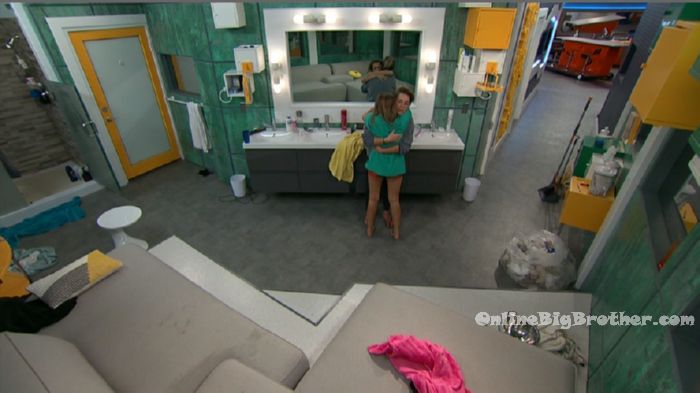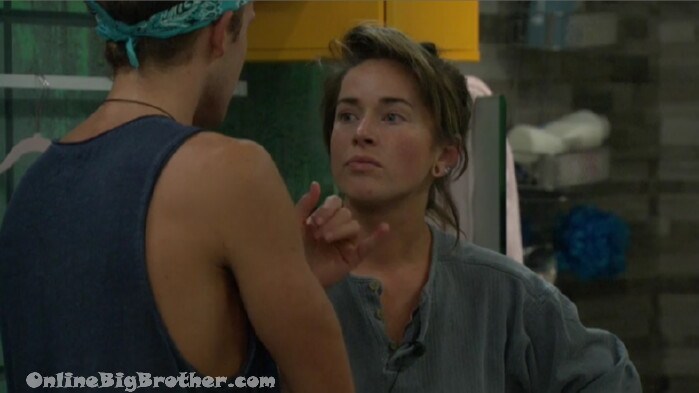 12:20am Sam and Tyler Bathroom 
Sam – we don't have any enemies at this point
T – Rockstar…
S – she loves me and I would never let anything bad happen to you
Sam says next week they have to be sure of who gets evicted in order to use her power.
S – we would have to send someone that we like, and actually evict them. Then after the fact be like, that was our thing, sorry.
S – it'll just be offered.. that could potentially make me look like a liar. if I never make good on I have the power and now it's gone.. people will be like she never really had it but I did.
S – I don't want to loo like a liar.. the other catch is after it's gone I can't keep saying I have it so after it's gone it'll be anonymous but I'll have to come clean to you Kaitlyn and Kaycee that I don't have it anymore.
S – Kaitlyn doesn't know about the expiration. SHe asked me again tonight
T – Kaitlyn asked you
S – I said I know you are worried about going on the block but if you do go on the block I will protect you so if she goes on the block I will give it to her.
S – she might come back as a robot or she might come back in a battle back.. we don't know
T – the thing I'm worried about this week is if it's you against a bro and you get evicted and then it's revealed you had the power you battle back.
T – Then Scottie finds out you had this power and used it on yourself.. He will be upset.
T – so neither the bros go home nor you go home.. he's going to be upset.. (boo hoo)
S – Should I tell Scottie I have the power
T – NO we should tell Scottie to not put you on the block.
S – I don't forsee.. I think I would win against the Bros
Tyler warns her that BRett has more ties than she thinks.. "He's good with a lot of people.. alliance wise"
S – how is that possible.. how do people play in so many alliances.
Tyler tells her that's the game.
Sam knows but doesn't get how people can be loyal to everybody.
Tyler tells her the best case scenario is if the noms stay the same unless she really doesn't want the bros to go home.
Sam – I would only ever use the power on you you, myself, Kaycee, Scottie or Kaitlyn
Sam says she gave Kailtyn her word
Tyler – she did keep you safe
Sam – if Scottie does put her on the block..
For all you folks that need a VPN I use this one
Rank the houseguests!
Easiest way to Rank the house guests use link below