| | | | |
| --- | --- | --- | --- |
| POV: | Scottie | Next POV: | July 21st |
| POV Used | NO | POV Ceremony | July 23rd |
| HOH: | Scottie | Next HOH: | July 19th |
| Noms: | Brett & Winston | Have Nots | Angela, Sam, Tyler, Brett |
Big Brother Spoilers Big Brother Spoilers.. Welcome the newest alliance The Maneaters (Brett still staying)
10:43am Sam's got a new hat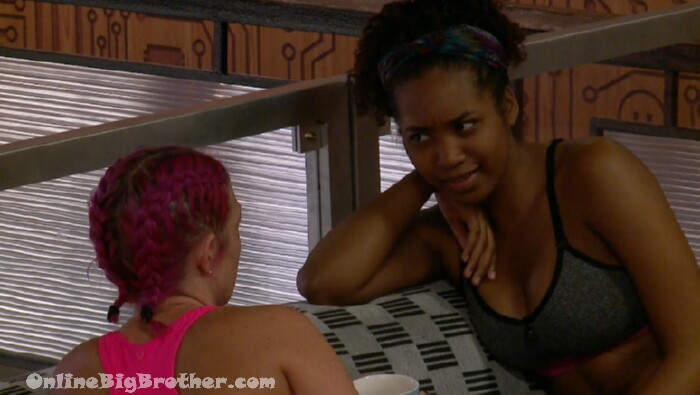 11:15am Rockstar and Bayleigh
Bayeligh says KAiltyn with Fes then Tyler and now Scottie
Bayeligh says these last few days Kailtyn has been holding him, Touching him sleeping in the same bed..
Rockstar – Yeah, I can't wait to meet joe
Bay – I don't want to meet joe
They laugh at not knowing what to say, "are you ok.. do you need a hug"
Rockstar – it's so nice to meet you so whens the wedding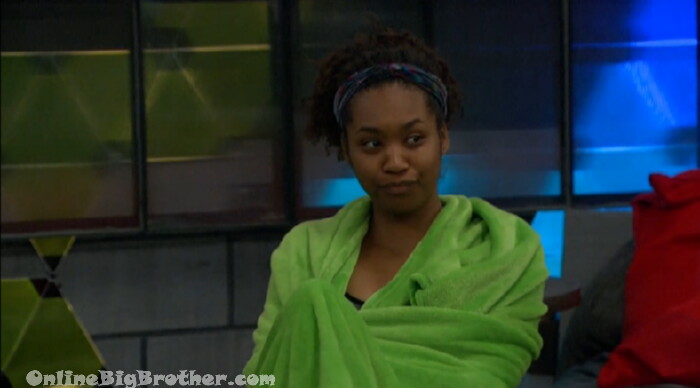 11:20am Bayleigh and Scottie HOH
Bayleigh asks him to describe everyone's game in one word.
– Hayleigh – everywhere
– Sam – Sneaky
– Winston – irreverent
– FEs – junkyard dog (more the type this needs to get done lets do it)
– Rockstar – strategic
– Angela – biding her time
-Kaycee – ignorant
-Tyler – An enigma
Bayleigh – what is an enigma
-Tyler – I don't know if he actually has deals with everyone or if he's just acting like he does
Bayleigh says she's heard Tyler has a final 2 with Sam and Kaitlyn, "you have a final 3 with him outside the core"
S – me him and Sam made a promise we'll take each other as far as we can go
-JC – Floater
-Bay- Free agent
– Rachel – a very good place to pivot.. positioned well
– BRett – irrelevant
Bayleigh says she can confirm that there's no power being used on Brett.
Scottie thinks Winston will go after Kailtyn . Bayleigh asks him if it was him and Kailtyn on the block who would Tyler choose. Tyler thinks it would be Kailtyn.
S – no matter what happens to that girl he consoles her..
Tyler says that his relationship with Tyler is them talking game every 2 or 3 days to catch up./
Bayleigh asks him who he thinks he'll lose the quickest in a final 2
Scottie doesn't know..
Bayleigh – do you think there's a battle back
S – I am operating under the assumption there is one ..
Scottie says the people we would have trouble beating would be Kaycee, Tyler and maybe Fes
Scottie – I'm 5th or 6th in line to the hardest to beat
Bay – that says a lot
They wonder who would be the perfect HOH to take out Kaitlyn
Bay – everyone keeps looking at me, I have no reason to .. maybe one of the girls on the other side would
S- you think so..
Bay – I really do.. I know Kaycee would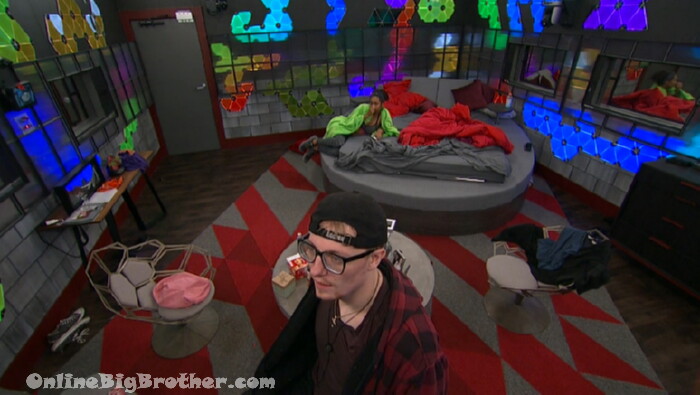 They agree Kaycee winning HOH would be great.. Scottie says Tyler will save Kailtyn though to form a rift between Kaycee and Kailtyn
Bay – you think Kaycee would save Winston
Scottie thinks Winston will try to get close to the girls..
Bay – is there enough votes to send Brett home this week
Scottie – based on what everyone is telling me yes
Bay – that is crucial..
Bay – JC is a wildcard
S – he wants to vote with the house.. I told him yesterday I think there is 3 votes to keep Winston here the rest are to get rid of Brett.
Bay – JC makes me nervous because he's a very temperamental person
S – yes
B – nobody knows what he is thinking.. he could do some crazy stuff
S – that's why he changed his vote on Steve because on eviction day Steve looked at him funny
They think that Sam's power is gone this week and next week another one will get used which means one more. Scottie is happy becuase he can play in that weeks HOH.
Bay – you and Tyler are good
Scottie – for now yes..
Bay – Sam and you and Tyler.. that make sense..
S – my theaorey is those two are closer and they are using me
Bayleigh – I heard they have a final 2
S – I haven't heard that.. what scares me about that is Sam won the power week 1.. at the end of that episode she was a robot.. how did she get enough trending based on that
Bayleigh – her accent.. she's a lot smarter.. she's inventive.. she cooks things.. she may be a scientist.. maybe it;'s not her brother it's her
Scottie – she said her brother is a scientist
BAyeligh – yeah.. accent.. charming she might be a scientist.. everyone loves a southern girl..
They think the power holders are Sam, JC and Kaitlyn. They also think Winston is going to be evicted.
Scottie thinks if Rockwall wins the HOH she would put Winston and Angela on the block.
Bayleigh – I feel like that's 100%.. who about Fes
Scottie – Winston and…. one of the 3 girls..
Bayleigh – is fes threatened by anybody
S – obviously Kaycee
Bayleigh now asks about Winston. Scottie thinks it would be him and Kaitlyn.
Bayleigh says Kaycee would have more loyalty to Scottie than Winston.. So Scottie should pick her instead of Fes for houseguests choice.
Bay – do you see Rockfall sliding by
S – here name has come up .. there's potential for that to happen
Bayleigh doesn't like the sides
Scottie says now that Swaggy is gone her name never came up once.
Scottie asks her if she would use the Veto on him if he's on the block with KAiltyn
Bayleigh – absolutely I don't like drama either
Kailtyn comes in.,. What happened last night are you ok..
Feeds cut.. ..
12:02pm Sam making BBhooch
AKA protein powder ice cream (yes she is using a condom but it's been cleaned)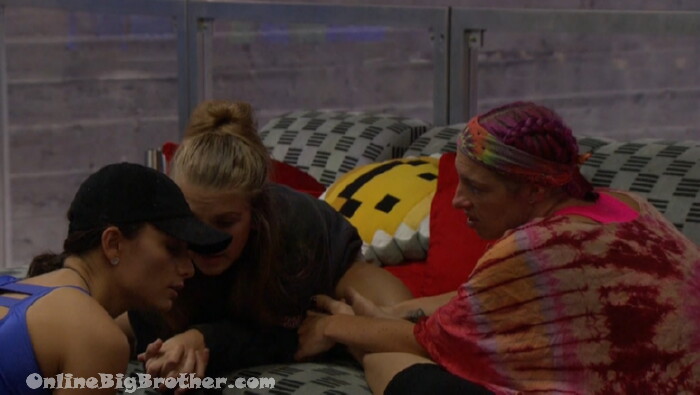 12:41pm Rockstar, Rachel, Haleigh and Kailtyn
THey talk about starting a all girls alliance and taking over.. Rockwall says the girls are running things day 28 in the house.
Rachel tells them she's voting for Brett to stay..
KLAiltyn – I am not..
Kaitlyn- I respect you… but given the fact that we have this undeniable girls connection.
Kailtyn – it's disappointing for any girl to vote for him to stay after he said what he said to me. It's offensive
Rockstar – he walked into this house saying the girls are running things
Rachel says she's had a better personal connection with Brett.
Kaitlynwants all the girls to come together and make s stance against Brett for the things he said about her
Rockwall, Haleigh and Kaitlyn go on trying to talk Rachel into voting BRett out because he's the worst.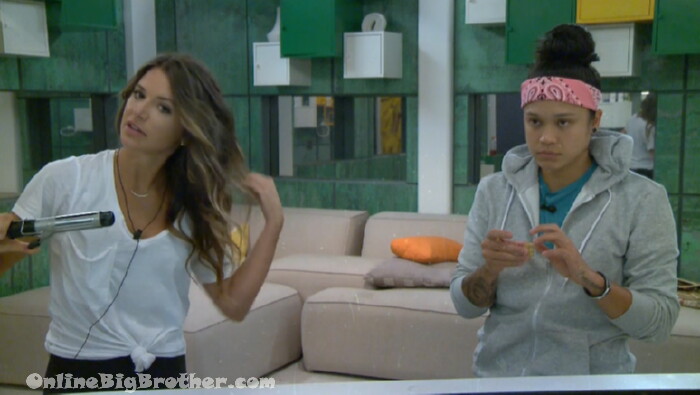 12:45pm Kaycee and Angela
Kaycee tells Angela details about Sam's power. Says if it's not used this week it's automatically used next week. Says Sam doesn't want to use it unless it's her or us. Angela mentions how it sucks if Brett wins HOH puts up two people they want out and the power is used.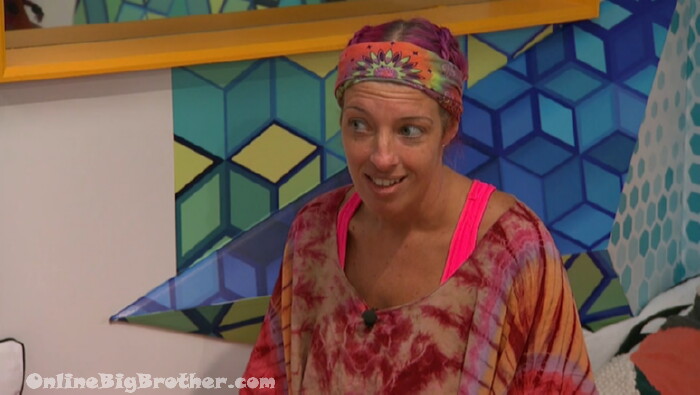 1:05pm Rockstar and Angela
Rockstar continues to sell the all girls alliance idea to everyone.. Angela says she's for it… "Girl power"
they hug it out..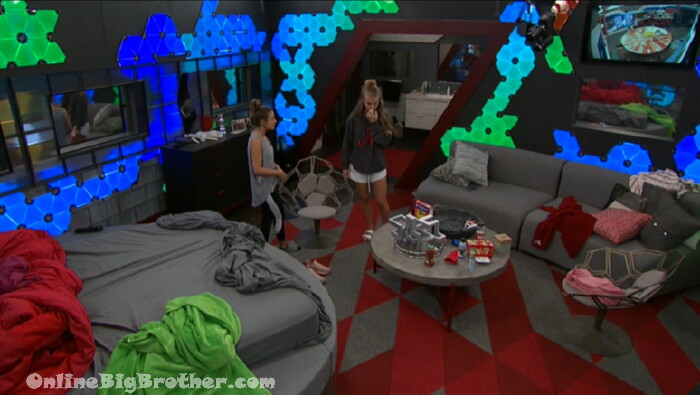 1:00pm Haleigh and Kailtyn
They are going to all their alliance the man eaters.
They are worried the guys are going to find out but because there is a split in the house they will never suspect they are working together
K – in the event a guy wins and a girl goes home next week.. we have to make sure it's not one of our girls
H – clearly
K says when they down to just girls it'll be their 4, We're evenly split.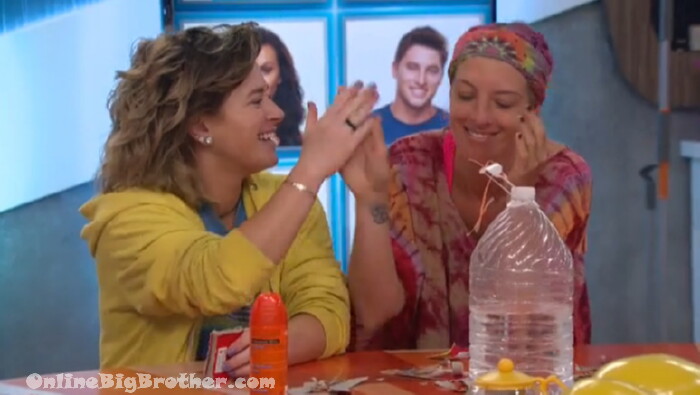 1:08pm Girls alliance gets another member.
Sam – very cool.. makes me happy
For all you folks that need a VPN I use this one
Rank the houseguests!
Easiest way to Rank the house guests use link below