POV Holder:
Jessie
Next POV
Aug 10th
POV Used
YES
POV Ceremony
Aug 5th
HOH Winner:
GM
Next HOH:
Aug 8th
MVP:
AMERICA
Original Nominations:
Candice, Jessie and Amanda (MVP Nom)
Current Nominations:
Candice, Spencer and Amanda (MVP Nom)
Last Evicted Houseguest
David, Nick, Jeremy, Kaitlin, Howard
Have Nots
no have nots this week
1:45am Gina and Spencer are laying in the hammock talking. Spencer tells Gina that her HOH is pretty much over, it's just the bedroom now. He says he is ready for Candice to high step it out of here. The house will be a lot better without her. Gina agrees and says look at how much quieter it was tonight without her. We didn't hear her voice or nothing, it was awesome! Spencer says man I am ready to see some people leave. Gina says I am going to stay chill Wednesday, then have everyone up in my room. Spencer says talk to me last. Gina says yeah and then what I am going to do is sleep downstairs tomorrow so that people wont be down stairs talking because I will be staying up late. McCrae and Amanda will be up in the HOH. How do you like them apples? I will stay up all night to make sure no ones talking. I don't need energy for Thursday, I ain't competing. Spencer tells Gina that he doesn't want to get HOH this Thursday. I would rather someone that will keep me safe get it. Because going into jury next week, I would rather win it then. Judd comes out to join them. Gina offers to go get another blanket so that it's not a co*k fest, two guys and one girl. Gina gets up and Spencer says you just touched my co*k. Gina says I thought I touched something nice!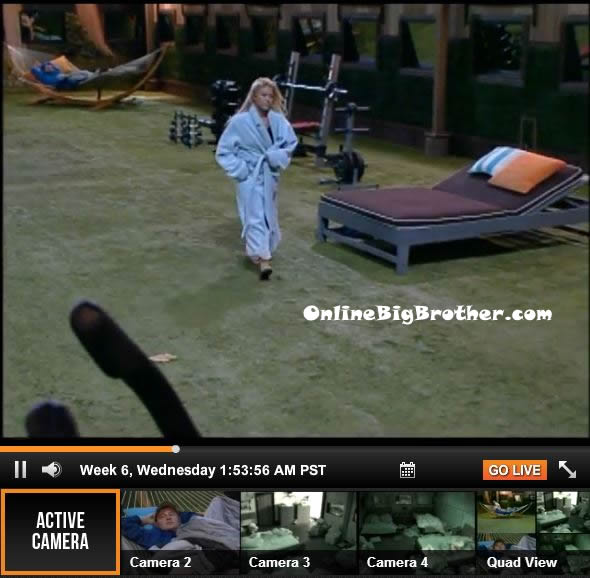 1:55am Spencer talks to Judd in the hammock. Judd asks if anything is going on. Spencer says no Gina was just talking about how much she hates Candice's guts. Judd asks did you talk to Amanda and McCrae? Spencer says yeah but not game talk. Judd says I didn't talk game with no one today. Jessie talk game? Just about covering herself for next week. Judd comments that Jessie is covering herself for next week, she is doing a great job with you. (sarcasm) Gina comes back with a blanket. Judd says so worst case scenario Jessie wins HOH? Gina says yeah if it's knock out everyone just try and get her out, put her up every time. They hope the MVP twist ends soon. Judd tells Gina that Helen and Elissa are sleeping in her bed. Gina gets up all mad and says well how am I supposed to get my bed back. What a fu*king a$$hole! Gina storms off inside the house. She goes into the back bedroom and tries to see who is in "her bed" but can't see so she leaves and trips on stuff. She then goes to Andy sleeping in the other bedroom and asks him who is sleeping in her bed. Andy says Helen and Elissa. Gina asks are they going to give it back to me? Andy says yeah. Gina says I thought you were going to save it for me. Andy says that Helen and Elissa haven't slept in there and wanted a night in there. Gina say alright I am sleeping down here tomorrow so I want it back. Gina heads back outside and starts going off about how they took her bed and now she won't get it back. Judd and Spencer tell her they will make sure she gets it back. Gina says now I have to sleep with her crab a$$ fu*king cooties in there. Gina says that she wants her and Nick's bed back. I am sleeping there till I go home. Gina says it's not my fault Andy is a fudge packer that he can't fu*king sleep with another guy because no other guy wants to sleep with him. If he wasn't gay, it wouldn't be a problem and someone else would sleep with him. Gina says so Candice can be a c**t and mop around and no one even says anything. Let her fu*king rot in the corner until Thursday. Gina heads to bed and throws her hands up in the air and yells I CAN'T WAIT TILL THURSDAY!! Spencer and Judd laugh about how nuts Gina just got over a bed.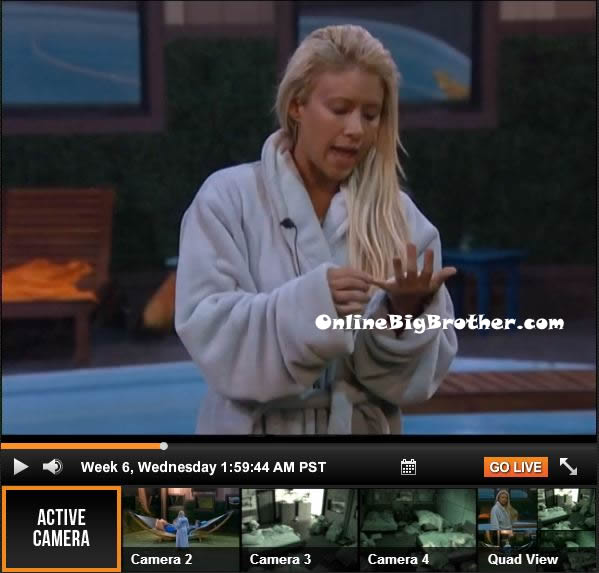 2am – 3am Judd talks to Spencer about how Candice didn't campaign at all to him all she offered was to cook him breakfast and she didn't even do that today. False promises. Spencer tells Judd that he is really glad he came to him. Judd says yeah I was glad you were accepting of it. They both agree that they want people that care about the game to make it to jury. Judd and Spencer talk about random things about their home lives. Spencer says Candice leaves this week then it will be 6 girls and 5 guys. I don't want any more guys to leave coming into jury. Judd ask if there is any talk about him. Spencer says no just about you, Aaryn and Jessie. Judd says that Aaryn is way cooler that Jessie. Judd says that Jessie is so much of an attention seeker. Spencer says she is just rubbing them t*tties on people to get what they want. Judd says yeah its just you and me now. She should have just laid back and been cool. Spencer says that the only reason Elissa is still here is because of Helen. Once Helen goes Elissa will be right after. Judd says that he wants to win this HOH. Judd and Spencer head over to the backyard couch. Judd tells Spencer – dude I want you to win this HOH. I would feel safest if you got it. Judd says that he trusts McCrae and Amanda. They don't talk game with me much but I trust them. Spencer says that he thinks his game improved since Howard left. Judd says tomorrow he wants to get his social game on with more people he doesn't normally talk to. Judd and Spencer talk about how unpredictable Gina is. They talk about the POV competition and how Spencer and Judd were the real winners of it. Judd comments they need to stay focused on jury but also on final two. Spencer says he is focused. Judd and Spencer then head to bed.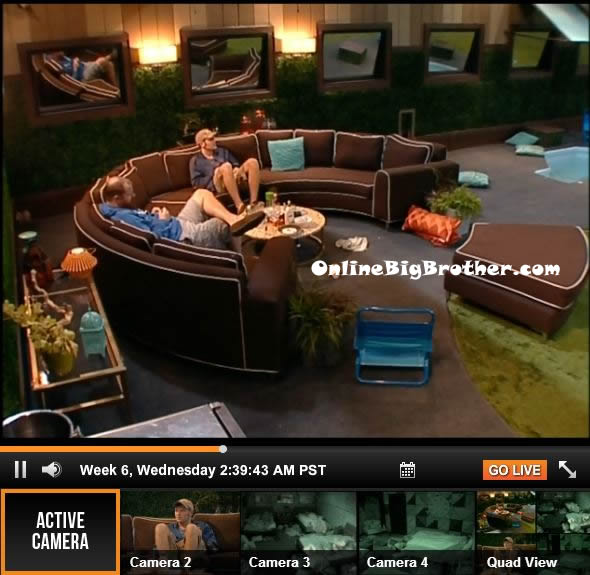 8:25am All the house guests are still sleeping..
Use the Big Brother Live Feeds to FLASHBACK to SEE what they can't show you on TV: BB15 N!p Sl!ps / N*des