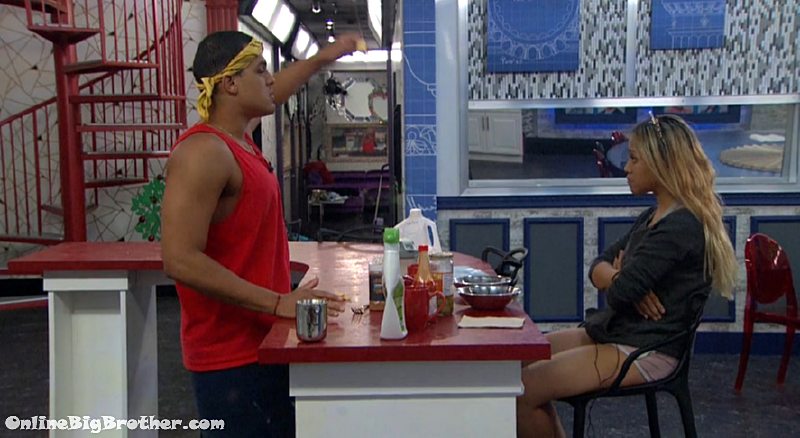 Feed subscription lets you go back and re-watch everything we post here CBS All Access Live Feeds with a FREE 7 DAY trial.

1:33pm Josh and Alex
Josh is explaining what he was doing yesterday and what his plan was with Cody. He wanted Cody to quit not on a personal level but because Josh was so obnoxious he couldn't stand being near him.
"I didn't want it to get like that.. it went crazy real quick"
Josh – It went from pots of pans.. dancing around driving him crazy to intense,.. .
Alex – She's (Jessica) is a sexual predator
Alex says they were going to go out there ans slander his name
Alex mentions that Jessica and Cody were going to say thing that would make people want to spit on him.
Alex – She's (Jessica) is a sexual predator
Alex – she has touched my V@g1a..
feeds cut..
When we're back..
Josh says the public is seeing something different because of the way the show is edited they know the truth about what Jessica and Cody were doing in the house.
Josh now saying that what he did last night was strategy "Mess with him so he doesn't want to use the Hex and Go home.. it got real dirty real quick"
JOsh – I'm checked out with f*ing with them..
JOsh – it's going to get ugly between me and him
Alex calls Jessica a stupid b1tch. In the same breadth says she never said mean last night to to Jessica she just called her stupid because of how she's reacting to Alex nominating her a few weeks ago.
Alex mentions that when she was HOH she was the only person that went to bat for her.
Josh points out how when people were attacking Cody and Jessica Mark and Elena back way off from Cody/Jessica.
Josh – they use to be close.. I can't respect
Josh says "i'm calling you out on your sh1t it's not an attack" (LOL you just called it attacking)
Josh says once Jessica and Cody are gone they have to take out Mark and Elena.
JOsh – Mark is smart as f*
Alex – Mark is smart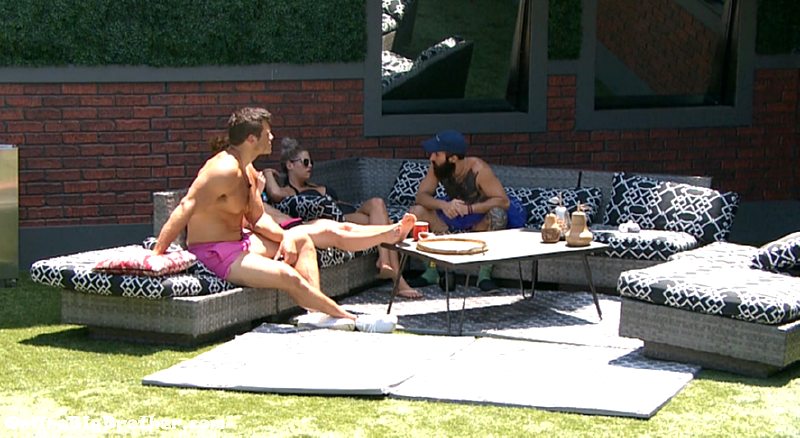 1:38pm Paul freaking out again about Jessica and Cody..
You'll need to flashback Paul's delusional retells.. Check out the post or use flashback to watch it on the feeds otherwise you won't get an accurate retell Blow up Post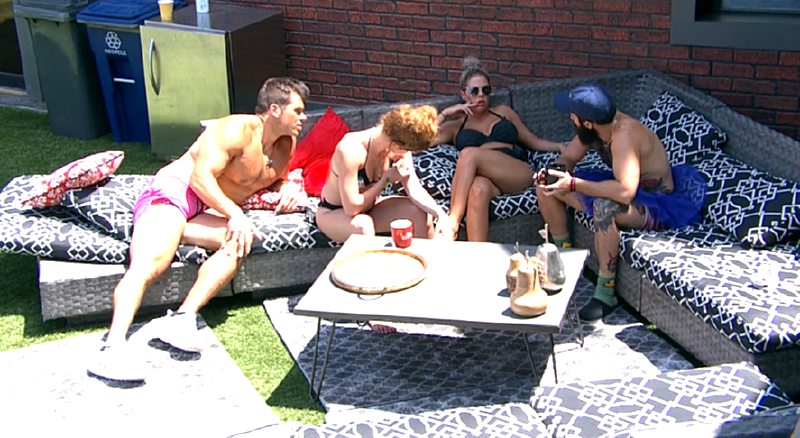 1:51pm Paul, Elena, Mark and Raven
Paul is making plans for them to get Jessica and Cody out next week. He wants them to ensure one of them (Cody/Jess) loses the "Safety" competition.
Paul – "No one competes.. it's them two and one of them for sure loses or we pick one person to compete so there's three of them as long as you beat both, 1 of them for sure go up.. Or we pick 2 people.."
Paul says if Cody and Jess are smart only 1 of them will compete in the temptation.
Elena – it'll be Cody
Mark thinks they all should compete
Paul says Jessica and Cody have done everyone in the house wrong and last night they were called out for it. Now Cody and Jessica have to win every single competition to get to the end.
Raven leaves..
Mark telling them he does the same thing with his eggs at home, "It had nothing to do with Salmonella"
Mark says he knows about food safe.
Paul agrees it's not unsafe it's just gross.
Mark agrees that it's gross he does it at home but wouldn't do that in the house with other people
Mark points out how mad Christmas got when he challenge her, "she's like that about everything"
2:35pm Paul, Elena and Josh
JOsh telling Paul he wants to talk to Cody and Jessica one more time there's things he wants to bring up.
Paul – no you are not.. get over it.. they don't deserve your time
Josh says he wants to address some things..
PAul – we addressed it all yesterday
Paul starts yelling that Cody made it personal.
Josh says it was just game for him and he wants to go to Cody and tell him why was it personal with him.
Paul – he's not going to give you what you want.. he just has a distaste for yo because you're a a$$hole
Paul – we just need to get under their skin so they don't perform well and we got under their skin
Josh leaves..
Paul says Cody was trying to intimidate his way through the game and that doesn't work on Paul.
Paul says Cody and Jessica are terrible for everyone's game. "True character has come out multiple times.. people that were stiring the pot turns out it was those two.. like the sky writing and the cat ears.. look at all the distaste it's created in the house..
Paul – so we got answers to who is stiring the pot and rogue votes.. so why humour anything they have to say anymore.. it's just a joke..
Elena – i'm just not going to allow them to bring my game down
Paul tells her it's not worth talking to Cody and Jessica anymore .
Paul – even if they win HOH who will go up there and campaign.. I'll go up there and say put me up I dare you
Elena – you compete in safety you compete in veto plus you have votes..
Paul – they're going to try and pin me down.. who will they put me up next to
Elena – me.. someone likable..
Paul – I don't think they know hat they will do..
Elena – i'm not voting you out at this point..
Paul tells her if he's on the block his argument is "I got Intel and experience in this game and I can use that intel and experience to get theses two people (Cody/Jess) out and until I get those people out my agenda is very clear"
Paul says if they get him out he won't be a child about it.. "i'm going to try instead of Cry,"
Mark and Alex join them.. they start Plotting how to get Cody and Jessica out next week..
Paul doesn't think the Hex will let Cody and Jessica play in every competition..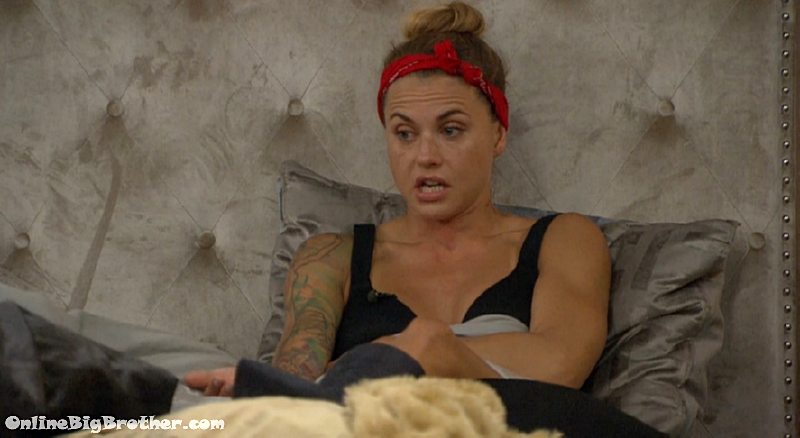 3:09pm Xmas, Matt and Raven
Xmas – there has to be something negative with the Hex .. the curse has had a positive to it.. no other curse has had a positive
xmas – Coming from a neutral person like yourself.. Hey i'm not asking you not to use it i'm just saying if you do think about the potential you are facing..
Xmas – I know that you and Cody are strong game players but those other two probably won't use it to save you (Mark elena?) They'll throw it to keep in graces.. you can play dumb
Matt says she uses the Hex and if they don't win HOH next week Jessica is going home.
Matt – for some reason Cody doesn't come at me.. I don't know why but he doesn't
Xmas – he doesn't come at me anymore
They start watching the spy screen at the conversation between Elena and Jessica (Shown below)
Raven – ohh looks like Jessica is getting aggressive
Matt points out that Elena didn't say anything yesterday
Xmas – Elena is still thinking she's being slit (?)
Matt says Elena and Mark are in a great spot for the next 10 days.. Jessica and Cody is their shield
Xmas says if Cody or Jessica win the veto they'll put Mark or Elena up.
Matt says Cody and him don't have a relationship Matt calls Cody a a$$hole. but they can have a conversation as men without yelling at each other.
Matt – I've made a decent effort to be nice to him.. he's not you can have a regular conversation with
Matt says Raven hasn't done anything to hurt Jessica so he's suspecting there's a personal element in there.
They go back to watching the spy screen
Xmas says Cody was panicking today when Jessica wasn't by his side.
Matt notices Cody and Jessica talking to Elena, "WHAT is Elena doing"
Raven – she's laughing..
Christmas brings up the eggs being a "health Issue"
Raven "It is"
Matt says Cody is just a a$$hole.
Raven watching the spy screen "God I can't stand her" (Jessica)
Xmas – that is her (Jessica) biggest challenge she cannot separate personal and game.. (This is rich)
Xmas – there's a big separation I learnt that week 2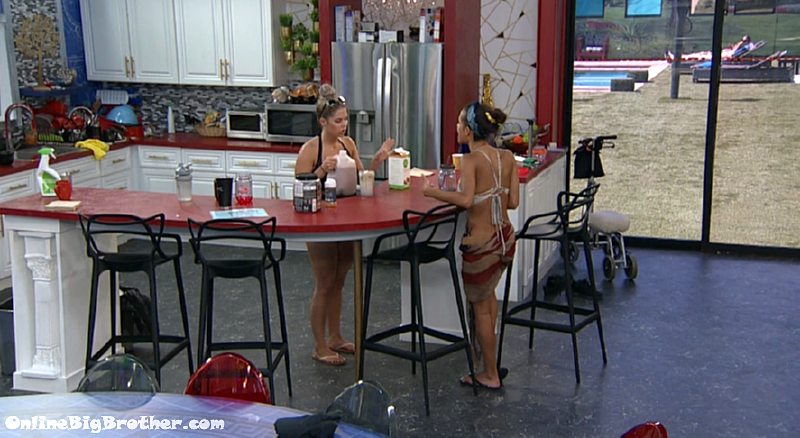 3:11pm Elena and Jessica (We miss the first bit of the conversation)
Elena says she told Paul that everyone has betrayed her and lied to her and purposely left out Mark and Elena's name's because that will look bad for them.
Elena – we're good if something comes up that I'm worried about i"ll come talk you about it..
Elena – anything I do gamewise is just game.. I love you.. literally actually love you
Jessica – I can handle it..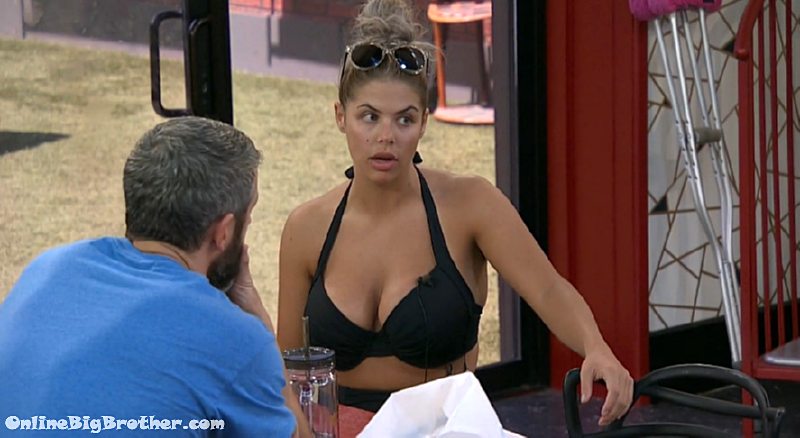 3:20pm
Elena says she really likes Jess as a person but in this game she has to do what she has to do..
Matt agrees.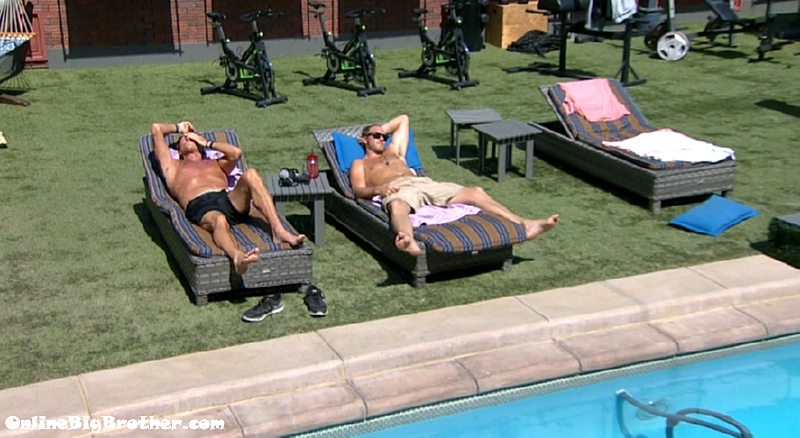 3:21pm Backyard Jason and Kevin
Kevin says final 5 would be Jason, Kevin, Paul, Xmas, Josh
Jason – Christmas and Elena called me in the hammock like the first f*ing week.. do you want us to send you home or keep you till Jury.. I said whatever you want
Kevin – that's why you broke the B1tches leg..
Kevin – f*ing asking you what do they think we're chumps
If you plan on buying anything from Amazon. Use this link Amazon home
Doesn't cost you anything and we get a small cut.
Links to the ranking system
Rank your house guests here
For those of you that like Statistics here are some expanded reports.