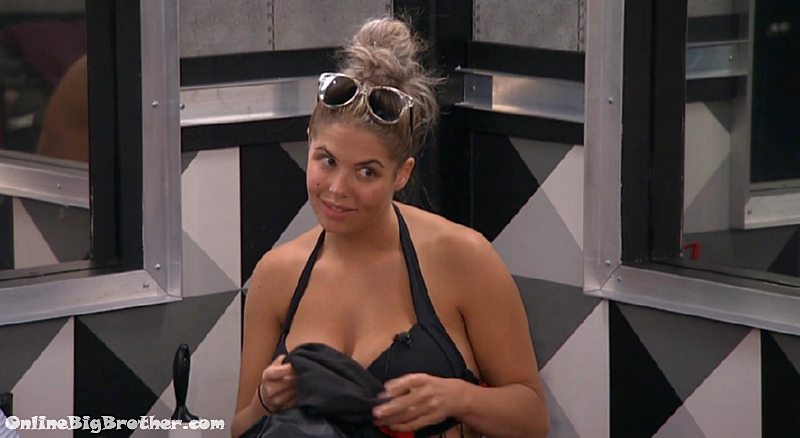 Feed subscription lets you go back and re-watch everything we post here CBS All Access Live Feeds with a FREE 7 DAY trial.

3:52pm Elena and Mark in the have nots
Elena – will suck to put COdy and Jessica up if I win.. But I really want to get off slop..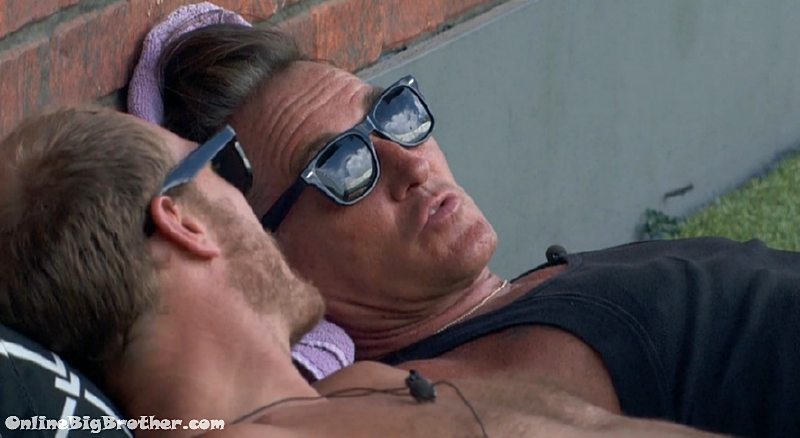 4:32pm Jason and Kevin
Jason saying mark and Elena are playing both sides.
Kevin comments that yesterday mark and Elena were broken up now he's saying he's her boyfriend.
Kevin calls it 5th grade sh1t
Alex and Paul join them..
Kevin tells them a story about Jason haveing sex with a girl with bigger feet than him.
5:52pm There has been nothing happening they've been in a outside lock down for some time.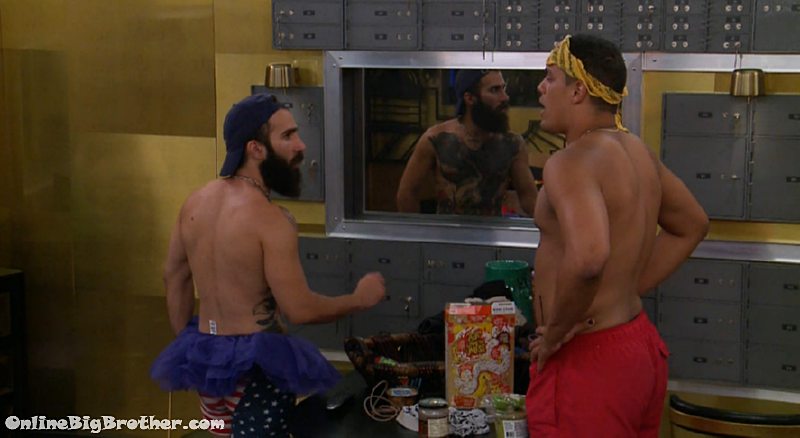 5:53pm Paul and Josh
Josh – I've been checking the house
Paul – go check the TV room.. and let me know
They want to make sure nothing was put in the house after the lockdown.
Josh runs off to check the rooms again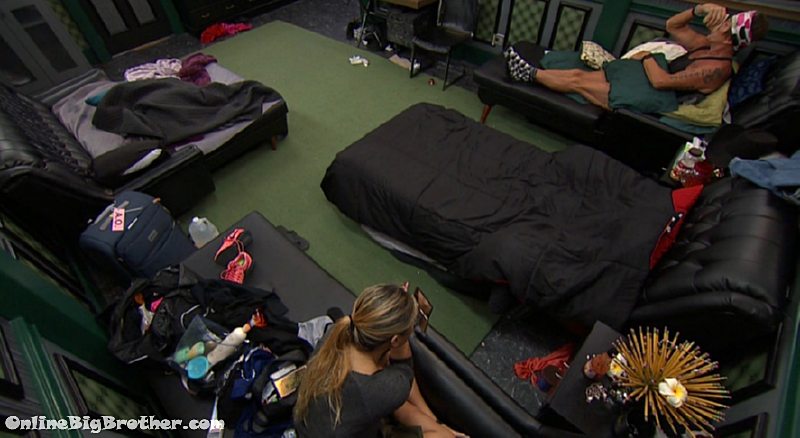 6:13pm Kevin and Alex
Kevin – should we even do the temptation why would we do it
Alex – to prevent people from getting safety
Alex – who would you put up
Kevin – who do you think you should tell doing the temptation thing
Alex – you, Jason and Paul
Kevin – Mark?
Alex – I don't trust him
Kevin – I know so let them go up and if they lose.. whoever you put up has a chance to lose (HUH? )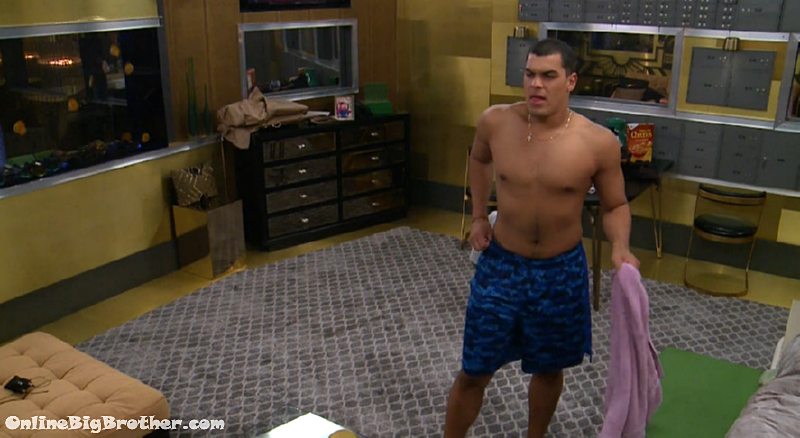 6:14pm Josh and Paul HOH
Paul – I want to send that Dude home.. I'm so sick of his attitude
Josh – I was sicl of his attitude week 1
Paul – that kid is a d1ck nobody hugged him
Paul – I'll hug him but he doesn't want a hiug from me
Josh – F* him
Josh – I'm to the point but where I can't focus anymore f*ing time on him
Paul – yeah me too, he's not work it
Josh – he's not .. they use the HEX let's f*ing gun for him put them on the block and send them home
Paul – jess is first for sure..
Josh – Yeah
Paul – she bounced back and she's the one holding his leash.. he's the one ruining her game.. if we take him out we're going him a favour..
Paul – iof we leave him here nobody is going toback to Cody..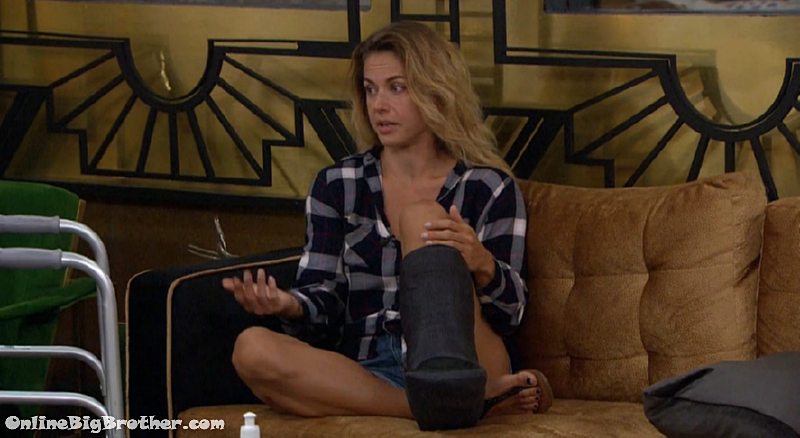 6:24pm HOH Christmas and Paul
Christmas says Elena and Mark are still playing both side.
Christmas about Elena – She's playing a double double
Xmas says Elena is not crazy romantic towards mark.
Xmas is really suspicious of Elena and Mark working with Jessica and Cody
paul – they are setting up just in case
Xmas asks if anyone else has thrown her name out or was it just Mark
paul – just Mark to me
Xmas says she's not sure Jessica is going to use the Hex.. (LOL)
Paul says there's no way Jess and Cody can "Bonny and Clyde" this season.
Xmas – it's 10 against 2
Paul – I tried this week
Xmas – you've done a great job
Paul – at least the Hex is exposed
They agree to vote Jessica out
Paul says Cody was giving him back handed comments this morning
Christmas brings up the Egg shells left in the egg carton and how unhygienic that is (of course)
Paul calls COdy a clown.. "I asked him what is the point.. "
Xmas – do you use them for compost
Paul – exfoliating mask…
Paul he had no answer.. he didn't want to talk he just wanted to bark.. even Jessica looked at him like What the F*
Paul – I've just been super low energy this week..
Paul – I've never met anyone with a shitier personalty than Cody straight up man
Xmas – how did he even get cast
Paul – I don't know how he got cast or why he got cast
Xmas – how he pass the psych test
Paul – I don't know how he passed the Psych exams because that kid is a agro
Paul – violent piece of sh1t
Feeds flip..
When we're back Raven is in the room.. tells them that the people that have gone to bat with them is Christmas, Raven, Matt, Alex, Jason, Josh.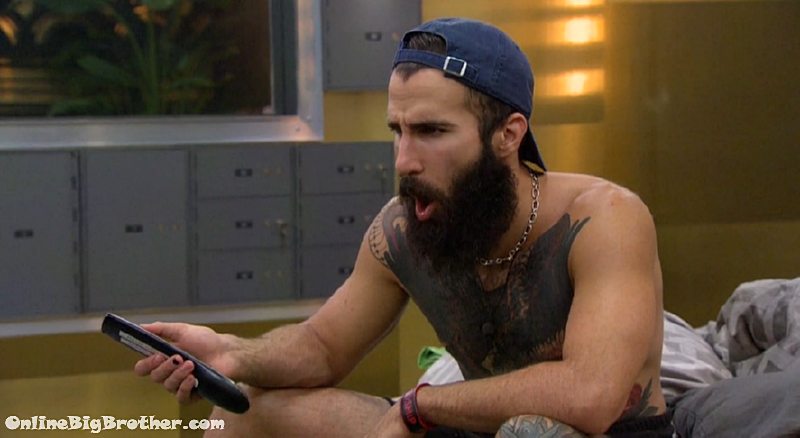 Feeds cut.. .
When we're back Matt is with them. Paul is saying that there's no way he can win this game, "I know I can't win.. and I'm fine with that"
Paul says getting to Jury is very important to him.
Paul – I think I've helped people enough in this game to help me get there.. that's what this week is for to help the people that helped me get there..
Xmas – yeah yeah
Paul – I put my neck out..
Paul says Jess and Cody go into next week with fear they don't
Christmas says if Jessica and Cody are out in the HOH they should throw the HOH Josh..
Paul – everyone throw it to Josh.. no Elena and Mark won't do it.. they won't do it..
Paul – Josh will torment them for the rest of the game.. sorry
Xmas says Josh was telling her yesterday was one of the funniest days he's ever had..
Xmas – is Cody being portrayed as the super tough guy that is being bullied
Paul – I don't know what he's being portrayed
Feeds cut..
When we're back.. Paul – "I'm going to play Victim when I'm not the HOH"
Xmas – I have worked the last 12 years of my life to pull my shit together to get where I am and here's some guirl playing the victim
Xmas – the ones that are strong and that persevered are not getting rewarded..
Raven – I can't handle it I just can't
Paul complains that Cody has had 3 chances at the game.
Xmas – he's going to make Jury 100%
Paul – Jess is going home first we put our foot down there..
Paul – says he's worried about Mark and Elena
Matt – I think we're good with Elena.. but Mark is a imbecile.. he's a imbecile..
7:01pm HOH Christmas, Paul, Matt and Raven
Xmas says Paul can't compete in the next HOH because he's the outgoing HOH.
Xmas adds that the HEX has a negative she's certain of it.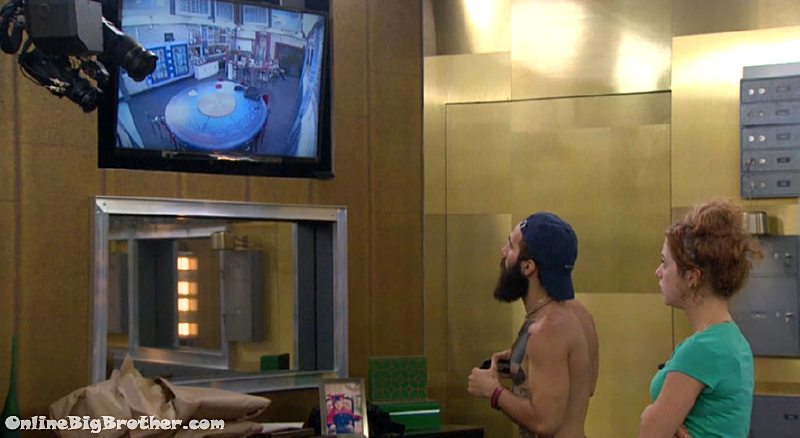 7:11pm HOH Paul, Christmas, Matt and Raven
Matt – do yo think we're good if Mark wins HOH
Paul – NO
Christmas – NO
Raven and Matt say Mark "Passively" stuck up for Cody and Jessica
Matt – Cody is won of the worst big brother players to have ever played the game
They start listing all the things they don't like about Cody.. I'm only including some of it..
Paul says what they did with Paulie last season is what he wanted to do this season with Cody.
Matt says they would have done it if Jessica isn't here
Paul – It's dangerous to have someone who's seen combat.. I'm not trying to have anyone hurt..
They start in on Cody's military service and saying he laughed when talking about killing people.
Christmas says about him laughing about shooting someone in the head..
Paul – the back handed comments he's made about Russia and Russian people really makes me raise an eyebrow
Paul – he uses Violence and intimidation to do what he wants.. and when it doesn't go his way he tries to fight them.. grow up you baby..
Christmas starts saying that Jessica was telling her to show her pu$$y on live TV because she would get a lot of attention.
Paul says if he did what Cody and Jessica did he would be scared to go home and face his mother
Christmas says Jessica doesn't have any self worth or self esteem.. she doesn't value herself..
They see Cody in the spy screen Paul opens the door and yells out some Grunting sound.. (he's impersonating Cody)
They laugh..
7:26pm Paul says Cody sucks so bad at this game he was the second person evicted. He sucks at this game and he sucks at life.
They laugh..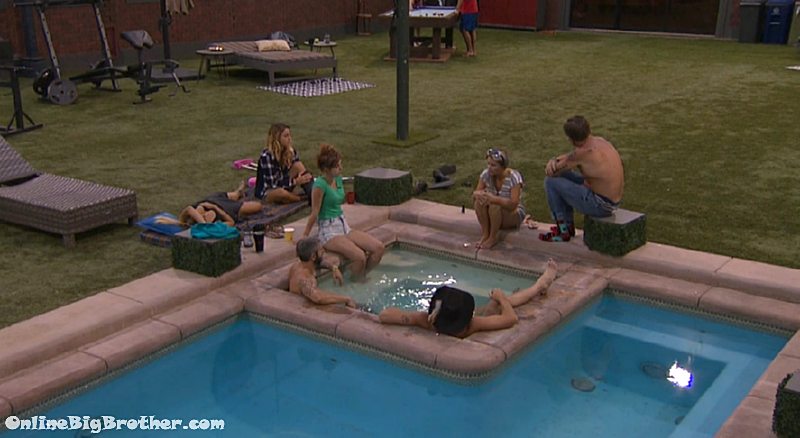 8:13pm nothing but chit chat..
If you plan on buying anything from Amazon. Use this link Amazon home
Doesn't cost you anything and we get a small cut.
Links to the ranking system
Rank your house guests here
For those of you that like Statistics here are some expanded reports.