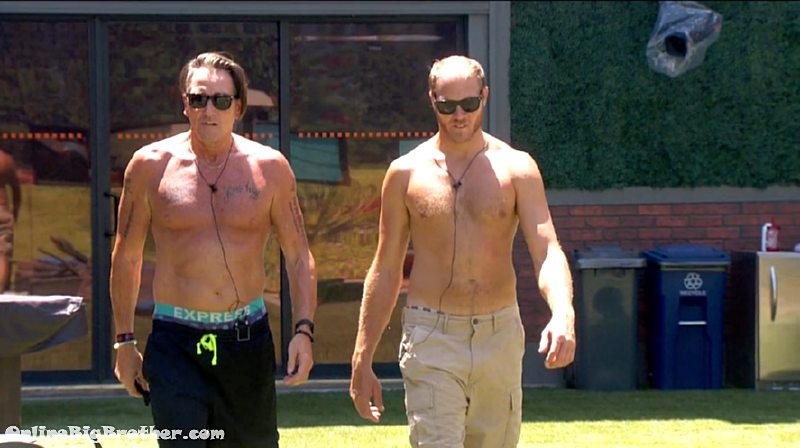 Feed subscription lets you go back and re-watch everything we post here CBS All Access Live Feeds with a FREE 7 DAY trial.

12:10pm Jason and Kevin Backyard walking laps the occasional benchpress
Kevin tells Jason they have to lay in the sun from 3 until 4:30.
Jason says his home town high school plays 8 man football now because there's fewer kids.
Kevin says if you add up how everyone has done in the competitions Josh is probably in the bottom..
Kevin says "they" sleep all day long.. "I don't know how they compete" (some players are still in bed.. Elena, Mark)
Kevin – Motherf*ers man.. Spoiled..
Kevin – they really think this show is all about each one of them.. no one else but them..
Kevin says it's crazy that everyone in the backyard thought their name was being yelled.
Jason thinks it was all horse sh1t (he doesn't think anything was yelled over the fence)
(In case you missed it someone yelled over the backyard fence something to the effect that America loves Jessica and Paul is a bully.)
Kevin – "That mother f*er is flying.. It's already going 350" #BB19 @DawgsBigBrother pic.twitter.com/UPPZaoobXG

— OnlineBigBrother.com (@bigbspoilers) August 1, 2017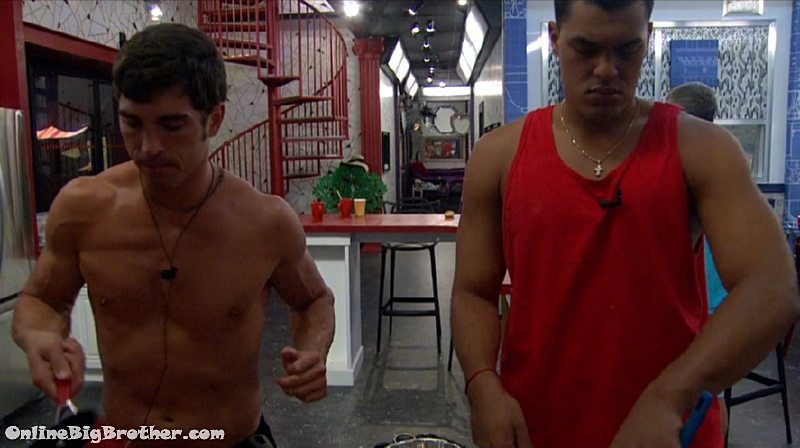 12:15pm The kitchen …
Looks like Josh has stopped the games with Paul not around.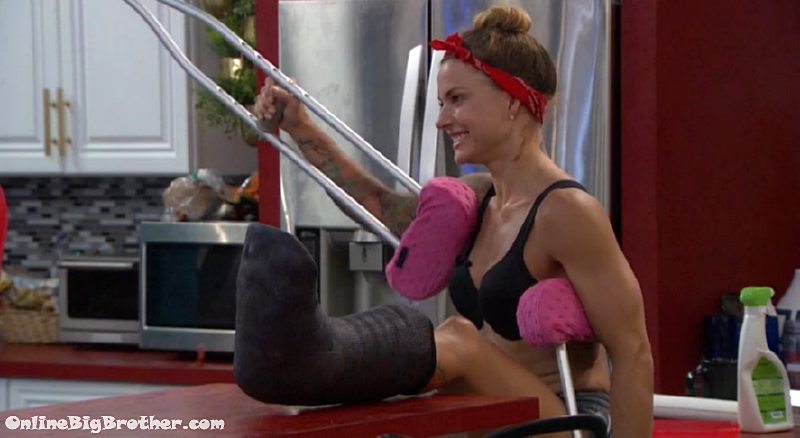 12:30pm Christmas got a new cast this morning and her stitches removed..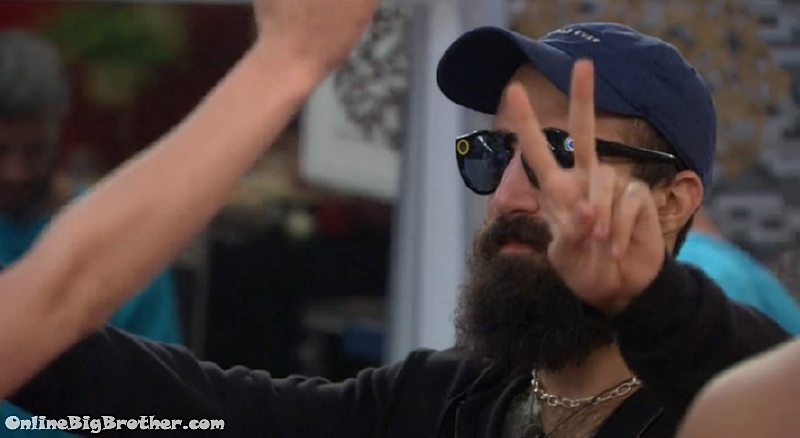 12:30pm Paul going to do the snapchat videos..
Paul's gest the Snapchat glasses #BB19 @DawgsBigBrother pic.twitter.com/0LmTHV5h16

— OnlineBigBrother.com (@bigbspoilers) August 1, 2017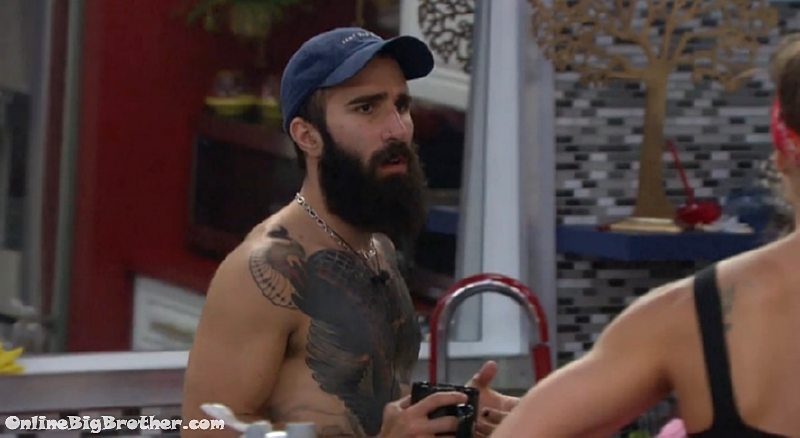 12:49pm Paul is now saying he's done a lot of thinking last night and "Never cared.. not once not twice.. "
(sounds like he's dropping the whole make Cody snap strategy)
Xmas – it was a good opportunity to get a lot of information out
Raven – yeah
Xmas – and really solidify the fact that they lied
Paul- they are really the ones that have stired the pot
Xmas – LIED LIED
Raven – Lied.. and when you get called out.. and you get butt hurt
Paul – you have nothing to say
Paul – look, you get called out and have nothing to say means you're lying about something
Raven – I had a lot to say but then she walked away from me … RUDE
Paul – I don't know what their agenda is.. I really don't care..
Raven – nope
Paul – BUT Don't be mean
raven – don't be mean (ZOMG)
Paul – don't not participate in the game.. don't say you don't care about it don't insult people..
Feeds flip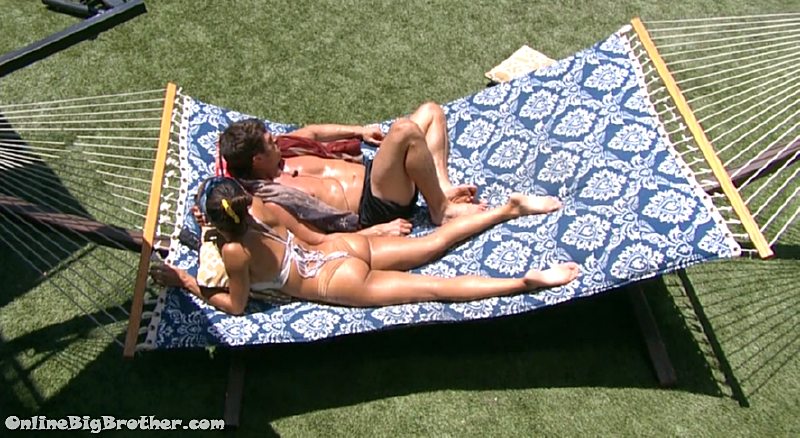 12:50pm Cody and Jessica enjoying the sun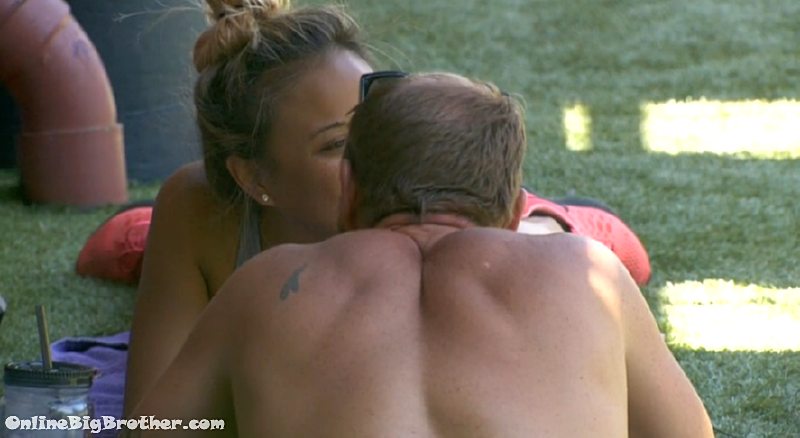 12:50pm Alex and Jason
Alex is whispering about what sort of business Jessica is involved in. (VIP waitress )
Alex – she's a server at a CLub.. she serves them she slips in and gets to know them.. She'll bang one of their freinds..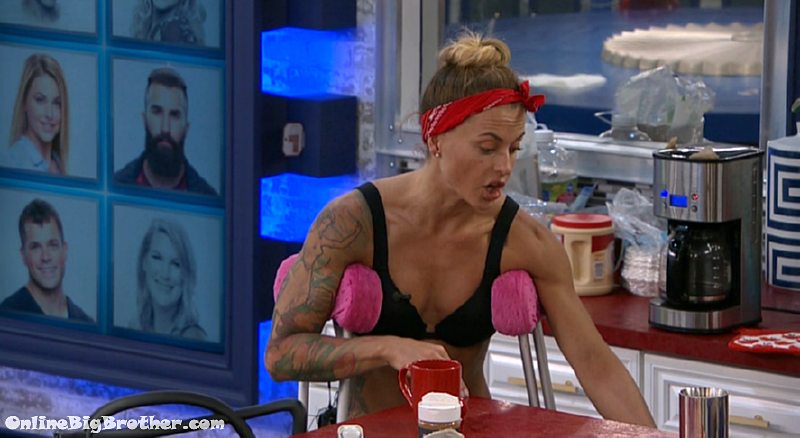 12:57pm Christmas and Paul are freaking out about Cody.
Paul – whoever put the egg shells back in the carton..
Paul calls him a f*ing a$$hole
Paul – he's a f*ing child
Xmas – that will get someone really really sick fast (yeah if you eat them raw)
Mark – that won't get you sick
Xmas – THAT WILL GET YOU SICK
Raven – Salmonella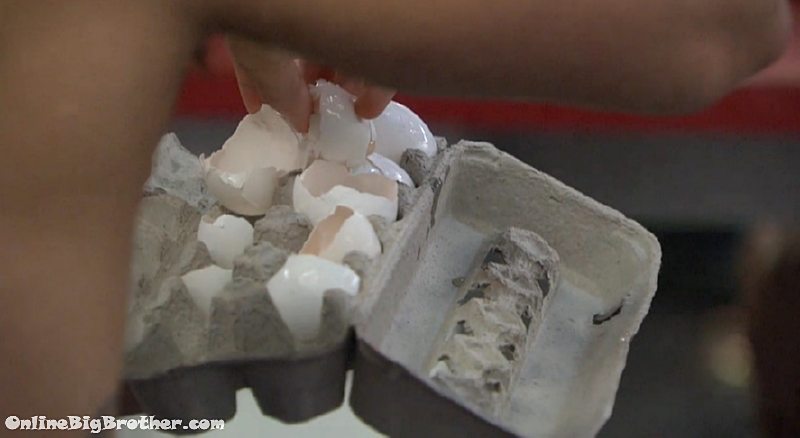 If you plan on buying anything from Amazon. Use this link Amazon home
Doesn't cost you anything and we get a small cut.
Links to the ranking system
Rank your house guests here
For those of you that like Statistics here are some expanded reports.