POV Holder:
Spencer
Next POV
Aug 3rd
POV Used
?
POV Ceremony
July 29
HOH Winner:
Aaryn
Next HOH:
Aug 1
MVP:
AMERICA
Original Nominations:
Spencer, Howard, AMANDA (MVP nom)
Current Nominations:
Candice, Howard, AMANDA (MVP nom)
Last Evicted Houseguest
David, Nick, Jeremy, Kaitlin
Have Nots
Judd, Amanda, Candice, GinaMarie
Life Feed N*de flashback times here
8:04pm Cockpit Andy and Helen
Andy tells her she can trust him he won't be voting to keep Howard on Thursday.
Andy says JUDD is acting squirrely.
Helen: "Amanda I trust her OK.. I trust her and McCrae.. OK" Helen adds that Amanda told her and Aaryn in the HOH that she trusts Andy more than the rest of "them".
Helen says she really likes Aaryn a lot she's not targeting her anymore. Andy thinks Aaryn is also a lot more likable now. He says JUDD is playing the game way far in advance and he's smarter than they are all giving him credit for. Andy says JUDD planned everything to get rid of Kaitlin.
Helen agrees with him. Says so does Amanda
Helen keeps saying "We're on the same page… OK OK We're all on the same page.. don't say anything.. Don't even tell Amanda or McCrae or Aaryn I told you that.. all of us are on the same page.. you didn't hear that from me.. " ( Helen is acting a bit weird around Andy.. she's not giving him massive information but acting like she is)
Andy: 'Why can't they know I know that"
Helen: "Because it's not the time… it's not the time.. it's just not the time.. and if I leak it Amanda and Aaryn will be pi$$ed."
Helen: "I'm telling you this because I want you to be careful and watch JUDD for you and me.. I think your instincts are right.. forget I even mentioned Aaryn and Amanda"
Andy says he's going to stick close to JUDD. He mentions Howard and Spencer think Amanda is going home on Thursday. The only thing that is worrying him is if it's double eviction and Howard goes then Spencer wins HOH he'll put up JUDD and himself.
Helen: "He's not going to put up JUDD"
Andy: "We double crossed him"
Helen: 'you would stay over JUDD.. He's going to put up Aaryn and Ginamarie"
Helen: 'He's going to be afraid to go after anybody he won't know what to do"
Helen again tells him not to talk to anyone especially the Amanda Aaryn thing. Helen: 'Forget everything I said.. everything about JUDD for now"
Andy: 'I'm already thinking what you know about JUDD.. do you think JUDD is MVP"
Helen: 'you said it not me"
8:21pm Hammock GM and Spencer
Gm: 'Oh you know what I heard .. If you won HOH you would up Aryan and me up"
They both howl with laughter.
Spencer thinks that's a great idea get out some of the major players the ones targeting him.
Spencer asks her what her dream for Thursday would be, "Who would you to go home the very most".. Gm says she would want Amanda to go even though she can't stand f*** Candice.
GM: "I don't want to go to this f**** wedding I'm over it " Spencer mentions how they give GM such a hard time with Nick and here they are getting engaged and having a wedding.
GM says Amanda and McCrae are trying to split up all the pairs she wants to split up their pair, "how do you like them apples"
GM: "Why are you guys OK and everyone else is not.. and you are the oddest couple out there.. EVER"
Spencer says thing the f***ed up Nick is McCrae allied with the "biggest wh*re in Florida"
GM: "Exactly"
GM: "He was good to go if it wasn't for her"
Spencer says he asked Amanda the other day when they were in the Hammock how much her and her spouse need to make to maintain her lifestyle and keep her happy. she told Spencer 200 thousand dollars a year.
Spencer: "I looked at McCrae and said you better deliver a lot of F**** pizza's .. can you imagine having to keep up with a b!tch like that"
GM: "Oh man"
S: "Helen lied to me today big time .. basically she pulled me into the cockpit and was like my heart is so broken about Candice and Howard to be on the lock"
Spencer adds he told Helen she once told him she wanted Amanda gone before jury.
Helen told him she cares for and respects McCrae so much she couldn't do that she claims she never said before jury to Spencer.
Spencer: "That was a blatant lie she told me twist she wanted Amanda out before jury"
Spencer is positive that Helen and Amanda are in cahoots, "She loves Candice and she loves Howard but she's so willing to let one of them go.. it doesn't make sense"
Spencer says that Helen is lying to everyone in the house. Spencer if there is anyway I can keep Howard this week and get rid of a big enemy you better believe I'm going to do it" (Kaboom)
Spencer says whoever joins them he'll be the loudest most obnoxious d!ck head in the house to keep the target on him. Everyone can stand behind him while he leads the charge.
Spencer: "Dude i'm serious.. I can to play the f*** game.. I didn't come to kiss the a$$ to the people I know are lying to me.. I'm not s*cking someones d!ck to get to jury"
8:50pm Hammock Howard and Ginamarie
Howard says this entire game is controlled by two woman, "theres only 6 grown people in this house and 2 of them are us" He adds that people flock to those other 4 people because they want to feel safe. He points out that JEssie is a prime example. GM agrees says it was Jessie's vote that screwed over Nick, "She f****** me in the a$$"
Howard says Helen wanted to get rid of Amanda but now she doesn't want to do it yet. It makes sense to him because they've built this game up perfectly and they'll do battle later, "Everybody else is just interchangeable parts"
Howard says the show must be boring "The whole house is being run by four people"
GM is worried if Amanda goes then she still has Candice coming after her. Howard: 'She's not.. she's on the outside to just like Andy.. "
GM says Amanda use to walking around like she's queen bee but now she's walking around paranoid, "She's f***ed in the head because all those nasty lies.. I walk happy motherf**** cause my conscious is clear"
GM: "Why you so scared.. you're not queen on the throne.. why do you think you're sitting pretty when you're going up.. was up"
Howard: "Guilty"
GM: "you're fuc**ing guilty.. you spread lies and you're manipulative and disgusting and now people see oh why is she so shocked"
Howard thinks he can get Andy's vote, he brings up Helen telling Candice that Jessie and Andy hate him. They both agree that Jessie doesn't hate them. Howard doesn't think he needs Jessie's vote to stay so he'll talk to her on Thursday morning.
Howard: "If Candice stays she will be loyal and target those 4 people running the house"
Howard explains what is happening in the house. The four controlling things will pick a player out they want to evict then they concoct some lies about that person spread them aroudn and every gets on board. Howard says it's going to happen every week until someone stops them.
Howard goes over parts of his speech: "people are being lied to and manipulated over and over .. I'm going to target the people that think they are controlling the house."
GM: 'We gotta strike when the iron's hot.. and the iron is getting warmer"
Howard: 'They are being mean and nasty.. they make up personal lies because they know they can get to people"
You can re-watch ever second on the feeds using their flashback feature.. It's just like a DVR and is super easy to use. click this link for a Free Trial —> Subscribe to the Big Brother Live Feeds
9:30pm cockpit Helen and Elissa
Helen counting the votes says they have GM, McCrae, Andy. Elissa, Helen are all voting Howard out. H: "Supposedly so are the other people but you never know"
Elissa tells her she saw GM talking to Spencer and Howard in the hammock. Helen: 'We have to get howard out then Spencer.. they are targeting us"
Elissa: 'They are plotting against us"
Helen wonder is Candice is part of it.,
E: "I think so"
H: "She's fishing for information"
Helen brings up Spencer speech he's going to say on Thursday how Amanda, Helen and McCrae are running the house.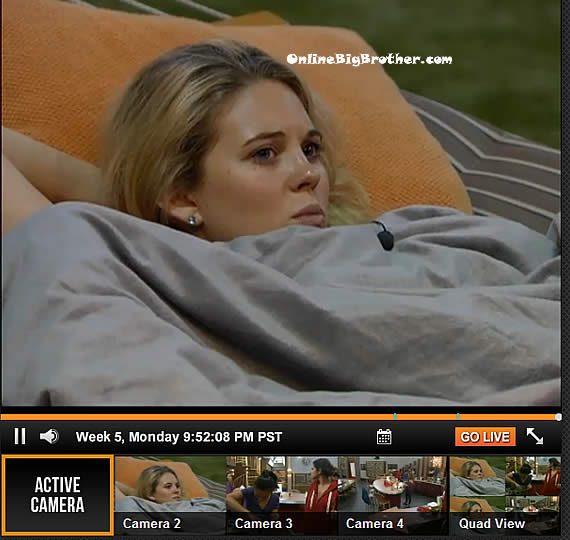 9:55pm Hammock GM and Aaryn
Aaryn says Candice has been on Oprah and Howard is a pro athlete she's worried that people like that will have a lot of fans and they are the ones going accusing her of saying horrible things.
GM says Jessie has gained a lot of weight, "If She gains anymore weight those f**** pants will rip at the seams"
GM: "That stomach looks like she's 3 months pregnant"