POV Holder:
Spencer
Next POV
Aug 3rd
POV Used
?
POV Ceremony
July 29
HOH Winner:
Aaryn
Next HOH:
Aug 1
MVP:
AMERICA
Original Nominations:
Spencer, Howard, AMANDA (MVP nom)
Current Nominations:
Candice, Howard, AMANDA (MVP nom)
Last Evicted Houseguest
David, Nick, Jeremy, Kaitlin
Have Nots
Judd, Amanda, Candice, GinaMarie
Life Feed N*de flashback times here
6:00pm Backyard JUDD and Spencer
Spencer campaigning to JUDD to help him flip the house. JUDD doesn't commit to anything just asks the tough questions and says "Ya" a lot. While this conversation goes on Helen, Amanda and Aaryn are talking about how JUDD has to go sooner than later. Helen has really worked herself up into a frenzy over this.
Spencer says in three weeks him and Howard will be gone that is two total allies that will be lost to JUDD. Spencer says they are loyal people in the game. They are here to play and this is it the time to make a bold move.
JUDD is nervous about Candice he doesn't trust her like Howard and Spencer do. Spencer: 'You can trust me she's going to be good once you save her and Howard.. she'll be loyal"
Spencer says that Candice wants Helen, McCrea and Amanda out she has no issues with JUDD, Jessie or GM she's cool with y'all.
JUDD wonders about the MVP if the house flips the other side could put up three people.
Spencer explains to him if one of those three (Helen, Elissa, McCrae) get HOH they will still be in good shape.. His reason is the other side are going to know their days are numbered since they lost one of their key players and have found out they do not control the house anymore. Spencer is confident they will be able to make deals.
Spencer: "if Helen wins HOH I'm going to go to her and say I don't care who you put up but McCrae better be one of those people.. " he adds that Helen will be able to be persuaded she won't feel in control anymore.
Spencer: "I'll tell MCCrea you have no allies in the house because your're only one just walked out the door.. He'll be sour about it but he's not stupid he knows he can't play HOH next week he'll make a deal.. Dude this is the kinda big move that is what this show is all about.. this is something I want to do"
Spencer: "I tell you I will lead the charge and put all the blood on my hands"
JUDD: 'What if they still put up Howard and you and I go up as MVP"
Spencer: "If they choose to make that decision.. vote me out.. I won't campaign against you.. if Amada leaves before me it'll be fine with with going home"
Spencer: 'You are not disposable to me"
JUDD: 'Same thing"
Spencer: "I will always go up before you.. If you win HOH you have to put them up and out.. I mean it dude"
Spencer: "I'm here to make big moves and I'll keep you safe regardless"
JUDD: "Ditto"
JUDD says that the other side was really pushing him to put up Spencer and Howard but he didn't he wanted one of the girls out..
Spencer says during the eviction on Friday he will stand up in front of America and say "Aaryn vote this b!tch out.. reset this game for yourself and send her home.. That will put all the blood on my hands" (Spencer believes the best he can do is a tie vote, JUDD, Jessie, Spencer and GM )
6:12pm HOH Helen, Amanda and Aaryn
Still talking about getting JUDD and Jessie out.
Helen saying once they get to Jury she's going to get Andy or Elisas to put Jessie and JUDD up, "I want them to be blindsided.. they're going to be clueless" Helen calls JUDD another Dan.

6:30pm Cockpit Andy and Amanda
Amanda thinks that JUDD is the MVP, "McCrae thinks the same thing"
She adds that JUDD wants Helen gone next week which goes against their plan. JUDD is a mastermind who is super smart he's playing them all trying to stack the jury in his favour.
Amanda mentions her circle of trust conversation with Helen and Aaryn up in the HOH. She says they all agreed that JUDD is the MVP.
Amanda: "I have that gut feeling"
Amanda now claims she never really thought Howard was MVP these past two weeks.
Andy isn't sure that JUDD would have won it last week can undertsand if he won it this week.
Amanda: "People love JUDD he's a really good game player. He's really F**** smart"
Amanda says she was upstairs for a long time and they were figuring it all out and it makes sense JUDD is MVP and he's trying to get her out before jury.
Andy is worried JUDD is telling Howard and Spencer about him. Amanda doesn't think so she thinks JUDD is trying to play in the shadows at this point. Amanda goes on about JUDD making up the lie about the 5 person Kaitlin alliance. Amanda says they already know JUDD lied about KAitlin saying she was targeting Helen. Amanda adds last week JUDD wanted to get Elissa out but couldn't so he put GM up as a safety to get Kaitlin out. This week he wanted to pin the MVP on Howard but try to get Amand out if the possibility presented itself.
Andy: "Jesus do you really think he's that smart"
Amanda: "Ya"
Amanda is worried that JUDD will flip. Andy doesn't think he's ready to make that move. The votes are not there, "Me, Elissa, McCrae, and GM are solid plus Aaryn is HOH"
JUDD joins them followed by Aaryn. Aaryn says Spencer just gave me a "MUG"
6:55pm Bedroom Amanda and McCrae She gives him a rundown of the conversations. (It's safe to assume everything Amanda says and hears is relayed back to McCrea)
7:07pm Storage room JUDD and GM
JUDD is warning GM that Spencer is trying to flip the vote to get Amanda out. JUDD never said no to Spencer but never agreed to anything either. He doesn't want GM to get confused so he's calling her aside to tell her he thinks Howard is the target.
GM: "Howard will be a little bit more on our side than Candice"
JUDD agrees says that he might me more receptive to listening to Spencer if they are talking about getting rid of Candice.
GM says if Candice stays then Helen. Elissa and Amanda will be more on Candice's side than their side.
7:12pm Spencer campaigns to Andy
This is more or less what Spencer tolds JUDD earlier in the day.
Spencer says if they can get four votes right after Julie tells Aaryn to stand up and break the tie Spencer is going to get up and call Amanda out for all her bullsh!t.
Spencer: "listen.. you have deals with the two scumbags that lied to Kaitlin and sent her home last week .. you have 6 people that is Candice, Howard, me you JUDD and Jessie .. and you have Ginamarie.. 7 people"
Andy: "7 against 4"
Spencer says he won't name the names but those 7 will have Aaryn's back
Spencer: "I'll say Push the reset button on your game and vote Amanda out.. I'll say that during the live f****ing show.. If you don't think I'm the biggest target in this house after that.. I told you before bro I love you man I am not going to take your sh!t.. I will be loyal to you. "
Spencer says they have to take this chance now to get Amanda out, "if this move is not taken this week we will not get another opportunity . I will never back stab you I will never violate your trust.. we are in a position now to make a big move, grow together and move forward".
7:17pm Andy and JUDD Have nots
Andy says that Spencer is telling him GM is 100% to vote Amanda out.
JUDD explains that GM is just saying that she'll be on-board with them. Andy wants the two of them to go talk to Spencer and explain to him they do not have the votes to keep Howard that way he's not pissed off at them come Thursday.
JUDD proposes the two of them could just vote out Candice. Andy: "NO"
Andy wants to be honest with Spencer and just tell him, Judd now agreeing.
They agree to go to Spencer after the vote and tell him they tried and didn't have the votes to safe Howard. They're doing this out of fear he has the coup d'etat
He reassures Andy all the votes are locked to get Howard out.
JUDD: 'I feel like our alliance is way too big"
Andy agrees but says it's good right now because they can get rid of the easy people. Andy: "In my eyes you are not going anywhere.. McCrae isn't going anywhere"
JUDD: "Yes I am" JUDD says Helen, Amanda, McCrae are all coming up with plans that will mean they come after Andy and him.
Andy doesn't think so they have a solid 4 person alliance with Amanda and McCrae.
Andy says they cannot let people know how close they are because he doesn't want to be put up next to JUDD.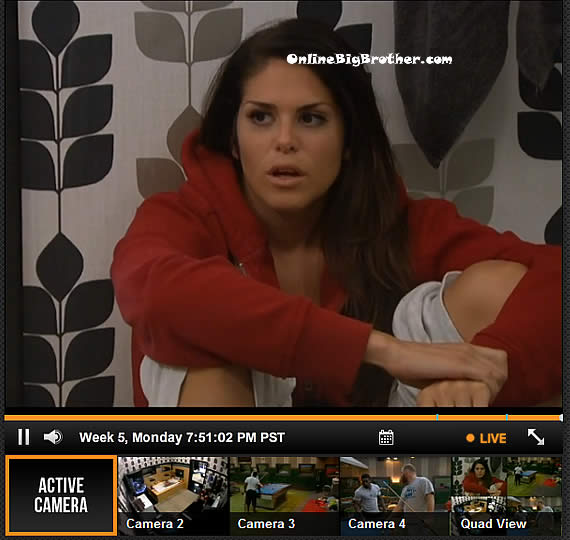 7:52pm HOH bathroom Aaryn and GM
Amanda orders them to come to her if they have the feeling that JUDD is trying to flip the house. She runs JUDD's name through the mud a bit saying he was te one that tried to make an alliance with Spencer, Howard and Kaitlin. Adds that JUDD is super smart and is a great liar.
(Prior to Amanda coming in Aaryn told GM to do what Helen wants this week they cannot make any big moves right now the last time they tried their entire alliance was voted out)