POV Holder:
Spencer
Next POV
Aug 3rd
POV Used
?
POV Ceremony
July 29
HOH Winner:
Aaryn
Next HOH:
Aug 1
MVP:
AMERICA
Original Nominations:
Spencer, Howard, AMANDA (MVP nom)
Current Nominations:
Candice, Howard, AMANDA (MVP nom)
Last Evicted Houseguest
David, Nick, Jeremy, Kaitlin
Have Nots
Judd, Amanda, Candice, GinaMarie
10:14pm Pool Table Jessie and Amanda
Amanda wonders why JUDD came to Howard and Spencer about a deal. (This was the deal
Jessie says her and JUDD are not talking game together they just hang out. Jessie adds she's all alone in this game.
Amanda: "You're not alone you have me"
Jessie: "I would so much rather you be here than either of them.. you know how boring it would be without you"
Amanda mentions that McCrae will be furious if she goes home he'll be running around he won't know what to do.
Amanda: "Candice is a f**** bully.. and you know how I deal with Bullies"
J: "I need you here to protect me from her.. cause f*** her"
Amanda instructs Jessie to vote our Howard regardless of what JUDD says to her. Jessie won't flip her vote. Amanda recommends Jessie stay close to Andy. She's surprised JUDD never told her about the fake alliance.
10:19pm Howard and Candice Bedroom
Candice is pissed because Spencer is campaigning and she thinks he's trying to get her voted out.
Howard swears Spencer is not campaigning against Candice he's trying to get the numbers to keep both of them. Howard points out that next week if Spencer doesn't win he's going home. If they don't have the votes to save them both Howard is the one leaving on Thursday. He'll get up and tell everyone on Thursday to vote him out.
Howard says they've talked to GM and they can count on her vote.
H: "Gm gots balls she's got more balls than 1/2 the dudes in here"
Candice doesn't care for GM personally but she's the woman she respects the most is GM.
Candice is worried about Spencer because he's screwed her over so many times. She brings up last night after the girls were in the havenots talking to her.
Candice says she heard Spencer say to Amanda "you get attacked again in Candy land".. and Amanda told Spencer "no he had a good conversations" Candice then saw him run upstairs to talk to Aaryn. Candice says Spencer has lied to her so much she's done with him.
Howard pauses then says they need Spencer right now if this doesn't work he's going the following week.
Howard says all they need is 4 votes then they will go up and talk to Aaryn. He's going home for sure this week unless they can pull this off.
Candice is done talking game she wants to chat about something else.
10:51pm Jessie and Aaryn
Aaryn says she has a good relationship with everyone in the house except for Candice.
J: 'Me to"
A: "I thought you and Candice were cool"
J: 'Not anymore.. did you hear we got in a argument earlier today"
A: "I heard you were trying to give her a hug and she pushed you away and said no hugs necessary and you said that the way she's been talking to you isn't very respectful"
Jessie: "She's been super annoying and a super b!tch .. she's following me and is being super annoying"
Jessie points out now that Candice is out of her funk she's hanging out with Elissa and Helen again and reintegrate herself. Jessie feels that Candice is trying to establish herself in a position higher than Jessie (everyone wants that bottom position)
A: "It's working because they are all best friends again.. I don't like that"
J: "Me neither.. I really don't like that. we were basically all backing them up when Helen was saying those things"
J: 'Helen hasn't even talked to me"
A: 'The only reason they are talking to me is because I'm the HOH"
Jessie brings up how people come up to her and say JUDD is in a fake secret alliances, "He does that every week"
A: "I pretend to be cool with Spencer"
J: 'Me to"
A: "I would rather Candice goes home 100%"
J: 'Me to"
Amanda and Andy join them
You can re-watch ever second on the feeds using their flashback feature.. It's just like a DVR and is super easy to use. click this link for a Free Trial —> Subscribe to the Big Brother Live Feeds
11:25pm Hottub Aaryn and JUDD Aaryn saying how she wants something to happen she feels like a Pandora's box could up tomorrow. She points the only two unusual thing that has happened in the game is the BB express and Julie Chen saying "Expect the unexpected"
A: "I'm going to lay upstairs" She leaves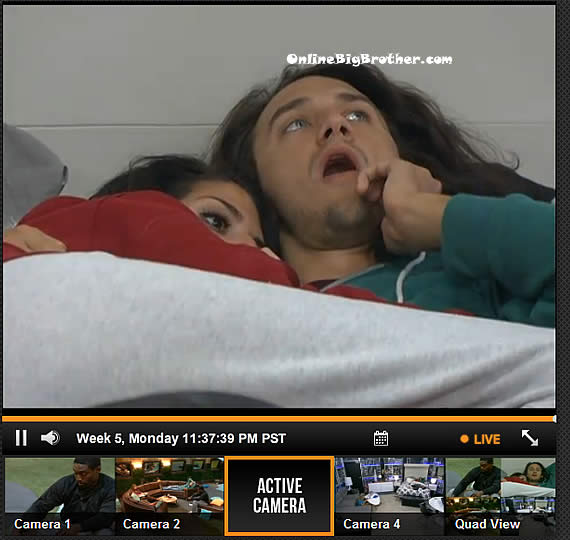 11:31pm HOH Amanda, McCrae and Aaryn
Amanda says Jessie is pissed off at Candice which is wonderful. Amanda mentions how Spencer told Andy he was going to stand up during the eviction and try to flip the house. Amanda: "no one is going to flip .. he's such an a$$hole"
McCrae brings up he confronted JUDD and said if Amanda goes home all bets are off he's going to go crazy in the house. McCrea: 'He was like oh oh she's gotta go sometime "
McCrae says the worst thing that can happen is it's going to be a tie. He's going to talk to GM and broker some deal. Aaryn tells him not to bother GM is voting out Howard.
McCrae tells Amanda to not worry about Elissa and Helen they are solid votes.
Aaryn says spencer is certain he's going home next week. Amanda thinks it was Helen that told her. Aaryn: "I told him"
Andy joins them. They ask him who figured out this big master plan to get her out. She thinks it was JUDD. Andy says it was Howard and Spencer that came up to JUDD. He reminds them that him and JUDD are suppose to be working with Spencer and Howard.
They start talking about JUDD trying to flip the house. Aaryn says maybe JUDD got to GM and Jessie already because they are acting sketchy. Amanda says no way Jessie is flipping. McCrae adds GM HATES Candice.
Amanda says it's imperative they stick on Jessie and GM in case they flip. MC is a bit worried about Elissa but they all agree Helen won't flip. McCrae: "I want to tell him.. JUDD.. If Amanda goes i'm coming after you"
Aaryn stay quiet most of the time. Amanda and Andy are freaking out and McCrae is tossing in the odd threat to JUDD.
Andy: "Spencer thinks I'm his best friend in the house and i'll slit his throat because he lied to me" Andy says if you lie to him once that's it he'll be gunning for you. "
Aaryn thinks Spencer has figured out that the plan to keep Howard and Candice will not work that is why he was telling her ealier today he's going home next week.
12:07AM HOH Amanda, Andy, McCrae and Aaryn
Amanda tells them they are cutting JUDD from their alliance they offer the spot to Aaryn and she says yes but doesn't know if she wants to start another fake alliance. Amanda says that JUDD had a final 4 alliance with them but he was shady she stress that this alliance is real. MC asks her how close she is to JUDD. Aaryn says that she was close to JUDD until he said he wanted Jessie to go further than her and he just wanted her in Jury for a vote.
Amanda now tells Aryan how real the final 4 is she says that she goers around and appeases people.
Gm joins them. Andy starts bombarding her with vote Howard out propaganda.
(one thing Andy said in the room prior to the final 4 deal.. was they all had to stick on JUDD this week like they stuck on Nick to get him evicted. They more or less tell Aaryn they've been in a final 4 for a long time, they tell everyone else in the house whatever they want to appease them, they are working with Helen and Elissa to clear out the house etc etc.. )
12:23AM HOH Same group in the HOH, Andy, Amanda, McCrae, Aaryn and GM
Andy just told GM that him and JUDD have been lying to Spencer and Howard telling them they on the fence about voting out Howard. GM: 'Ok gotcha"
12:34AM HOH Aaryn tells them Jessie is pissed right now because she thinks Candice is higher on the totem poll than her. Amanda keeps counting the votes and keeps saying how she's safe this week.
They think they have the following votes locked = GM, Andy, Helen, McCrae, Jessie
The votes they do not have = Spencer, JUDD (this is mostly becuase of paranoia)
They're pretty sure they have Elissa but are not sure.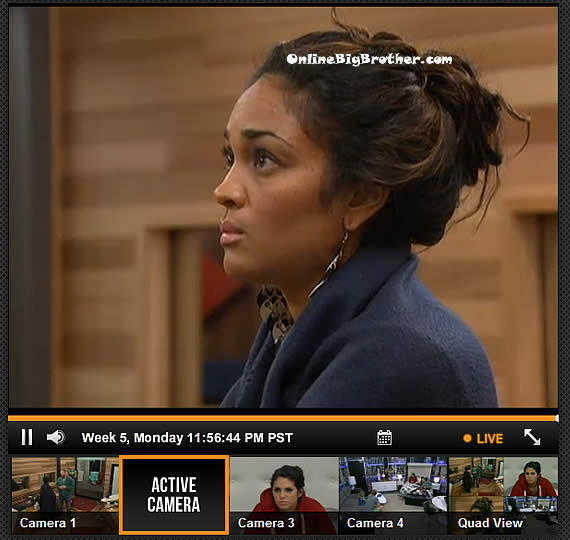 11:58pm Spencer and Candice
Spencer: "If that candy land stuff upset you I will never say it against it was a joke.. you have a sweet voice so it's fun to joke about you being a killer" he tells her they are on the same side they have to stick together. He thinks they are really close to something happening as long as some people grow some nuts.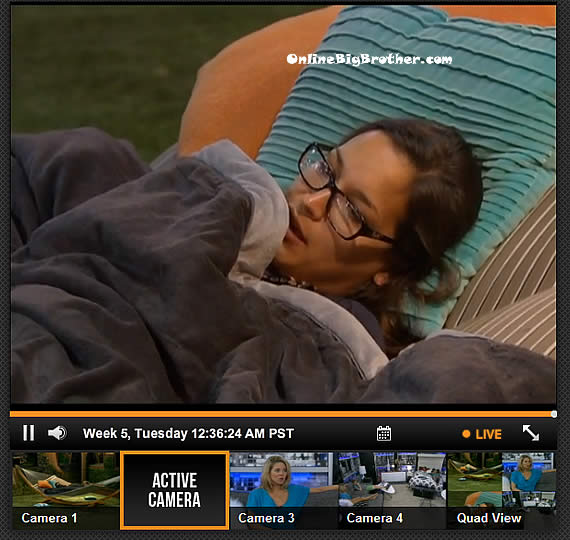 12:37AM Jessie tells Elissa in the hammock the Diary room never talks to her about JUDD. She says they never talk game nor are they really as close as everyone says.
Jessie says JUDD bores her she loves him to death it's just not going to go into the romantic for her.