POV Holder:
Victoria
Next POV
July 26th
POV Used
Yes
POV Ceremony
July 28th
HOH Winner 1:
Frankie
HOH Winner 2:
 Cody
Battle of the Block Winner
Jocasta/Amber
Next HOH/ Next BOB
July 24/July 25
Original Nominations:
Brittany/Victoria(Cody) Jocasta/Amber (Frankie)
Final Nominations:
Brittany & Donny
Have Nots
?
POV Players
Cody, Brittany, Victoria, Caleb, Nicole, Zach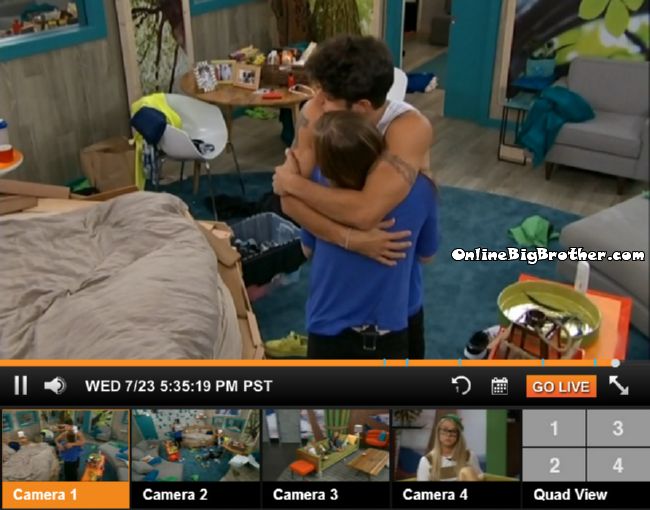 5:35pm HOH Cody and Christine
He tells her she's not going to go anywhere if he has anything to say about it.
Christine – "You too buddy"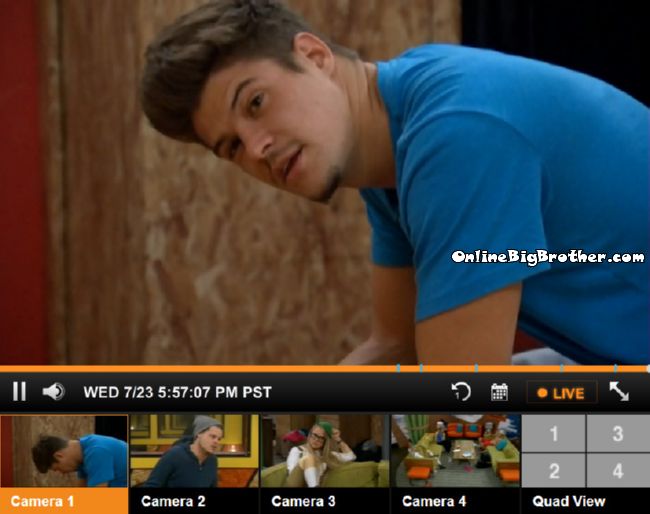 5:53pm BEEHIVE Zach and Derrick
Derrick says that is one risk they all have in the house they will miss things on the outside. They both feel bad for Frankie. Zach keeps repeating how it really sucks, points out that Frankie talked about his grandparents all the time.
Derrick – "I hate this f***g room"
Zach – Why did they make it like that
Derrick – Something new .. good for a little kid to play in but not conducive for lounging or talking.. I bet it looks great on camera
Zach asks him what he's doing tonight
Derick is just going to chill, he slept all day so he thinks he'll be up all night.
Zach says Big Brother is a lot harder than he thought
Derrick agrees says the hardest part of the game is the boredom.. "all the waiting around breeds rumors and paranoia"
Derrick says this game proves how mentally strong people are.
Zach – i'm mentally weak.
(feeds keep going on and off so conversations are incomplete)
Derrick talks about his life back home says he's not here for the fame he's here for the money and only that. Zach says the money would be more beneficial to Derrick than him, he doesn't want it to sound like he doesn't want to win he does,
Derrick "I'm not asking for pity i'm not going to be like Brittany"
Derrick says he doesn't make very much money he was a screw up in highschool and is working the best job he can. He will buy a small house and save the rest of money for his child schooling.
Derrick is envious of Zach he went to one of the top schools in the country he's got the world by the b@lls.
Zach – I came here for the money but it wasn't the first thing that comes to my mind
Zach – Look at me as one of your f****G soldier
Frankie joins they hug it out.
Frankie says he felt like he needed to explain to everyone why he's staying in the game. Zach says they have to win it for his granddad.
Derrick asks him what was his name again. Frankie answer "Frank Grande"
Derrick says at least they have a busy week coming up that will occupy their minds.
Derick – Dude if it's you and me on the wall i'll throw it to you so you get your HOH pictures
Frankie says Caleb is going to take a banana put a pickle in it and seal the banana back up so he can give it to Amber. He'll tell her "you can never judge a book by it's cover"
Derrick points out nobody has told Caleb yet about Frankie's granddad. Nobody woke him after Frankie came out of the Diary room. Frankie doesn't feel like telling the whole thing again so he'll wait until later tonight.
Frankie leaves. Zach says if he wins HOH he's sending Caleb home. They agree next will be Amber and Jocasta.
Zach';s plan if him and Frankie win the HOH is he will put up Amber and Donny , Frankie puts up Victoria and Jocasta. That way As long as Caleb doesn't win POV he's going home they will backd**r him.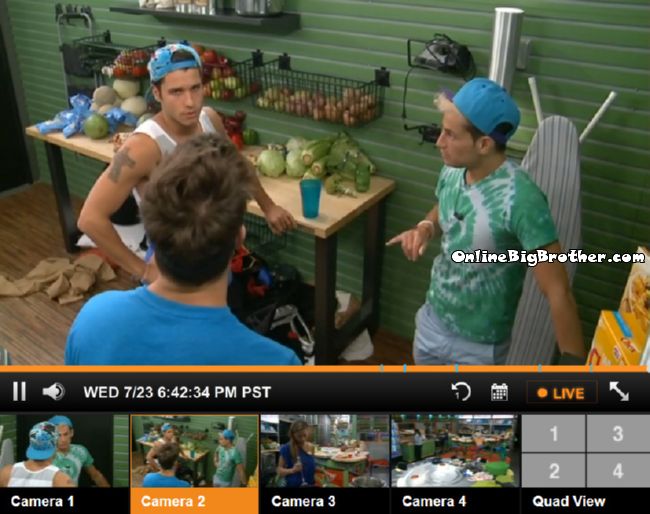 6:42pm Storage room Zach and Cody
Zach – "I'm winning it I don't care what it is"
Frankie joins them
Zach tells him the only plan is for them to win HOH
Frankie – "Oh that its"
Frankie asks if they have to have a meeting to make sure they get the right vote.
Zach doesn't think so. Cody suggest they talk to people individually to to make sure. Cody wants the vote to unanimous so they keep their word to Donny.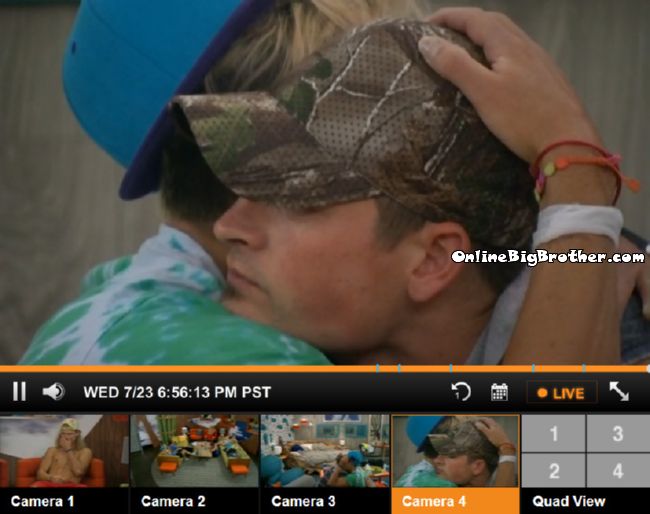 6:50pm HOH Room Frankie and Victoria
He's crying in her arms. Caleb comes up Victoria leaves.. Frankie says his grandfather passed away yesterday of cancer
Frankie reads the letter
My dearest Frankie WE love and miss you so much i'm sitting here with Nona, Arie and your cousin and are so sad to tell you that Grandpa lost his battle with cancer. Although it's so difficult we thought it would be the right thing to tell you. We love you so much and want you to know that Grandpa said specifically a few days ago that if anything happens to him he wants Frankie to know how proud he is and he's rooting for him to win.
Eventhough he had no idea what was going on on the show he was watching just for you, live feeds and all. He also insisted that no matter what happened he didn't want it to interfere with your opportunity.
All of us are here strongly supporting you and encouraging you to stay in the game and work hard like Grandpa did his whole life as grandpa wanted you to.
He said so himself please don't think about coming home think of how much grandpa wanted you to stay. He's watching you from heaven and i'm sure thats better than any live feed we got.
Be strong as he would be and smile as he deserve to be celebrated take you time take deep breaths we love you dearly and are staying strong over here.. we are waiting for you to have a celebration of his life. we love you so ,much and want to hug you
P.S. the four of us just spent an hour fighting weather we should tell you we don't want to tempt you to come home. stay be strong.
Caleb says he's dealt with Death numerous times it's never easy and it hurts it's piercing and the soothing part is we're not in control of that and there's nothing we can do.. mourning is a way of understanding. It's OK basically.. I feel your pain as an individual it might go away in a week it might never go away"
Caleb starts to cry tells im he'll mourn with him they hug.. "Just know that you push yourself to limits you've never pushed yourself and prove who Frankie is and know it's OK it's OK to cry OK to shout.. it's going to hurt it's going to be painful. .frankly that person it not coming back.. in the spirit.. you gotta be strong frank.
Frankie says production told him he gets a picture if he wins HOH. Frankie – "you're my closest friend in this house.. because of what we shared up here bondec up immediately.. all the craziness and the bullsh1t doesn't matter to me inside and outside this house you are the one person I trust with my life.. I want you hear with me for the rest of this f***ing game.. lets get our love nest back.. f*** we had it for one day"
After some crying and hugging they start talking about Caleb putting a pickle in a banana. He says the way Amber say him at first was like a banana but after she peeled into she found a pickle (Amber likes PIckles but doesn't like BAnana)
More about Frankie's lost After he came out of the Diary room and the statement from his Famliy.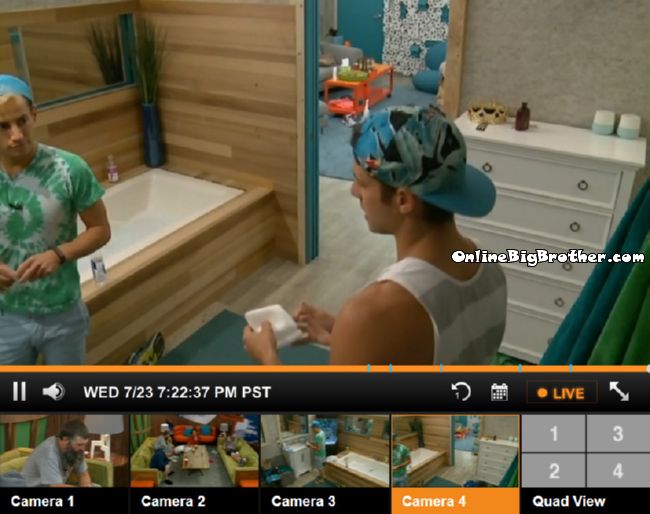 7:21pm Frankie and Cody HOH
Talking about Zach starting to get worried about next week. Frankie calls Zach a f***g mess, "he's says I'm bored I'm going home"
Cody mentions that Zach told Brittnay that Cody and Amber are working together.
Cody – "Amber is getting on my f***g nerves"
They both agree it's a bit sad Caleb is so head over heels for Amber. Zach says it's 100% not reciprocated.
Cody is worried about Zach he has no idea where his head is add. Zach comes in.
Cody – 'ZACH ATTACK'
Zach – What up guys"
Frankie and Zach hug.
The three of them start making fun of Caleb and his pickle in a banana. Cody says Caleb has never read a book he came up to Cody told him about the pickle in the banana and how he'll tell her you can't judge a book by it's cover. Cody- "you can't judge a book by it's cover that is why I'm beast mode cowboy"
They keep ripping on Caleb
Cody would feel like a dumba$$ and stupid if was falling all over Amber and she didn't give him anything back.
Zach – He is a dumba$$ and he is stupid
Zach adds he's pathetic and a loser, He's never read a book how does he know you can't judge a book by it's cover.
Cody doesn't think he's pathetic he's just clueless.
One way to support this site that doesn't cost you anything extra is making your Amazon purchases through the links below Amazon.com OnlineBigBrother Link
For Canada use link Amazon Canada OnlineBigBrother
Where is the vote going?
Brittany is going home with a vote of 10-0. I don't see her being able to stay.
Alliances (Some Of these are dead)
Zankie = Frankie/Zach
Bomb squad = Caleb, Amber, Frankie, Derrick, Cody, Christine, Zach, Hayden
Team America = Donny, Derrick, Frankie
Nicotine = Christine/Nicole
Not a showmance= Hayden/Nicole
Los Tres Amigos = Derrick, Cody, Zach
The bottom Feeders = Derrick/Nicole
We hate Devin = Christine and Zach
Outsiders = Brittany, Victoria, Jocasta, Donny
Old timers = Jocasta/Donny
Stalker = Caleb/Amber
Quad Kings = Derrick, Zach, Cody and Hayden (still being built)
Trilogy = Nicole, Christine & Hayden
The Detonators = Derrick, Frankie, Zach, Christine, Cody
Final 2 Deal "The HITMEN" – Cody & Derrick
More polls here https://www.onlinebigbrother.com/big-brother-compendium/big-brother-16-polls/
[polldaddy poll=8198814]
[polldaddy poll=8194643]