| | | | |
| --- | --- | --- | --- |
| POV: | Tyler | Next POV: | Aug 4th |
| POV Used | NO | POV Ceremony | Aug 6th |
| HOH: | Bayleigh | Next HOH: | Aug 2nd |
| Noms: | Brett & Rachel | Have Nots | Fes, Tyler, Scottie |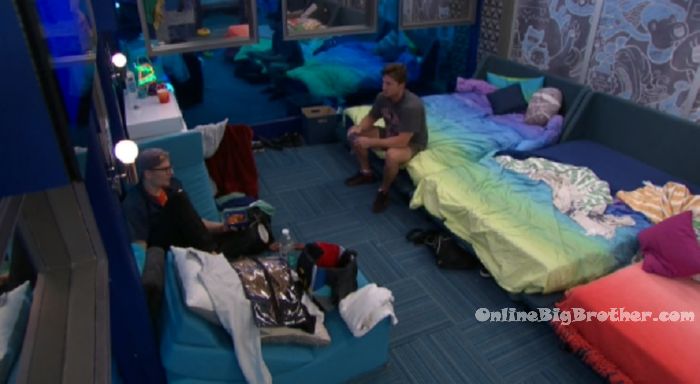 8:30pm Bedroom. Scottie and Brett. They're talking about the Zinbot. Brett – I want someone to cry. I hope someone cries. The conversation turns to talking about the app punishments.
8:40pm Brett is studying the facts for the HOH competition tomorrow.

Storage room. Tyler and Kaycee. Tyler – I've been hanging out with Fes a lot. Rachel said I should probably be studying with Fes. Kaycee – Did you hear what Brett is going to do for his speech. Tyler – yeah, that's f**king amazing!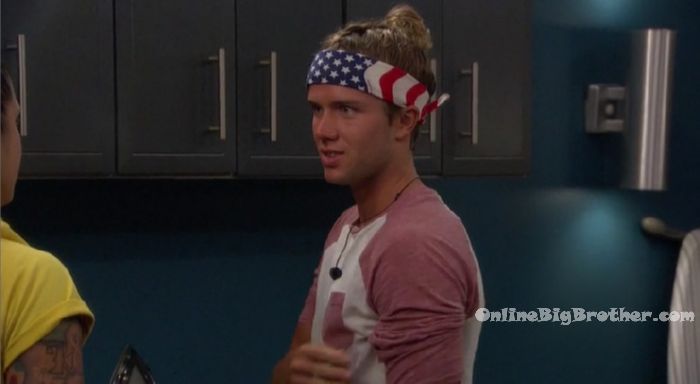 9pm Havenot room. Brett and Fes. Fes – Tyler is good with everyone. Have you pitched to Tyler? Brett – I gave him a part of a pitch. Fes – if you can get them two, then Iwoud be on board. Fes – you would need JC and Sam. Brett – we're cohabitating and to cohabitate with the sh*t that she does. She is a 30 year old going on 13! F**king screams like a child. Leaves dishes everywhere. The only thing she is capable of cooking is eggs and I'm not even talking eggs Benedict where its impressive, I'm talking burnt a$$ scrambled eggs and then she leaves the dishes on the counter. Fes – she does get super paranoid. Brett – she is a liability. Brett – that's what you need to think about .. who will add to my game. She is a liability and she stirs sh*t up. She is up and down to the HOH every five minutes. Who is going to build you up and who is going to drag you down? Fes – if we get the votes to keep you. I keep you. I know where you stand with the guys but like with the girls? Brett – I have no opposition with the girls. I am willing to work with anything. Only Rockstar wants to rip my nut sack off. Fes – I believe you if you stay and win HOH, that you wouldn't put me up. Fes – we're the top dogs going after other top dogs and they're sitting around doing nothing. Brett – I deserve to be here and there are some people that don't do anything. Rachel is running around making multiple final 2 deals. Fes – She hasn't made one with me. How do you feel about Angela and Kaycee's vote? Brett – My feeling is that they're voting with Rachel. Fes – what about Sam and Haleigh? Brett – Sam is a f**king curve ball that is going to do w what she wants. Fes – how did your talk go with Bay? Brett – I feel like she would be fine with whoever goes, goes.
Try the Live Feeds FREE for 7 DAYS! Click here for your: FREE Trial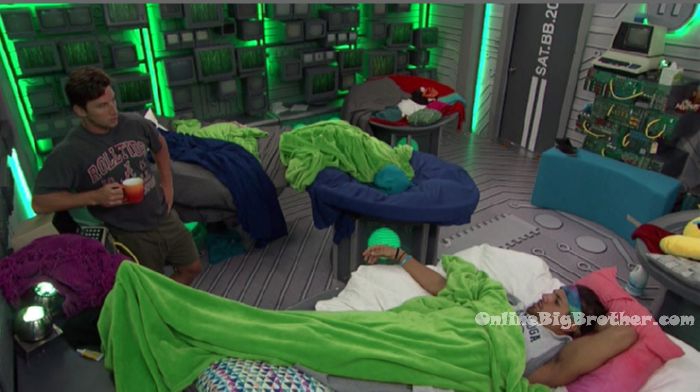 10pm Sam and Bayleigh. Bay – someone gave me word that there might be a verbal attack tomorrow and I hope there won't be. Someone said that Brett is going to try and get Rachel to snap tomorrow. As like his last attempt to stay here like he did last with last time with Rockstar. Bay – it depends on what type of speech he decides to do. And they're friends so I hope he wouldn't. I want everyone to just respect each other. Sam – have you asked Brett not to do that? Bay – I didn't hear it from him. I want him to decide what to do and not to do. At the end of the day I hope he decides not to do it. Sam – that bothers me. Bay – the traps that you set for people are the ones you will fall into first.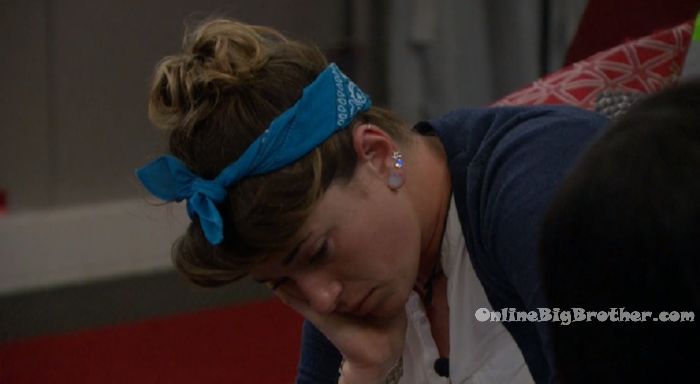 9:27pm Havenot room. Fes and Scottie. Fes – his biggest pitch was that he deserves to be here and Rachel is a liability. He was saying that Rachel doesn't do anything around the house. I get that but that's not why I would vote to keep you .. because you cook. This is a game. We can always get Rachel out. He isn't really with us. If I keep him because I think he might vote for me, I might not even get there so why worry about it. Fes – do you think its going to be unanimous? Scottie – I think 8 – 1. Fes – so as long as you, me and Tyler .. JC is going to vote with the house. Brett's pitch is that we're all comp beasts. He's not a comp beast!? He hasn't won anything so I don't know why he keeps saying that. Scottie – he's grasping at straws. Fes – he keeps repeating the same stuff. Scottie – make him feel like he has a chance so that he doesn't blow up on Rachel. Fes – she (Rachel) isn't winning that memory comp tomorrow anyways.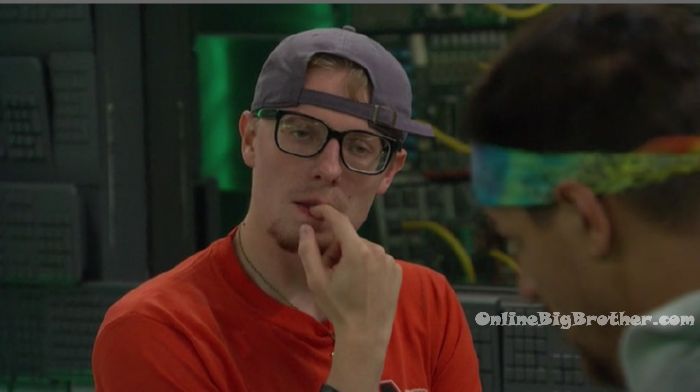 10:32pm Havenot room. Scottie and Tyler. Tyler – I just don't want f**king Rachel around. Scottie – take her out next week. Brett this week and Rachel next week. Tyler – I'm down. Scottie – she has even been throwing Kaycee and Angela under the bus. She's been saying they don't do anything and they don't deserve to be here. Tyler – they're her closest people. Scottie – so if they ask tell them that she said they don't deserve to be here. Tyler – I'm into that and then she is here next week and they target her. Scottie – but don't pitch it until after the HOH. Me, you and Fes are voting for Brett to stay. We're voting her to stay, Sam is, Fes is, Kaycee and Angela.. that's literally everyone. Tyler – I need to talk to Rachel tomorrow to clear things up with her because I know she is saying stuff about me.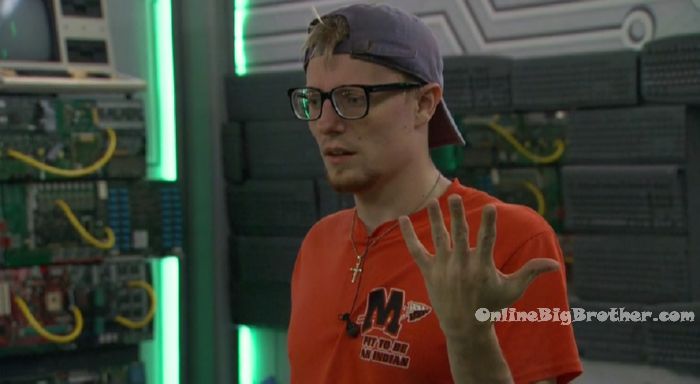 11:10pm HOH room. Bay, Haleigh and Fes are studying.
11:40pm Bedroom. Angela and Brett are studying for the HOH competition.
12:10am Havenot room. Scottie, Tyler and Fes are studying.
12:48am – 1:15am Fes and Rockstar studying in the bathroom. All the other house guests are sleeping. Fes – if you won HOH would you still take Angela or Kaycee out the backdoor? Rockstar – I would talk to you guys about it. Tyler is also really good at everything. He's not in our final five. You know who else isn't in our final five? Fes – Scottie? Rockstar – no Scottie is. Rockstar – JC. Fes – but do we need to worry about Tyler and JC this week? Rockstar – I don't know. Fes – other people are going to take shots at Tyler and JC. Rockstar – I don't think anyone is going to take a shot at JC. When it comes to Sam and JC they will beat everyone because everyone loves them. It doesn't have to be now but it does have to be at some point. They have to go. Fes – JC – isn't going to make to top three. Fes – I don't want Angela and Kaycee to vote their way to top five .. and not f**King do sh*t .. with everyone avoiding their a$$. Rockstar – I agree. I totally agree. I love Sam but she is kind of my target. Not because she put me up but because I would never beat her. Fes – other people feel that way too .. do you want to be the one to take the shot. If Angela wins you and I are probably going up. Rockstar – Haleigh would put up Kaycee.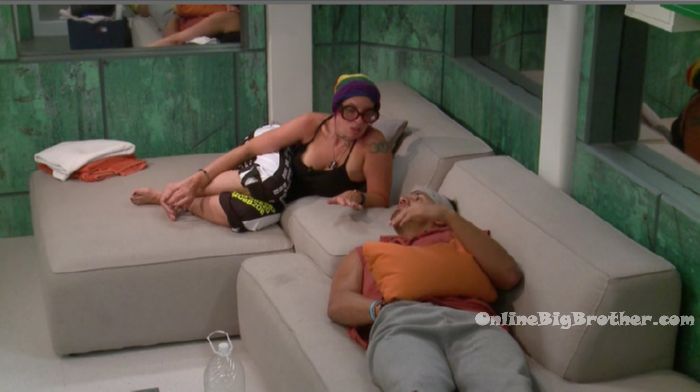 1:30am Kitchen. Sam, Brett, Rockstar and Fes are awake now chatting / eating.
1:50am – 2:26am All the cameras are on the house guests sleeping..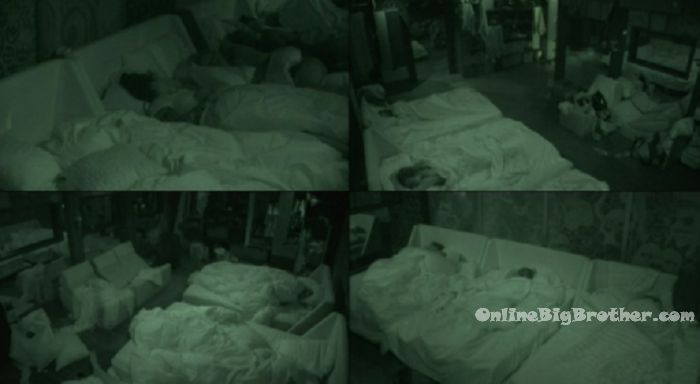 8:04am zzzzzz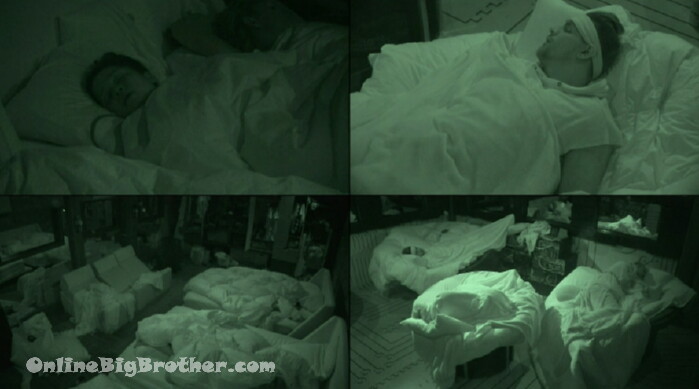 If you've enjoyed our live feed updates so far this season, please consider donating.
Any amount is greatly appreciated! Your donations go directly to paying the fees required to run this site.
Rank the houseguests!
Easiest way to Rank the house guests use link below