| | | | |
| --- | --- | --- | --- |
| POV: | Tyler | Next POV: | Aug 4th |
| POV Used | NO | POV Ceremony | Aug 6th |
| HOH: | Bayleigh | Next HOH: | Aug 2nd |
| Noms: | Brett & Rachel | Have Nots | Fes, Tyler, Scottie |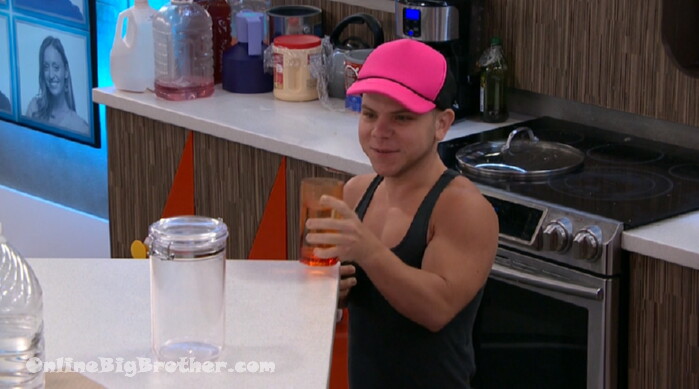 8:55am JC and Sam
JC – the cookies that Angela made yesterday I think she left them out
JC – did you see that
JC – it's super dry
Sam – ohh f*
JC – I don't know why she's didn't put them in the fridge
Sam – ohh rthat's sad that will make her sad that's her grandmas rescpice
JC – they didn't even close it
Sam – I didn't sleep very good
JC – why
Sam – i was up late.. ate a bowel of mint chocolate chip ice cream.. I still haven't gotten my period it's weird..
JC suggests it's because she's stressed
Sam – yeah that's what they told me .. it makes me feel bloated and bad..
JC – tomorrow is the more relaxing day
JC – did he talk to you, Angela and Tyler?
Sam – yeah
JC – I'm going to tell you why I get so paranoid in the house and frustrated..
JC – I dont like when people are fake to me you know what I'm saying.. Like I hate it
JC – the same way i See ROCKSTAR all the time I'm above you blah blah blah
JC – When you were up she was campaigning so hardcore for you to go home… and stuff like that
JC – Fes is always playing and Blah blah blah.. .. when he gets the chance he'll take me or Tyler out it makes me paranoid
Sam – it's stupid ..
JC – I'm on the edge
Sam – I know
JC – it's hard for all of us it's not only hard for you.. understand. Some people take it differently
JC – after today it's going to go crazy..
JC – I'm going to tell you what's going on,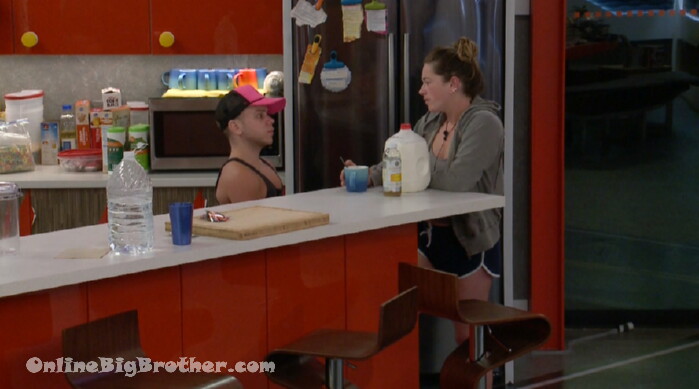 JC – They are expecting the vote to be unanimous, it's not unanimous .. it's going to take them by surprise.. it's going to be a shitshow
Sam – they're expecting unanimous for Rachel
JC – to stay
Sam counts the votes to keep Brett: Sam, JC, Tyler, Angela, KAycee
JC – you need to keep your mouth shut, shut shut, of who voted..
Sam – I am
JC – how are you feeling about the competitions
Sam thinks if it's a memory one it will be her and Scottie.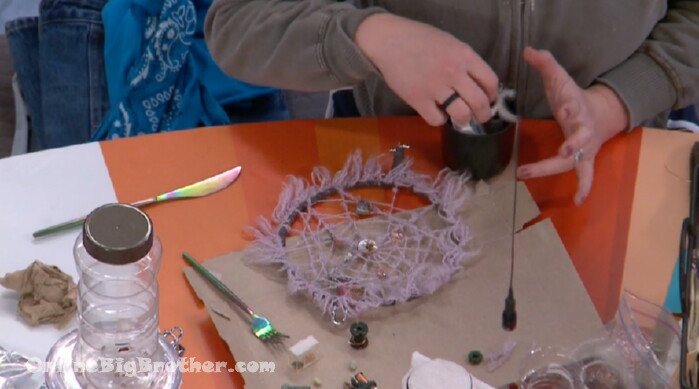 9:09am Sam hunkers down for a long day of doing crafts

9:56am Sam and BRett
Brett – this container nobody resealed it so it's ant infested..
Sam – oh no..
BRett – someone left it cracked open..
sam – that's Angela's granny's .. oh my god..
Sam throws them under the garage doors.. "Don't eat those.. "
Sam disposing Angela's ant infested cookies #BB20 @DawgsBigBrother pic.twitter.com/58mo0sitWY

— OnlineBigBrother.com (@bigbspoilers) August 2, 2018
10:01am the rest of the house is getting up.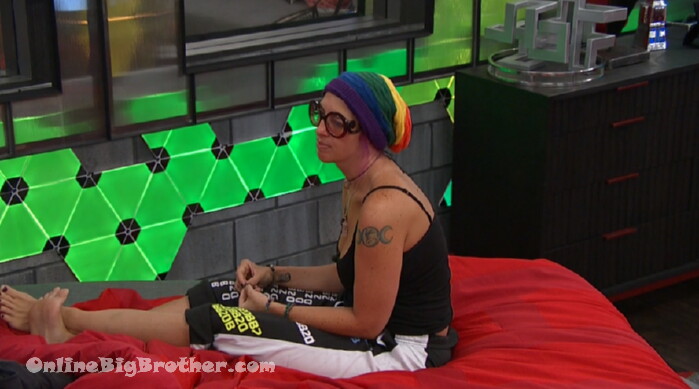 11:06am Rocks, Haleigh and Bayleih
They're talking about kaitlyn "joe doesn't exist"
ROCKS – I can't wait to google airalatica (the name of Joes band.. something like that)
Haleigh – she would never tell me any song he played in .. she was like it's not that big of a deal
Bayleigh – that's creepy
Haleigh – if I had a boyfriend in ta band I would be like you need to listen to this this..
They don't believe Kailtyn's stories about running into "weeber"
Ha – I'm going to make up a fake boyfriend.. his name is Ben his last year will be Jerry no his brother's name is Jerry..
Bayleigh says Kaitlyn is psycho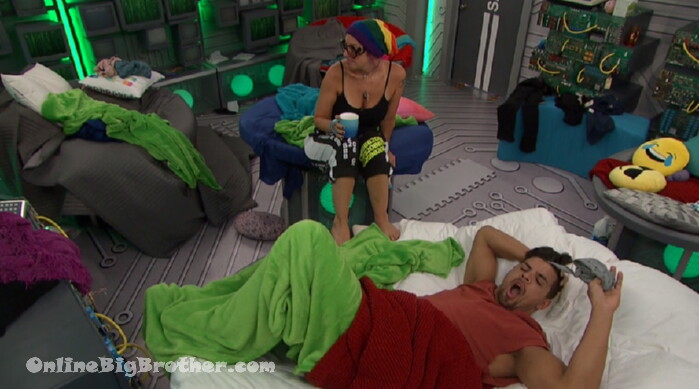 11:17am ROCKS and Fes (this is a good conversation they have no clue)
Rocks says that in his speech he was going to say he's in a 3 year relationship with haleigh and Rockstar is his older sister
Fes – he's going to say something crazy..
fes says if BRett says something about himn he'll "POP OFF on his a$$ on live TV just like that"
Rocks – I popped off on his a$$
Fes – no during
FEs – sit your a$$ down .. this is my speech now. motherf*er drop his a$$ on national television
Rocks laughs – I would die.. I would pee a little .. would be hilarious
Fes says Brett brought up good points "I do deserve to be in jury.. and I do feel bad for the kid he does do stuff around the house and stuff but like that's not the game"
Rocks – the game isn't best housekeeper..
They laugh
FEs – I feel bad.. it's your turn to go liek f* I'm sorry
Rocks – No swaggy deserves to be in jury that kid loved this show..
Fes – if everyone on teh same page.. it's been weird this week nobody's been talking about anything is that because it's unanimous
Rocks nods
Fes – that's cool f* it.. that means a smooth a$$ week for once. Seem too good to be true the only thing better he just goes out the door smooth and we win the HOH chilling
ROCKS – big Chill
Rocks says they study longer than anyone else because Sam convinced the other side it's wasn't part of it
Fes – I don't think they are that close on that side..
Fes doesn't think Angela and KAycee are close with the other people.
Rocks agrees..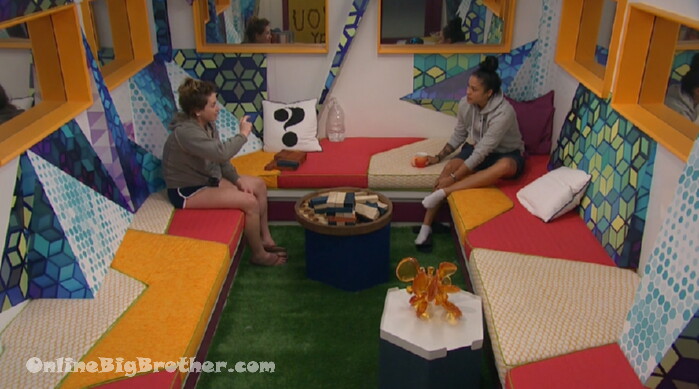 11:26am Kaycee and Sam
Feeds come in on teh conversation mid sentence. I think Kaycee is telling her about what she'll tell bayleigh after Rachel goes.
Sam asks KAycee – it's you and Bayleigh right
KAycee – Angeala
Feeds cut HOH lockdown for the next 60-120 minutes
A real easy way to support the site if you are an amazon shopper is to make your purchases through our link. You pay the exact same thing but we get a small % commission. It doesn't cost you anything and helps us out.
Amazon Canada
Amazon USA