| | | | |
| --- | --- | --- | --- |
| POV: | Tyler | Next POV: | Aug 4th |
| POV Used | NO | POV Ceremony | Aug 6th |
| HOH: | Bayleigh | Next HOH: | Aug 2nd |
| Noms: | Brett & Rachel | Have Nots | Fes, Tyler, Scottie |
Big Brother Spoilers – Rachel is leaving it's going to be sad .. BRett's got a speech planned that will surpass "own it" in awesomeness.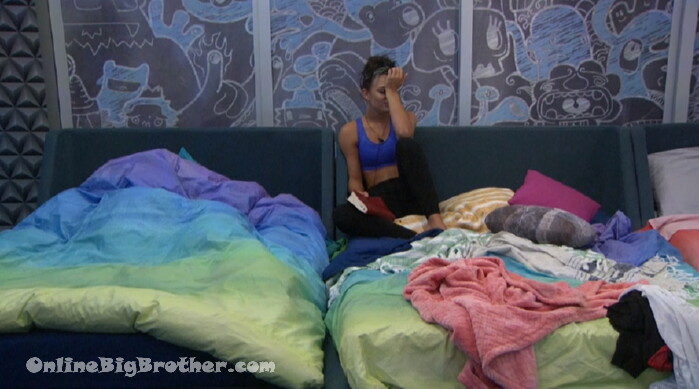 2:07pm Rachel and Angela
Rachel goes on about how they need to win HOH. "if we win this week we're safe basically for the next 2 weeks"
Rachel wonders why Brett won't talk to her.
Angela says Brett is going to throw Rockstars name out in his speech again.
Angela – I was encouraging it..
Rachel – I was starting to get paranoid that he was going to say something to me.. Because he hasn't talked to me
Angela about Brett's funny speech (that's mostly about RAchel) "I'm going to pee myself.. if he does what he says he's going to do.. with Rockstar.. it's going to be hilarious .. " (I think he's going to say ROCKS is his sister)
Rachel – oh my god I'll die..
Rachel says she gets nervous talking to Sam..
Angela asks if anyone on the other side knows about Bayleighs power
Rachel says no
Angela – I feel like she had to of told Fe.. because of the way they have been acting
Rachel – she told me that Fes thinks that she has it..
Angela – they all have been acting so safe it's just annoying me.
Rachel – I just hate having to be this vulnerable.. I've been vulnerable all week.
Rachel says it can't get back to Bayleigh that RAchel told her about the power or BAyleigh will go ballistic and put her a$$ back up with the power in a second.
Rachel – If I was Tyler I would want to keep Brett.. it's better for his game.. (sigh)
Angela – three girls one guy now..
Rachel – we're next on the hit list..
Angela – yeah .. I think Tyler is a bigger target though..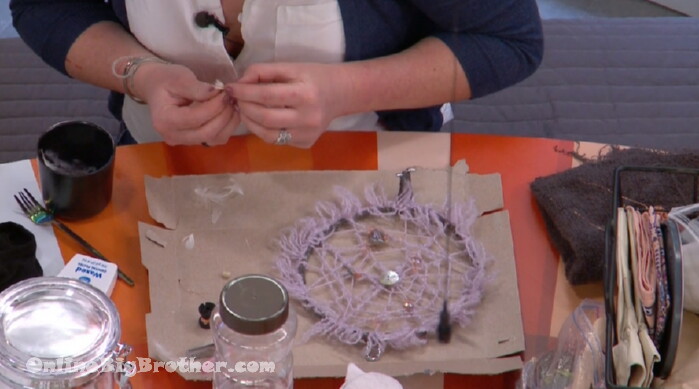 crafts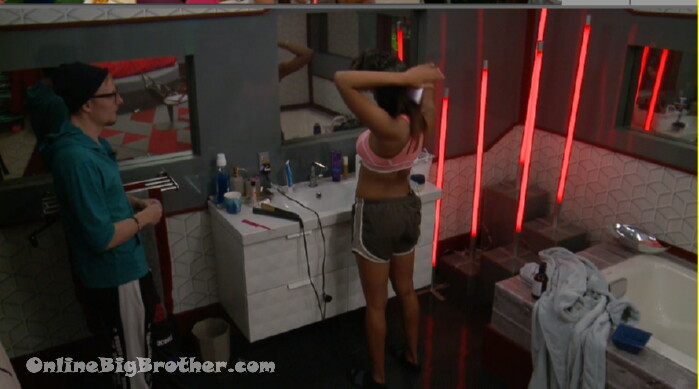 3:13pm Bay and Scottie
Scottie tells her that Rachel is definitely worried
How has Sam been acting to you
Scottie – pretty normal.. the only game talk was yesterday when she asked me who I was voting for
Bay says Sam has come to her multiple times telling her everyone hates her and they want her out of the house
Scottie says Sam is just a pawn at this point in the game, "Unless Haleigh gets it"
Scottie asks what the status of the ROckstar and Kaycee
Bay says they haven't been talking a lot of game.
Scottie says he's on the same page with FEs on who goes up. Scottie adds that JC is voting Brett out.
BAy – this week could be the first unamious week in BB20 history
baye ohh well I don't care..
Scottie – as long as we get what we want
Bay – we will Scottie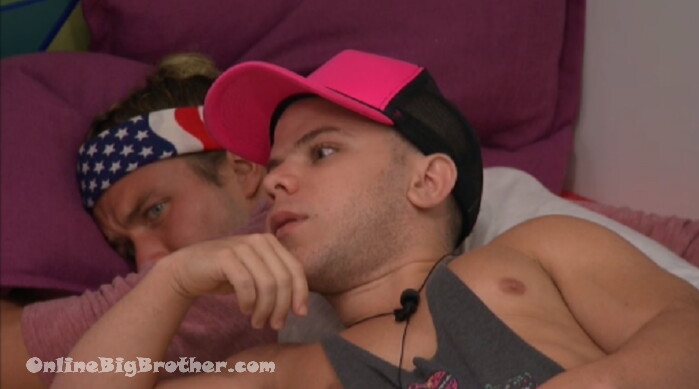 3:13pm JC and Tyler
JC – after TOmorrow it's going to be crazy.. it's so peaceful right now it's going to go out or proportion
T – we have to win HOH it'll be amazing
JC – I don't know if I want to in HOH
T – you have to try
JC – ohh yeah .. I'm not going to throw it.. i don't think anybody wants to get me out so if I win HOH I have to pick people from different sides so that will target me
Tyler tells him the rocks wants him out.
Tyler tells him Haleigh, Bayeligh and Rockstar are all working together sharing information
JC – that's a chilly a$$ group
T – I know they f*ing suck
T – that's alright I'm just making sure you know that
JC – no I didn't know that thank you for telling me
Tyler is saying because JC threw the rocks name out to bayleigh she told Rocks and that is why he's being targeted by her.
JC – I can't wait to tak them all out (Haleigh, Bayleigh and Rocks)
T – I know .. Haleigh is the most f*ing irreverent person in this house
JC – Haleigh i don't give a f*
T – Scottie and fes are the same kind player but Scottie is trying to play both sides and fes is stuck on that side.. I don't want fes to go because I know you control alot..
JC – I want Rockstar out.. I wanted Rockstar out this week.. f** she's going to be in jury ..
They agree Rocks will be a biter jury member
T – if any of her dumb a$$ girls in in the end she's going to pick them over any of us.
T – that's why me and you gotta be there.. that's why you gotta stop saying our names
JC – I just said it to bayleigh and Fes..
JC – Bayleigh talks to Fes like she's the owner of Fes.. at least I talk to him joking ..
T – she on a power trip man
JC – she literally has the power thing in her head
T – She knows she has two consecutive HOH's pretty much she doesn't care
Tyler says if they win HOH they have to work with Bayleigh and let her know his plans, "after you win HOH.. if Rachel is gone than tell her she told you"
JC – if it's memory Scottie has a big chance to win it
T – I know that's annoying as f*.. Scottie will put up Angela and Brett
JC – I don't know about that
T – it's going to be crazy.. I can hardly wait
Tyler says he never thought Bayleigh and rocks were working together but Rocks has been in the HOH camped out 24/7 all week.
T – if Rockstar win and put you up maybe you can convince Bayleigh to use the power..
Tyler says his votes doesn't need to be covered this week but JC's does.
JC complains that Brett and Scottie haven't been spending a lot of time together. Tyler says they have been.
JC – I told Fes and Haleigh I saw Rockstar and BRett talking in the have not..
Tyler – hell yeah .. that's perfect.. plant that seed to get them not to trust Rockstar
JC – It doesn't matter what we do every week the main plan is keeping the house divided
T – next week we take a shot at the other side.. hopefully ROCKSTAR
T – there's so many people on that side that are so irrelevant.. it doesn't really matter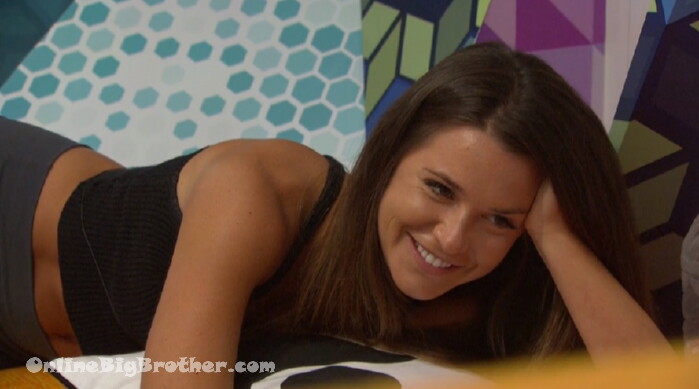 3:41pm Angela and Tyler
Angela is clearing up the duration of the power (2 more weeks) and says Bayleigh has to use it after the nominations. (they still don't have it all figured out)
T – Brett's speech is going to blow everything up
Angela – he's the biggest shield ever
Tyler – Rachel's such a idiot .. why would she tell you that. guarantees I won't use the veto.. if I used it you would go up of course you are going to tell me not to use it
Angela – she's stupid.. she's a f***Ing idiot.. (ouch)
Angela says Brett speech is going to include that Rachel told everyone she had the power.. Adds that this will put a HUGE targets on BAyeligh because any one on their side goes up will be pissed unless she uses it on them.
Angela – its a HUGE target..
Tyler – she's going to be scrambling after this just like she was last week.. put her a$$ up that's so beautiful..
Angela says she's talked to Sam and Sam is 100% voting Rachel out, "I said she doesn't cook she doesn't clean, Sam was like I KNOW"
Angela – it's like she's playing house..
Angela says Rachel talked herself on the block
Tyler says Scottie wants to put her up on the block.
Angela laughs says Brett is going to pin the all girls alliance on Rachel and Rockstar
They both laugh
Tyler – I love this game.. you and I we are going to the end.. you, Brett and Kaycee we are..
They laugh..
Tyler says the other side is going to want to watch this whole show because they have no clue.. we don't, because we knew..
Tyler wonders why the hell Bayleigh and all them wouldn't think they would keep Brett over Rachel. Brett is a HUGE target.
Tyler says he guarantees Bayleigh and her whole side knows.
Angela believes Tyler 'She just lied to my face" (she told Angela nobody else knew)
4:16pm Feeds go down..
4:47pm Feeds come back they were shown a video for the HOH tomorrow./
5:09pm the groups are off in the corners studying what they saw.
6:09pm Sam and JC having a conversation about him "throwing HOH" She's pissed because she thinks she only won the HOH because the house threw it to her. Says JC didn't want Kailtyn here but didn't want her on teh block so Sam had to do it.
JC – I didn't even know who you were putting on teh block ..
Sam – stop yellin g
JC – this is my voice
Sam – I've heard you whipser to people
Tyler walks by.. Sam yells she wants to be left alone..
Tyler – Sam you are making something out of nothing,..
Sam yelling – I don't care.. it hurt my feelings
JC asks who mentioned this to her
Sam says she made it up on her own
Sam starts crying.. says JC is one of the people that she trusts in here.
Sam thinks the house tossed the comp to her and nothing JC is saying is changing her mind
Sam – that whole competition made me really proud of myself.. if I find out it because other people made me win..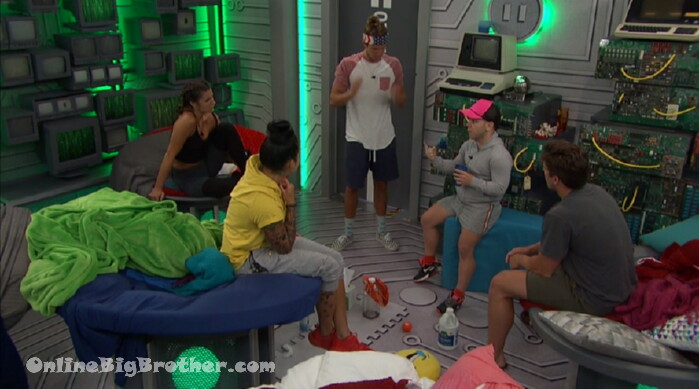 6:14pm Brett telling Kaycee and Angela about his speech
Brett – Rachel told me about the all girls alliance
Brett =- so fun little fact before we got into this situation Rachel thought she was only a pawn so she told me about the all girls alliance in teh case I ended up staying here and she got pulled off the block.. Oh and she also told me about Bayleighs power app so here's the reality guys i could be placed .
Angela – you have to say about the power app the nominations too
Brett – Bayleigh has the power app she has the ability to replace nominations without being the HOH so if you keep me around guess who the power will be used on? ME\
6:20pm Have nots Level4 plus JC
JC gave them a rundown of the conversation with Sam.. Says she's getting paranoid. Tyler says it's because she sits "out there" all day with these thoughts in her head.
Angela – she should know we saved her ..
Tyler – we still need her though
Angela – she's mad at Rachel .. for being a nuisance
Rachel comes in…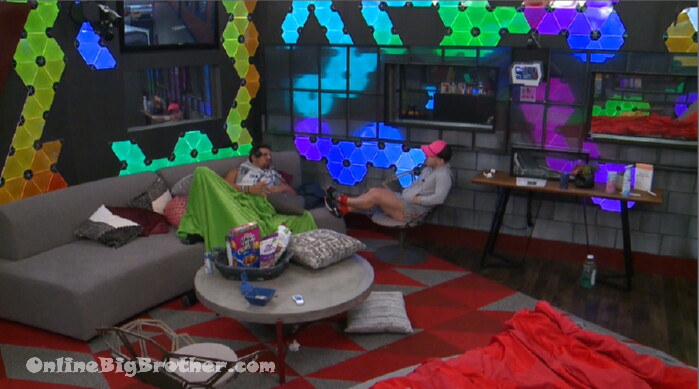 7:21pm Fes and JC
FEs says if ROCKS wins sh'e putting two girls from the other side up
JC – 2 girls?
Fes – I dunno..
JC – listen.. i'm not going to talk serious game with rockstar
Fes – don't she talks too much
JC – the other day I saw ROCKSTAR talking to BRett
JC goes on about Rockstar..
JC – hopefully Brett goes.. I talked to Scottie he said unanimous.. I know Brett is coming for me
JC warns him that BRett would put the two of them up and he thinks he would stay over fes.
Fes – i'll probabaly win the veto
JC – I don't want you to go home..
FEs says that is why they have to make sure he goes
JC is still nervous with Scottie flipping votes and Rockstar talking to Brett in the have nots, "twice, In private after all like Brett's sh1t"
JC is worried about BAyleigh telling Rockstar what he said about her.
FEs – I'm telling you BAylegih doesn't tell rockstar sh1t
Fes – where's Tyler's head at?
JC – he's very weak he doesn't have a lot of thoughts like talking game..
Fes – I trust Bayleigh
JC – good for you I trust her 85%
JC says Haleigh and the Rocks all stopped talking when he entered he's worried about it and says he feels alone
Fes – I didn't even see that
JC – it ticks me off because I'm always offending her
JC asks him if he's in a showmance with Haleigh
Fes – What.. she hangs out with the other guys as much as me
JC – c'mon.. I mean I don't care just make sure they don't see you or they will target you..
JC – I thin she likes you
Fes – she hangs out with all the other guys
JC – I think she likes you she hangs out with all the other guys they're her friends..
7:40pm Sam and Tyler
during the feed outage they saw a series of gifs. one of them was JC slipping off the log after adjusting his googles. Sam thought he threw it for a bit.. Tyler and Sam talk it out..
Sam says she'll be in the house as long as they want her in the house.
Sam – I'm here for you I'm here for her that's all that matters (Kaycee)
sam crying says she's so blissfully unaware about the game she doesn't want it to hurt her or Tyler
Sam – I don't know I don't understand it..
Sam – I've never felt anything but love toward you
SAm – In the purist way best way.. I'm not interested in f*ing you I'm not interested in f*ing your game.. I genuinely want you to succeed..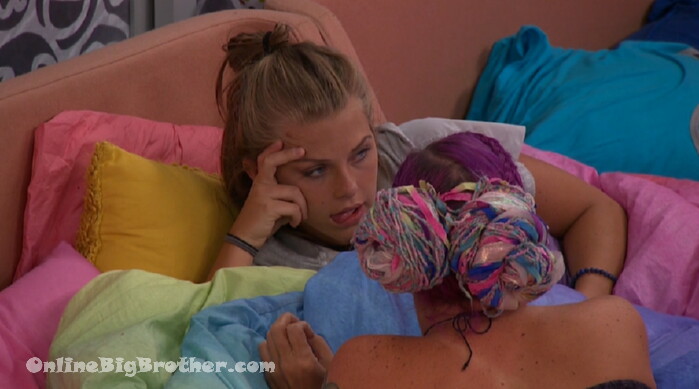 7:53pm haleigh and ROCKS whisper studying

If you like the content OBB produces please consider donating