POV Holder:
Jon
Next POV
?
POV Used
NO
POV Ceremony
March 31
HOH Winner:
Canada
Next HOH:
Apr 3
Original Nominations:
Andrew and Sabrina
Current Nominations:
Andrew and Sabrina
Have Nots
Jon and Adel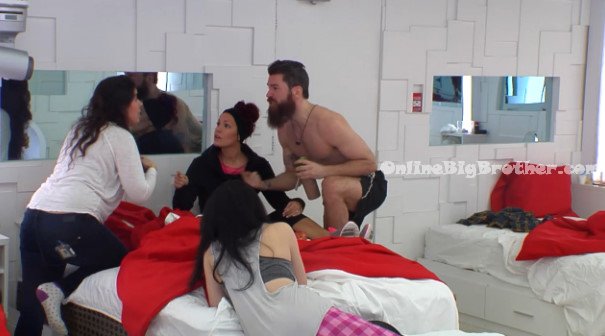 1:10pm – 1:40pm IN the bedroom – Sabrina starts freaking out to Sarah and Kenny about how she's being told Andrew is campaigning. Sarah asks who f**king told you that! Was it Jon!! Sabrina says it was Jon and Adel. Kenny says why would you believe Adel he swears all the time on his Quran! Kenny and Sarah tell Sabrina that Andrew is not campaigning against you he is just telling people that he wants to stay but wants everyone to make the best decision for them. Sarah asks did Jon tell you that I was campaigning against you! WHAT DID HE SAY! They tell her that Jon said you were taking care of Neda campaigning to her. Sarah says F**K HIM FUCK THAT PIECE OF SH*T! F**K JON! I am so f**king done with him!! Sarah says Jon is going up. Kenny says if I win HOH JON and Neda are going up and he is going home! Andrew joins them. Sarah says Jon is running his mouth! Andrew says I knew it! Sabrina says my mom told me this was going to happen! Sarah says we have the numbers, f**k them. Sabina asks if she is going to be the next target next week. Kenny tells her that he isn't after her.. why would I take out a number from our side. Kenny leaves. Sarah says I am just sick of all the lies in this house. Sarah asks why do you not trust Kenny. Sarah asks why can't I have Kenny? You have Rachelle! Why can you run around with RO? You two are little Gremlins together! Kenny and I are two grumpy old people. The fact that I am close to Kenny is good for you because the fact that I have your back helps you because thats one more number for you. Sabrina starts crying. Sarah tells Sabrina that she has her back. Andrew leaves and Sarah says its really hard to talk to you about this in front of Andrew. Sarah tells Sabrina that Andrew isn't campaigning against you. Something he was told in the diary room made him sound like he was looking like a pu$$y.. Sarah tells Sabrina you are not going home. You need to calm the f**k down. If you hear anything about us trying to get you out its a lie. They are just trying to turn us against each other.
1:45pm Jon comes into the room and asks if they want to talk? Sarah says no. Jon says well f**k it them! Sarah gets up and says I can't be in this room! Sarah leaves. Jon asks what was that all about? Sabrina says it was about me. This is the second time she has done this to me. Jon says I'll talk to her.

1:55pm In the storage room –
Sarah and Andrew are talking. Sarah comments on how f**k this game is. They're worried about the votes. Jon comes into the storage room for a second and then leaves. After he leaves Sarah yells out F**K YOU JON! She throws up the middle finger. Andrew says we just need to get to the weakest one .. Heather and we scare her! Maybe you can start that conversation with her. We need to scare Heather with as little time left as possible. They leave the storage room. Sarah joins Arlie on the hammock and says that she heard first hand that Jon f**ked her over. Arlie says I am not tied to Jon by any means. Andrew tells Arlie and Sarah what they should tell Heather to scare her.
2pm – 2:25pm
In the kitchen – Sarah talks to Rachelle about Sabrina and asks her if she likes the way that Sabrina treats her and how she talks down to her. Meanwhile in the havenot room – Andrew lays it all out to Jon and campaigns to him for why he should stay over Sabrina.
2:30pm – 2:45pm Jon talks to Sabrina out in the hot tub room. Sabrina questions if Jon will vote her out or not. Jon says I am the deciding vote according to Andrew. Sabrina asks would you tell me if you were going to vote me out. Jon says I would tell you if I was going to vote you out but I am not voting you out. Jon asks do you think Kenny and Andrew would back me up. Sabrina says that she think Kenny would but isn't so sure Andrew would. Jon asks Sabrina if her and Rachelle will keep him safe? Sabrina tells him that she isn't coming after Jon. Sabrina says and Rachelle will do whatever I say. Jon says I am telling you I am voting to keep you. Sabrina says I see who has your back – Adel, Heather, and Neda. Jon says I hope so. I am with Adel right now because he has that card. Sabrina tells Jon thank you. She says that if you hadn't come to tell me that upstairs that Andrew was campaigning I don't think anyone would have. Jon says that Gordo told him that if you don't vote for Sabrina to go .. you will have 5 people gunning for you. Sabrina asks Gordo said that?! Sabrina starts to cry. She says I am not saying stuff like that. Jon says well maybe you should start saying stuff like that. Jon tells her not to tell Gordo I told you that. Sabrina says she won't.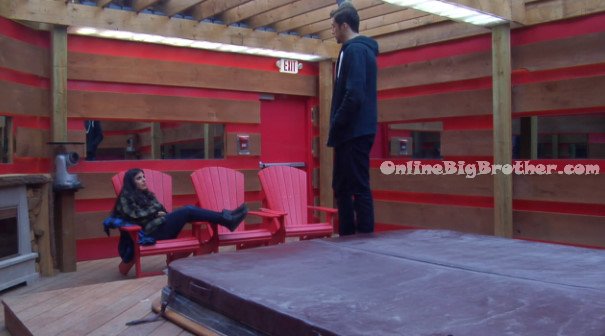 2:30pm – 2:50pm Meanwhile – Kenny talks to Andrew about what's been going on this morning and where the votes lie.

2:50pm – 3:05pm Sabrina and Sarah head out to the hot tub room to talk. Sarah tells Sabrina to not put out there little digs about me and Kenny because people are coming back to me. Sabrina says she only said it to Arlie. Sarah says its not Arlie telling me. Its not Arlie. Sabrina says that the only time she thinks she could have said any thing would have been to Arlie. Sabrina says its just sad to see that he is going this hard against me. Sarah tells Sabrina 100% Kenny and I have your back. Sarah says that Kenny even asked her if he should change his vote for Sabrina to stay just so that she trusts me. Sarah starts crying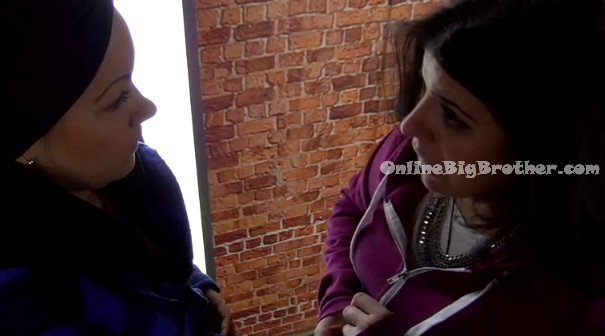 3:15pm Big Brother calls for an in door lock down and then switches it at the last minute telling them that they need to vacate the house. All of the house guests were completely confused on what to do and frustrated that they weren't prepared to be locked out in the backyard.
[polldaddy poll=7935497]
Stay connected and interact with other Big Brother Fans on our Facebook page.
And Follow: @BigBspoilers and @Dawgsbigbrother on Twitter for the most up to date spoilers.