POV Holder:
Jon
Next POV
?
POV Used
NO
POV Ceremony
March 31
HOH Winner:
Canada
Next HOH:
Apr 3
Original Nominations:
Andrew and Sabrina
Current Nominations:
Andrew and Sabrina
Have Nots
Jon and Adel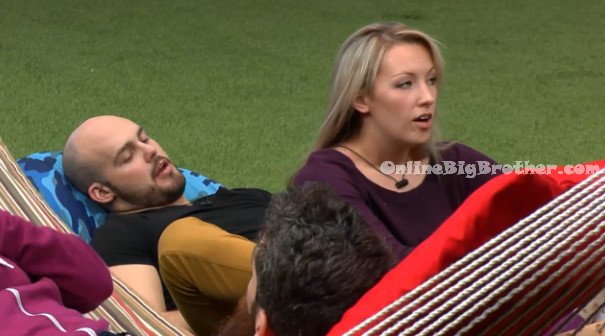 3:15pm – 4pm Big Brother puts the house guests on a backyard lock down. Andrew, Allison, Sabrina, Sarah and Kenny are hanging out by the hammock. Kenny and Sabrina are studying and talking about what they remember from the mug shot photos they saw this morning on the living room tv screens. Sabrina says that at first she thought that the dates were just to throw them off so she started studying their faces. Kenny says he thinks the dates would be used as a tie breaker. Meanwhile out in the hot tub room – Neda and Heather talk about relationships and their views on cheating. Heather says that Sabrina is the one that f**ked up my game with Ika. I want her gone so bad!!
The house opens up again and Sarah and Jon head up to the chairs outside the bathroom. Jon says that he is voting out Andrew. Sarah says good that's what we're all doing. Sarah asks Jon if he would lie to her? Jon asks about what. Sarah says if you really trust me .. you going after Kenny is like me going after Neda. Sarah says it kills me that you and Kenny are on opposite sides of me and I am in the middle! Jon says Kenny doesn't talk to me. Sarah says that Jon getting freaked out this morning didn't help. Jon says all I said was that Andrew was campaigning. Sarah says if I actually though Kenny was after you I wouldn't be so close to him.. I swear to god! Jon says that he has tried to talk to Kenny so many times and he gives me nothing! Sarah says lets just get the f**king BULL out of here! Lets just get him out so we can move on. Jon says then we can actually talk. Sarah says I know its not true. Jon asks what? Sarah says that you threw Kenny under the bus. Jon says no it was 100% ADEL! Sarah says Rachelle told me it was you. Jon says she is a liar and now I know I can't trust her. Jon says I told them that you would not turn on them. I am rattled. Sarah tells Jon not to say anything. Don't throw me under the bus. I can get you information. Sarah says do not trust them. Jon says I can't. Sarah says I think you got worried when Kenny came to you about keeping Andrew and you got scared. Jon says I didn't throw him under the bus. Sarah says I trust you over Sabrina and Rachelle. Sarah says we are all voting to evict Andrew any ways .. I just wish none of that happened this morning. Sarah says just understand Kenny is my Neda. Jon says I understand that. Jon says that he just wants to talk to Kenny and see if he will open up to him.. none of this we're good, we're good. Sarah asks Jon to wait till I talk to him and see if I can fix it. Jon says just wait until I win HOH and then he will be forced to talk to me…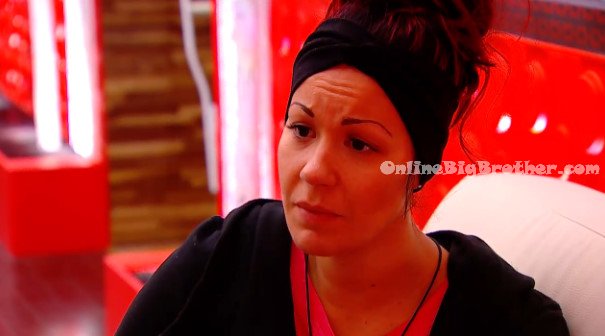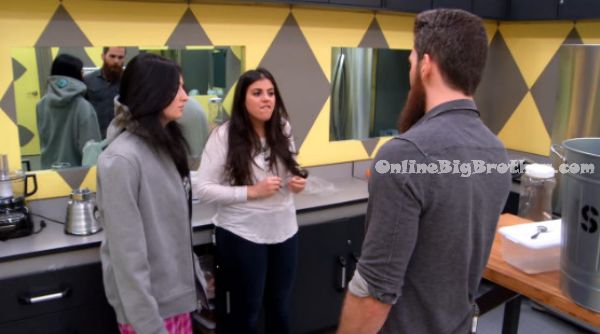 3:50pm In the bedroom – Sabrina talks about how Sarah is f**king her over. She says that Sarah is using information to convince Jon to vote me out. Sabrina and Rachelle head downstairs. In the storage room Sabrina complains to Kenny about Sarah and Jon talking. She says that they wouldn't even look at me when we walked by. Sabrina says that Jon said shes such a f**king liar as we walked by. Kenny says I don't care. It doesn't matter! I am shutting down today. It doesn't even matter we all know Jon is a f**king liar.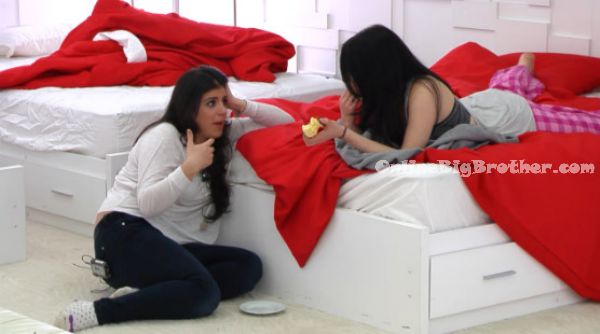 Next Sarah talks to Sabrina and calms her down. Sabrina asks if Sarah and Jon were talking about her. Sarah says no, that her name never came up. Sarah tells Kenny that he needs to hide how much he hates Jon for now. Kenny comes in and Sarah tells him that she needs to talk to him after. Sarah then goes to talk to Kenny.

Meanwhile Neda talks to Sabrina in the corner. Neda tells Sabrina that 100% yesterday she was staying .. but isn't sure now. She says that she thinks the diary room told Andrew to fight. She says that they did that with Ika too because they need it for the episode so that people wonder who is going to go. Sabrina sees Sarah finished her conversation with Kenny and leave to go talk to her. Sarah promises Sabrina that she is not going home. Don't stress out. I am trying to put all the sketchiness on Adel. Sarah says Kenny knows Andrew is f**Ked he has the worst game ever!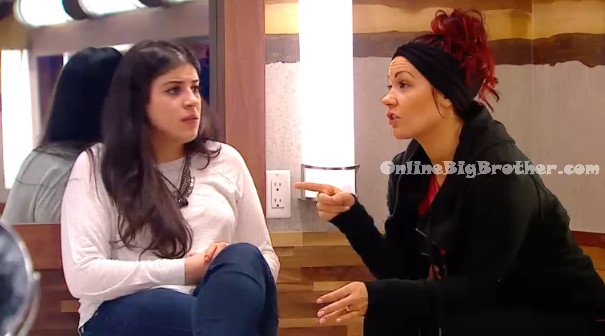 In the kitchen – Kenny talks to Andrew and Allison. Kenny tells Andrew to do him one favor – don't do or say anything! Don't freak out! Andrew says I am not going to expose anything. If I didn't freak out already I'm not going to. The cams switch to the main bedroom where Neda, Heather, Adel and Jon are talking. Jon says I wish we could just evict two people today. Heather says It is nice walking around this house and seeing people talking and I am not on the f**King block. The others laugh.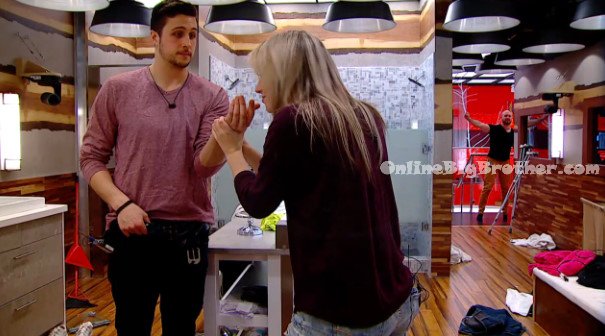 4:50pm – 5:25pm IN the bathroom – Jon complains of having hard white sh*t on his d**k. They wonder if its a yeast infection. He runs into the main bedroom and tells the others. He asks them if they want to look at it! Adel says he will. Heather and Neda say they don't want to see it. Jon goes back to the bathroom and ALLISON SMELLS HIS FINGERS AFTER HE TOUCHES HIS D**K. Andrew tells her to shower before she comes near him again. Big Brother cuts the feeds. When the feeds come back – Jon comes out of the diary room and tells everyone that he whipped it out and showed them. He says they said it is definitely not herpes! We'll get back to you on what it is.. Jon goes to the bedroom. Neda says that she didn't know guys could get yeast infections. Sabrina says yeah, are you circumcised? Jon says no. Sabrina say yeah so dirt and stuff gets in there.. Arlie was busted for sleeping under the stairs. He comes up to the main bedroom and says so Jon, I hear you have herpes? The others say no but he does have Vv@gin@l cream. They all laugh. Arlie wants to read the box. They tell him he probably doesn't want to touch it because Jon's yeast hands were all over it.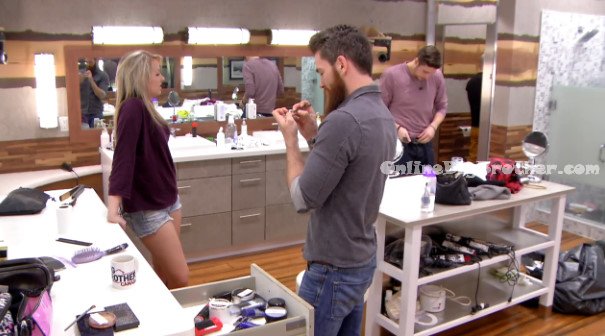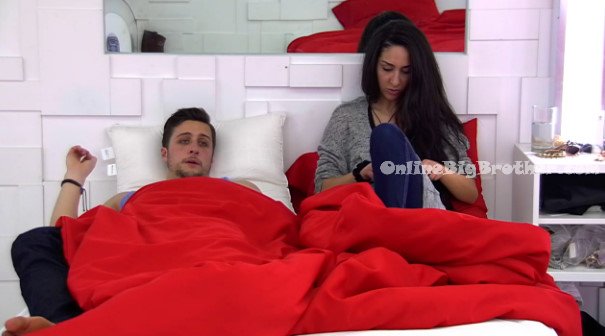 5:30pm Jon talks to Neda in the bedroom. Jon says that he thinks he will be going home next week. He then remembers that Adel has his power and Neda says he would use it on him. She says unless something crazy happens. Neda says if it was me and you on the block you would stay. Jon says he's not thinking about that. Neda says you have to! Neda tells Jon that he has really nice eyes. Jon says thanks. You have nice eyes too. Neda says cool. They leave the bedroom. Jon comments that he will tell them all about his yeaster. Arlie says Big Brother made it perfectly clear that you have a v@gin@. Jon goes back to bed. Sabrina goes to Jon and tells him to look into her eyes! I am not the one going around saying stuff about you. If you fall into their trap then its your fault. If they say anything its not me. Sabrina asks are you still voting for me. Jon says yes! They high five. Sabrina heads back out to the hot tub room with Rachelle to study the mug shots. Neda joins them. Heather joins them and Sabrina asks he if she is voting to keep her. Heather says that he 0s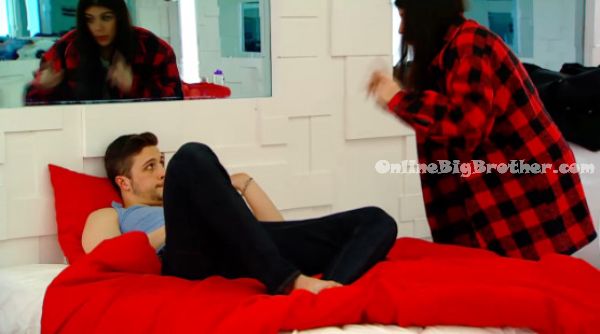 In the havenot room – Jon talks to Sabrina about his conversation with Sabrina. Jon says that he never said anything to her any ways so he doesn't know what she was talking about. Jon asks Sarah why she doesn't come work with Arlie and him. Jon says it will buy you and Kenny a couple more weeks. Sarah says that Kenny is not coming after you. Jon says that I want to trust him. Jon says I feel more comfortable now. I've lost a lot of sleep over losing Kenny. Jon says Kenny will see when I win HOH and don't put him up. Sarah says if you do that then you will have him for the rest of the game. Jon says I will swear on my dog over it .. do you think he would do the same for me? He's losing his biggest ally. Sarah says she thinks he will do that.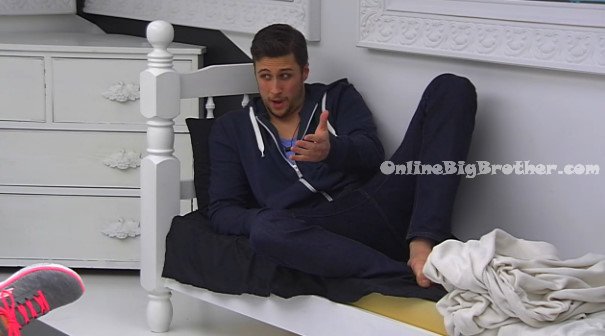 6:15pm Out in the hot tub room – Neda, Heather and Sabrina study the mug shots and talk about other random things.

In the bedroom Sabrina tells Arlie that out of everyone she trusts him the most. Arlie tells her that she is definitely good. Sabrina asks what about Jon. Arlie says I don't know about him but the fact that he came and told you means he is not sneaking around. Sabrina says that she just doesn't know because Andrew was going around offering deals. Sabrina says I have you, Sarah, Jon, Neda, Heather, Adel… Arlie says I think so too.. I think you're good and in the clear. Sabrina says she's worried everyone is just telling her what she wants to hear and then tomorrow they're going to blindside her. Arlie says he thinks she's fine. Arlie says there is no way Jon would vote you out because he would never come and tell you and then do the opposite. Sabrina says this makes me have your back more than any ones..
6:50pm Out in the backyard – Allison, Rachelle, Sarah, Sabrina, Jon, Neda, Kenny and Andrew are all laying out by the hammock sharing stories about their outside lives.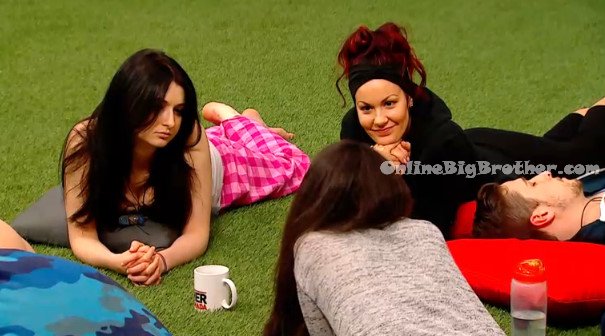 7pm – 7:15pm In the bathroom – Andrew asks if Sabrina is okay? She says yeah I am just hurt by things. I don't want to talk about it though. Andrew says I know what you are talking about but with campaigning its all on how its worded. All I did today was ask questions. Sabrina says all I've asked today is do I have your vote. I actually asked it two days ago Andrew says I've never said that. Sabrina says yes you have. Andrew asks when? I've done nothing differently than you have. I have never said anything bad about you. All I've asked is do you want me to stay in this game. Anything else you've heard is a lie. Sabrina starts to cry and says that she's been staying up all night trying to think about what to say to him. Andrew says I think that you think by me doing the same thing as you it's wrong. Sabrina says no I don't think it's wrong. Andrew says I know you would never say anything bad about me and I wouldn't about you. Andrew says that it was only today that I started to think about staying. I know I came to the race late. Andrew says I still love you. Sabrina says that she is starting to question everyone now and knows she can't trust any one.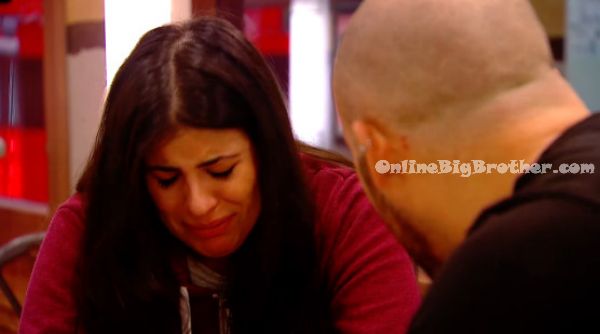 Stay connected and interact with other Big Brother Fans on our Facebook page.
And Follow: @BigBspoilers and @Dawgsbigbrother on Twitter for the most up to date spoilers.