| | | | |
| --- | --- | --- | --- |
| POV: | Tyler | Next POV: | July 14th |
| POV Used | yes | POV Ceremony | July 16th |
| HOH: | Kaitlyn | Next HOH: | July 12th |
| Noms: | Winston, Scottie Swagz | Have Nots | JC, Fessy, Haleigh, Rockstar |
Big Brother Spoilers – Swagz still going home .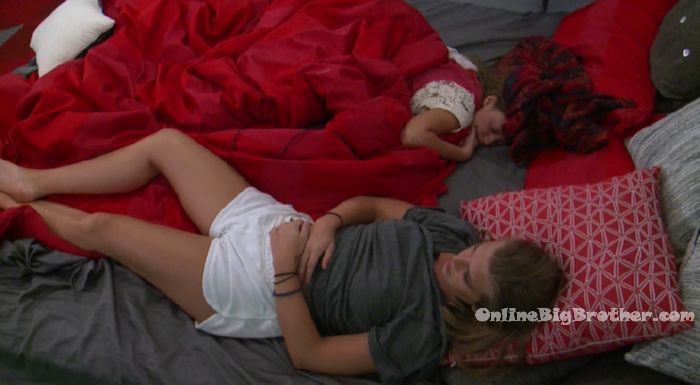 8pm HOH room. Haleigh and Kaitlyn. Haleigh – we just need to focus on this next HOH. Kaitlyn – yeah. Everyone is in a weird mood today. I think we are all collectively going to bed early because everyone is like I am just ready for it to be 10. Everyone wants it to be over. Kaitlyn – I should definitely nap. She lays her head down and says that she's "reflecting on the day".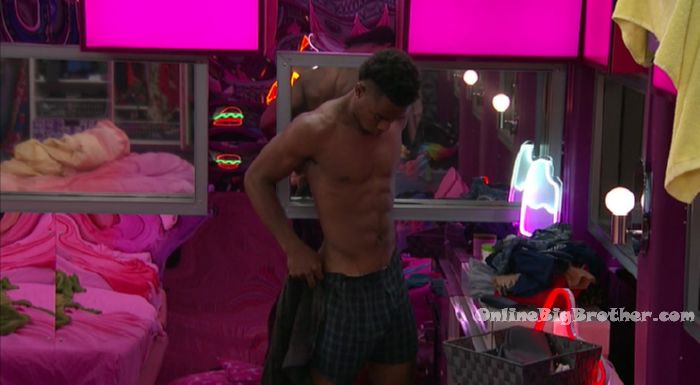 See what they can't show you on TV – Try the live feeds for FREE!
8:15pm Hammock. JC, Angela. JC – I wonder if Fez and Kaitlyn already talked. She is so concerned about forgiving them and stuff. She made the move and then cries about it. Angela – like if you're going to make a move you better have a pair of balls to back it up! JC – we knew this from the beginning she (Kaitlyn) is someone that is very easy to manipulate. Angela – she's not going to flip. If she flipped, you know how that looks. JC – then everyone is coming for her. Fez is taking this worse than Scottie and its just pissing me off. Angela – because he knows he's next. JC – he's being like a B***h. Big Brother blocks the feeds.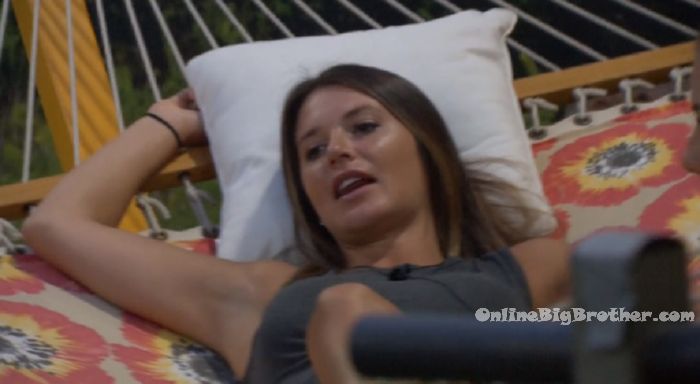 JC – with a boyfriend that she wants to get married with. Really!? If I did that, if I had a boyfriend and he comes here to this thing and I see him playing around with the guys or something. I would literally block the channel CBS… even on my browser. I am so open minded I'm okay with the massages because you get attention here. Like I would love to get a massage. At some point I am going to get one of those hoes to give me a massage. Its anther thing to be lying with one and and being by the pool holding hands. Like really!? Angela – it makes me think that its not real (Kaitlyn's boyfriend back home). JC – what about the picture (HOH photo). Angela – maybe its her brother? I just wonder how its being portrayed. I hope she doesn't get bullied. Angela – but do you think T (Tyler) likes K (Kaitlyn).. like, like, likes? JC – no I don't. Angela – he is smitten. Rachel – is he just a good actor? Sam joins them.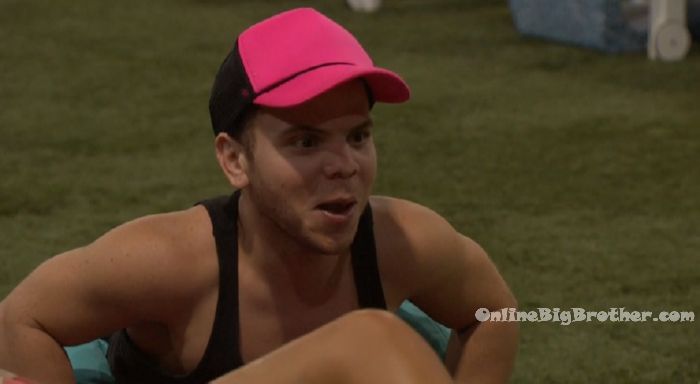 9pm Lounge room. Swaggy and Fez. Swaggy – I just tried to go in there (HOH) to talk to her (Kaitlyn) but she was asleep. Fez – this is crazy. And you don't have the power? Swaggy – definitely don't have the power. I wish they did powers on Wednesday so I could get a power after the veto. Fez – I think your bet lies with swinging Tyler. If you get him, you get Kaitlyn to break the tie. Swaggy – I am still going to try and get Sam and JC. The thing is, I never got the chance to play in the veto. At least Steve got to, I didn't get that chance. Fez – I know and what if I had used the veto to take Scottie off? Swaggy – that's what I'm saying. Fez tells Swaggy about how 5 seconds before the veto ceremony Kaitlyn told him that she hopes he can forgive her for what she is about to do. Scaggy – If you can work Winston. Bay and I will try our hardest to get JC and Tyler. Fez – If you go home, I'm next. Swaggy – if I talk to Tyler, I want Kaitlyn to be there so they can't say I said something.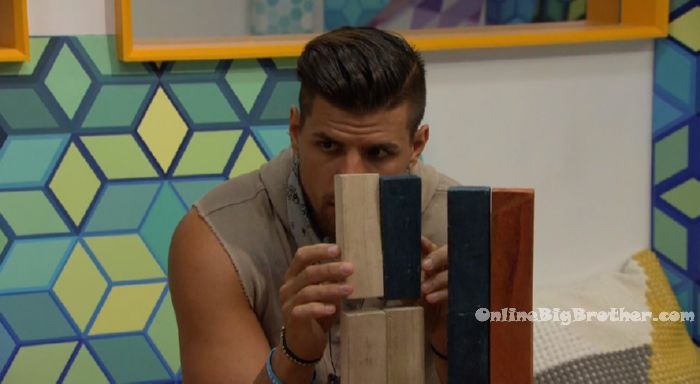 9:35pm – 9:50pm Lounge room. Kaitlyn and Swaggy. Swaggy – Bay wore a Swaggy C shirt into the DR. So f**king cute. Bay had a good conversation with Tyler. At least Steve got to fight for the veto, I didn't get that chance. kaitlyn – I know. Swaggy talks about how he's got 5 votes guaranteed and is working on getting more. Kaitlyn – in the event of a tie, I would have a hard time living with myself sending you home. I wouldn't do that. Lets say it is a tie and I break it .. and we start from the top .. I don't know if I want it all to go back the way it was. Swaggy – if I do stay I would be a target and Fez would. I would work towards getting that side out. Kaitlyn reiterates why she put Swaggy on the block.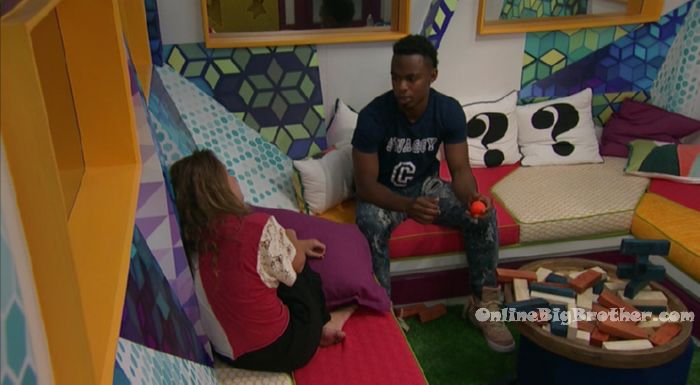 Katilyn – Your game is not done. Swaggy – I don't know if it is or not. If I'm done this Thursday do I spend every single last moment with Bayleigh or do I nurse my relationships with everyone else. Kaitlyn – just keep doing what you're doing. Swaggy – what I am doing is I am half way with her and half way gone. But if I'm not going to see her for the rest of the summer then I want to see her every damn second. Bayleigh – you can't play like that. Kaitlyn – so you don't see her for the summer, you'll be together for ever. Like forever is a long time. You're going to be so sick of each other at some point you might as well take this.. Bayleigh – yes and no. Its not like we decided to get married and move in with each other. Katilyn – I decided. If you do happen to go, then get out there and be Swaggy C …like your brand is like no even remotely over. Like its stupid that you could even be under the assumption that like I'm back to the f**king streets… you're not!! Bayleigh – in the even that he does go .. I just want to make sure that our group is still good. Kaitlyn – Yeah, I mean it never wasn't. I just had to take it from the person that wasn't. I still love you guys. Bayleigh – as long as you and I are good. Kaitlyn – yes, we are good. Swaggy – just think about it and talk to Tyler. I know I have Bayleigh, Rockstar, Fez, Haleigh, … all I need is two more to stay. Bayleigh – well all he needs is Tyler and then you (Kaitlyn) can break the vote. Swaggy – if you can talk to Tyler I would really appreciate it. I would love to stay here and fight for you and her even longer.
UPDATED *****
HOH room. Fez & Tyler.
Fez – I think you, me and Kaitlyn are in a good position in this game. Tyler – I think so too. Fez – I want to win HOH. I do and I don't because at this point I have no idea who I would put up. Tyler – I have no idea what's going to happen. So many of these people I have no idea where they're heads are at.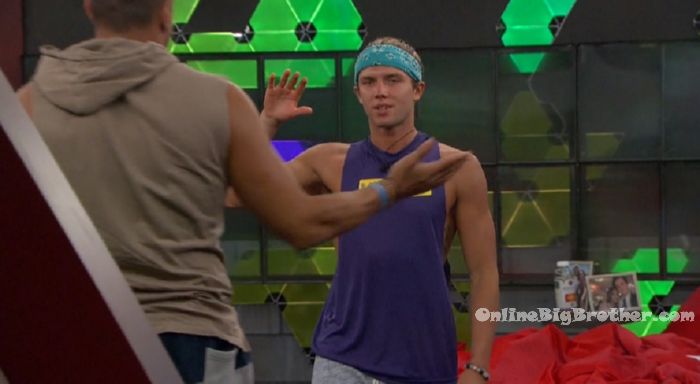 10:15pm Hammock. Rockstar and Haleigh. Haleigh – should I win HOH it will be her (Bayleigh) and Winston. And if she pulls herself off I would put up Amgela or Brett. Rockstar – Yeah we might need to backdoor Tyler depending on her thing but I think he is going to have to get backdoored. Haleigh – he will need to be backdoored ad Kaitlyn will need to be backdoored. Rockstar – MMMhh. Did you talk to Fezzie? Haleigh – I tried to right after but it was too soon after. I was trying to come at him from a perspective of helping him and being kind. And he just pissed me off! I'm being petty. Rockstar – this is going to be the season of backdooring. Haleigh – its the only way. I am just tired of being in this house with these people. If I win HOH, I'll do one on ones but I don't want people up there talking game. You can be up there. Haleigh – Swaggy is really down. Rockstar – he would have never.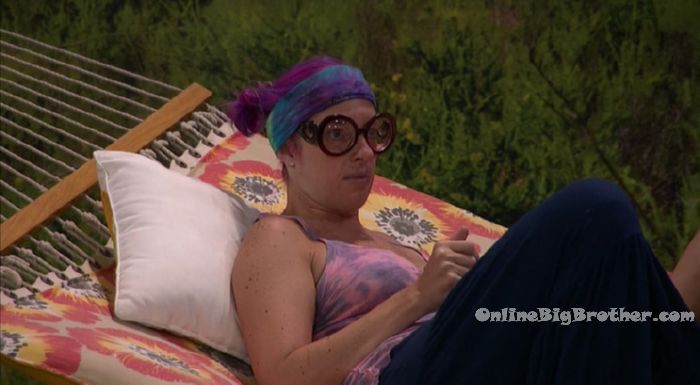 10:25pm Bedroom – Swaggy and Bayleigh. Bayleigh – I can't believe you blew our cover. Swaggy – Did you see how she acted. She literally bought it. Bayleigh – I hope so .. its not anything to buy. Swaggy – its the truth but she sees how happy we are and can't break that up. She said if Tyler votes for me she can't send me home. Bayleigh – we have to make sure everyone else votes for you. Swaggy – Haleigh saying she needs to distance herself. If she doesn't vote for me and I go home because of it I would be pissed. Bayleigh – she won't switch. If Tyler and Kaitlyn are going to keep you, then they'll tell everyone. Haliegh comes in to give Swaggy a hug. Swaggy – I think I'm staying. Haleigh – I think so too.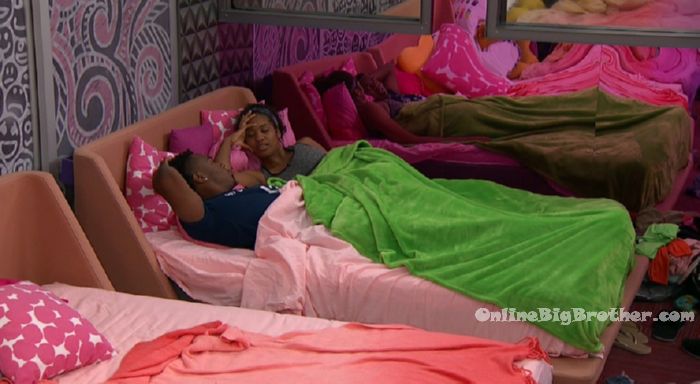 10:35pm – 11:10pm HOH room – Tyler and Kaitlyn. Kaitlyn tells him about her conversation with Swaggy and Bayleigh. Tyler tells Kaitlyn about his conversation with Fez. I am not going to be the sixth vote. I have to tell him I am considering it and leave it open ended. Rockstar joins them.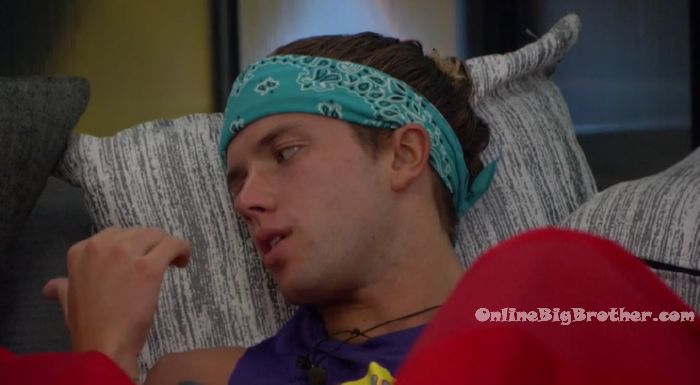 11:05pm Hammock – Brett, Winston and Scottie. Winston – who do you think got the power app this week? Scottie – Honestly, my guess is Sam. Winston – part of me thought it was you. Scottie – that's what I've been hearing and it wasn't me. Winston – they would have seen the fall of Steve leaving and you getting a lot of air time. Scottie – that wouldn't have aired until today. Brett – I want to know who the f**k has it. Scottie – I don't think Bayleigh has it after how she reacted when Swaggy went up. Brett – I wonder if JC has it.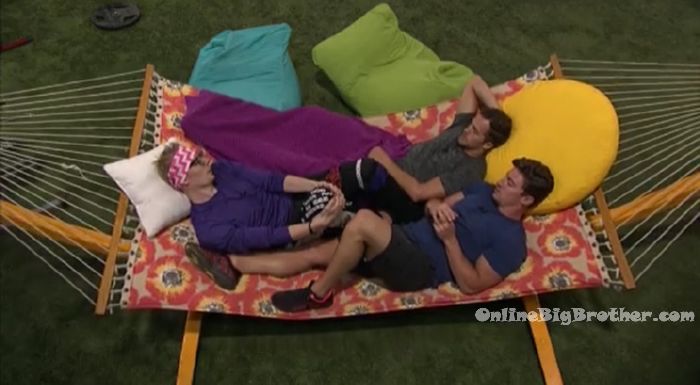 Tyler – "we do compliment each other really well.. " (Camera zooms in on Kaitlyn's boyfriend)@bigbspoilers #BB20 pic.twitter.com/m4skvQILWL

— Dawg (@DawgsBigBrother) July 10, 2018

11:25pm HOH room. Kaitlyn and Tyler. Tyler – "we do compliment each other really well.. " (The camera then zooms in on Kaitlyn's boyfriend)
For all you folks that need a VPN I use this one
Rank the houseguests!
Easiest way to Rank the house guests use link below