| | | | |
| --- | --- | --- | --- |
| POV: | ? | Next POV: | July 28th |
| POV Used | ? | POV Ceremony | July 30th |
| HOH: | Bayleigh | Next HOH: | Aug 2nd |
| Noms: | Brett & Rachel | Have Nots | ? |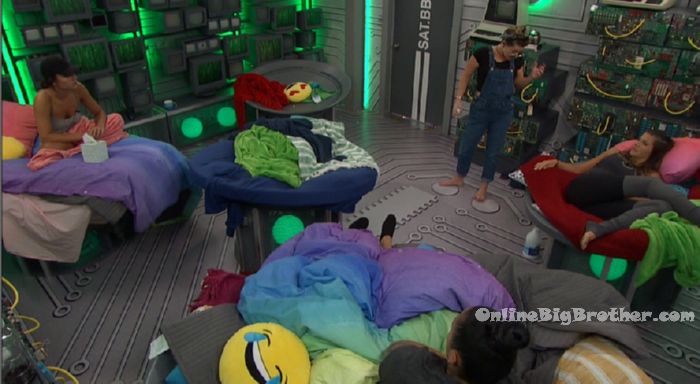 8:30pm Havenot room. Rachel – I find it really interesting that some people aren't coming up to me. JC hasn't come up to me once. He is being extremely awkward around me. Extremely awkward. Angela – what could be his logic with that? Sam – because he hid all day. I haven't even seen him. Rachel – he has been avoiding me all day. It was going to be me or him. Angela – OHHh.. I bet it was going to be him and he was in her ear and it was flipped it to you. Brett joins them. They question whether or not there will be a battle back.
Try the Live Feeds FREE for 7 DAYS! Click here for your: FREE Trial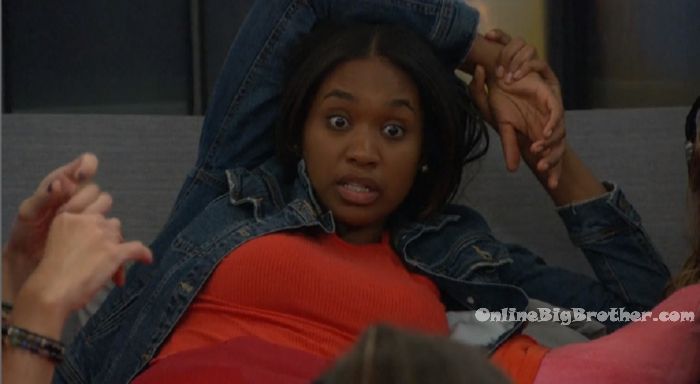 8:40pm HOH room. Bay and JC. JC – thank you for not putting me up. I am very grateful. Fes is squeezing my balls. His game play is very very weak. If I need to talk to someone I will wait for the perfect time to talk. But Fes asked me in front of everyone to help him with something from the storage room. Then we came out without anything in our hands. I don't need that target on my back. His confidence is through the roof. JC – I want to make it clear that if I am working with you .. I do not want to be a pawn. Bay – if someone competes in the veto that was going to be the replacement nom.. and takes someone down.. then what do we do?! JC – you don't want more blood on your hands. I'm safe of course and you don't want to put me up as the replacement. We don't want me to be a target either. Bay – lets try and keep it the same. Its in everyone's best interest to keep it the same. JC – if I won it, I would keep it the same. Bay – Fes said he would keep it the same.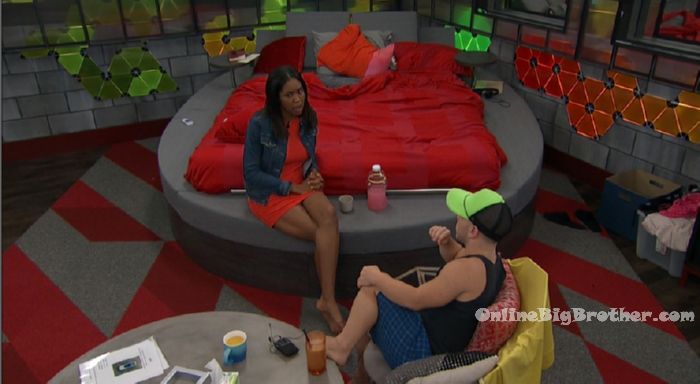 9pm Havenot room. Kaycee and Sam. Sam – I am going to fight like a motherf**ker to win it and then if I do win it I will say I just did this so that she won't have to put up a replacement. It sucks! And then how am I going to vote if they're the same. Sam wonders if the replacement would be her. Kaycee – I really don't think so.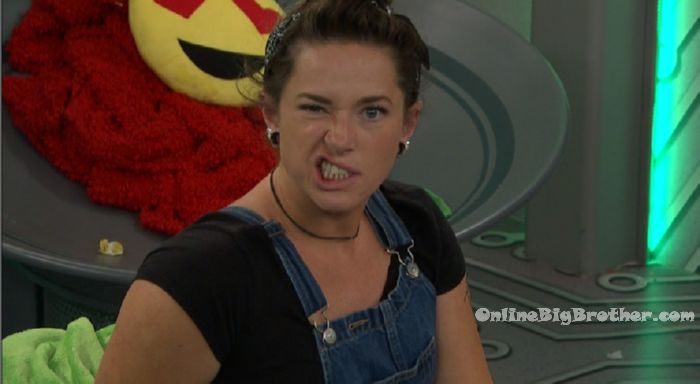 #BB20 Sam@bigbspoilers pic.twitter.com/32sqO2ywvL

— Dawg (@DawgsBigBrother) July 28, 2018

9pm HOH room Tyler and Bayleigh. Bay – do you think I should pick someone else or what? Tyler – I would definitely like to get picked. Bay – really? Tyler – yeah. I'm not a backdoor option am I? Bay – no. Tyler – I would like this week to go out just how you want it to. Bay – worst case scenario is Brett and Rachel win veto and I have to put someone else up. Bay talks about how Rachel keeps freaking out about being on the block. Asking what will happen if Brett wins the veto and someone else goes up that has a power and then she goes home. And I'm like how did we get this far. Tyler – those people are hard to work with you know. If anything crazy happens and you need me to do anything just let me know. Bay – I don't consider you to be a threat. Even if you went out and smoked all the comps. If we made it to final 2 I would have my reasons to win just like you would. Bay – I am still considering you having the power.. you were HOH, all the drama with Kaitlyn, then she became the HOH, you knew about the flip vote, she confessed her love to you.. you were in the spotlight. Tyler – I was thinking I was going to get the crap app. There's a possibility that one of them walked out with one.


Bay – Kaityn was an evil genius and we caught her a$$. Tyler – I wouldn't say an evil genius. Bay – you were caught in that for so long. Tyler – I'm just glad I'm not anymore because then I would be going probably this week. Bay – now you look like a little home wrecker. Tyler – I changed my GBM (goodbye message) so fast! Its going to be a great episode. Bay – where do you stand with Scottie. Tyler – good. I asked him straight up if it was him (rogue vote). All I know is that someone is lying but I have no facts or proof.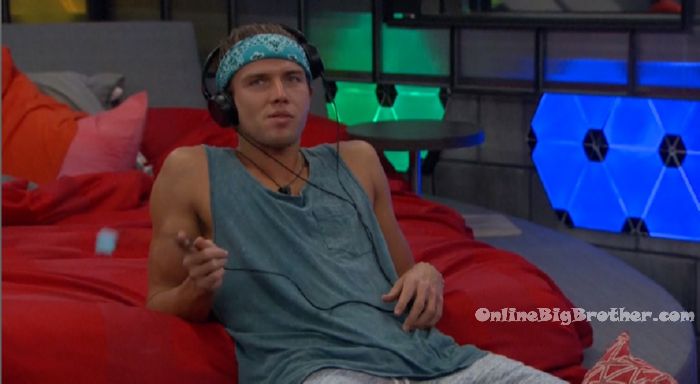 9pm – 9:30pm Havenot room. Rachel & Kaycee. Rachel – I feel like I f**ked this up. I don't want Brett thinking I volunteered to go up as a pawn so that he would go home. Kaycee – he would never think that. Rachel – I f**ked up! Kaycee – no you didn't. Tomorrow is a new day and you just need to go out and win that veto.
Rachel – If she is okay with it I want to pick you for the veto and I want you to try and win it. Kaycee – yeah I want to talk to her. Rachel – if we don't take advantage of our… like then what good is it. I know I probably stay. She will not put up Angela because apparently she said she wouldn't. She won't put up Tyler because she said. She won't put up Fes because of the week she had. The only two replacements are JC and Scottie. Rachel – she talked about JC and Scottie. She says that she wants to backdoor Scottie. Does she know what a backdoor is? It means that person goes home.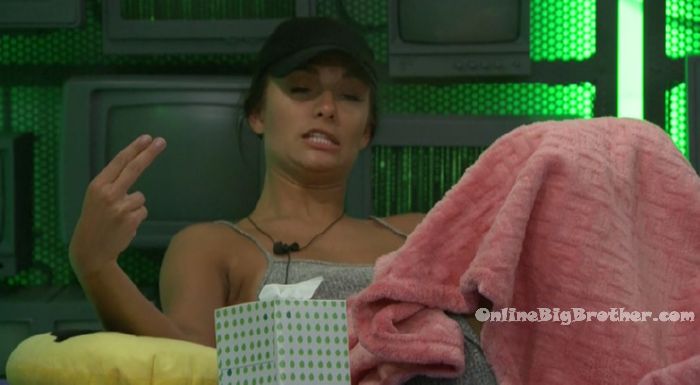 9:35pm HOH room. Bay and Haleigh. Bay – I need to figure out if I am going to talk to Fes because JC came up here and told me that Fes was like come to the storage room. He told JC you're welcome Bayleigh was convinced to put you up as a pawn and I'm the one who talked her out of it. Literally like I am the only reason why you're still here. JC just came and talk to me about it. Number 1 and now number 2 – Tyler just came in here and said Fes was saying that you said I was a free agent this week and if I do what you want me to do then possibly moving forward I would be good with you. Haleigh – what!? Bay – two in a row, back to back! Haleigh – The Tyler thing doesn't even concern me to the extent that the JC thing does. Bay – JC also said that Fes said he was the one that convinced all the girls to flip on the kaitlyn vote. And Rachel told me the reason why she flipped and did not mention Fes at all. Angela told me the reason why she flipped. Haleigh – what is going on with him (Fes). Bay – he is out of control! You can't be running around flapping your mouth like that. That was my secret. That actually pisses me off. Going behind my back saying its not a good idea to people and telling JC that if it weren't for him he wouldn't be safe. Haleigh – wow!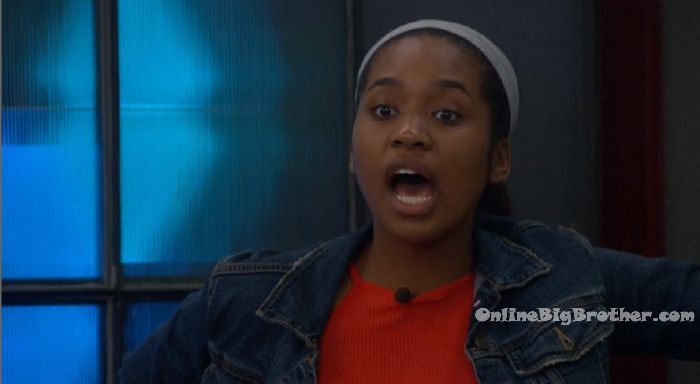 9:50pm Havenot room. Tyler and Rachel. Tyler – I don't think she wants the noms to stay. Rachel – she promised she would use the veto on me. Tyler – if she doesn't want the noms to change.. then if I convince her that Scottie is my best friend and then I get the veto and I use it. Maybe she would be like use the veto and I will put up your best friend. Rachel – she already told me that Scottie would go up as the replacement. Tyler – okay good. Rachel – this motherf**ker (Scottie) threw my name out as the wonky vote. Tyler – he said he though it was me too. Rachel – That little motherf**ker! I am going to come for him!! Rachel – Scottie or JC have the second power. Tyler – You just need to go out and win the veto. We have to keep both of you this week. Rachel – I feel like she is not going to put him (Scottie) up.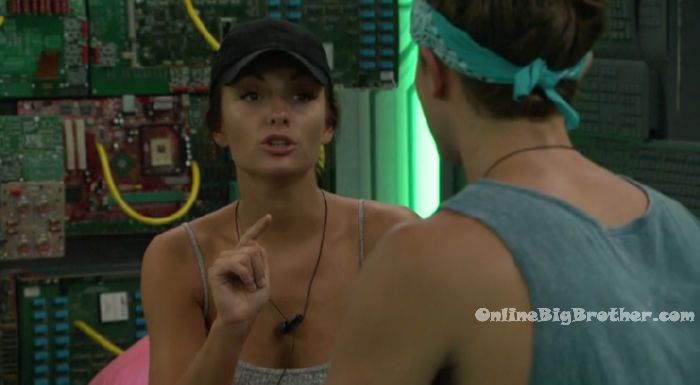 10:07pm HOH room. Kaycee and Bay. Kaycee – I am gunning for that f**king sh*t (HOH). Now that veto you do want to keep it the same. Do you have plan if he (Brett) wins? Bay – yes, I would put up Scottie. Here is the problem if I put up Scottie and Rachel goes home.. then I am screwed. Kaycee and Bay chat about what Bay and Swaggy will do after the show. Bay – I would like to try … unless when I get out and find out he is a totally different person.
10:25pm – 10:45pm Havenot room. Rachel and Angela. Rachel – I have already put my life on the line.. she's thrown me up as a pawn. If you or Kaycee are in the veto .. you need to gun for it. Angela – I think Bayleigh is going to throw it. She told Tyler she wants to keep the noms the same. Rachel – so she (Bay) basically lied to me.. that's cool! Angela – I am so f**king done with Scottie. Rachel – he told Bay and Tyler that he thinks it was me. I'm going to ask him who he thinks it is. Angela explains how in a previous season someone said they had a power when really didn't and BB made that person to back and tell that person they lied. Rachel – I'm going to go ask in the dairy room.
11pm Sam makes an ant trap..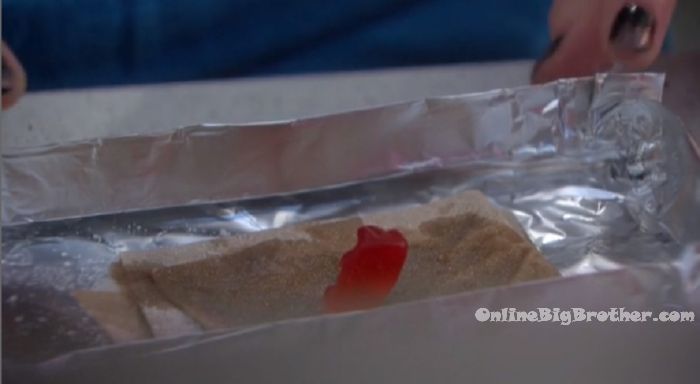 11:13pm Sam tending to her pet spiders…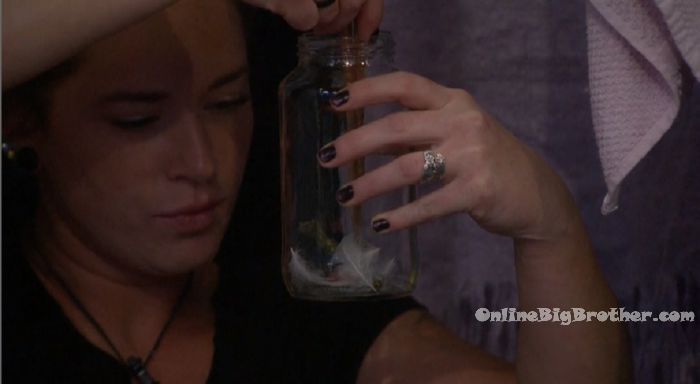 11:25pm Havenot room. Scottie and Kaycee. Kaycee – who made the rogue vote? Scottie – no I wasn't I voted to get rid of Kaitlyn. Kaycee – then who was? Scottie – why would I want to keep her when she put my a$$ on the block and she blew up during my HOH. All she did was make me the target. Kaycee – who do you think it was. Scottie – I don't think it was Tyler. Definitely wasn't Haleigh or Fes. Don't think it was Bay. I know there are a lot of Brett theories. Kaycee – are you sure it wasn't you? Scottie – I didn't do it. Why would I. I would even put my hand on a bible and swear I didn't do it. Whoever did it, I don't think it was done in malice. I think it was a sympathy vote. Tyler and I talked before hand and we both said we were voting her out.
11:50pm – 12am All the house guests are sleeping except for JC who is up eating ice cream while trying to hide from the cameras. Bayleigh joins him. JC says that Fes was snoring so he couldn't sleep. Bay – I kind of want to talk to him. JC – about what? About what I talk to you? Bay – yeah but it wasn't just you. Haleigh came and said that he was saying some weird things from me to her. JC – I think he is just over excited. Bay – he needs to calm down. JC – we do have to be careful with the words we use with him. Bay – I don't want him to be saying things for me or people be asking me if he is making decision for me. He is trying to be the controller of everything. JC – he is trying to be the boss of things. Personally he did not get any of those votes to flip. Bay – I know. JC – I don't think he is really too smart at the game. Bay – I don't want people to have my name in their mouth. JC – why did you pick those two? Bay – because everyone else promised me loyalty. JC – that makes sense.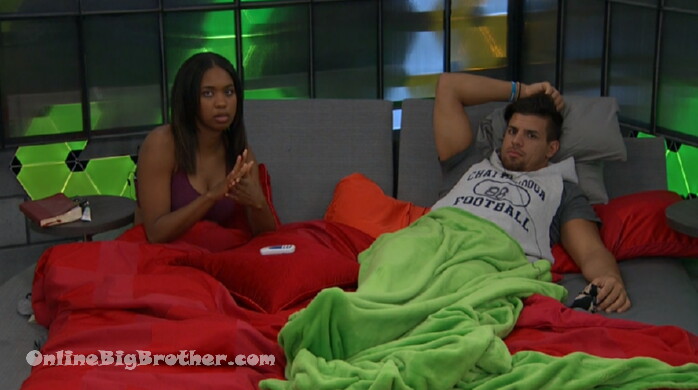 12- 1:00am Bayleig and Fes (this is a long conversation theres no way I could catch the magic of it in words.. LOL)
Bayleigh is giving him a lecture on how he needs to slow down and stop freaking out. around the house. they chat about opportunities outside the hose and who they don't want to be seen as snakes. Bayleigh is going to play as herself. Fes – stupid a$$ game is stressful. Bayleigh says what better week for them to make mistake and learn than this week.
Bay – at the end of the day I know you have my back..
1:28am Sam has built a ant trap..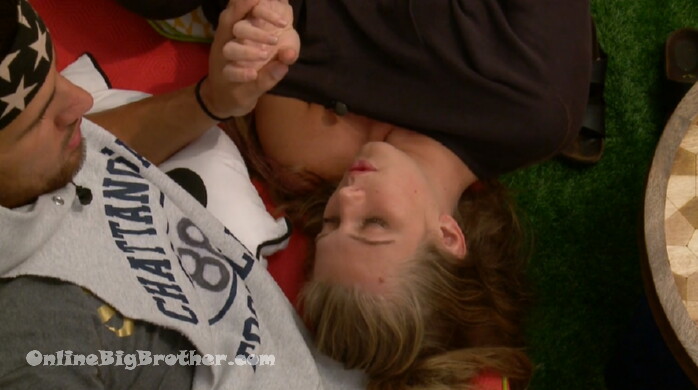 2:43am Haleigh giving Fes sh1t for sleeping all day. at 3:20am fes start talking about Kailtyn. Haleigh tells him she's done talking about Kailtyn.
Haleigh says if Kaitlyn comes back she's goign to self evict.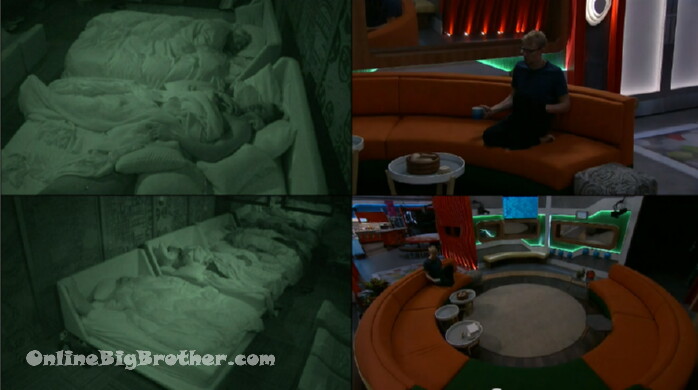 5:28am Scottie was up for a but roaming around..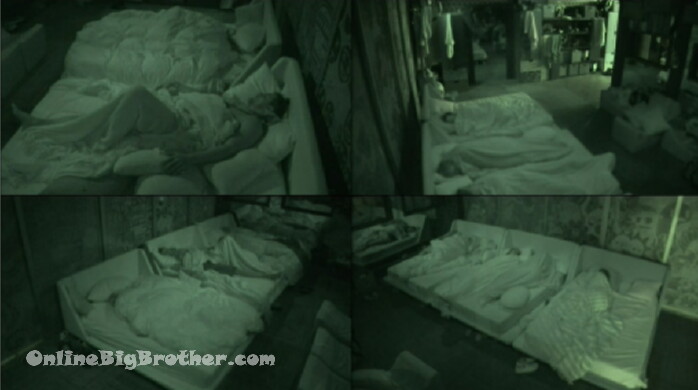 7:46am Sleeping
Rank the houseguests!
Easiest way to Rank the house guests use link below