| | | | |
| --- | --- | --- | --- |
| POV: | ? | Next POV: | July 28th |
| POV Used | ? | POV Ceremony | July 30th |
| HOH: | Bayleigh | Next HOH: | Aug 2nd |
| Noms: | Brett & Rachel | Have Nots | ? |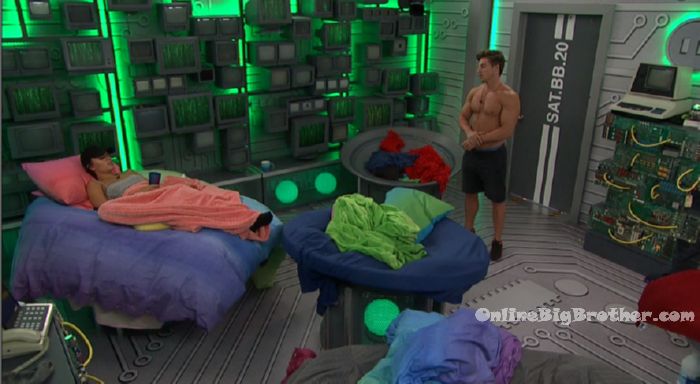 5pm Havenot room. Rachel and Brett. Brett – I would have put up Bayleigh and Scottie. Never repeat that. Right now she is still willing to take you. She won't use the veto if I am genuinely her target. Rachel – she looked the me in the eye and said she would take me off. If she doesn't then my trust with her is broken. She will probable throw it. Brett – if she throws me and Scottie up as the replacement and you have one of us staying that would probably go for her. Rachel – the way she explained it was she thinks she is the lowest on your chopping block.. the lowest on your totem pole. Brett – That's what I need her to think if she is going to put me up. That's fine. I told kaycee that too. She said you wouldn't go after her (Bay) if she used you as a pawn, right? I was like no. … NOW, yeah. Rachel – she is aligned with Fes so she probably thinks you would go after Fes or Rockstar. I just can't fight it any more. I would be perfect if JC had a power. Rachel – I know. Brett – I think kaycee has a big influence on her. They do their daily one on one's all the time. That's why I want to lean on her (Kaycee) and be like help us out. Rachel – there is only so much people can do because they're looking after their own game as well.

Brett – I get that but what is the point of having an alliance. Rachel – she just keeps saying you guys have had the numbers for weeks. You guys, you guys, you guys. She wants to break us up. Brett – not much we can do, one of us will win the veto. The only reason I keep getting targeted is because I am physically in shape. That's it. Well what comp did that help me in other than the tree comp. The other thing that blows my mind is this girls alliance. We're getting down to the comps were they'll do better. If you really want to get out a threat, take out some of the girls. Brett – my biggest mistake was aligning with Winston. Which I wouldn't take back, like he is my homie. Rachel – I feel like part of is is my fault. How did I get in this position. What pisses me off no matter how much I talk to people on one ever changes their mind. I lay out 10 perfect examples of why that is a bad idea and no one changes their mind.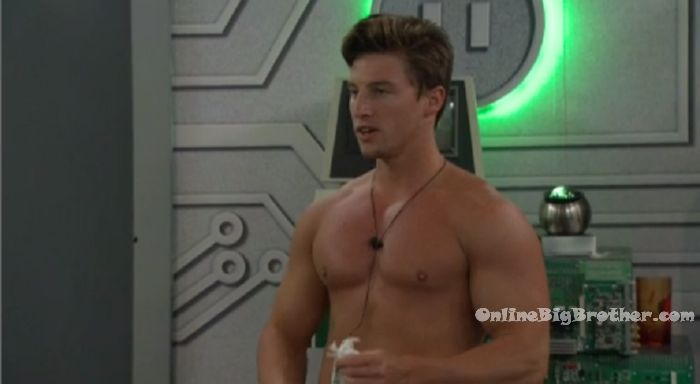 5:19pm – 6:07pm Big Brother blocks the live feeds for the nomination ceremony.
Bayleigh Nominated: BRETT & RACHEL
Everyone is hugging Brett and Rachel. Rachel heads to the havenot room. She then comes back out and says she's fine .. its just awkward.

Back in the Havenot room. Rachel – I just don't like the whole hugging thing. I hope that didn't look bad. Rachel starts to cry. Kaycee – its fine, no one is thinking weird sh*t about that. You walking away worked out perfect. You just need to focus on winning this veto. She promised me she would use the veto on me. She (Bay) seems pretty adamant about Brett going home. Where is this coming from? Someone is hammering it home. I hope no ones gotten to her. We have got to work together with Angela to get the target off Brett. Kaycee – I wouldn't push too hard. One of you have to win the veto. Rachel – F**king this pick (veto player pick) better be f**King perfect! I better be you, Angela and Tyler. I would sh*t my pants! Not really that's disgusting. Rachel starts crying again. Its not even that I'm on the block its that I can't save everyone. I f**king hate Scottie!! Scottie opens the door and closes it. Rachel – I just rolled my eyes at him. I'm sorry I can't even hide it. I hate him.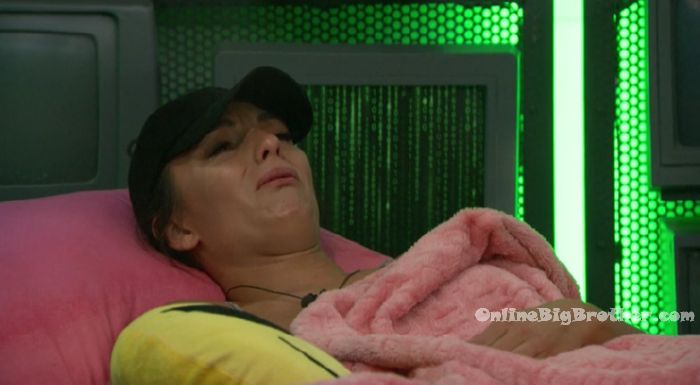 6:19pm HOH room. Bay and Fes. Bay – the noms just have to stay the same or there's a whole other problem. Fes – hopefully whoever wins it knows that they've got to keep the noms the same. Bay – yeah but what if one of them win it? Fes – what did you tell Rachel. Bay – that she is a pawn. She asked why can't you put up JC? I talked her through it and she was okay with it. I said that JC wasn't against me. If Brett stays then y'all keep your numbers. She asked why not put up Scottie and I said because he would take himself down. And JC would go home next to Brett so you guys would keep all your numbers. Rachel did say something that makes me nervous .. I don't want her to go home for it but she said Bay I know you have the power. It just makes sense that you would have it. If you don't have it, I don't know who does. And Kaycee asked me too.. if I had the power. Fes – what did you say? Bay – no! More time that goes by people will figure it out. Fes – or we make it to top 8 and don't need to use it. Best case Rachel stays.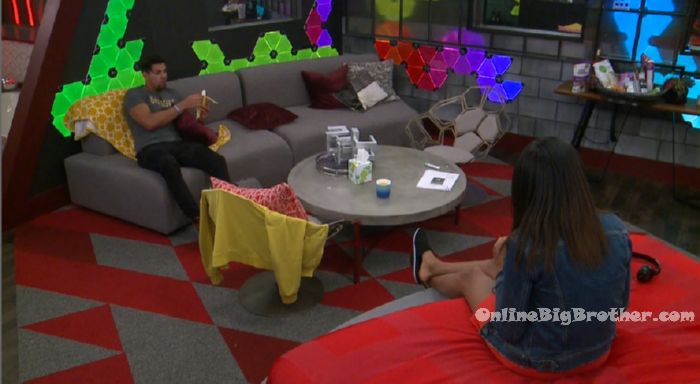 6:30pm HOH room. Bay – with Tyler we are trying to see if we can work with him .. this would be his chance to prove himself. I don't want you to play and win it because it would make you an even bigger target. Rachel joins them and tells them that she didn't mean to run off she just needed to collect her thoughts. Bay – I will tell everyone when they ask .. that Rachel is my pawn. I won't say that I don't care (who goes). Fes leaves. Rachel – the speech wasn't geared towards me right? Bay – yes, I didn't want everyone to know we had a conversation before. We've had talks about game and we are really getting to know each other and I don't want anyone else to know that. Bay – I just wanted you to know that I am not coming after you. Rachel – your hit list is.. Bay – JC, Scottie, .. Rachel – Scottie has to leave this week. Bay – hopefully it will be Brett and if not it will be one of the boys. Rachel – are you planing on putting up Scottie? Bay – Scottie. And if anything were to dramatically change it would be JC but I would prefer Scottie.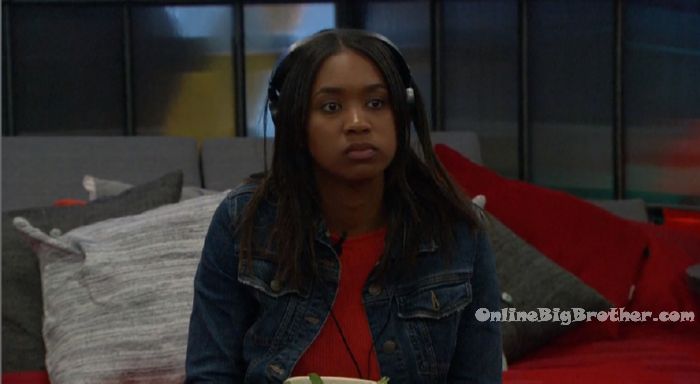 6:40pm Storage room. Fes and JC. Fes – told you! Told you I got you. Don't be ungrateful now! JC – I am not ungrateful. Fes – you were going on the block motherf**ker. JC is worried about Rachel. Fes – Rachel will be fine.
6:50pm Havenot room. Rachel and Brett. Rachel – she is just so focuses on you being the target even if Scottie is on the block. That's what I am so confused by. Brett – I'm not.. they all got in her head and they're all wearing Swaggy C shirts. And now its a Swaggy C memorial and he's not even on the show any more. If I end up going home because of this .. that's fine because I made a dumb game move .. and I hope one of you guys win. Its fine, they f**ked themselves. Rachel – it sucks because I want to keep Kaitlyn. I need JC to tell me if he has the power or not. Brett – good luck. Rachel – I would feel comfortable sitting on the block next to him them. Brett – so now I'm the target? Is that what she just told you? Rachel – basically.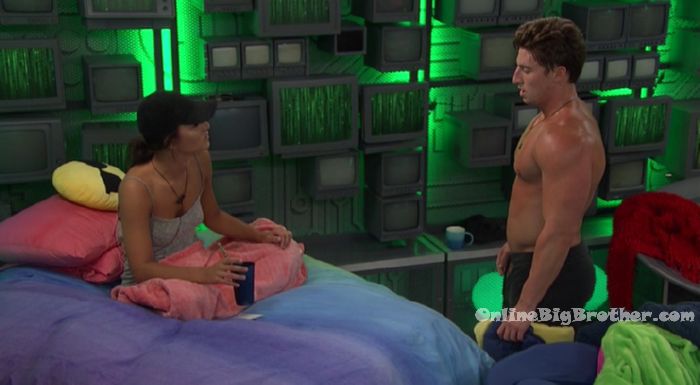 6:50pm HOH room. Kaycee and Bay. Kaycee – who would you pick? Bay – I would probably pick you or Tyler. I know if Tyler would win it he would keep it the same if he wanted me to. Would it put you in an awkward position if I picked you and you won it? Kaycee – I would do whatever you wanted me to do with it. Bay – does it put you in an awkward position? Kaycee – yeah kind of.

7pm Havenot room. Rachel and Haleigh. I don't know who has the second power app. Haleigh – no one does. Rachel – I know its Tyler or JC .. someone needs to man up.. Haleigh – Or its Scottie and JC .. two and three (power number 2 and 3). We don't know who has the third one. No one wants you to leave. Rachel – I know no one wants me to leave but what if one of them has the power app and I am up against them. I am very, very concerned right now. I should have f**king thought about that. I need JC to man up and f**king tell me if he has it. Haleigh – you're going to be fine. Rachel – but the replacement nominee would have to be someone I wouldn't go home next to either. This is a big f**king week to go out on.. now I am regretting saying I was fine to go up. Haleigh – you know we all have your back. There is not one person that I could see winning it and not using it on you. You're going to be okay. Everyone here likes you.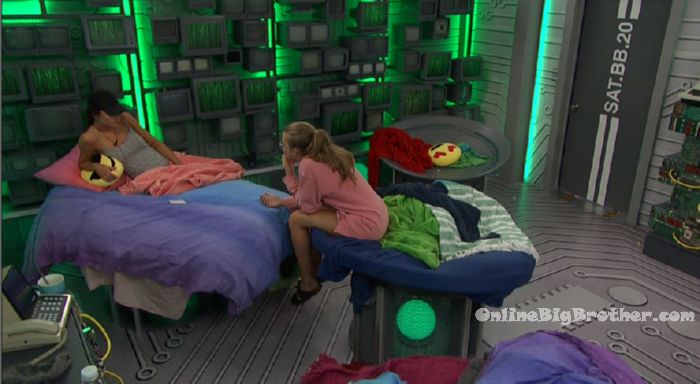 7:18pm Bedroom. Bay, Haleigh and Rachel. Rachel – its a conflicting feeling what I should be doing. Haleigh – my only advice would be to not pop off. Bay – noms aren't locked in.. no one knows what's going to happen in the veto. Haleigh – you don't even know who is going to get picked. You could have nothing but warriors on your side.
7:25pm – 8:12pm HOH room Bay, Rockstar and Haleigh. Bay – people think you made a deal with Brett. Haleigh – me? Rockstar – no me .. which is f**king crazy!!! I want him gone. Haleigh – well we're in a position to take him out .. he just can't win tomorrow. Haleigh – in the event I play in the veto and win it .. I am not telling her I am taking her down until you say what you want done with it. Bay – I want the noms to stay the same. Haleigh – JC dressed up like me and ran around saying where's fessie?! Rockstar – I didn't think that was cool. Haleigh – I didn't either. I don't act like that. The conversation turn to talking about relationships and babies that are colicky. Rockstar – when a baby is colicky the nurses tell you to just put them down. Bay – wait what?! Haleigh – not put them down (euthanize) but put them down in the crib. Bay if your baby is going to give you a zombie disease would you kill it? Rockstar – I would give it to someone else to deal with. Haleigh – I would give it to a zombie family to raise.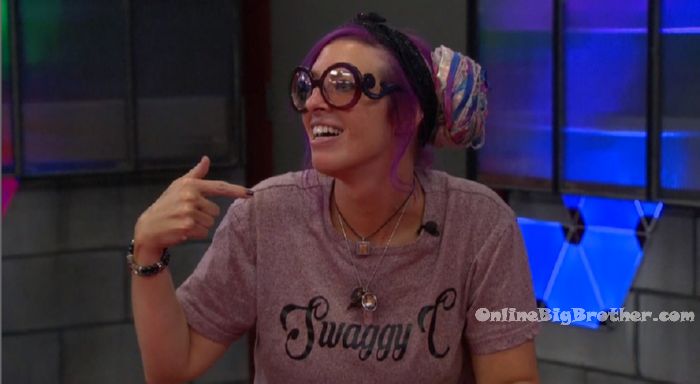 8:20pm The talk turns to who the rogue votes were. Angela – it was selfish. Haleigh – we know its not us three. We have a suspicion that its not Rachel or Kaycee. Bay – there's no reason for them to flip. Haleigh – we know its not Tyler or Brett. Fes was infuriated when I asked him so that leaves two boys.. JC and Scottie. JC was campaigning against her all week. Angela – that's right, is he that smart to sit there and campaign. I heard him (Scottie) say I'm ready to stir things up this week. Bay – why would he do that? Haleigh – he wants to be the evil genius. Angela – he is jealous of Tyler. who do you think is more threatening? Bay – Brett. He has made it clear who is will not work with and he will not vote in my favor. Haliegh – you can't trust him. Rockstar – he lies.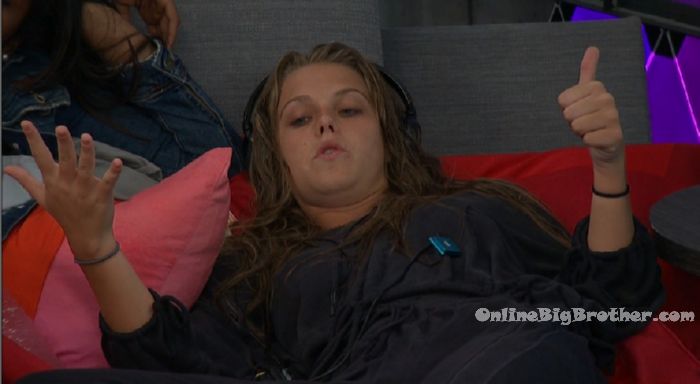 Rank the houseguests!
Easiest way to Rank the house guests use link below