| | | | |
| --- | --- | --- | --- |
| POV: | ? | Next POV: | July 28th |
| POV Used | ? | POV Ceremony | July 30th |
| HOH: | Bayleigh | Next HOH: | Aug 2nd |
| Noms: | Brett & Rachel | Have Nots | ? |
Big Brother Spoilers We got the best season since forever.. I hope you all enjoy it as much as I.. 🙂 🙂
Power of Veto players are JC,  Brett, Bayleigh, Rachel, Sam and Tyler
The ROCKS is Host unless their is a guest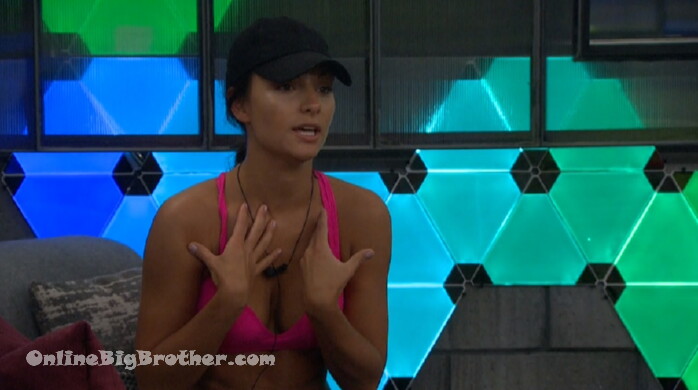 8:45am Bayleigh and Rachel HOH
Rachel is nervous about what bay does if Brett wins the Veto.
Bayleigh tells her she's already told her who she is putting up. (Scottie)
Rachel is nervous because of the power says if JC goes up and has a power she could be going home.
Bayleigh says JC and Scottie are most likely the ones with the power.
Rachel – the day the power was given out after Steve was evicted I originally thought it was Scottie or JC.. Scottie came down that day and was acting.. he was skirting around really excited.. it was a very strange thing to me.. Like he was really excited. I remember that day and remember thinking why is he so excited he's on the block.
Rachel brings up how JC acted between the two power ups was different almost like he one it the first time and didn't care about it teh second because he knew he already had one.
Bayleigh says Fes pulled JC into the closest and said "the only reason you are still here is because of me and you know like I was really making a good argument for you to stay.. I don't know if I convince her to not put you up as a replacement.."
Bay – so JC is coming to me, I didn't even know I was an option for you .. I didn't know you were actually going to use me as a pawn
Rachel – so now he knows that because of Fes (Ahh this is why they were pissed at him last night)
Bay – I had to talk to fes he was like I thought I was helping.. You're not F*ing helping
Rachel – that's covering his own a$$
Bay – you can't say to JC hey I'm coming after you otherwise he's running around with his head cut off.
Rachel says last night was tough because Brett is the last guy in the house she's "kinda close with"
Bay – I will say that.. even thought Brett is the last guy you are close with I will say you have a great foundation with the girls that you've built and you have another great foundation with other people that want to work with you
Bay – Brett's turned around but when he came into this game he was working with Winston and Winston only
Bay tells her not to worry about Brett he's a big boy and can handle his own game.
Bay – you have enough pressure on your plate you have to just focus on you
Bay – if Noms change that will suck for me but I'm going to be happy for you to win the veto this is meant for you to do it's completely fine I'll just have to suck it up and do what I have to do .
Bay – I don't want you going into the competition defeated..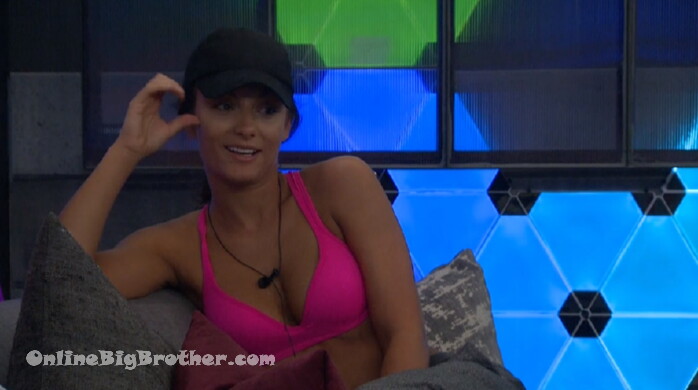 R – I'm going in to win it
B – I don't want you coming into this competition thinking about anyone beside Rachel don't go in thinking about Brett don't go n thinking about me..
R – I know we have discussed if you've won using it on me
B – I said I would use it to protect you but don't give my power away to yourself.. I would definitely use it top protect you I don't want you to go home next week.
B – I want you to stay in this game as long as possible..
B – the only two people I want to stay in teh house as far as the power goes is you and fes.. If one of your friends decide to throw Fes up what do I do?
B – Fes doesn't go up you don't go up and that's it and that even puts me on the outs because I could even go up
R – so for the next 2 weeks..
B – Best case you or fes win HOH next week than the week after that it happens (power expires so use it)
R – can I talk to you after the nominations
B – yes
Rachel asks if somebody nominates someone she's close with
Bay – Explain that
R – Like Kaycee.. you're good with kaycee.. I dunno I'm trying to see well..
Bay – you mean if somebody won and nominated somebody you were close with
R – yeah
B – if Scottie wins HOH I won't use it..
R – I'm concerned with you fes would put up \
b – don't be .. you're not an option to fes.. we've talked about Angela and kaycee the thing is he would love to be good with him but that is something I need to worry about
Bayleigh does mention that Kaycee and Fes have mended their ways.
B – I'm not playing what if's right now
Rahcel – I'm sorry
B – NO I'm ACTUALLY getting really frustrated because my job in this game is not to protect everybody ig I make certain things to certain people then that is what it needs to be and I'll follow through with my word with that.. but I'm not going to be like Oh well that's your friend.. NO F* THAT" (Damn Rachel is a goof to ask her to extend her power to her friends)
R – I understand
b – YEAH BUT THAT'S ACTUALLY FRUSTRATING
R – ok I apologize..
B – NO, Its fine i'm just saying that's it's actually frustrating for me.. it's bad enough that Im in this position and I told you I didn't even want to tell you but I was offering that as a like just try to trust me I have no Ill intentions for you
Rachel says the powers have her freaked out personally
B – you can't do that to me i'm putting so much on the line if I knew you would be freaking out this hard I would never put you on the block. it's frustrating i felt like you could handle it and be ok
B – know that you are not ok how does that make me feel? Makes me feel terrible
B – I'm already in a bad position here and then to have you are freaking out on top of it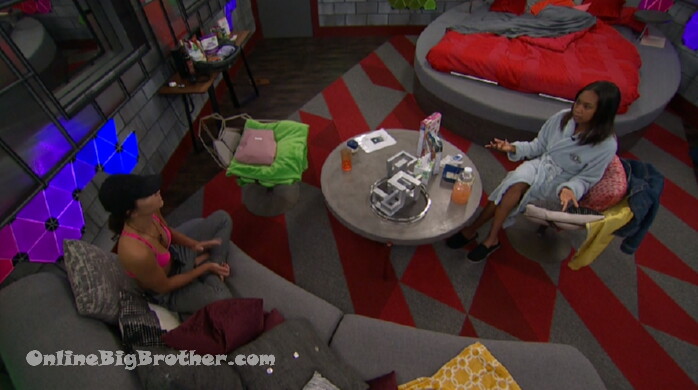 Bayleigh says some people in the house have come to her and say "are you sure you want RAchel over BRett"
B- In my head i'm like ABSOLUTELY and i'm sitting here and thinking OF COURSE I want to keep Rachel over Brett but then when you come in like i feel like I'm signing Brett's eviction notice …
B – Don't Talk like that because you might be but pick you game over Brett's i'm picking you over Brett right now and I need you to be like really be like OK she's picking me over Brett lets just go with that
R0- ok Sorry
B – I'm team Rachel right now i'm bayleigh first but i'm team Rachel right now.. i'm sorry I'm just not team brett
R – yeah .. i'm not team him either.. I just feel t a personal guilt
B – don't you are on the block next to him.. if you put him on the block than yeah feel guilty but you didn't that's blood on my hands that I have to worry about
R – I'm sorry
B – no, we're having a discussion and it's just making me think about things umm but.. that's what makes this game so difficult..
Bay says she's put in a bad position now because she has people from opposing sides that 's supposed to protect
B – Even though you are panicking you aren't the only one panicking
R – I didn't think I would feel this way either so I apologize
R – I'm sorry i'm not freaking out
B – You're not but now I am.. Like all that negative energy you just had is now on me .. now the pressure is on me to do something and I don't know what it is I could possible do to make this situation better..
Bayleigh says now she's causing all this drama because Rachel is "Freaking out"
B – I didn't know the repercussion of you being nominated were this bad that you would go into a downward spiral of thinking of every negative thing that could possibly happen in every situation.
R – it's only because of that power that's lingering
B – we don't know hat that power is ..
They start talking about the power..
Bayleigh now saying if she uses her power it'll put a load of heat on her
Rachel asks if it will be revealed if she has a power
bayleigh – no..
Baylegih says people can figure it out.. people will be looking at me sideways..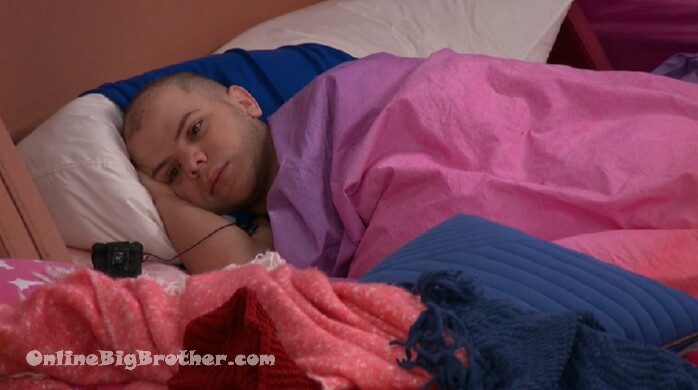 9:52pm JC and the ROCKS
JC got picked for Veto he didn't want to he wanted to have a easy time he wanted to sleep more.
JC says if there's no host there's a "guest star' tells her that means prizes
JC – I'm competing against Tyler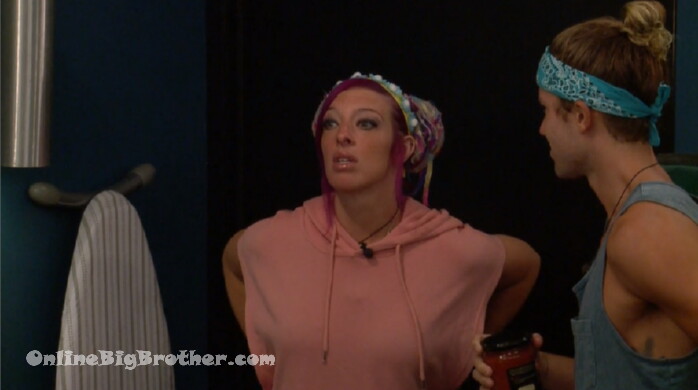 9:54am ROCKS and Tyler
Rocks – I really wanted to play in this one..
T – yeah, I did to .. could have been worse I guess
ROcks – as long as Sam or Brett doesn't win we'll be fine
T – YEAH .. .exactly
(seriously rocks do you know what side Tyler is one?)
Rocks – I think they are definitely working together
T – Or Rachel
Rocks – well yeah Rachel to .. Brett especially I hate that F*ing guy (no sh1t really)
T – yeah …..
10:07am Angela and Fes in the kitchen.. other houseguests milling around eating.. stretching.. getting ready for veto
They area talking about the competition formats. Angela doesn't like the individual ones.
Angela – the good thing is we're supposed to be outside today I thin kit's going to be a lengthy competition we'll get a lot of time outside they told us to drink a lot of water..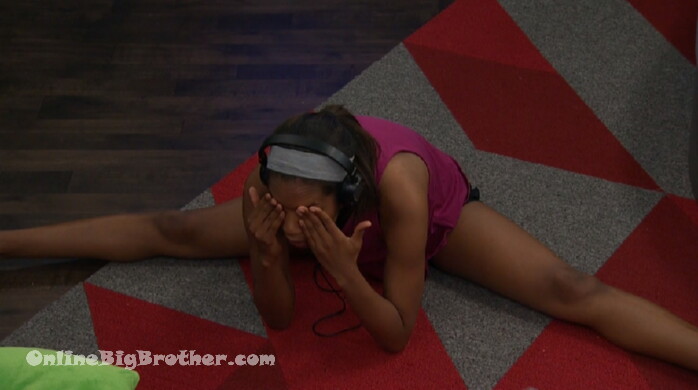 10:22am Bay is getting ready…
A real easy way to support the site if you are an amazon shopper is to make your purchases through our link. You pay the exact same thing but we get a small % commission. It doesn't cost you anything and helps us out.
Amazon Canada
Amazon USA
Rank the houseguests!
Easiest way to Rank the house guests use link below