POV Holder:
?
Next POV
?
POV Used
?
POV Ceremony
March 17
HOH Winner:
IKA
Next HOH:
March 20
Original Nominations:
?
Current Nominations:
?
Last Evicted Houseguest
Kyle, Anick
Have Nots
Want to watch the Big Brother Canada 2 live feeds? Bypass the geoblocking with HideMyAss VPN and be Canadian Anywhere: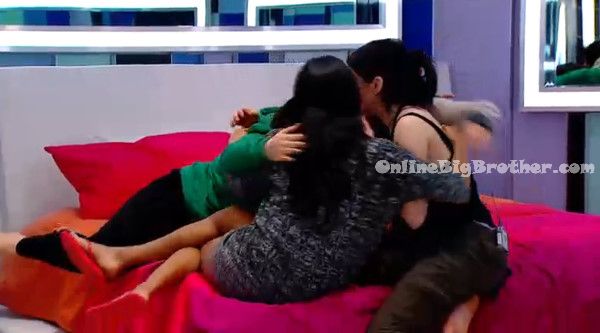 11:10am The big brother Canada live feeds come back on – Ika, Sabrian, Rachelle and Neda are in the HOH room talking about how much they all love each other and how they all need to stick together. Ika says that she would never ever be angry and put you girls up on the block. Ika tells them that seriously this is our HOH. When a girl wins it is all of our HOH room. Sabrina says that she thinks next week will be a double eviction. They believe that Allison got voted in by Canada. They wonder if Allison will go with the guys or them. They think she'll end up going with the guys. Sabrina tells them that Allison was already going to sleep in Andrew bed last night. Neda says okay we lost her.


In the kitchen Kenny and Andrew talk about how they need to say on good terms with Ika. Andrew and Sarah head into the storage room to talk – Andrew says that he will make it his mission to destroy Ika. Sarah and Andrew talk about how if he's put up on the block they need to win the veto to keep him safe. They leave the storage room. The other house guests are sitting around eating breakfast and chatting about random things. Jon comes out of the diary room and tells everyone that they (production) wanted me to remind everyone that we can't talk about people from home. Jon says it's probably just me but I thought I would tell everyone. Allison holds up something with her name on it and says just so they know me name is spelled with two L's .. I know its the first day for me so its not a big deal.
11:40am In the bedroom – Adel and Paul are talking about how they think this week they are in a pretty good position. Adel says the guys are sweating right now. Adel says any time you do something crazy it helps me. Adel says I think I am safe this week but you I don't know. I am going to try and do everything I can though.
11:55am Up in the HOH room – Sabrina is talking to Ika. They talk about her nominations and Ika says that she will be putting up Adel and Paul. Sabrina says okay good because I can tell you that if you didn't do that it would put a target on your back. Sabrina and Ika seem to be on the same page now. Heather joins them. Heather questions why someone would take a bath in the HOH room with all the cameras around. Ika tells her that people wear a bathing suit in the bathtub, you wouldn't be naked. Heather says oh okay. Heather tells Ika and Sabrina that the others in the house think they fight a lot. Heather says that she tries to down play it.
12:20pm – 12:45pm Jon heads into the HOH room to talk to Ika. Ika tells him that he is not going up and that she hopes he know that he's good with her. JOn tells her that he has back and that this is her HOH and she should do what's best for her. They leave the HOH room and Arlie stops Ika to talk to her. They head into the HOH room and talk. She tells him that he isn't going up on the block and that he's safe. Arlie says that he thought he was but that it's nice to hear it. Adel comes in and Arlie jokes that Ika should put Adel up on the block. Ika tells Adel that she'll talk to him after. Adel leaves. Arle asks who Ika is thinking of putting up. Ika says last week the plan was to put up Paul and Adel. I don't trust Paul because of everything that happened and the racist comment. Ika tells Arlie that Paul was throwing Arlie's name out there. Arlie talks to Ika about how trust is earned by actions not words and if I can reciprocate and give you any information at any time I will. Ika talks about how Paul is the bad seed and that is who she wants to go this week. Arlie keeps down playing how smart he is and how he doesnt really know that game that well. Ika tells Arlie that she talks to the girls and the guys and she has never, ever, ever heard his name come up as someone anyone wants gone.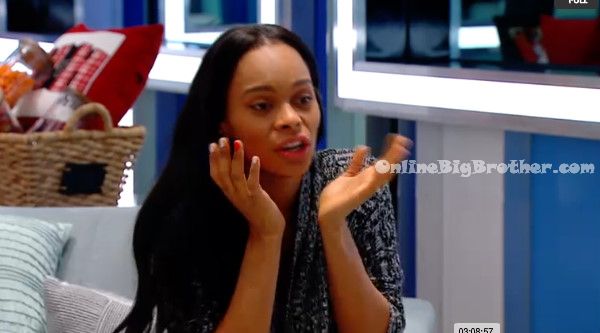 12:50pm – 1:45pmIn the kitchen – Andrew cuts his thumb on a knife while doing the dishes in the sink. He gets it wrapped up but the blood is still visible. The cameras switch to the conversation of Adel and Ika in the HOH room. Ika tells Adel how she can't trust Paul because of how he threw Adel under the bus and you're in an alliance together. Ika says if he can do that to you, just imagine what he would do to me.

1:50pm Big Brother cuts the live feeds..
2:20pm – 2:40pm The feeds are still blocked…
3:30pm Something Top Secret is going down right now ..
4pm Still blocked..
[polldaddy poll=7877882]
Check out the NEW OBB Forum https://forum.onlinebigbrother.com/
Stay connected and interact with other Big Brother Fans on our Facebook page.
And Follow: @BigBspoilers and @Dawgsbigbrother on Twitter for the most up to date spoilers.