POV Holder:
?
Next POV
?
POV Used
?
POV Ceremony
March 17
HOH Winner:
IKA
Next HOH:
March 20
Original Nominations:
?
Current Nominations:
?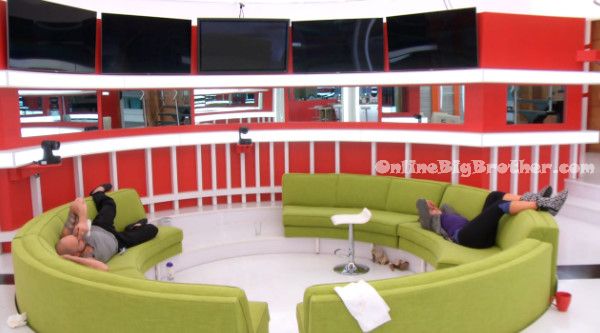 9am
Big Brother wakes up the house guests. In the living room Andrew and Allison are talking on the living room couch. The some of the other house guests join them. Kenny, Jon, Sarah, JOn and Adel. Sarah says that the hot water should be turned back on later this afternoon. Up on the second level – Sabrina and Ika are talking. Sabrina is confronting Ika about things Ika has done and said. They've just woken up and they're already talking about their problems within their alliance. Sabrina tells Ika that the other girls don't tell Ika that she's a b***h or that she has an attitude problem because they're afraid of her. Ika says that she confronted the girls and none of them said that I had an attitude problem or that I was a b***h. They said that they think I am cute and that they love me. Ika says they say that you're putting it out there that I am a b***h or that I have an attitude problem. Sabrina says that b***h is a strong word and I wouldn't have said that. Sabrina tells Ika that she really opened up to her in the corner over there and if you are able to turn against me, then that really scares me. Sabrina says that we really need to stop talking about and turning on each other. Ika agrees. Sabrina says that the others are putting it on me. I am very capable of shutting my mouth and not continuing the problem. I can pretend to like someone when I really don't like them. I don't want drama. We all need to stop talking about each other. If we have a problem with each other then we go to that person directly and not talking to the others about it. Sabrina asks do you believe that I am plotting against you? Big Brother cuts the feeds and when they come back.. (Watch the video below for the full Ika/Sabrina conversation.)
10am – 10:45pm Ika and Sabrina head downstairs to find Rachelle to confront her about whether or not she said that she thinks Ika has an attitude problem or is a b***H. The grab Rachelle and head into the havenot room to talk. Rachelle says that she never specifically said it or brought it up but if someone else said it she would agree with it. Rachelle says I never said you had an attitude problem but I have said that you get mad easily. Sabrina says we're talking in circles. Sabrina says my idea is that we don't talk about each other because the telephone game is awful. If I say I like you're shirt it turns into I hate that f**king b***h. I say from now on we don't talk about each other. Sabrina brings up how she's heard they've called her Heather and that disgusts her. We need to put an end to stupidity! Sabrina asks Ika if they can all agree to stop talking s**t about each other. Ika says we can say that but I know you're all going to keep talking s**t about each other. Sabrina starts going off on Ika. Rachelle interjects and asks Ika to please tell Sabrina that I didn't says she was being a Heather. Sabrina tells Rachelle to shut up – I don't care about that! Ika brings up how she told Rachelle to stop flirting with Andrew because Sabrina likes him. Sabrina keeps asking if Ika wants to agree to stop talking about each other. Ika finally says that she agrees to do that.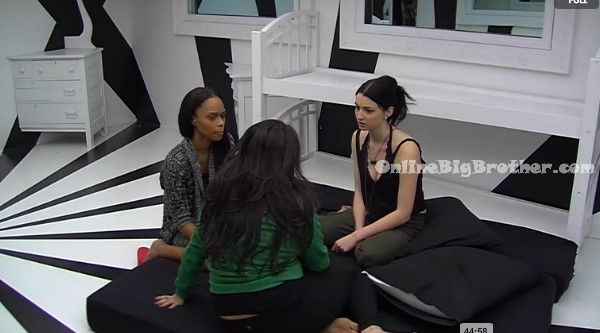 10:45am Ika gets called to the diary room. Rachelle keeps asking to talk to Sabrina about the things that were said. Sabrina says that she really doesn't want to talk about it and if Rachelle wants to continue – I am going to self-evict myself! Heather joins them and Rachelle leaves upset. Sabrina tells Rachelle to please not be upset. Heather and Sabrina talk. Sabrina eludes to the fact that Heather said something bad about her but Heather denies it. Heather questions what Sabrina is talking about because she has no idea – It's over my head, please fill me in. Sabrina says that its nothing, I don't want to talk any more. Heather and Sabrina start to leave and Heather asks her if Rachelle has a problem with her because last night when Rachelle was drunk and Heather would come by her she would roll her eyes and walk away. Sabrina tells her no she doesn't think Rahcelle has a problem with her.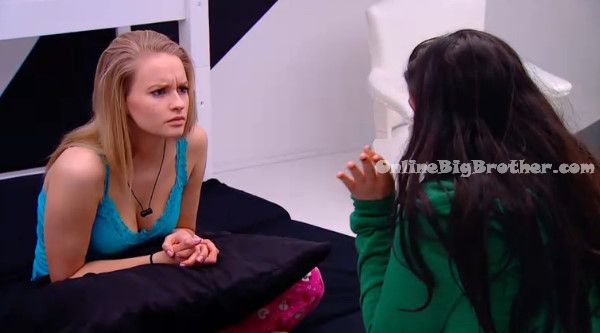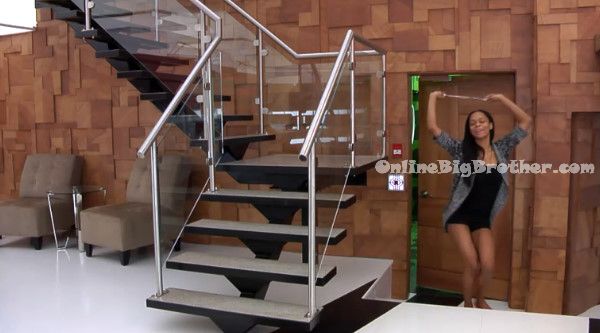 10:50am Ika comes out of the diary room with her HOH room KEY. All of the house guests run up to the HOH room with her to see her room.
Want to watch the Big Brother Canada 2 live feeds? Bypass the geoblocking with HideMyAss VPN and be Canadian Anywhere:

(It's tough to watch Big Brother Canada from the US. Circumvent the Geo Blocking and watch the Show and the Live feeds straight off Slice's website. Using a pay VPN is very easy and free of malware, I do not recommend using a free service as these are notoriously trouble. I live in Canada but last year the US feeds were blocked for me so I used both hidemyass and strongVPN and I never had a problem. Hidemyass VPN is cheaper so give it a try your'll get your show/feeds https://hidemyass.com/vpn/r16399/
Check out the NEW OBB Forum https://forum.onlinebigbrother.com/
Stay connected and interact with other Big Brother Fans on our Facebook page.
And Follow: @BigBspoilers and @Dawgsbigbrother on Twitter for the most up to date spoilers.
Share it YO!
Tweet