| | | | |
| --- | --- | --- | --- |
| POV: | Faysal | Next POV: | July 7th |
| POV Used | NO | POV Ceremony | July 1st |
| HOH: | Tyler | Next HOH: | July 5th |
| Noms: | Sam, Steve | Have Nots | Brett, Kaitlyn, Scottie, Winston |
8pm HOH room. Fez and Swaggy. Fez – we've got to come up with something because Kaitlyn and Haleigh are close with them. Swaggy – yup, so if they win.. then Kaitlyn and Haleigh are safe. Fez – so that means you or me are going up or both. Swaggy – Haleigh told me that if she wins HOH she is putting Brett & Winston on the block. She don't care. She maybe bluffing. Fez – I think she is bluffing. She might put up Winston. That's why I'm not doing all this lovey dovey sh*t with everywon.. you lovey dovey until someone wins HOH. But that's how they've got to play because they feel like they ain't going to win. Swaggy – HOH. Fez – yeah. Swaggy – I thought about it.. who is going to send Haleigh or Kaitlyn home? Fez – that's why they get tight. Because when they hear people talking about them.. that's when they go home. Swaggy – I honestly hope Haleigh or Kaitlyn get lucky and win HOH. They Haliegh's got to pick a side. Fez – then we know what time it is. Tyler joins them. They talk about how they don't like this HOH being a luck comp. Tyler leaves. Fez – so if Angela wins who do you think she would put up? Swaggy – probably me and someone else. Me and Kaycee or Me and JC. We could go home week two. We're not in control of this one shot luck comp. Bayleigh joins them. Haliegh – joins them and tells them that Angela is outside the diary room crying. I asked her if she was okay and she said she didn't feel well. What she is going is pouting because she might go up.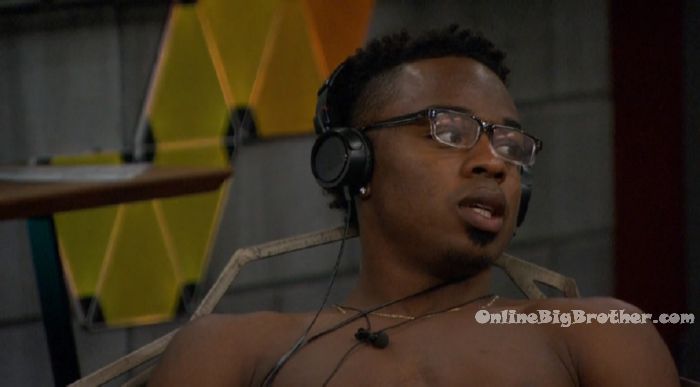 8:15pm Bedroom – Bayleigh, Rockstar and Kaitlyn. Bayleigh – I am really not good with emotions and mood swings. Fezzie will come in and say something and then Swaggy will fly off the handle. Just like him climbing the rock wall with such intensity. I am like can you calm down?! What, what could it be. I am just sitting here like?! Rockstar – I tried to talk to Brett. I found out that we have something in common he likes to play the piano. I tried to talk to him [Brett] and he just walked away. He only talks to people he wants to f**k or that he can impress. Bayleigh – he just talks to girls that he thinks are cute. Rockstar – I don't know what his problem is .. maybe its just that he's an idiot. Whatever it is she is upset about it.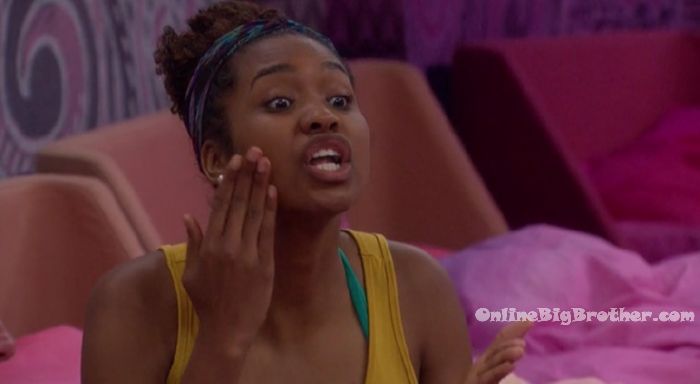 9:40pm Living room. 10pm Living room – Winston and Brett are working out.
9:48pm Lounge room. Rachel and Kaycee. Kaycee – I don't what it to affect our group. Rachel – I don't get jealous. Kaycee – They like to joke around a lot that's why its taken so personal because they love you and they say it all the time. I would hate for them to be over joking and then it get to a point.. what I am worried is sometimes they can be a little hardcore .. and its going to start being annoyed with them. I know they're charming but sometimes girls can be annoyed. Rachel – I just don't think any of these girls are going to try and win this HOH. Kaycee – yeah. Rachel – do you think Bayleigh and Angela would? Kaycee – I think Bayleigh would, Rockstar will honestly try. Kaycee – just keep being happy. People can sense being irritated. Good vibes, good energy. Rachel – Steve's gone and pissed me off. Kaycee – yeah well Steve says weird sh*t. Rachel – that would be like me going up to Swaggy and being like ..oh I see you! Wow you must be really hiding your skills because you did really good out there. Kaycee – you're good. People love your energy.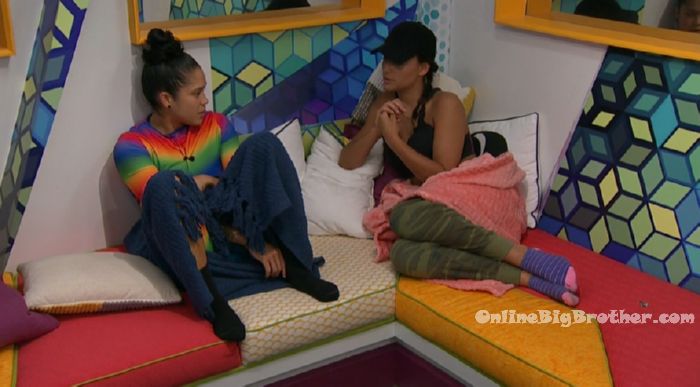 10:05pm HOH room – Rockstar, Tyler, Swaggy and Fez. Rockstar – I told my kids that I am not going to throw a competition. I will try my best. Really just to see what I can do. Where else do you get to push these limits? Fez – at the end of the day your family is watching you so give them something to be proud of. Rockstar – I mean really, our first f**king day here we jumped off of a thirty foot .. like some stuntman sh*t . like where else in your life have you done any sh*t like that. Like it is crazy. Where else in your life have you snakes and paintball and cold water? Its not just who you can beat but can you beat yourself and what are your own personal body limits and how much can you go through. I don't think I will throw a competition. Fez – that's what me and Swaggy were saying. Swaggy – this is my 3rd comp win in a week.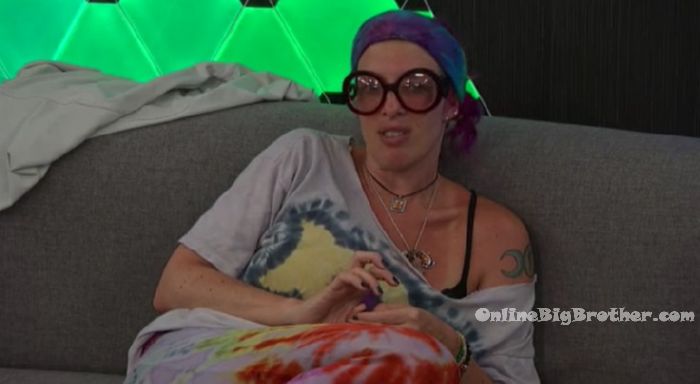 10:45pm Lounge room. Scottie, Fez and Swaggy. Scottie – I was just talking to Sam and I told her straight up that I was voting to keep Steve and she was cool about it. Swaggy – they don't have the numbers but its still going to be 8 – 5 or something. Scottie – they seem to think that Steve has a partnership with you guys. Because you picked him in the veto. They were shocked that you didn't use the veto on him. Swaggy – Steve is staying. I am voting to keep him. It will be close, all they need is to pull two votes.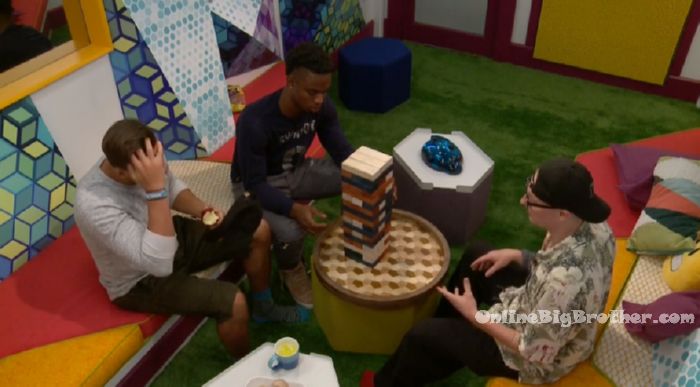 11pm – 11:10pm HOH room. Bayleigh, Rockstar, Haleigh, Kaycee and Kaitlyn. Rockstar – why do you think the all girl alliances don't work? Kaitlyn – guys, its 2018 do we not even realize what is going on in the world right now? Between the me too movement .. we are actually doing a disservice to America by not.. I'm just saying. Bayleigh – and I can say for the girls that do end up in showmances .. you don't get to play your game because you're attached to this boy. Rockstar – and you've seen these boys get into these showmances .. sorry girl .. bros before hoes .. every single time! Wouldn't you love to see .. maybe not even in our season but maybe in a season in the future.. but wouldn't you love to see some girl whore a guy .. sisters before misters! Why is there a bro-gade? Haleigh – because they have a bro code. Rockstar – where is the b***h code. Bayleigh – we're more sensitive.
11:22pm HOH room. Tyler and Kaitlyn. Kaitlyn – is everything okay with Rachel? Tyler – yeah it was just some personal stuff. I didn't ask too many questions. They're okay though. Kaitlyn massaging Tylers hand – you're my main squad. I'm just going to be cautious. I'm going going to trust them until they give me a reason to trust them. I am going to make it clear with my squad its a package deal like no one can put you up. Tyler – thanks! Kaitlyn – you're welcome.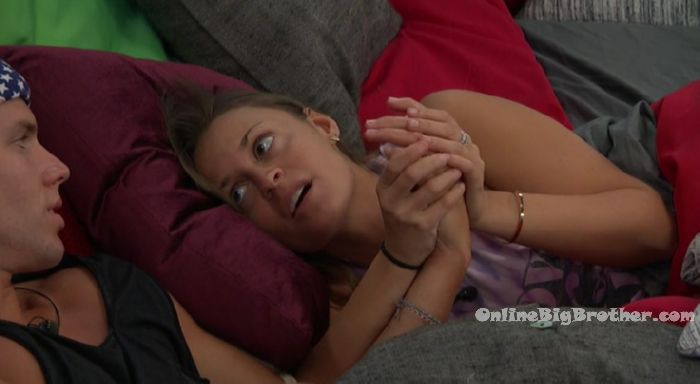 12:05am HOH room – Tyler and Scottie. Scottie – the last thing I got from them was they wanted Bayleigh to go. They were trying to convince me that Bayleigh and Swaggy are a showmance. Which is funny because the next day someone was telling em that Winston and getting showancy. If that is true why the f**k would he (Swaggy) come to me to paint a target on a showmance? Tyler – because maybe.. Scottie – he thinks its going to go in front of him. Tyler – yeah. Scottie – but you're still then putting it into your mind that youre a shomance. Tyler – because you don't just take out two members of a showmance right away …you take out one of each. He was just not thinking. Scottie and Tyler both see what Haleigh is going by flirting with the guys. Tyler says its not bad getting massages out of it.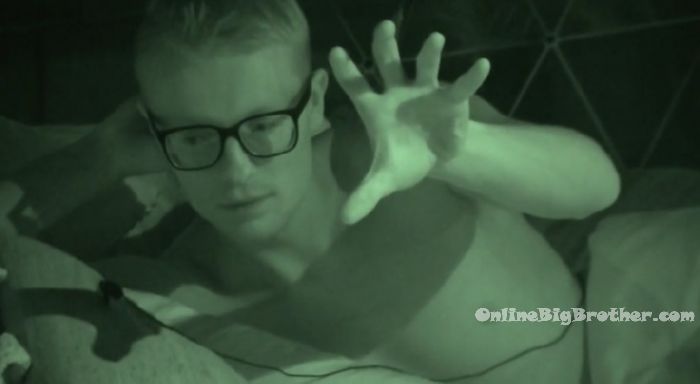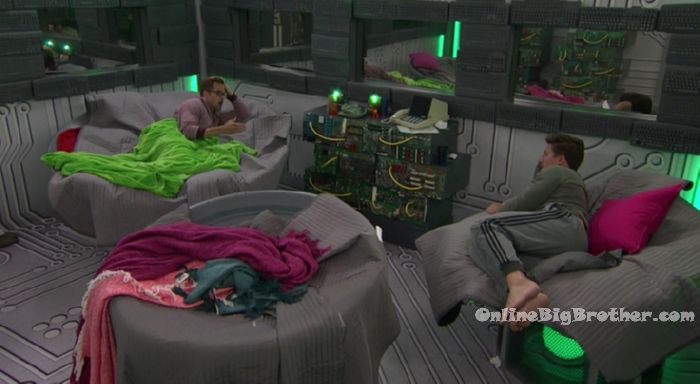 12:15am Havenot room. Brett and Winston. Brett – not to mention none of them are really friends with her. Winston – thank you. None of them are, none of them would be. But they are for their votes. Brett – right. Which is fine, that's big brother. I don't know if its worth doing something crazy. I have no problem going to the next f**king level. Doing something to get that vote. Winston – right. Brett – I just don't know if its worth pulling out one of the big tricks. This early .. not even this early ..I don't know if its worth it for Steve. Winston – thank you. Brett – honestly I would rather if Steve is safe. Winston – we could pull both of them over Scottie and Steve. Brett – Sam doesn't really want to be here. She's a liability. Winston – the more we talk about it now, I want Steve to stay. We all have to vote unanimously. The girls better not throw 3 or 4 votes Sams way. People talk too much. By the end of next week we will know who voted for who. They're not good game players. We're the only good game players. Winston – we don't need Sam. She needs to leave. Tomorrow we are calling a 6 meeting.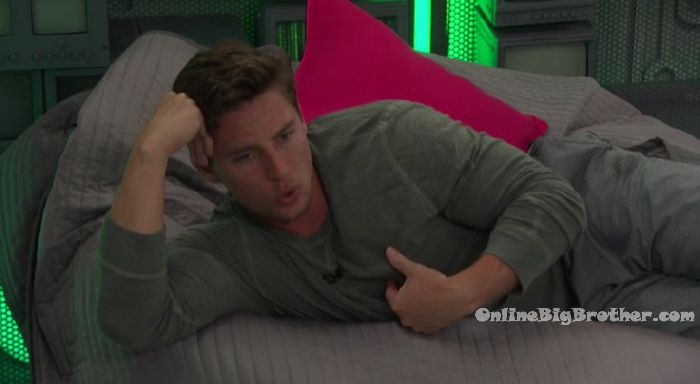 1:05am – 1:55am Bayleigh – how do you feel about the HOH? Swaggy – try to win obviously. I would love to win but best case scenarios is Rockstar, Steve or Faysal win. Bayleigh – that way they don't come after us. Bayleigh – we can't risk the chance of one of them getting it though. Swaggy – no, this week I am going for the win. Swaggy tells Bayleigh about the FOUTTE (Five Of Us Till The End) alliance. (Swaggy, Haleigh, Kaitlyn, Rockstar and Fez)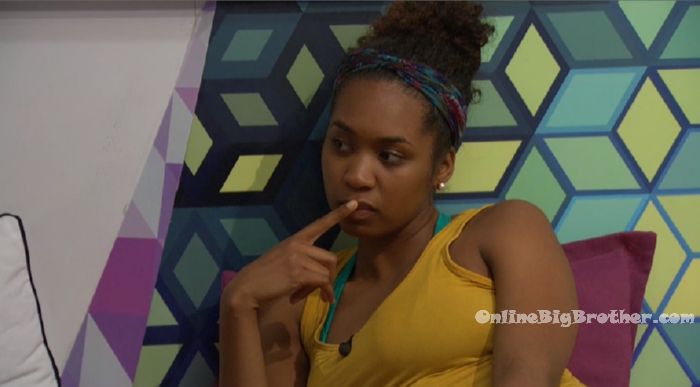 Rank the houseguests!
Easiest way to Rank the house guests use link below