| | | | |
| --- | --- | --- | --- |
| POV: | Faysal | Next POV: | July 7th |
| POV Used | No | POV Ceremony | July 9th |
| HOH: | Tyler | Next HOH: | July 5th |
| Noms: | Sam, Steve | Have Nots | Brett, Kaitlyn, Scottie, Winston |
Big Brother Spoilers – Ohh my goodness.. Very much looking for to see what SCottie will do with this information from Sam. I hope he takes her up on the offer. I'm not sure if I see KAitlyn flipping now that she's back with the fromance.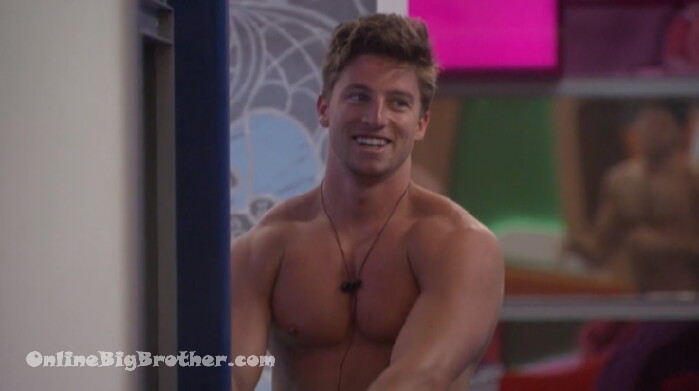 10:58am Bros broing out about shark tank..
Winston – I watch it every night
Brett – we have wine night, drink it and watch Shark tank (Wine? hmm that's not very bro.. is he a true Bro?)
Winston – Brad and Chad have to create something.. this is our destiny.. I would love to go in front of shark tanks.. Marc Cuban.. You know I'm getting a deal with Mark there's n o doubt..
Brett – Absolutely
Winston – Mark's my favorite.. I love them all .. Love mr Fantastic..
Brett – I would love to do Business with all
Winston.. I would do them all. (Bro)
Brett – if you just need money go with him (rob) pay him off get it done
They go on about how awesome Rob is etc etc..
Winston – What are we going to make.. the possibilities are endless for Brad and Chad
Brett – I know
Winston – Ohh .. Swings for Brad and Chad we create a three person swing
They start to giggle.. Winston "Nevermind.. "
Brett – you don't even have to make  anew thing.. just better.. and honestly not better just better marketing .. hit the market
Brett – penetrate.. people have great products over time that never flourish
Winston – that's so true
11:07am Working out/getting ready for July 4th party 
Happy 4th of July #BB20 @DawgsBigBrother pic.twitter.com/Gp85eorlWn

— OnlineBigBrother.com (@bigbspoilers) July 4, 2018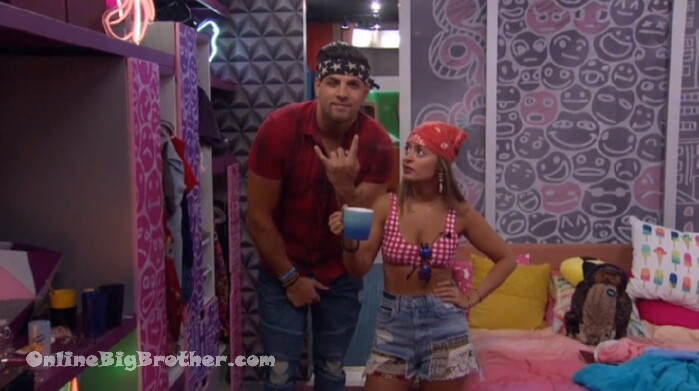 11:37 Kaitlyn and FEZ
"we're back.. " they call what they have a FROMANCE
Kaitlyn – you gotta start branding that Fromance otherwise you'll never get sales. (F*** )
DANCE!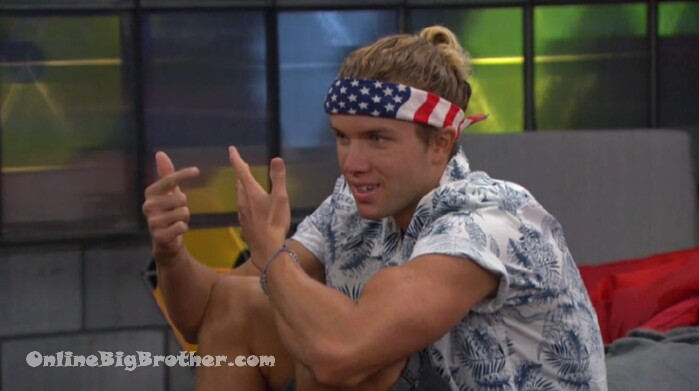 12:07pm Sam and Tyler HOH
Tyler fills her in on all the KAitlyn drama. He explains how he was trying to pull her to their side without setting off any alarms.
Sam – how are you playing it with Haleigh
Tyler – Haleigh I've given up
Sam – there's nothing there anymore
Tyler – no
Sam – she all over the place..
Tyler – she on their side.. she's keeping Steve..
Sam – Why
T – he's a number for Swaggyz side.. they have 7 votes right now
S – We only need 1 more.. I honestly think Scottie will go in the DR and vote to keep me and just not say anything ..
Tyler – I had that plan too
S – he's playing cloak and dagger style
T – the vote is 8 to 5
S – Scottie and I have so much in common.. we're thinkers, he wouldn't have interacted with me as much if I hadn't been the robot. It's really easy for him to talk to the robot ..
Sam thinks Scottie hanging out with her is part of his plan. Tyler agrees.
Sam says she has to bite her tongue around Steve a lot because he says he says stuff that's fact "but it's not"
Tyler – I know
S – I know Scottie hears it and is feeling the same way but neither of us will call him out.. We all know Steve's number pet peeve is a know it all
Sam says Steve was really aggressive about forming a final 2 with Scottie. Sam adds that almost like Scottie didn't want to be with Steve but had no choice.
Tyler – should we try and get Kaitlyn to flip
Sam – we need to get Kaitlyn to flip
Tyler – if it's 8-5 they'll be so confused.
S – I'm willing to lay some stuff out there to Kaitlyn but I'm not telling her everything.
Sam asks Tyler what he means when he says he has a personal relationship with Kaitlyn but he doesn't see eye to eye
Sam – her strategy is to get with all the guys be loud..
Tyler – They all think I'm over there (Swagz side)
S – are you sure
T – they're questionable of me right now because I wasn't receptive all their stupid ideas and do their dirty work..
Sam – I feel that Bayleigh and Swaggz respects me because I clean.. Period  .. they could all vote to keep me.. then when Steve leaves they come.. they say we were just doing that because we didn't want to hurt Steve .. we wanted to keep you. They think I'm middle of the road
Tyler – they all gave Steve their word.. I genuinely think they will vote to keep Steve.
Sam says Scottie told her in the storage room that he was thinking Steve was staying.
Sam – I swear to god he really wants to keep me..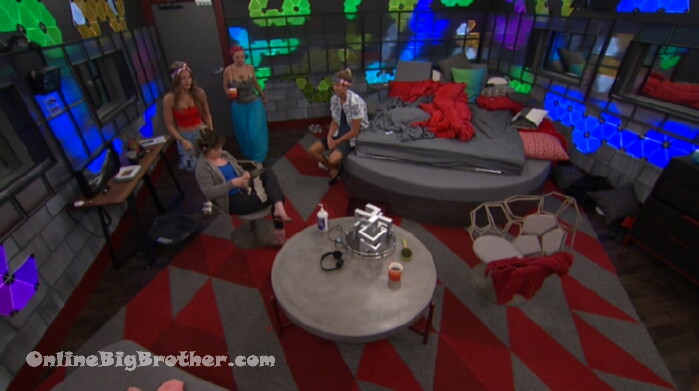 Rockstar's Coven enters .. game talk ends..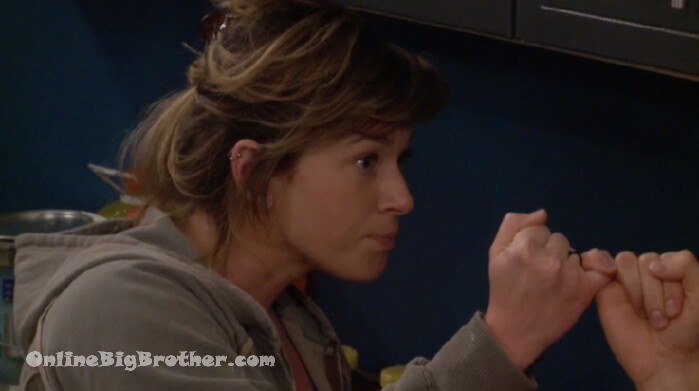 12:32pm Sam and Scottie
Sam – I really like you.. we have common strengths..
Scottie – Yeah..
Sam – I think we should be some sorta Team.. in the event if Steve isn't here and you want to work with me..
Sam says she's not going to pressure him into being a teammate, "I'm looking at you as a partner not a minion.. "
Sam says the vote might be pretty close and at this stage the votes are all unanimous. If you dec
Sam – How many people can do what I can do.. How many girls can get shot by a paintball and not flinch.. none of them
Sam – Steve can't stand on 1 foot.. ok .. I love the man he has a family.
Sam – if you decide to keep me.. which means a lot to me.. Pinky swear is a big Deal.. I Pinky Swear to work with you
Scottie – If in the event the votes go your way
Sam – right
Scottie -I'll talk to Kaitlyn about that
Sam – if you are as smart as I think you are you're going to keep me..
Scottie- OK, I'll definitely talk to Kaitlyn about this too
Sam – I'll keep people up to date with the present and mostly I'm badA$$ as f*** give me a chance to learn and I'll master this sh1t
12:20pm Swagz and Bayleigh practicing some dancing..
For the Swaleigh fans #BB20 @DawgsBigBrother pic.twitter.com/hGG7gVP4wd

— OnlineBigBrother.com (@bigbspoilers) July 4, 2018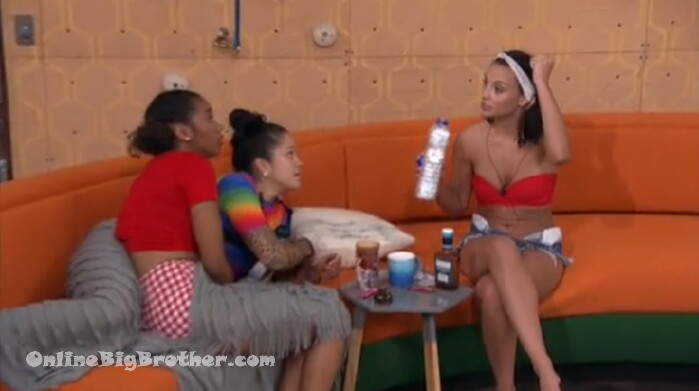 1:35pm Rachel, Bayleigh and Kaycee
Bayleigh saying that Swagz doesn't celebrate the fourth of July he says his people weren't freed. She mentions that JC is celebrating and he's not even An american.
For all you folks that need a VPN I use this one
Rank the houseguests!
Easiest way to Rank the house guests use link below