POV Holder:
Kenny
Next POV
?
POV Used
Yes
POV Ceremony
March 10
HOH Winner:
Andrew
Next HOH:
March 13
Original Nominations:
Paul & Neda
Current Nominations:
Paul and Kyle
Last Evicted Houseguest
Anick
Have Nots
Rachelle, Neda, Heather and Sarah
)
Want to watch the BBCAN live feeds? Bypass the geoblocking with HideMyAss VPN and be Canadian Anywhere:

1pm – 1:50pmBig Brother says House Guests have fun! The house guests start screaming and they all run to the backyard door. When the back door opens the house guests see that Big Brother has given them their "ring" reward which is a bunch of ring type games and hula hoops. Half of the house guests didn't even come out into the backyard or care about the reward. The others head out and start building the games and playing with the hula hoops. Kyle says I would rather have booze! They others say they aren't going to complain about anything that big brother gives them.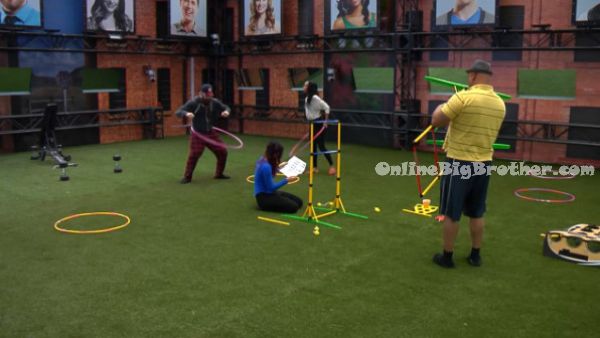 The three in the war room watch the spy screens of the house guests getting the ring reward.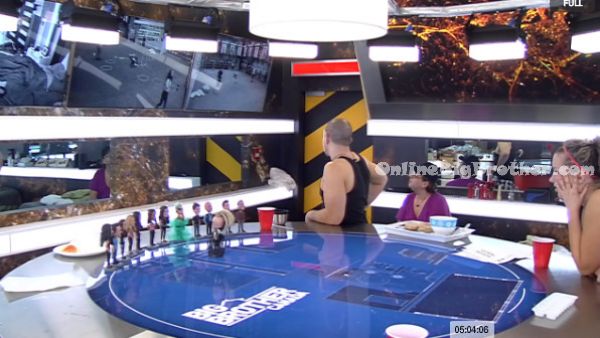 )
)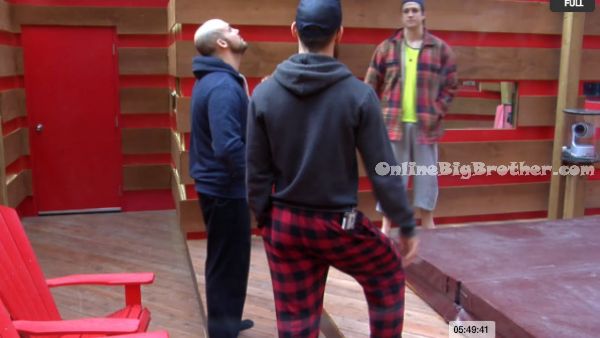 2pm – 2:10pm The hot tub room opens up and Andrew, Kenny and Jon head out to smoke. Andrew & Kenny wonder if the ring reward games have something to do with an upcoming challenge. Kenny says he's so happy they got this reward to help pass the time in the house. The guys talk about how the girls have said they're coming after the guys. Kenny says they're especially after me. Jon asks who said that? Kenny says Ika. Andrew says okay, well lets go after Ika. We'll put her up with Paul. It will scare the s**t out of her. Andrew says it doesn't change anything letting them know that we know.
)
2:15pm – 2:30pm UP in the bathroom – Sabrina and Ika are talking. Ika talks about how when Andrew and Kenny went out to the hot tub to smoke … 4 minutes later Jon followed them. Their in an alliance. Neda doesn't think so but they're in a very strong alliance. Neda and Rachelle join them. Ika says Jon isn't on the outs with the guys, he's in it. Neda asks Sabrina if Andrew would have any control over Adel if he won HOH. Sabrina says no. Ika comments that Heather looks like Chucky's Bride. Sabrina tells the girls that those things outside are a challenge ..so we need to practice. Sabrina says that she thinks right now we need to lay low for the next couple weeks. They talk about how they think they need to get rid of Adel first. Jon joins them and they change the conversation.
)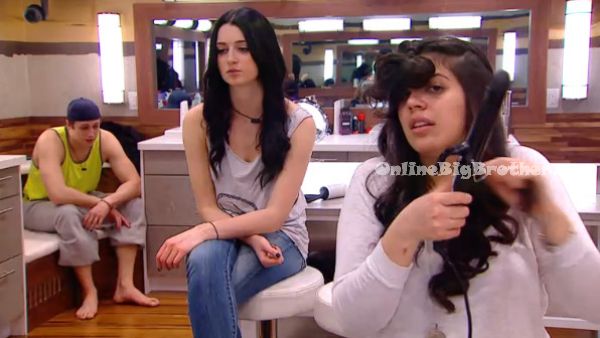 2:45pm Sabrina, Sarah and Rachelle head up to the HOH room. Sabrina is going to wax Andrew's back. Sarah yells saying that she hates Heather. Sarah comments that the guys won't want to keep that stinking little b***h around. Heather and Andrew join them. Sabrina starts waxing his back.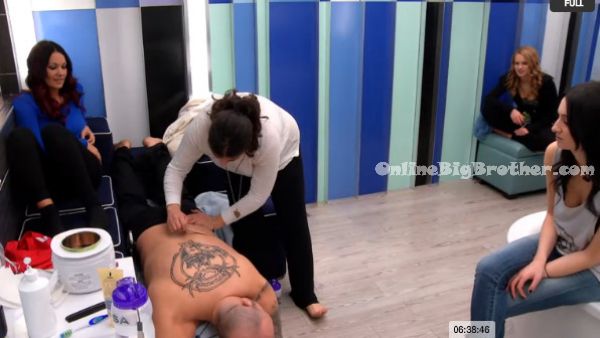 )
3:15pm Sabrina waxes Andrews back while the other House Guests watch.
)
The girls Ika, Rachelle, Neda are talking game in the backyard. Ika's new name for Heather is Creepzilla. Rachelle says we need to make a power move if we win HOH. Ika says if I win HOH she would put up Adel..
)
)
In the war room Allison and Scott pluck Nate's eye brows.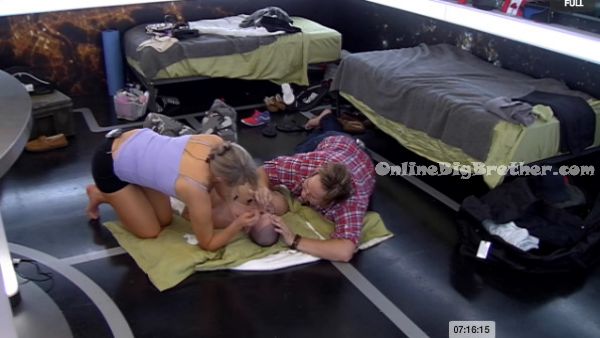 3:55pm In the HOH room – Sabrina tells Andrew that Jon is telling the girls to take you out. Kenny says we just need to win HOH next week. Sabrina asks if she did the right thing by telling him. Andrew says yes of course. Sabrina leaves and Kenny and Andrew talk. Kenny tells Andrew that Jon didn't specifically say your name. Kenny tells Andrew not to react and to not give it away that we know. Andrew says he won't. I'm not sharing any more darts with him any more. Kenny look at what happened with Ika. Andrew leaves. Sabrina returns and Kenny tells her that she needs to be careful about the way she words things with Andrew. Sabrina asks did I do a bad thing? Kenny says no, I just had to calm him down though. Sabrina says that Jon didn't specifically say his name but that was confirmed in the bathroom from the other girls.
)
Check out the NEW OBB Forum https://forum.onlinebigbrother.com/
Stay connected and interact with other Big Brother Fans on our Facebook page.
And Follow: @BigBspoilers and @Dawgsbigbrother on Twitter for the most up to date spoilers.