POV Holder:
Kenny
Next POV
?
POV Used
Yes
POV Ceremony
March 10
HOH Winner:
Andrew
Next HOH:
March 13
Original Nominations:
Paul & Neda
Current Nominations:
Paul and Kyle
Last Evicted Houseguest
Anick
Have Nots
Rachelle, Neda, Heather and Sarah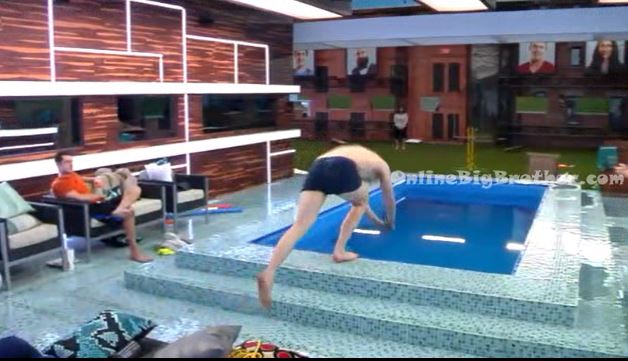 Want to watch the BBCAN live feeds? Bypass the geoblocking with HideMyAss VPN and be Canadian Anywhere:

4:10pm The house guests are put on a backyard lock down. All of the house guests head out into the backyard until the lock down is over. Jon strips down to his boxers and jumps in the pool. He's jumping in forwards and backwards. Jon ends up popping his shoulder out and screams in pain. The girls freak out and Sabrina runs the backyard door which is locked and starts banging on it and screaming for the doctor. The girls are really freaking out and screaming and yelling for Big Brother to send in a doctor. Neda walks with Jon from the pool to the backyard and he starts to try and pop his shoulder back in. They tell him not to try and pop it in himself. Arlie runs across the backyard to tell the other house guests in the hot tub room. Big Brother then cuts the feeds.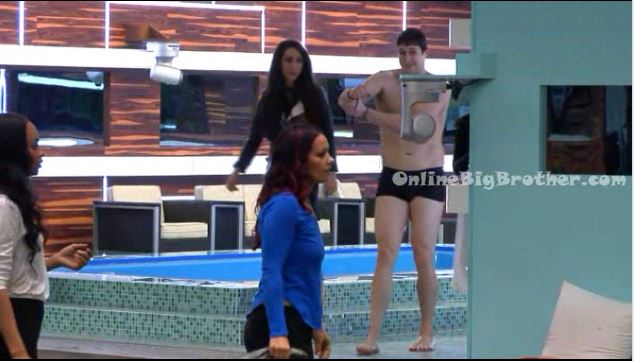 )
)
)
When the live feeds return after Jon popped out his shoulder, the other house guests are sitting around the backyard. Arlie seems concerned whether or not he will be okay. The others tell him that Jon will be fine.
)
4:30pm – 4:45pm Out in the hot tub room Paul and Adels start arguing and yelling back and forth at each other. They're arguing about Adel calling Paul out about not cleaning or cooking. Paul says that even though we b***h and fight like this, I would never throw you under the bus. Kyle tells them to talk one at a time to get their points across. Paul says I can cook for myself. That's okay! I'm okay with that! Paul tells Adel that he keeps attacking his character. Kyle tries to get them to stop and for them to calm down. Paul tells Adel that you and I both know that its a 50/50 split between you or I being here next week. Kyle says dude we're Black Sheep, Black Ball, Black Everything!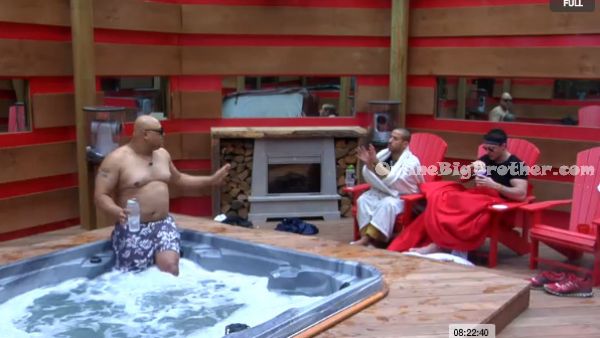 )
4:45pm – 5:05pm Big Brother blocks the live feeds again…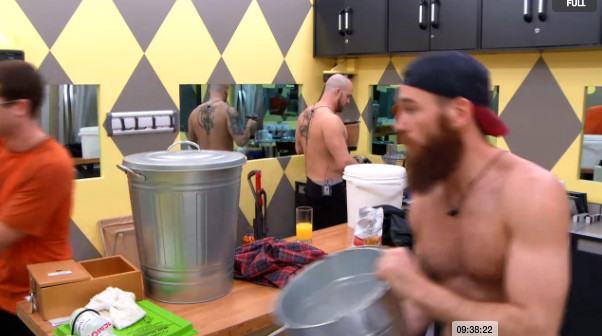 5:30pm The Live Feeds are turned back on and the house guests are eating and working out. Andrew, Kenny and Arlie find a bunch of stuff (keys for the cupboards in the storage room, Kitty litter in a bucket which they pour into a zip lock bag.)and start hiding it from the others. The look for the mug that was planted in the house the other day and realize that someone else hid it under the cupboards. The guys take it the mug from where it was hidden and hide in in their own hiding spot.

)
6pm Andrew,, Kenny, Heather, Neda, Rachelle all head out to the hot tub room. Kenny comments on how JON said that he's popped his shoulder out several times before and that this time was the least painful time it ever happened. Big Brother tells them not to talk about production.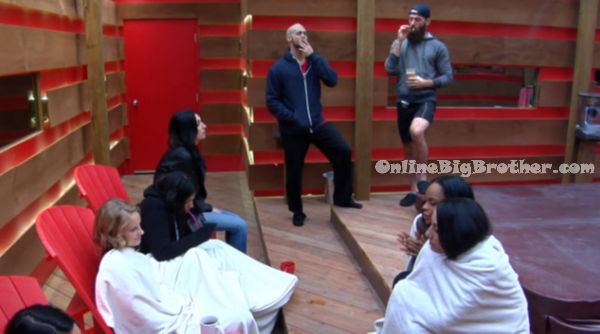 6:35pm – 6:50pmSarah and Andrew join Kenny by the pool. Kenny tells them that he went up to the HOH room to take a poo and Sabrina was up there listening to music. He says when he came back out of the bathroom she was dancing like crazy. He says he stood there for a bit watching until she noticed he was watching and freaked out. Sarah heads inside. Andrew, Heather and Kenny talk about how whoever wins HOH has to put up Paul. Kenny says I would just die if I left before someone like Paul. Heather and Andrew agree.
)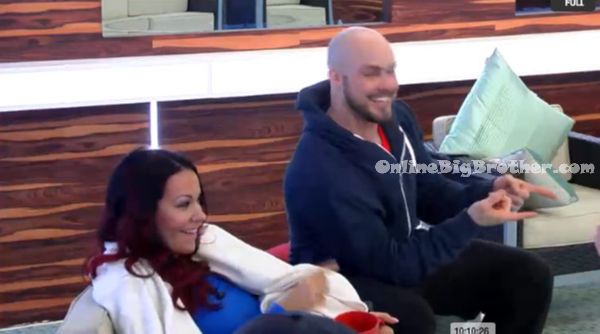 #BBCAN2 HAVENOT Girls EATING SUGAR by the SPOON @bigbspoilers #bbca #bigbrothercanada2 #bigbrothercanada pic.twitter.com/cBGEzIQ3s3

— Dawg (@DawgsBigBrother) March 11, 2014
)
7:15pm Sabrina showing Rachelle how to pop in-grown hairs on cams 3-4. Ika keeps talking about how much she hates Heather and how she looks like Chucky's Bride. The other cams 1,2,5 are blocked. Ika tells the girls how she found Kenny below the stairs by the bathroom and she thinks he was trying to listen in on their conversations before so she tells them to be careful.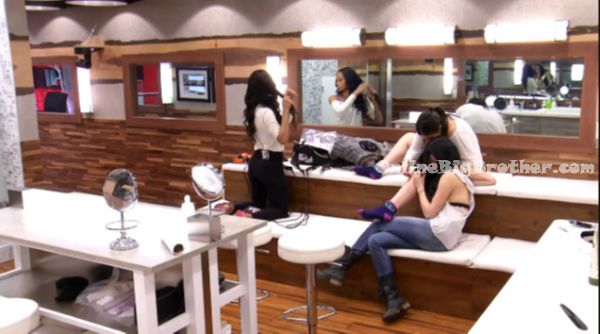 Check out the NEW OBB Forum https://forum.onlinebigbrother.com/
Stay connected and interact with other Big Brother Fans on our Facebook page.
And Follow: @BigBspoilers and @Dawgsbigbrother on Twitter for the most up to date spoilers.