| | | | |
| --- | --- | --- | --- |
| POV: | ? | Next POV: | July 7th |
| POV Used | ? | POV Ceremony | July 2nd |
| HOH: | Kaitlyn | Next HOH: | July 12th |
| Noms: | Winston, Scottie | Have Nots | ? |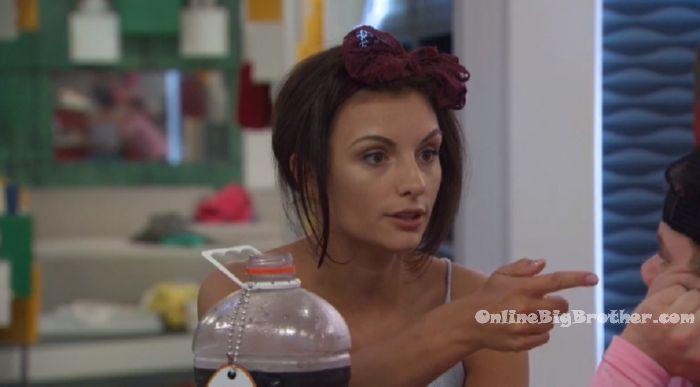 8:50pm Kitchen – Rachel and JC. JC – that's probably why you didn't trend because you've been mean to me. Rachel – probably! Rachel – do you know what is funny?! I actually feel more comfortable out here than in the DR. When I go into the DR, they're like alright you're ON! Because they feed you lines. Big Brother switches the feeds.

9pm Angela and Winston. Winston – did you hear Scottie when she turned his key? He said oh crap. It was so obvious that he was told he was the pawn. And now he is going around acting all shocked. Angela – I told him, I think I'm more upset than you are Scottie. Winston – Rockstar and Haleigh are dead to me. I am not speaking to them. She didn't even come up to me. She didn't even give me a petty hug. Like one of those .. oh I'm sorry. She didn't even act it. Her (Haleigh) and Rockstar not even a word to me. That's okay. I've hated Haleigh since day one. They were all laughing at the fact that she (Kaitlyn) called me out for being a doctor. ..And then she said that they are clueless. I said Kaitlyn how am I to trust you because my whole game is in your hands now. She said I've got you and then walked out. We have to figure out what this app (app store power) is and what it can do. When Scottie came down he was acting all weird.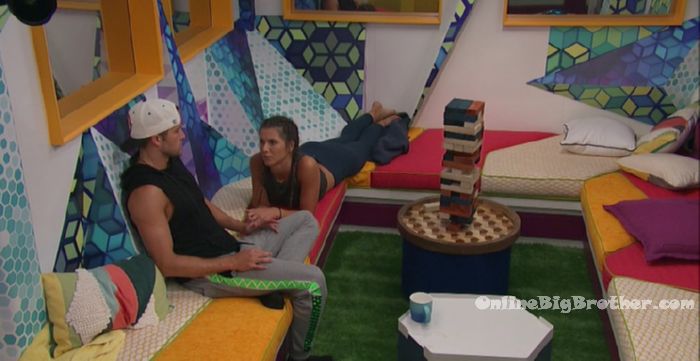 9:20pm – 9:30pm Lounge room. Winston, Angela and Kaitlyn. Angela – they were all screaming? Kaitlyn – they were just all screaming that I was a savage wh*re about the doctor thing. I was like I blacked out. I am legit lying. Swaggy overheard Sam telling Rachel about her power. Winston – we think Scottie has it. Kaitlyn – do you? Winston – no I would tell you right now. I don't. I think Scottie might have it and I think this week you will hear. And whenever you do .. relay it to Tyler so he can tell me what it is and what it can do. I think one of them has it. Angela agrees. Kaitlyn – Swaggy thinks that Sam has the power now. Kaitlyn leaves. Winston – I feel better after that. If I get house guest choice I will probably pick Brett. If he is already picked, I will pick you. Angela – I feel like if Scottie goes out there will be a battle back. Winston – we can't even worry about that. As of right now I want Chris gone, Rockstar and Haleigh gone.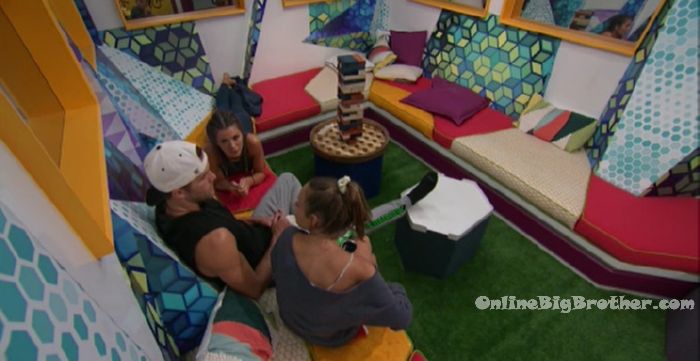 10pm Winston, Brett, Angela and Kaycee workout by the front door.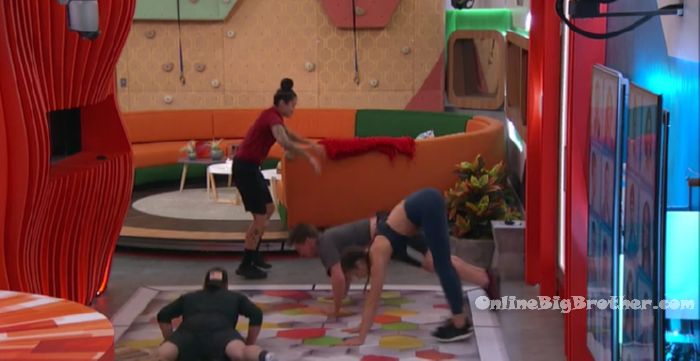 10:30pm Rockstar, Haliegh and Bayleigh talk about mast*rbating in the house. Haleigh – how do you even do it in the house? Rockstar – In the corner of the shower. Kaitlyn walks into the HOH room. Kaitlyn – hi wh*res. Haliegh – we're talking about mast*rbating in the house. Kaitlyn – if any of you girls need to feel free to use my shower.
10:45pm Rachel, JC and Kaycee. Rachel – I am just f**king over it. I just know it has to be for a bad reason. (Getting the least trending house guest because she and Angela were commented on how if they tan any more they will look like Bayleigh and look ghetto)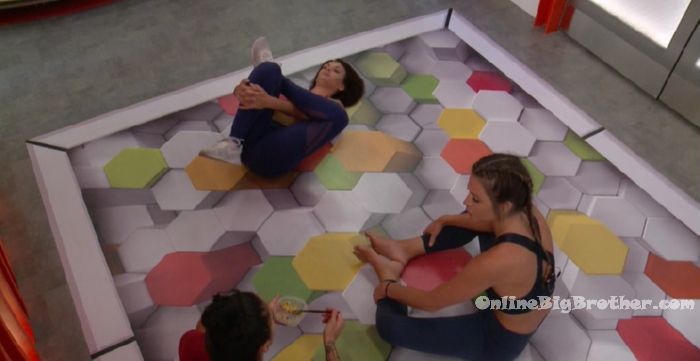 11:10pm Swaggy and Fez. Fez – Brett is doing pretty good right now. He hasn't played in no comps and he is good with pretty much everybody… except us. Swaggy – that's why he needs to go. Fez – we've got to take that shot. Swaggy – we will take that shot. Fez – you think Steve would have been loyal to us if he had stayed. Swaggy – 100%. Fez – good thing we won HOH this week. Fez – so if there is a battle back, would Steve know about it already? Swaggy – yeah he knows about it. Fez – sequestered for four weeks?! Big Brother blocks the feeds.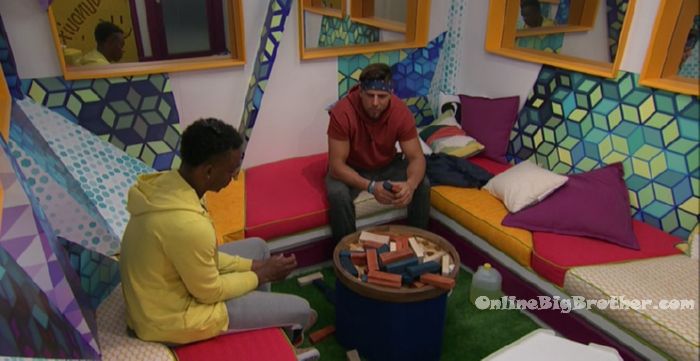 11:30pm Bayleigh, Rockstar, Haleigh, Tyler and Kaitlyn. Brett is giving Haleigh a massage. Haleigh comments on how out of no where Sam told Brett to never f**king touch her. Rackstar – never in my life will I ever hear someone start a sentence "remember when I was a robot.." They talk about how Rachel is taking the trending the least really hard. Brett – she thinks its because America doesn't like her but it has nothing to do with that. Haleigh – it just means you weren't relevant to whatever question they asked.
12:05am Bathroom – Rachel, Sam and JC. Rachel – I am frustrated because I feel like I am looking at other people and how they're playing the game and I'm like really!? Like I don't think I'm playing like bad or.. JC – no and you have friends here. Rachel – I have friends I am going to leave here with and be with for a life time. Even when I have felt disrespected by people, I still went above and beyond to be nice to them. Could have easily popped off. I get it, its a show.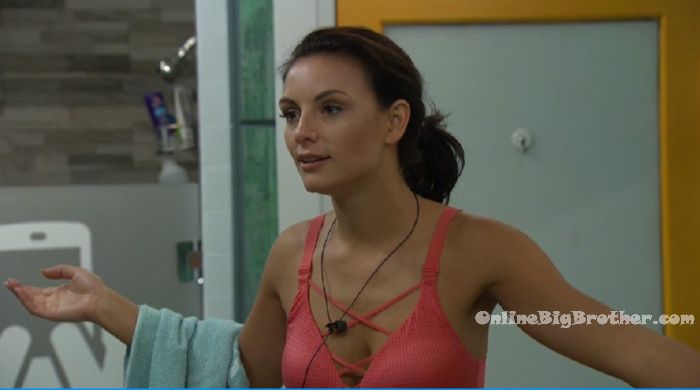 12:35am – 12:50am Angela and Kaycee. Angela – he is so excited that hes trending no. Kaycee – yeah. JC joins Angela. Angela – I think Scottie has it (App store power). Rachel joins them. Rachel – I am just so pissed for the weeks to come and that this affects my game. That's what I'm pissed off about. I have three more weeks of this, who knows if there could have been something to save me but I don't have a chance for that anymore. This just f**ks my game up. Winston – you've got to spin it and make it your own. Rachel – there are a lot of things that people could complain about .. like you're on the block. I don't care about the punishment. I just feel so stupid for caring in the least. Brett joins them. Brett tells Winston that he was lying with Haleigh between his legs and Fez walked in. Winston hugs Brett. Winston – he is so good.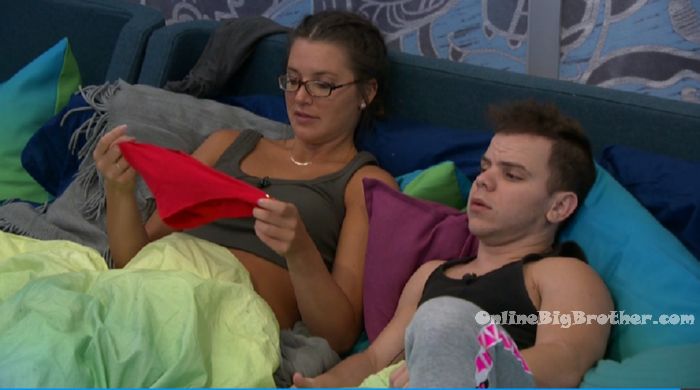 1am Bathroom – Fez asks Haleigh for a hug. She puts one arm around him. Fez – what's up with these half-a$$ hugs. Haleigh – you've had an attitude all day. Fez – have not. Haleigh – what about in the kitchen when I sat down and you walked away. Fez – I was joking.
1am – 1:45am Havenot room. Brett & Winston. Brett – I saw a side of Kaitlyn that I haven't seen .. like she is pissed. She wants Swaggy out. Brett tells Winston – I think Tylers dad passed way recently and I think Swaggy has too. It could be a bonding thing for them. Winston – I am not going to lie. I'm a bit nervous. We need to figure out who has the it. Brett and Winston head to the bathroom to get ready for bed.
Bedroom – JC gets up from bed to change. He goes over by the hallway. (The camera's aren't on him.) Tyler – why are your pants down around your ankles JC? They all start laughing. JC yells nOOOOOOOO.. and lays down with his pants around his ankles. He thinks its a blind spot. brett – to be honest I thing everyone is giving Scottie more credit than he deserves.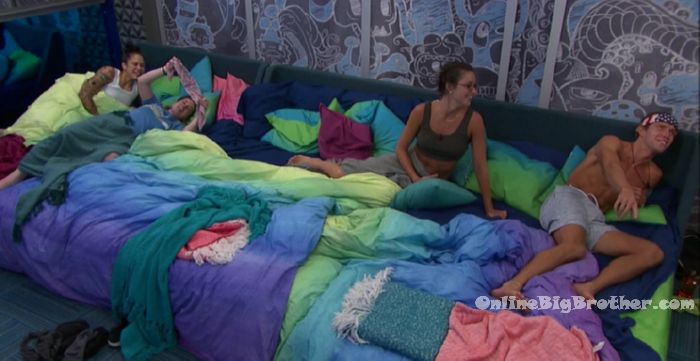 Rachel is still upset about how she is the least trending. I am more upset that this messes with my game for 3 more weeks. Like now I don't have the option to be saved if I need it. Sam – you should be proud of yourself. Its just a game Rachel. You had a life before this and you'll have a life after this. Sam tells Rachel that she has her back.
1:50am HOH room – Rockstar, Bayleight and Haleigh Bayleight – Winston should have seen it coming and now he will just have to fight for the veto. Haleigh – I really don't want Brett to go. Bayleigh and Rockstar agree.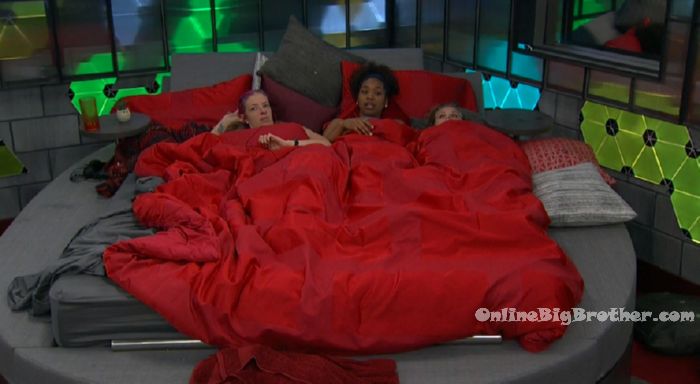 1:55am Scottie and Swaggy talk about what Tyler said to Kaitlyn. Tyler told Kaitlyn that Swaggy had said she was at the bottom of the alliance's totem pole and that they didn't trust her. Swaggy – I never said the word totem pole. I said I was rocky about her .. if we're in this core alliance why would you (Tyler) say that. I tell him everything. I am stopping telling him everything. Scottie ads that JC told him to Trust Tyler.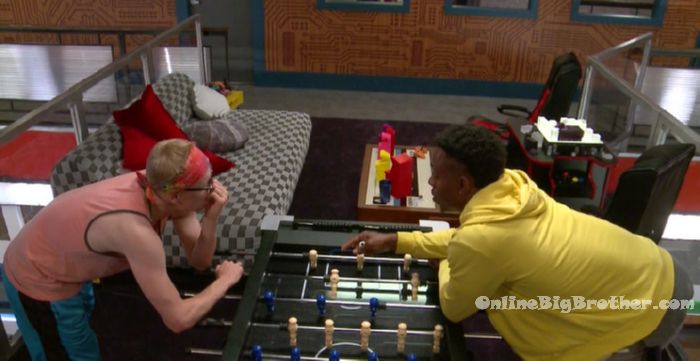 For all you folks that need a VPN I use this one
Rank the houseguests!
Easiest way to Rank the house guests use link below