| | | | |
| --- | --- | --- | --- |
| POV: | ? | Next POV: | July 7th |
| POV Used | ? | POV Ceremony | July 2nd |
| HOH: | Kaitlyn | Next HOH: | July 12th |
| Noms: | Winston, Scottie | Have Nots | ? |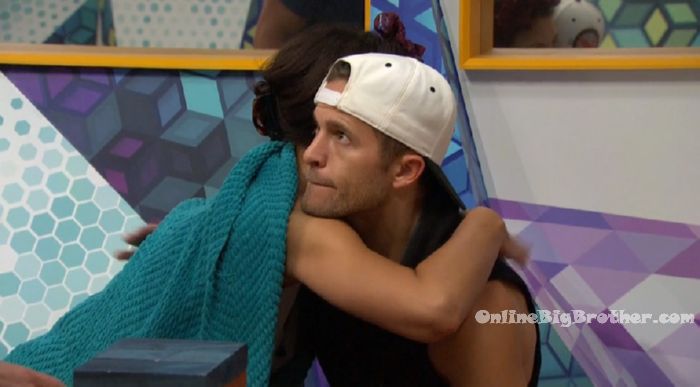 Nomination Results: Kaitlyn nominated Scottie & Winston
APP STORE: Rachel got least trending. Her punishment is getting roasted.
When the live Feeds return – All the house guests are getting up from the kitchen table. Winston and Scottie have been nominated.
Kaitlyn – I still think that Winston is a doctor or a general surgeon.
Winston heads into the lounge room. Kaycee joins him and gives him a hug. She calls him doctor. Kaycee leaves and Rachel and Brett join him. Winston – I've got to admit I am nervous. We have to figure out who has the power. Brett – you're going to get out of here and all these ladies are going to think you're a doctor. Kaitlyn joins them and tells Winston she is sorry. Kaitlyn then leaves. JC joins them. JC – did you know you were going up? It didn't take you by surprise? Winston – no. JC – oh okay. Winston – regardless, whatever happens.. JC – you've got my vote. You better win that veto, so start working out or j**king off.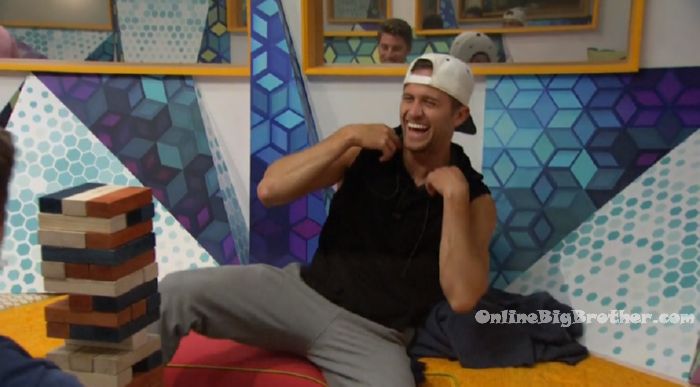 8:05pm HOH room – Swaggy, Haleigh, Kaitlyn, Tyler. Swaggy and Haleigh notice that Rachel is crying. Swaggy – its because of Winston, not because she's least trending.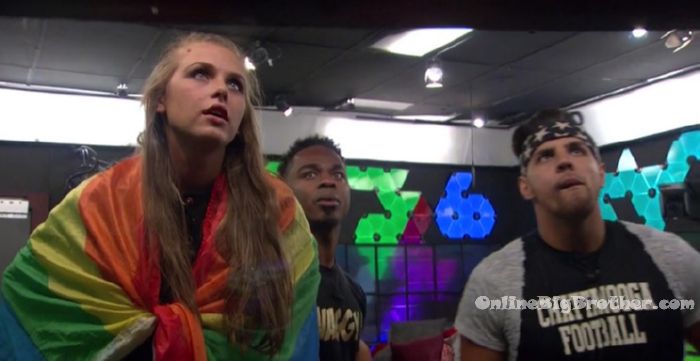 8:08pm Lounge room. Rachel and Kaycee join Brett and Winston. They talk about how they heard / saw Swaggy and Rockstar laughing. Angela – keep laughing. Winston – I can't wait to pull this move. Kaycee – they're celebrating up there first of all. Brett – I need to talk to Scottie. Kaycee – Scottie said I will beat Winston in pretty much any competition. Winston – he said that? Out loud? Kaycee – yeah. Winston – who is this kid!?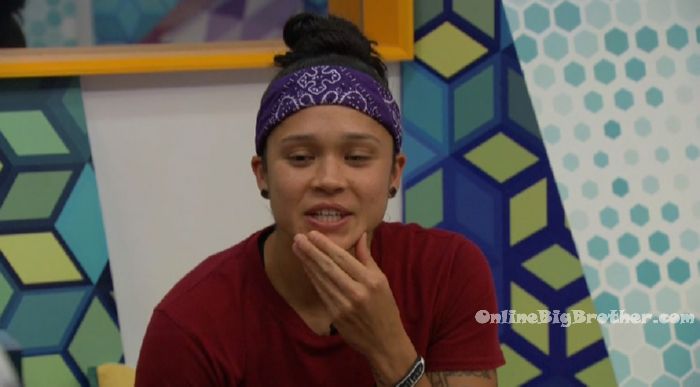 8:10pm Scottie and JC. Scottie – I want to win this veto so f**king bad!! JC – if they don't put snakes in there, then you've got this. Scottie – those snakes f**ked me up! Bayleigh joins them. Bayleigh – the plan is for you to crush the veto. There's no other option.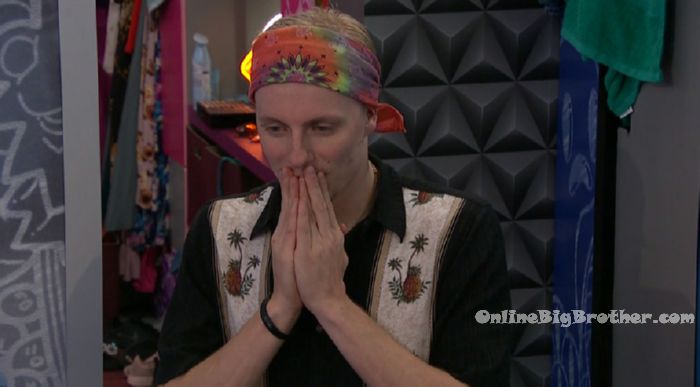 8:15pm HOH room – Tyler, Kaitlyn, Fez, Haliegh, Swaggy, Rockstar. Rockstar – that was epic. I couldn't look at anyone. Swaggy – they're scrambling. Fez – shots fired! Rockstar – do you remember when you put Winston on the block and we all laughed about it? Kaitlyn – remember when I won HOH that was weirder. Swaggy leaves. kaitlyn – ok so I will probably throw up in a few minutes. Haleigh – I am so upset that I laughed. Kaitlyn – you didn't laugh? Haleigh – no I did. Bayleigh laughed and it made me laugh. Did you hear Rachel gasp? Tyler – imagine if she had started getting roasted right then?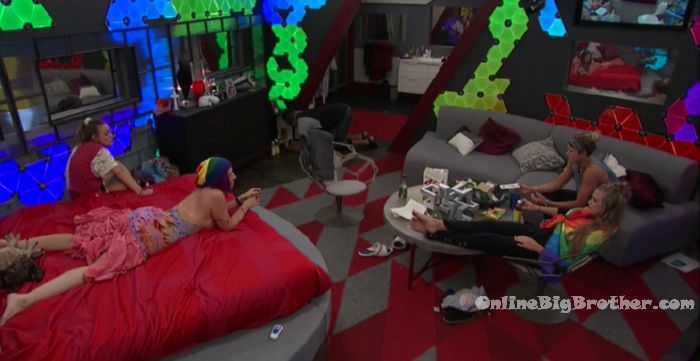 Havenot room – Kaitlyn and Winston. Winston gets Kaitlyn to hide behind the saucer in the corner of the room. He grabs a glass of water and tells her they will act like they're cleaning it up if anyone comes into the room. Kaitlyn – sorry for nominating you. Winston – I think I sold it. Kaitlyn – you sold it! Everyone was laughing at my comment. Everyone was buggin out. You're on the block bud. Winston – did you tell Scottie that he's a pawn? Kaitlyn – yes. Winston – he is a terrible actor. Why did he say crap? Kaitlyn – I kept making jokes. Winston – all week I am going to try and distance myself. Its going perfect. Kaitlyn – literally, after I was like I need to check my emails because all my clients are firing me right now. I'm a bad liar, I can't keep up with my lies. Winston – its perfect. Its big brother. I trust you.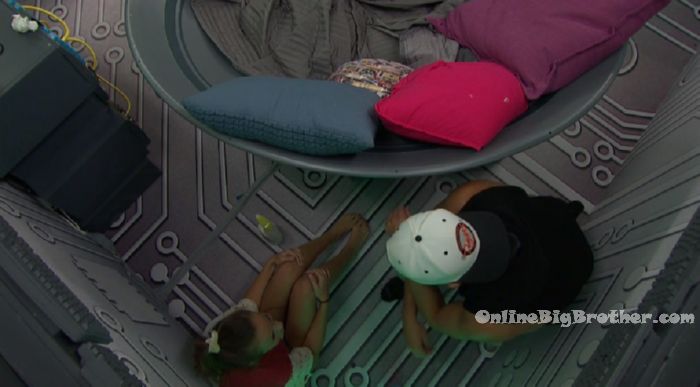 8:35pm Havenot room. Brett & Winston. Winston – I've got to act pissed. Brett – don't be a di*k. Winston – I'm going to walk the line. Brett – obviously you want me out of here the way you acted. Like if they bring it up. Be standoff-ish. There's a difference between being upset and being a di*k. Brett – I went to Scottie and said we need to talk … I wish I had done it before the nominations. I'm too close to you and that's why it doesn't work. Winston – maybe Kaycee or someone else. Brett – Steve made a deal with them. You (Scottie) vowed to Steve that you would be on the manhunt for anyone that did that. Number three – Steve picks one of them to fight for him (Fez) and they didn't pull him off. Who gets put on the block and told they're a pawn .. you (Scottie). Winston – it will literally cause hysteria in his mind. It would be better if it was Kaycee telling him that. Brett – we need Kaycee to have that conversation. Kaycee joins them. They tell her about their plan for her to talk to Scottie. Kaycee – it won't work, he's smarter than that. He will go to Swaggy and then the whole house will know.
For all you folks that need a VPN I use this one
Rank the houseguests!
Easiest way to Rank the house guests use link below