| | | | |
| --- | --- | --- | --- |
| POV: | Tyler | Next POV: | July 28th |
| POV Used | ? | POV Ceremony | July 30th |
| HOH: | Bayleigh | Next HOH: | Aug 2nd |
| Noms: | Brett & Rachel | Have Nots | ? |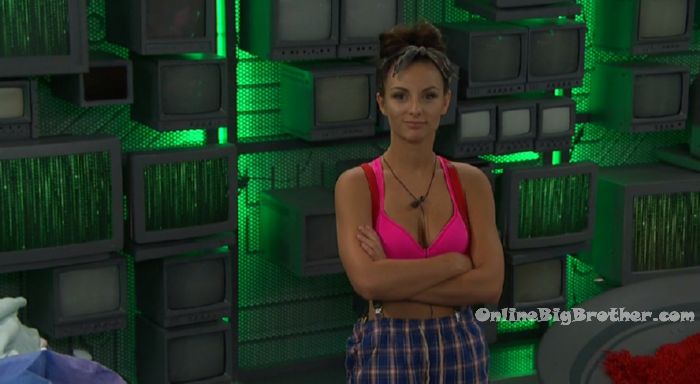 9:25pm – 9:30pm Havenot room. Rachel alone. Rachel is pacing back and forth. Rachel – Tyler are you f**king kidding me right now!? WOW! He better f**king use that veto!! F**KING SNAKE! SNAKE! If I f**king survive this eviction I will…. If that is freaking true! WOW!!!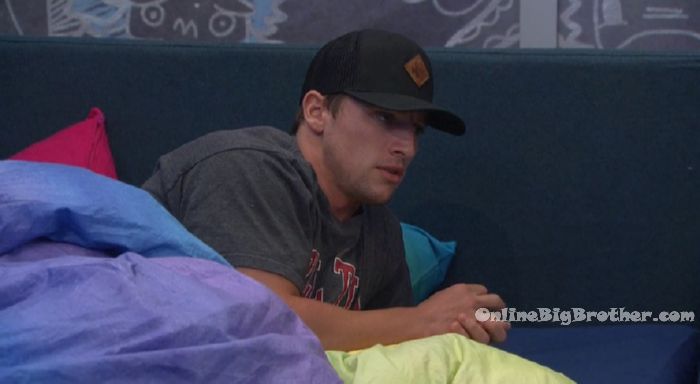 Bedroom. JC and Brett. JC – She (Rachel) is going to go crazy now. Brett – if she stays on the block? JC – yeah. I'm nervous man, its going to be a big mess. Brett – I just want to know what the f**k is going on. I'm like dude I am literally like a loner. Why are you coming after me .. but like whatever. JC – Tyler? Brett – no I am .. once Winston left… yeah I am friend with everyone in the house but.. I told her that I am not coming for her (Bay). JC – wait until the veto ceremony. I know he is not going to use it. Brett – why do you think he isn't going to use it? JC – Because it would be very stupid for him to use it. You know that Rachel will flip out.
9:49pm HOH room. Bayleight and Kaycee. Kaycee – JC was trying to get Sam to do it? Bay – what? Kaycee – be a havenot. But I don't think she will do it. Bay – so many things are changing .. not in a bad way, in a good way. From the HOH bathroom Haleigh asks did I just hear something about a three way?
Try the Live Feeds FREE for 7 DAYS! Click here for your: FREE Trial

9:53pm Havenot room. Tyler and . Tyler – the only way I can use it is if I get her to think that Scottie is my best friend and then she would be retaliating against me by putting Scottie up… you know what I saying? I am not going to be able to use it if she doesn't think that because then it would be you, Sam or Kaycee up there and I am not willing to risk that. Angela – f**k! Tyler – I know ..she really does not want to use it. Angela – using it would really piss her off. Tyler – it would piss a bunch of people off unless it worked and she would retaliate against me and put up Scottie. Unless I am 100% confident that it would work I don't think I could use it. Don't tell her I said this. She thinks I am just this lone wolf. I am trying to make her think that Rachel was that vote last week. Kaycee told me that Rachel threw everyones name out. She literally talked herself onto the block because JC was going on the block. Angela – so right now are you using it. Tyler – I am not confident that Scottie would go up. I planted that seed. Next time I talk to her (Bay) I will tell her that Scottie just laid it out to me that I'm his number 1 and that any other deal he made was bullsh*t but like I know they (Scottie and Bay) made some kind of deal. Angela – we should have won the HOH. Tyler – yeah we should probably start doing that.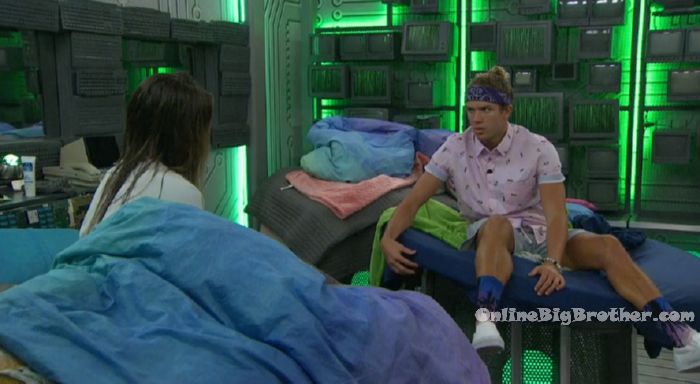 10pm Brett joins Tyler and Angela. Brett – what's up? Tyler tells Brett about his plan to try and convince Bayleigh that Scottie is his best friend so that if he uses the veto she will put Scottie up as the replacement to retaliate against Tyler. Angela – right now I would be the replacement. Tyler – she (Bay) said she wants to break up you (Brett), Rachel, Angela, Sam Kaycee. Brett – she is telling everyone different stories. Tyler – she is telling everyone what they want to hear. Brett – I am trying to be really close to Scottie so that she thinks we're working together. Rachel joins them. Brett leaves the room. Tyler heads out and tells Angela to tell Rachel what he had told her about his plan.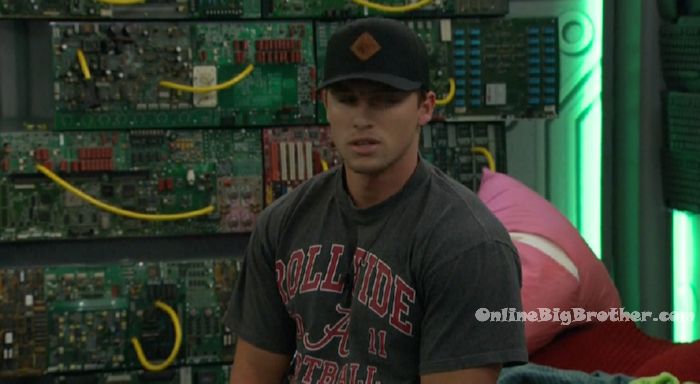 After Tyler leaves Angela fills Rachel in on what Tyler is doing to try and get Scottie up on the block. Angela – he asked Bay who the replacement would be and she said it was me. Rachel – he is lying. He is lying! Angela – are you sure? Rachel – yes. She told me the secret about her power. That's why she trusts me. Angela – and about .. but what's her motive? Rachel – I trust her! I feel like Tyler's been on the outs of me and I thought I could trust him. Angela – that's the thing if Tyler pulls Brett off, then I would be up with you and the all girls alliance would blow up. Rachel – Bay said I am not putting Angela on the block. She said the only way I will use this is if you put Angela on the block. She said that's what he (Tyler) said to me. And I was like WHAT?! He wanted you to go up next to me to break us up. He said I don't care who goes home. JC joins them. Angela – I was just told that I would be the replacement.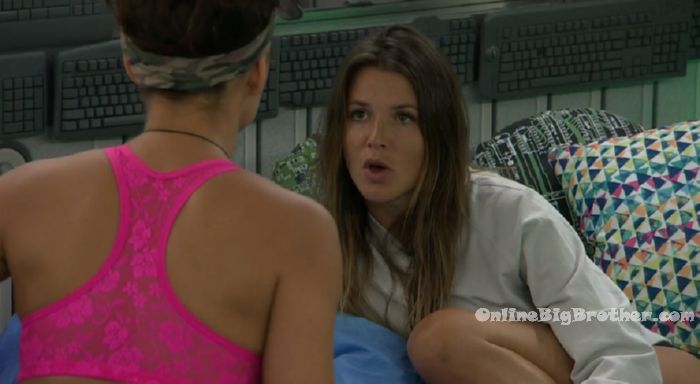 10:25pm Storage room. Tyler tells Kaycee his plan to try and get Scottie put up as the replacement. Tyler – I need you to get in her ear. Kaycee – okay, I will talk to her one on one.
Lounge room. Angela – Tyler is telling me that I would be the replacement and Rachel is telling me that Bay said she wouldn't put me up. What do I do? Who do I believe? kaycee – I don't think he would. Angela – then why would Rachel tell me that? Angela – Bayleigh thinks that Tyler is a lone wolf. I feel like our alliance isn't solid any more. Kaycee – it is.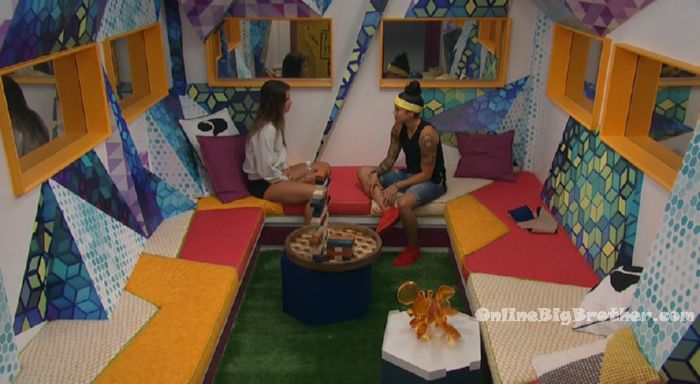 10:30pm Kaycee and Tyler hide the beer and wine behind the chips in the storage room. Tyler – you and I are going to chug those at midnight (When she isn't a havenot anymore.)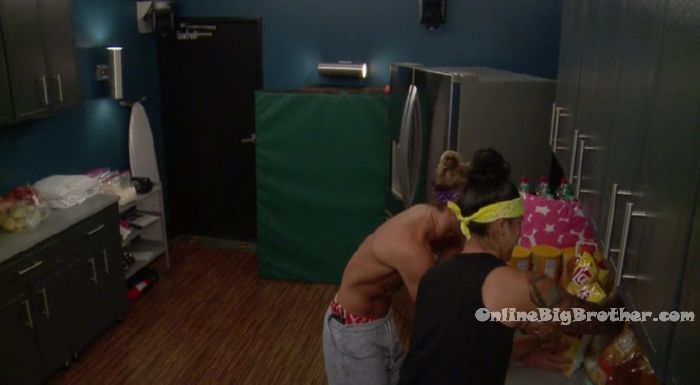 11pm Living room and the the Lounge room. Angela, Rachel and Kaycee. Rachel – she told me she would never put me up. Kaycee – I don't think Tyler threw your name out there. Angela and Rachel don't think he did either. Angela – I don't get why my name came up because I haven't done anything to either of them. Why did my name week. Angela – it just doesnt add up .. either its Bayleigh or its Tyler. Someone is lying.

Rachel, Angela and Rockstar. Rachel – nothing is adding up. Rockstar – Nothing has added up since day 1. Rockstar – the cool thing is that
11:25pm Bay, Tyler and Sam run to the storage room to look for the alcohol. Bay – she literally just told me to go to the storage room. I am actually upset by this? Tyler – maybe it will be in here after 12am.
11:25pm Havenot room. Rachel – she (Bay) said to me that he said the only way he would use the veto is if you (Angela) go up and breaks us up. And Tyler said well who does he want out? He said he didn't care. Angela – that makes no sense. Tyler joins them. Rachel so what happens if you use it? Tyler points Angela and says I swear on my life. Rachel – that is crazy. Tyler – but don't act like its happening because if she catches on.. Angela – I've been avoiding her. Rachel – so like she is saying she would put her up if you used it? Tyler – yeah dammit! Scottie joins them talking about what pizza to make. He and Tyler leave. Angela – he just swore on his life. It doesn't make sense. You said that the only was he would use the veto is if I get put up? Bayleigh doesn't want the veto used. Bayleigh doesn't want me up. So why does that make any sense to anyone!? The only way I would use it is if you put Rockstar up. Kaycee – what you're saying doesn't make sense. TYou're saying that Tyler said hey use the vet and put Angela up. Why would Tyler say that? Tyler joins them. Rachel – so she said she wanted to put her up? Tyler – oh my god! Stop! Please stop! Don't ever let that come out of your mouth again. Why would I make that up. She is saying what we want to hear. Brett is trying to convince her that he is with Scottie too. We're trying to convince her that we're a trio. Tyler leaves.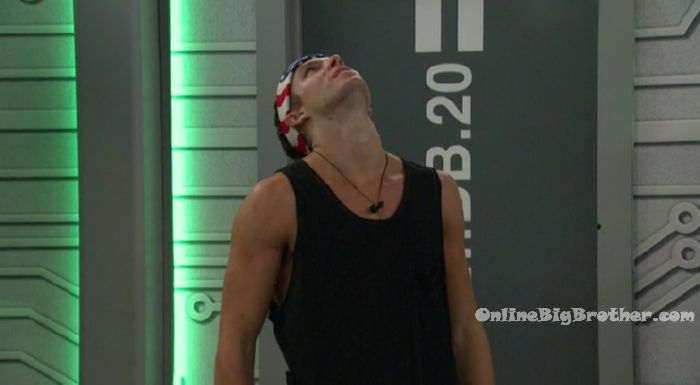 Angela continues to try and convince Rachel what she said Bay told her doesn't make any sense. Rachel doesn't understand it why it doesn't make sense. Rachel – then if I misconstrued this then this needs to stop because I can't have this blow up and I go home because of this. If this gets back to her right now I will go home.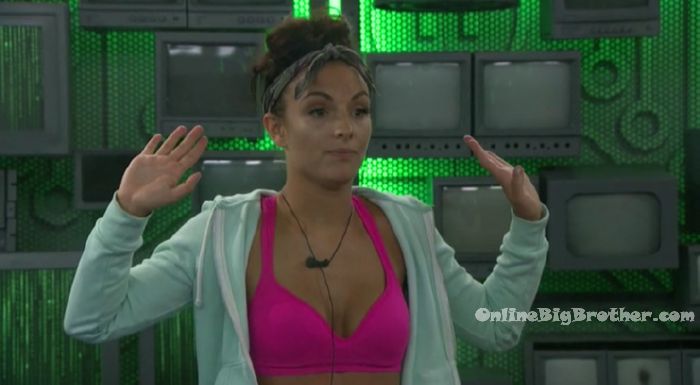 11:40pm Havenot room. Tyler and Kaycee. Kaycee fills Tyler in on all the confusion and how Rachel has everything all twisted up. Tyler – I am mainly doing that because I am probably not going to use it (veto) but I want everyone to think at least I am trying. Its a bad idea for me to use it. Tyler – this one (Angela) needs to calm down and this one (Rachel) needs to shut the f**k up. I need to talk to Angela without Rachel around .. every time I try and tell Angela that I am not going to use it because I don't want to risk her going up .. Rachel is around.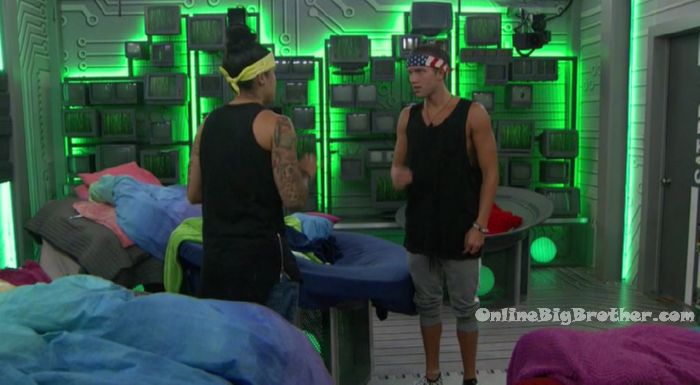 11:47pm Big Brother opens up the backyard. By the hot tub. Scottie and Haleigh. Scottie – the rumor is that they're pushing for me to go up. Haleigh – I have heard that. Scottie – I am untamable is what I'm hearing. Haleigh – did you flip? Scottie – I swear I didn't. I literally swore on the bible that I didn't.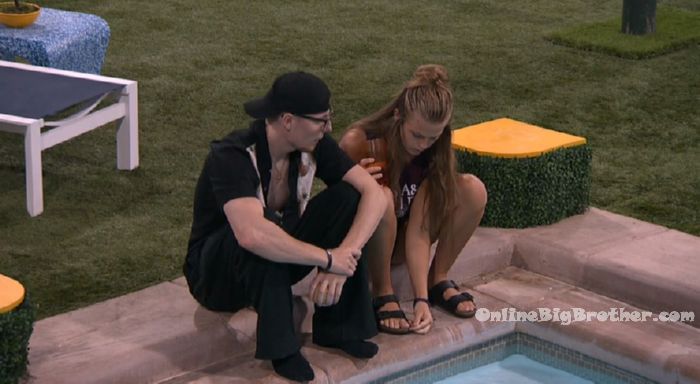 "A whole new world…."#BB20 @bigbspoilers pic.twitter.com/6Lm0WQKIcT

— Dawg (@DawgsBigBrother) July 29, 2018
11:55pm – 12am Havenot room. Tyler – I think something went over your head. Are you freaking out? Angela – I am freaking out because I think Rachel is lying. Tyler – Bayleigh really did tell me that you would be the replacement nominee if I used it. I don't know if she is just telling me that to throw me off. Like me telling her that I am best friends with Scottie. The funny thing with me telling her that me, Brett and Scottie are the trio .. making it look like that I would use the veto on Brett… so that she would put up Scottie. Does that make sense? Mainly I have been trying to just talk to you by yourself because that is a stretch. And unless I was 100% sure about that I don't think I would be able to use the veto. Angela tells Tyler about how confused Rachel is. She is making sh*t up. Tyler – Rachel talked herself onto the block. Angela – if she is going to act like this I would rather she go and Brett stay. Tyler – I really don't want to use the veto but I need to make her thinking that I am trying to. I really think if I don't use it, we need to keep Brett. We have to be careful because if she (Rachel) thinks she is going she would blow up. Angela – this one (Rachel) is on my sh*t list. Tyler – I just wanted you to know that that I wouldn't want to risk you. Angela – my alligence is with you over this one. Tyler – Kaycee is solid as f**k, you me and Kaycee are going to need each other more than ever. Angela – do you think we would have the numbers to get rid of Rachel? Because all the girls are going to vote to keep her. Tyler – I think so, if we get JC and Sam on board.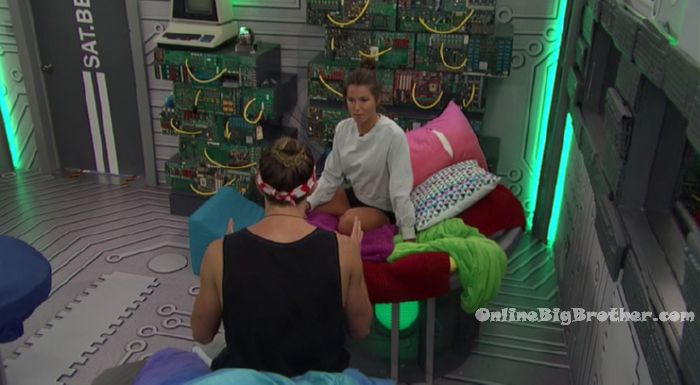 A real easy way to support the site if you are an amazon shopper is to make your purchases through our link. You pay the exact same thing but we get a small % commission. It doesn't cost you anything and helps us out.
Amazon Canada
Amazon USA
Rank the houseguests!
Easiest way to Rank the house guests use link below