| | | | |
| --- | --- | --- | --- |
| POV: | Tyler | Next POV: | July 28th |
| POV Used | ? | POV Ceremony | July 30th |
| HOH: | Bayleigh | Next HOH: | Aug 2nd |
| Noms: | Brett & Rachel | Have Nots | ? |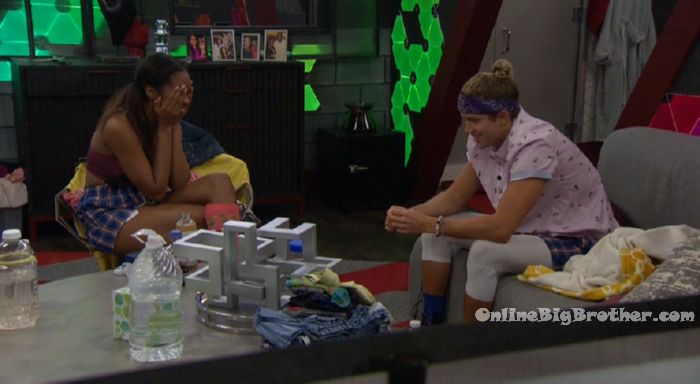 7:10pm Bay and Tyler. Tyler – I don't want the sides to think you and me are jumping back and forth. Bay – this is going to be nuts!! I'm excited! Can you even believe it!? Like you just saved my life.. I'm forever indebted. Bay – even this week I told you I was not going to put you up and I sincerely meant that. Tyler – people were freaking me out though. People were freaking me out. Bay – why?! Tyler – I don't know .. I know what you said and I know what other people said. Bay – well people can get over it. I'm happy that I chose that. Tyler – I feel good. Bay – I am proud of you for not being corrupted this week. You could have been recruited to do all sorts of evil things. And you are sticking up for yourself. Tyler – my boy Scottie. He said our types don't usually match up like in past seasons. But he and I are real good .. he's my dude! Bay – do you want to win HOH next week? Tyler – yeah. Should I? Bay – yeah, you want to make sure you're safe.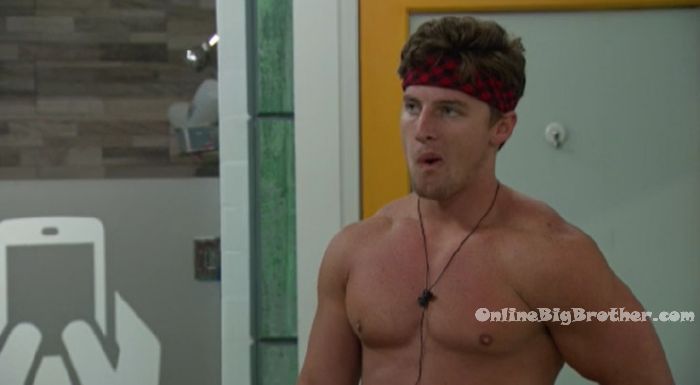 7:08pm Bathroom. Brett & Rachel. Brett – Tyler is with us, that's all that matters. This is why you do an alliance. Trust in the numbers. And then we take it to the final five. At the end of the day who do you want to spend time in the jury with? Rachel – NOT Scottie!!! Brett – 55 more days in jury .. we haven't even been here that long. Rachel – JC, why is he acting so strange?! Brett – you've been acting strange with me. Rachel – I feel like everyone on that side is worried. Brett – she's (Bay) not HOH next week .. who gives a f**k! Rachel – I can just see her being a b***h. Brett – but guess who started day 1 with us. If he doesn't use it, one of us is going home. That ruins his (Tyler) alliance. And the numbers matter more now than ever. Brett – I am a little worried too because at any point he could just decide to not use it. At this point he has nothing but to be 100% loyal to us. NO reason to freak yourself out. If he takes one of us off .. we've got the numbers ..you're GUCCI! GUCCI! I want to watch them all sweat! I want to watch the ants scurry. Watch the f**king ants scurry. Rachel – but why would they be so scared of Tyler using it. Brett – just because he could. I just have a feeling that I am going to win the next HOH.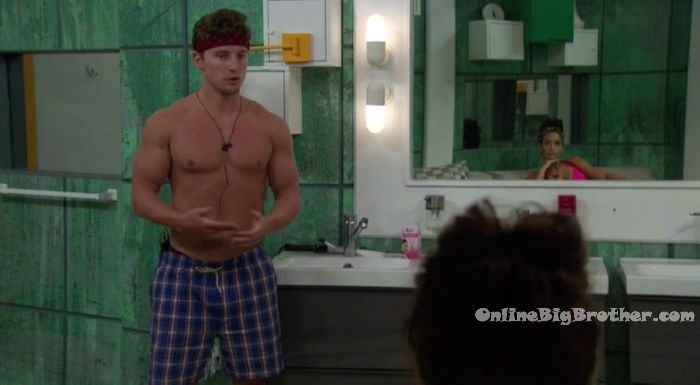 Will Tyler use the VETO? #BB20 @bigbspoilers https://t.co/sLQeY1KjzC pic.twitter.com/DcZbK1ZdGQ

— Dawg (@DawgsBigBrother) July 29, 2018
7:50pm Bathroom. Rockstar and Scottie. Rockstar – I literally have PTSD from his last elimination speech. So I am making sure I have buddy system. Scottie – there is no way he would do that twice. Rockstar – I know but people won't believe me. Scottie – that's what I'm experiencing this week. Apparently people are still doubting I have some deal with Brett. Which would be evil genius awesome but no. Scottie – I think its that girl right there (rogue vote). Rachel – Angela? Scottie – yeah. Rockstar – I want to know who did vote to keep Brett. Socttie – I still think it was Kaitlyn and Tyler. Scottie who would you put up if you won HOH? Rockstar – Angela and Tyler. Scottie – I was thinking Angela and Rachel. I don't think he will use it this week. If he does then that would mean JC would go up right? Rockstar – theoretically. I really need Brett to go.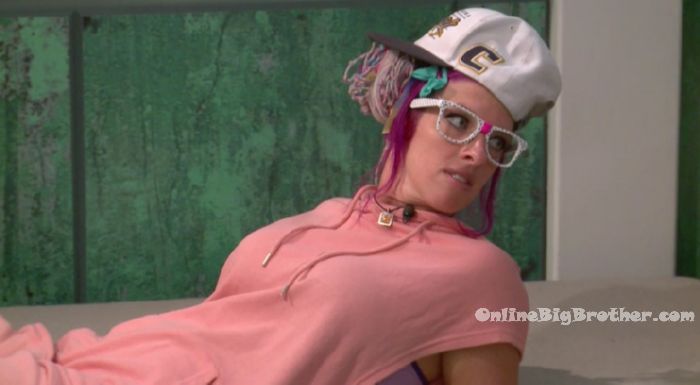 8:15pm HOH room. Scottie and Bayleigh. Scottie – Tyler and I talked yesterday and he pretty much told me the same thing that you did that people are saying my name. He would not tell me who. Bay – everybody… everybody but Tyler has said your name. I did talk to Tyler and he said Tyler is my boy. And I feel like he is the only one that has been real with me. If he says he didn't do it then he didn't do it. And I honestly think it was Rachel… I think she was giving my a pity vote. Scottie – You're cleaning up. I talked to Rockstar and she said that if she wins HOH she would put up .. Angela and Tyler.. I said Angela and Rachel. Then she entertained the idea of backdooring Tyler. Bay – how do you feel about that? Scottie – obviously I want him to stay around as long as possible but the five of us take priority. Bay – I like to hear that. Tyler is a lone wolf. Tyler is a beast. Tyler knows that she (Rockstar) is after him.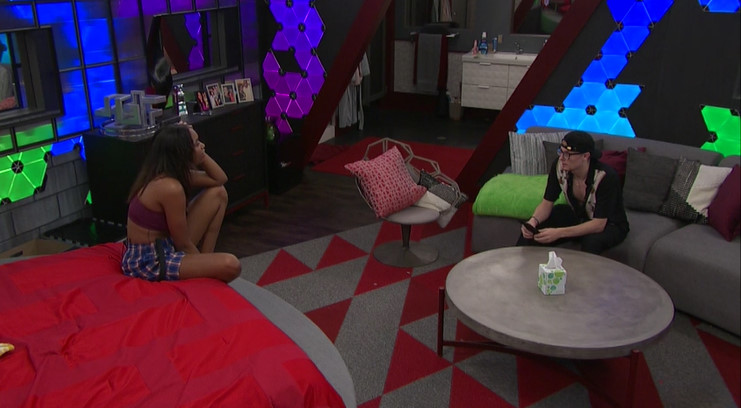 8:35pm HOH room. Scottie and Bayleigh. Bay – he (Tyler) said that he would not use it. He asked if he did would I put up Angela? And I was like I don't know. So I was like please don't use it. He said I will not use it. Scottie – I will talk to him too. Bay – do not repeat this to anyone .. but Rachel was like if the veto is use will you put Scottie up? I do not know what that is about. You and Rachel have this love hate thing.. now theres this weird thing. Zip your lip .. throw away the key. Scottie – oh yeah.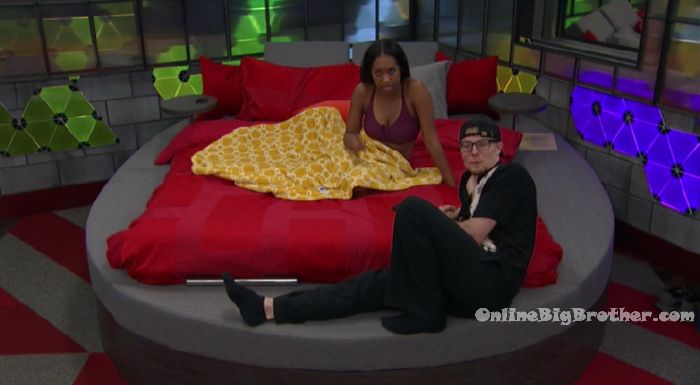 Scottie moves.. #bb20 @bigbspoilers pic.twitter.com/aiv5zhHgsi

— Dawg (@DawgsBigBrother) July 29, 2018
8:50pm HOH room. Bay, Haleigh and Angela. Haleigh – do you think they know that we're taking shifts on them. Bay – they have no clue.. they literally have no clue. Angela – they're all so dumb. Haleigh – I think they're more paranoid of us than they ever would be of us. Right now Brett is trying to buddy up with Tyler. Bay – let me say this I have not even thought about a replacement.. but that thing should not be used. Haleigh – if he does after he said he wouldn't.. when you were nervous about him in the first place. Bay – I don't think he would do that. I trust that he wont .. he was just paired with kaitlyn .. she is gone now. You wouldn't jump out on a limb to be paired with Brett…. Y'all two are going up. Haleigh – we need to watch Tyler and Brett. We have to find out if Sam is on board. Haleigh – she is too emotional. Angela – she put two girls up and didn't even think twice about it.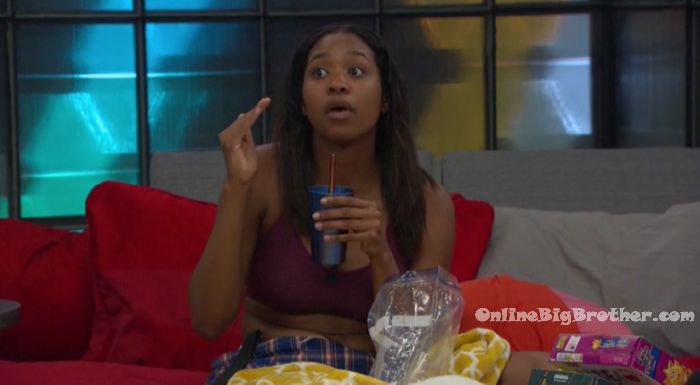 9pm HOH room. Rachel and Bay. They hug for a long time. (awkward) Bay – its going to be okay. We'll get the votes to keep you. Hopefully it will be unanimous. Rachel starts crying. Bay – I feel terrible for even having put you through that. Its emotional I know. Rachel – I felt bad this morning and I am sorry. Bay – I was going to kill you for a second .. but I couldn't even be mad. Rachel – what's the plan? Bay – when it comes to Fes and JC .. I think I can get them to vote.. I know I can get them to vote my way. Rachel – is Tyler using it? Bay – I don't think so. Him and Brett have been getting close but I really don't think he would use it on Brett. That would put everyone is a really bad situation. Bay – are you friends with Tyler at all? Rachel – in passing.. Bay – maybe if you see him and Brett talking .. you should just sit there but I don't think he will use it. Which would be best. He said that the only way he would use it is if I put Angela up as the replacement. Rachel – he said that? Bay puts her finger over her mouth. Everyone has been like I like Rachel. Rachel – but what if he does use it? And if he does we will put his a$$ on the block next week. Bay – four guys left and seven girls. Even if a girl gets put up she is never going home. Rachel – he wants a girl out of the house. Be prepared because he might use it. Bay – he doesn't have to promise me anything. No matter what he isn't going to get his way. I am not putting up a girl Kaycee and Angela have been worried sick about you. Rachel – I will be loyal to you and you can count on me. I have your back. I want you to know how much trusting me and telling me information means to me. Rachel – in the event he does use it .. then a.. Bay – a guy goes on the block.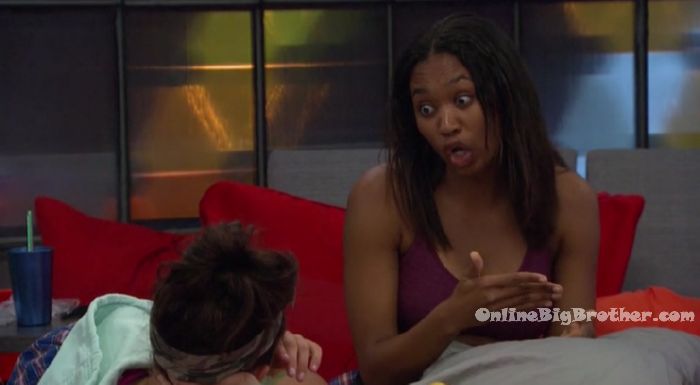 9:19pm Bedroom. JC and Brett. JC – You're going to be okay. Brett – what do you think? JC – I don't think he is going to use it. Brett – why do you say that? I'm a lone ranger. JC – you're not a lone ranger. I claimed you. Brett – remember when we thought it would be me and you on the block. I got you and you've got me. Rachel joins them. Bay – he said if you don't want me to use it then I won't use it. We locked it in. If he does use it then that is him going against his word.
A real easy way to support the site if you are an amazon shopper is to make your purchases through our link. You pay the exact same thing but we get a small % commission. It doesn't cost you anything and helps us out.
Amazon Canada
Amazon USA
Rank the houseguests!
Easiest way to Rank the house guests use link below