| | | | |
| --- | --- | --- | --- |
| POV: | ? | Next POV: | July 28th |
| POV Used | ? | POV Ceremony | July 30th |
| HOH: | Bayleigh | Next HOH: | Aug 2nd |
| Noms: | Brett & Rachel | Have Nots | ? |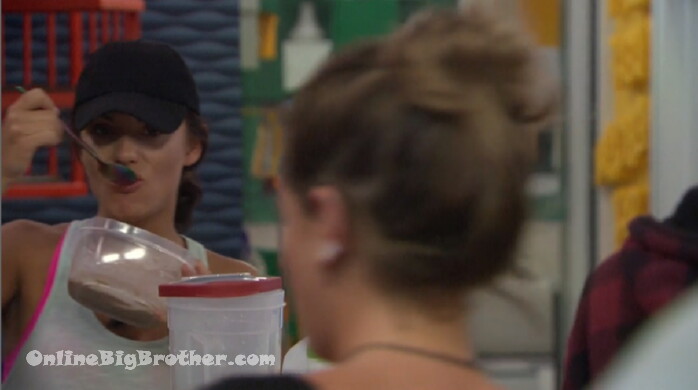 9:55am Freaking out..
Rachel – I hardly ate yesterday.. . 4am I fell asleep..
(she had a late night DR call)
freaking out.. #BB20 @DawgsBigBrother pic.twitter.com/yRNpLuPglH

— OnlineBigBrother.com (@bigbspoilers) July 28, 2018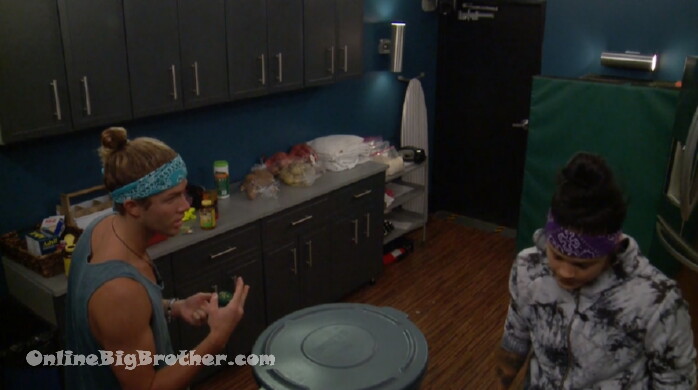 10:36am Tyler and KAycee
K – I think Sam will keep it the same
Tyler says Bayleigh wants the veto used on her that's what she told Angela
Kaycee – that's what Rachel thinks
T – Bayleigh see Sam and the three now as a four .. and she wants to break that up so if Veto gets used it'll be Angela or Sam that go up
Kaycee – Angela or Sam !
T – I don't know for sure.. but that's what she told me she's like I see Brett, Rachel, Angela, and Sam as a four and they are obviously always voting together and sh1t
Kaycee – I thought she would put Scottie up
T – I don't think she would..
Kaycee – because she's trying to break down the numbers on this side..
Kaycee – I think JC has something to do with it too
Tyler is convinced that Angela or Sam are going up.. "with me she didn't say your name.. your nameat all"
Kaycee – don't win it.. are you dong to try and win it
Tyler – if i do i'm going to try and build up Scottie as my best friend. I'm really going to try and build up Scottie as my best friend he's my only one here for me and if I use it maybe she'll be pissed and put up my best friend.. put up Scottie
KAycee – maybe..
T – I don't know if it works.. I don't know if I should use it..
KAycee – she wants to keep it the same doesn't she..
T – if it's the same we have to make a choice..
kaycee – I would say brett
TYyler shrugs and Smiles "Rachel"
Kaycee – you don't think so.. really
T – we'll figure it out though..
K – you think so.. and don't say anything about an all girls alliance..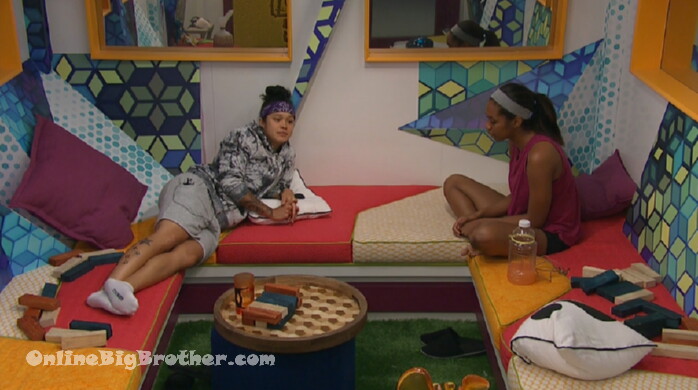 10:50pm Bayleigh and Kaycee
Kaycee – she needs to calm the f* down..
Bay – she came up to my room.. twice.. twice..
Kaycee – that's annoying I'm sorry..
Bay – Rachel shut up .. why is she doing this.. we talked about this for hours.. i should have surprised her a$$..
Kaycee says every competition Rachel comes in second she freaks out and starts crying because she thinks she's the target..
Bay – I just got kicked out of the HOH room.. Sam was like I need to use the bathroom.. lock me in here.. (I know what Sam is doing.. She must have saw Tyler with his shirt off)
bay says that Rachel was crying that if Brett goes home it's not good for her game.
Bay – you're not the HOH sweetheart
Kaycee – you need to worry about yourself.. I can't believe she's thinking like that..
Bay – give up your game to Brett.. throw it throw it to Brett.
Bay – Brett keeping his cool.. he's level headed
Kaycee – who she's like tripping out.. that's one of the girls I'm close to with her acting like that..
bay – imagine if I put her and JC together..
they laugh..
Bay says she wants Noms to stay the same..
Bay – the way she comes to me is very frank.. like I did this for.. NO NO NO
Bay thinks that maybe JC would have been less of a freak out. "I can't work with someone like that"
Kaycee – that's huge.. you can't work with someone that freaks out.. I'm right with you on that..
Bay – Shut up and chill out (rachel)
Bay – like I told her in the speech at least I gave her a chance to protect herself I could have backdoor her (wait is she a target)
bay says that Rachel just started talking to her now..
Kaycee – I'm sorry .. she's doing it to her damn self…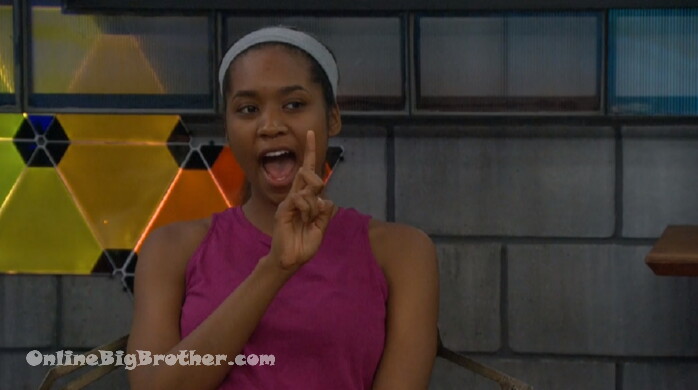 11:07am Angela and Bay
Angela says Rachel's nervous energy is holding her back "Like you have 7 girls behind you "
Angela – it's frustrating and I'm sure it's frustrating for you to
Bay starts venting… "she kinda threatened me this morning.. I'm going to let it slide.. just a heads up to you she was pissed that I didn't put you and kaycee up .. she thinks you are skating by.. I'm just really annoyed
Bay – I don't know what to do.. she's really just having a melt down
Angela – theirs nothing you can do you did nothing wrong she suggested she goes on the block.. now she's throwing other girls under the bus.. how dare you ..
Angela – she got what she asked for now she doesn't want it and now she's throwing people under the bus
Angela – she's really freaking out about the app.. which makes sense I understand that
bay – I understand that.. but one steps at a time.. Rachel can take her self off..
Angeal says the same thing happened with Kaitlyn last week at first she was good but then started pissing people off …
Bay – Rachel needs to chill.. she's upset me.. my skin is tough.. she's doing exactly WHAT I TOLD HER NOT TO she's taking it personal
Bay – I can't work with you if you act like this running around like a chicken with their head cut off.. any of the trust we are building you are showing you don't trust me and the people you are working with
Bay – it's better seeing this now..
Bay brings up Rachel tasking her to throw the veto at her..
bay – why would I throw the veto at you..
Angela – she's safe where she's sitting right now.. I know she wants Bret to stay I want Brett out to.. but Rachel
Bay – real talk I had nothing against brett.. and I had nothing against Rachel.. until now..
Bay – Scottie did have Rachel's name in his mouth
Bay thinks that Rachel flipped the vote
Angela – really.. part of me wants to believe Scottie for some weird reason ..
Bay – Scottie and Rachel have a issue together,.. we were all have nots last week and it was fine.. I'm just trying to keep my cool.. this house is a little on edge..
bay – best case scenario .. those two people on the block are best for my game I don't want to ruin it..
Bay – if it comes down to a boy VS girl I want a girl to stay
Angela – same..
Angela – I feel like in 8 hours everything will be different..
Angela says she hopes the nominations stay the same..
Bay doesn't want the veto used..
Bay mentions Kaitlyn telling her that Haleigh isn't who she thought she is she knew 2 days before Swagz went up and didn't tell bay. Adds that haleigh knew about the flip vote and never told her. Angela called to the Diary room.. They hug it out..
Angela – good luck in the veto crush it

Angela leaves.. Bay power stretches..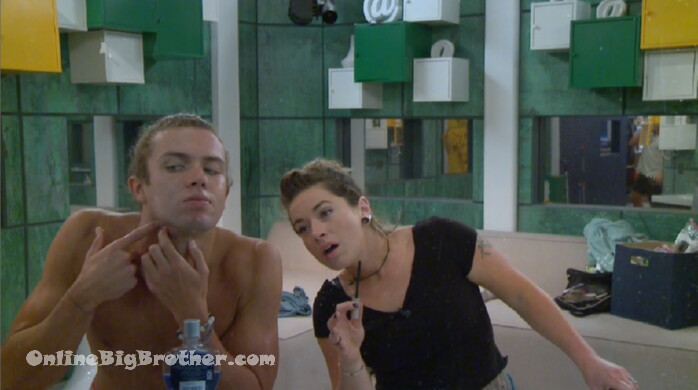 11:29am Tyler and Sam
T – Bayleigh is telling everyone to keep it the same
Sam – OK .. I've had a couple people say throw and I'm saying Play
SAM – In my brain I have a hard time throwing
Sam – Is that going to make me look bad or scary
Sam – I would rather lose for what I am than win for what I ain't
T – Exactly
they start talking about zit management…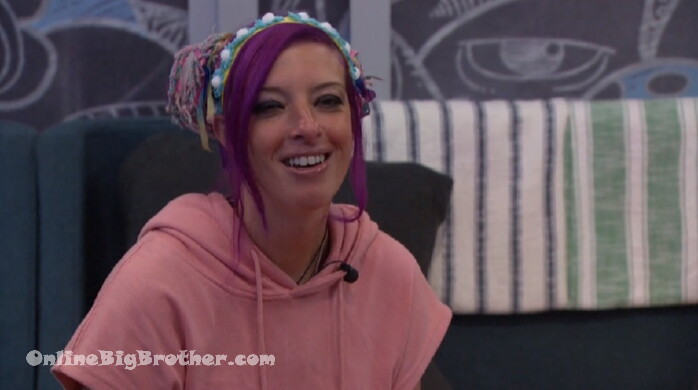 11:47am Rocks is talking about working in night clubs and strip bars for the last 20 years.. She wants to start running outdoor festivals.. Sounds like Scottie has gone to festivals as well..
(She should have a lot in common with the bros… She should be the coolest! but instead she's rocks..  )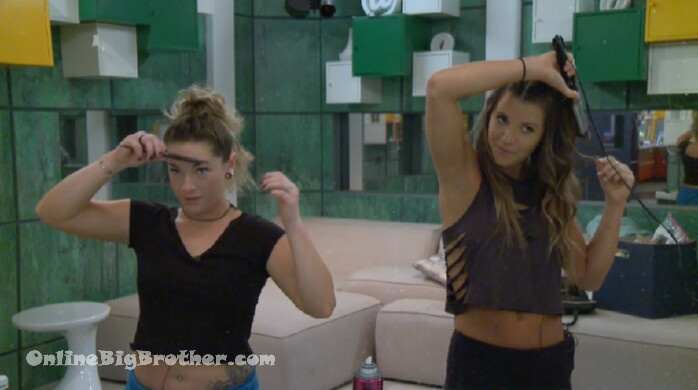 11:50am Angela, Sam and Kaycee
They try to talk Sam into not winning the veto otherwise she will look like a power house
Sam – i don't know what to do.. honestly we could go out there. and it's something I'm not naturally y good at..
Sam – Who knows.. I'm just going to try.. whatever happens we'll figure it out after that
Kaycee – yeah do you best.,.
they change their tune.. "yeah have fun… "
Angela – I feel like it's going to be really soon.. .
Angela says she's heard things from people that's makes her question things.. "Honestly have fun… don'e win don't lose.. deal
Sam – deal ..
Angela – don't win or lose..
Angela – I should put a bra on.. looks like gills on a fish..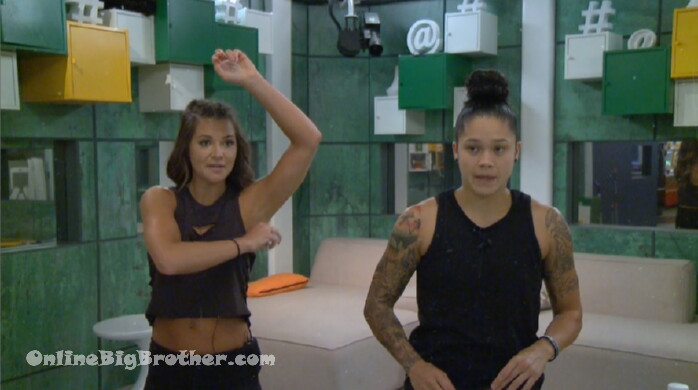 12:15pm kaycee and Angela
they are talking about RAchel freaking out and asking bayleigh why they weren't the pawns. Kaycee believes what BAyleigh has been telling them.. . Angela says Bayleigh told her that she wanted to work with Rachel, Angela, and KAyceee but now that Rachel is freaking out Bayleigh might not want to .
Angela – you are sitting really good with Bayleigh .. she's questioning Rachel because Rachel is freaking out.. Rachel pissed her off this morning..
12:26pm
veto waiting….
12:51pm feeds on BB12 this must be the veto comp..
2:27pm The live feeds are still blocked..
3:24pm Still nothing yet!
4:08pm The feeds are still showing BB re-runs
4:55pm Still blocked..
5:38pm still nothing yet
6:16pm Nope .. not yet no feeds for you
A real easy way to support the site if you are an amazon shopper is to make your purchases through our link. You pay the exact same thing but we get a small % commission. It doesn't cost you anything and helps us out.
Amazon Canada
Amazon USA
Rank the houseguests!
Easiest way to Rank the house guests use link below