Head of Household Winner – Memphis
Have nots – Kaysar, NicoleF, Christmas, David
Nominations – David & NicoleA
Power of Veto Players are – Memphis, David, NicoleA, NicoleF, Ian, Tyler
POV Host: Enzo
Power of Veto holder – Memphis
Power of Veto Ceremony –
Safety Suite – Christmas wins. Ian is her Plus One
Live feeds —-> Grab your Live feeds here. Try it free.
Rank the houseguests —-> Big Brother 22 Ranking
Feeds were down for a very late night Veto. This might be the latest since BB11 for me.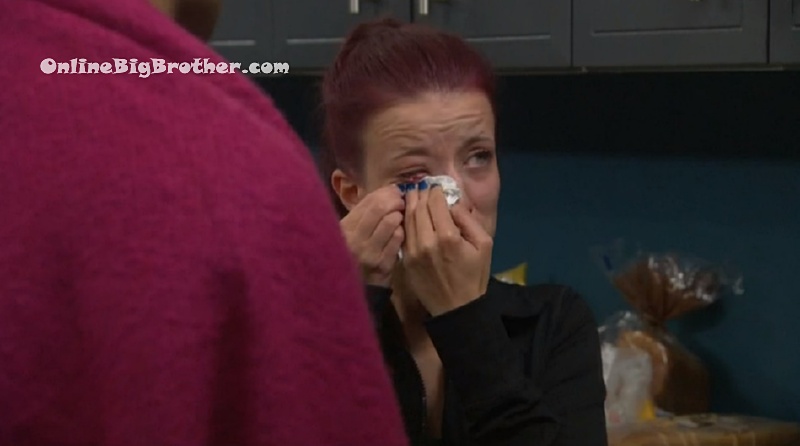 3:17 am Feeds return. NicA in the storage room crying about losing the veto.
Kevin says the competition was a "Bi-cep " game. says it was a competition for David to win.
NicA cries says she froze up
NicA – it was laughable
NicA says Memphis nominated her because he doesn't like her
NicA – I have issues I need a therapist. That is what this season is teaching me.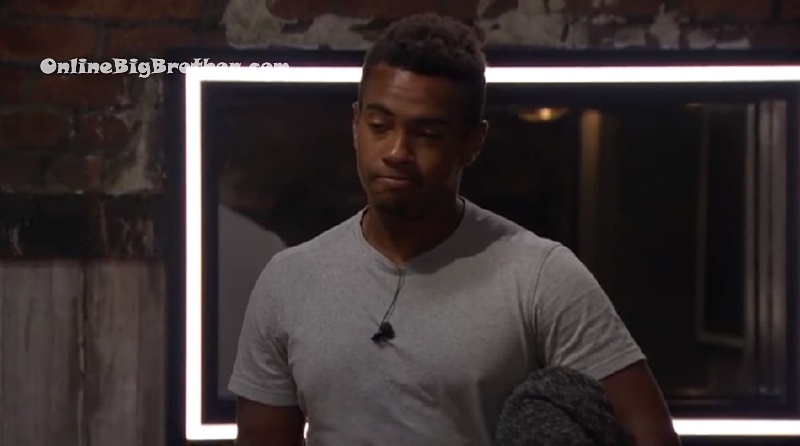 3:24 am David
David – I lost.. I lost HOH, I lost safety suite, I lost POV while ion the block. I tried. I lost. It sucks to lose when you are competitive.
David – I hope there not a backdoor against Tyler. I want Nicole to stay but Tyler is the bigger competitor. If they switch those around.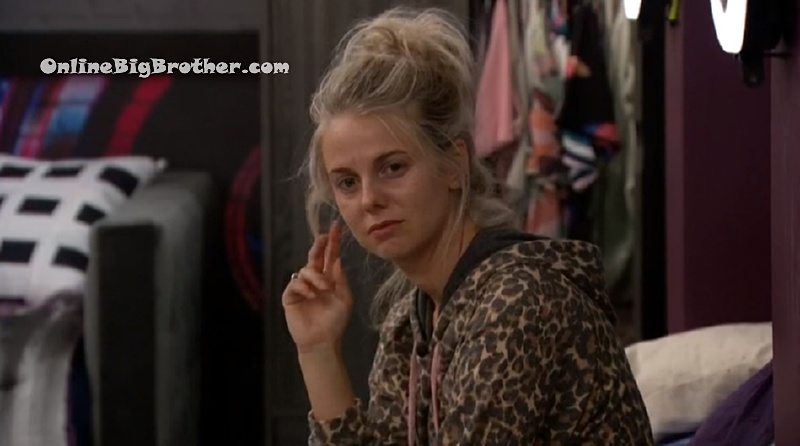 3:28 am Cody, Enzo, Dani, and NicF
NicF is worried that Janelle will convince Memphis to backdoor her.
Enzo says NicF has to talk to Memphis tomorrow.
They tell NicF that he's not going to backdoor her.
Dani – even if you were we would have the numbers are you kidding me.
Enzo says he never talks to Janelle
Dani – I don't think Janelle likes me.
NicF – I lasted 36 seconds and she's scared of me? give me a break
They talk about Memphis locking the door to the HOH.
Enzo – you can't shower.. that's his kingdom
Dani – And nobody is questioning it..
Enzo – he was like I got targets and you're not one of them right now
They talk about the Veto being "Too Heavy" for the girls.
Enzo – I don't think that was for a girl to win
Dani – the only girl that would have a chance to win that was Christmas no one else.
Enzo – Tyler did really good
Dani – David did really good
Dani leaves..
NicF says Rachel doesn't like her and Janelle is close to Rachel, "Stupid stuff like that"
NicF – Janelle was invited to my wedding because I thought she likes me. since we've been in here I don't like her at all.. Game on I guess. It sucks they are scrambling soo much.
NicF- As long as Ian is not playing me
NicF – I think he's loyal he likes me we're friends but he doesn't owe me anything
NicF still on about getting backdoored says she will need Da'Vonne's vote.
NicF says it's such "Bullcrap" to go after her right now. Goes on about being under 100 lbs and not being a threat.
NicF – I have a social game that I am loyal to people but I can't win Comps. It's just for her ego
Enzo – I thought Da was the target. F** man
NicF – Kaysar talks to NicA he's trying to get her off the block
Enzo – they're the reason she is on the block like I don't understand.
NicF – I am not going home this week I will be so pissed ..
They thought Dani would talk to Janelle. They're surprised now to hear that Dani doesn't think Janelle likes her.
Enzo – Dani better not be playing both sides.
NicF – that would break my heart.
Enzo – part of the game I guess.
Enzo says there's a lot of scared people this season.
NicF says she's not scared if she wins HOH she's going for the "Big guns"
Enzo tells her to offer Memphis a deal. "Offer the safety pass.. f*** it make a deal"
NF – I don't think he's going to put me up
NF starts counting her votes, says she'll have Christmas'
NF brings up Janelle staring her down during the competition.
NF – I'm out YO
Enzo says he hopes that Memphis doesn't use the veto. Asks if the noms stay the same who would she vote out
NicF – NicoleA I'm hoping she's working with Janelle.
NicF – Cody and David are starting to get close.
NicF – Please stay the same.. I can't believe I didn't use my safety pass. I thought I was good. Are you kidding me my name is floating around?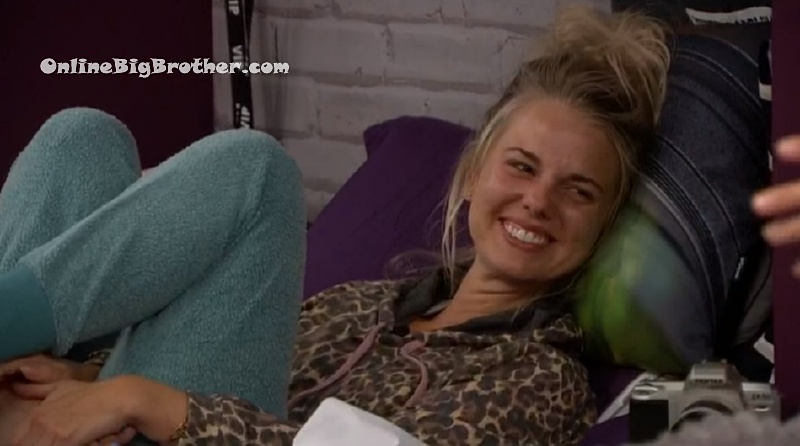 They talk about telling Memphis he should keep Janelle's main target in the house.
They start joking around..
Enzo – YO YO YOY YO YO it's a wrap yo it's over yo ..
Tyler comes in. chit chat..

3:37 am Cody and Christmas
Cody going on about Bayleigh and JAenlle always being together.
Cody says Kasyar is the brains but he sucks at competitions.
Chritsmas – so get rid of Janelle
Cody – next HOH is very important.
Christmas says this next veto meeting is very important.
Da'Vonne walks by claps "All RIGHT"
Cody – Da'Vonne is sketching me out
Cody – like what she did right there
Christmas – she's not talked to me twice.
Christmas – I don't deal with that passive-aggressive sh1t
Christmas warns him that she caught Enzo listening in on him while he was in the HoH.
Cody says he had a completely nongame related conversation with Dani.
Christmas – Janelle stirs the pot.
Cody – all of them have a f**ing hand in it. Da'Vonne and Bayleigh are flip-floppers
Cody says last week they were super tight with him now they are super tight with Janelle because they think she has sway with Memphis but little do they know Memphis is telling them everything.
Cody – they're looking like flip-floppers to us
Christmas – have you connected with Enzo at all.
Cody – we have that Jersey .. thing.
Christmas – how are we going to approach Memphis
Cody says it's pretty clear cut. "they're spiralling mentioning my name multiple times"
Cody says he's going to focus on them targeting the four of them.
Christmas suggests they can bring NicA in
Cody brings up NicA told them that she was in an alliance with KAysar and Janelle.
They agree NicA is struggling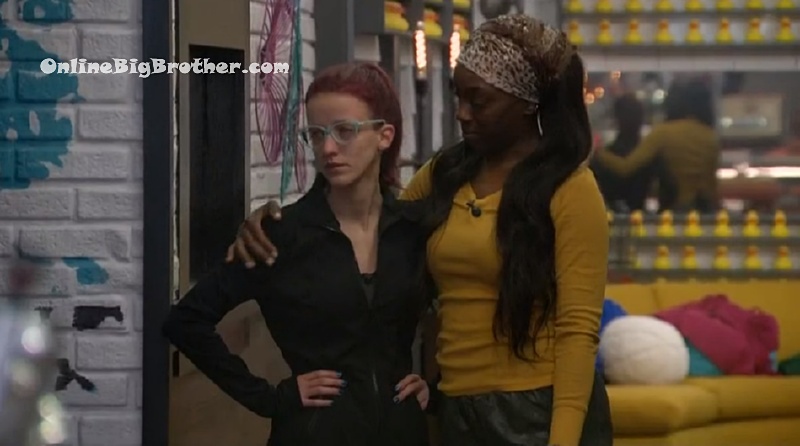 3:50 pm NicA and Da'Vonne
NicA is sad.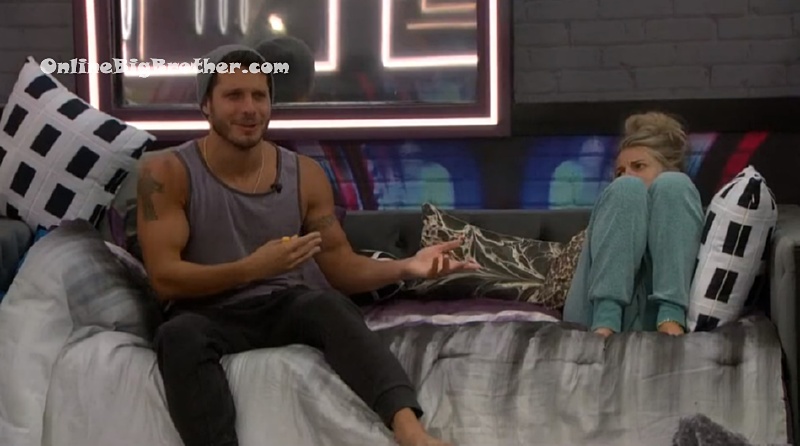 3:51 am Cody, NF, Tyler, Enzo
Cody going on about Da'Vonne saying something after seeing him and Christmas whispering in the kitchen.
NicF still worrying about going on the block.
NicF – I need your guys help .. to stay off the block
Cody – that's a big ask..
NicF asks if he's joking
Cody says he's joking of course.
NiCF makes a sarcastic comment about them never playing with each other and she can't tell when he's joking.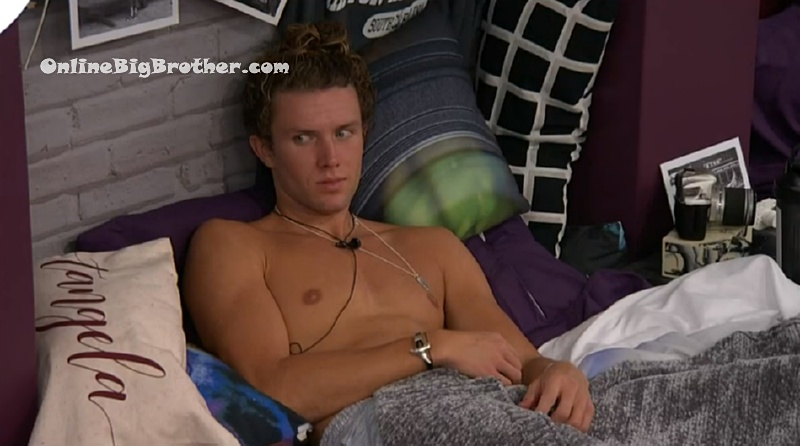 The camera pans to Tyler (who must be wondering about the integrity of alliance he's in)
They bring up how Enzo was a good host. They didn't give him a costume though. He was able to do it in one take.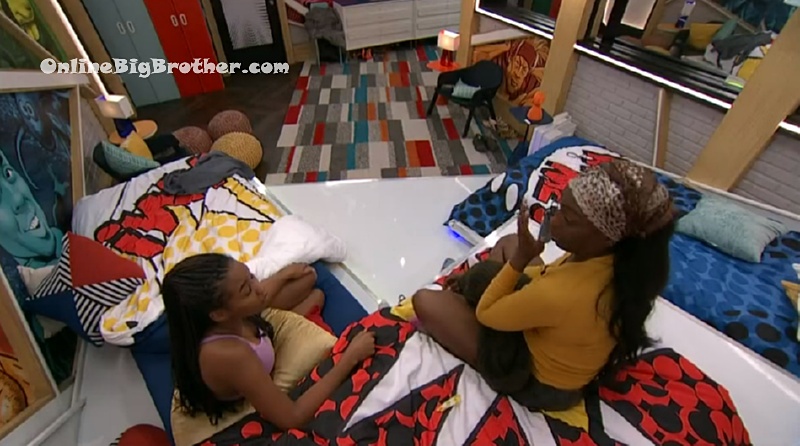 4:00 am Da'Vonne and Bayleigh
Talking about telling Memphis they are not going to vote David out and if they do that and he uses the veto on David and put NicF up what do they do?
Bayleigh – COdy wants to keep NicF, Enzxo doesn't care, David doesn't care
Da – Dani wants to keep her too
Bayleigh – and they think with us they have the votes
Da – here's the thing I noticed anytime I told Dani something about Cody. Cody would come up to me the next day and be like Dani told me you said.
Bayleigh – Janelle said its Cody, Dani, NicF, Tyler
Da – I believe three I don't know about Tyler
Da says Tyler threw the Veto competition today.
Da – Tyler keeps telling me he doesn't trust Dani
Bayleigh – why don't we got with that original plan if we can get Memphis to put NicF up we'll vote her out (Music)
Da – that's going to piss Cody off
Bayleigh – here's the probably Cody you have yet said if you have something with NicF
Bayleigh says that Cody told her he hasn't talked to NicF in 6 years
Da – that's a lie I know for a fact.
Bayleigh says she's not going to get caught in the middle of two alliances "we're just as bad as floaters if we do that"
Da'Vonne about Kaysar "I'm not going to lie some of the sh1t he's saying is adding up"
Da explains that NicF and Dani are close "they're good friends"
Bayleigh – they are
Da brings up Dani telling her that NicF pissed off every girl on her season
Da – I told Dani early .. 'Dani look Nicole came to me and apologized to me' I remember I specifically said I don't think she genuine I don know if I believe it or not but I'll give her time to prove it"
Da – NicF comes to me the next day "Hey Da I just want to talk to you .. I want you to know that I'm genuine and I want you to trust me and she was like you know I mean it everythign I said the day before"
Bayleigh suggests they wait to see who wins the HOH next and take it from there.
They agree they'll Vote NicA out if the noms stay the same.
Da says the house isn't voting David out.
Da is telling them (kasyar's group) straight up she's not voting out David.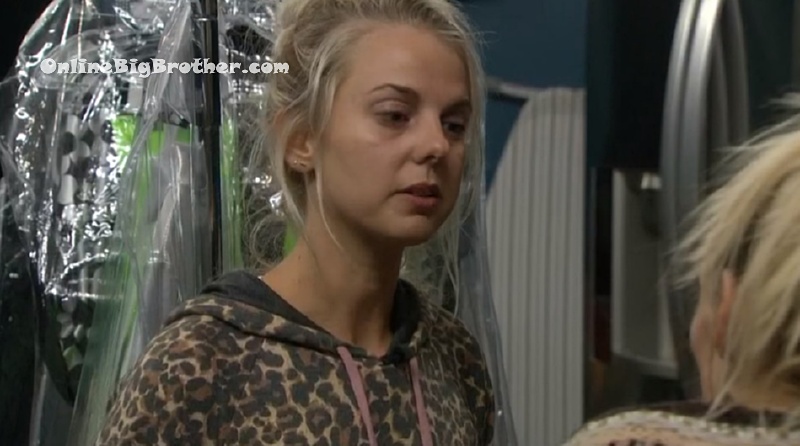 4:10 am Dani and NicF
Talking about what Janelle's "deal" is.
Dani – apparently she went to Bayleigh and Bayleigh was like I was attacked.
NicF – she just wanted me out.
NicF says that Ian knows about people wanting her to get backdoored.
NicF – I think I'm telling people too many things and this is why I'm in trouble
Dani – who are you telling things to
NicF – you, Cody
Dani – that's good that's who you are talking to.. Tell me everything
Dani assures her that Memphis is not putting her up
NicF – I know but I hate that for them saying me and no one cares because it's not them..
NicF warns about Janelle and Kaysar being with Memphis all day tomorrow. Memphis wants to make a power move and they'll talk him into it.
NicF – Christmas could have saved me.. I could have played Safety Suite
Dani goes on about Memphis being on their side. "Don't freak out relax you're fine.. even if you weren't you have the numbers you have Da'Vonne and Bayleigh I promise you"
They go on about NicF inviting Janelle to her wedding then Janelle not being instant BFF allies in Big Brother with her.
Dani – you were trying to do something Nice in her real-life.. I don't know what her (Janelle's) deal is she's playing messy and it will bite her in the butt. everyone in here wants her out.
Dani – she's digging her own grave.
Dani calls Janelle a Angry woman.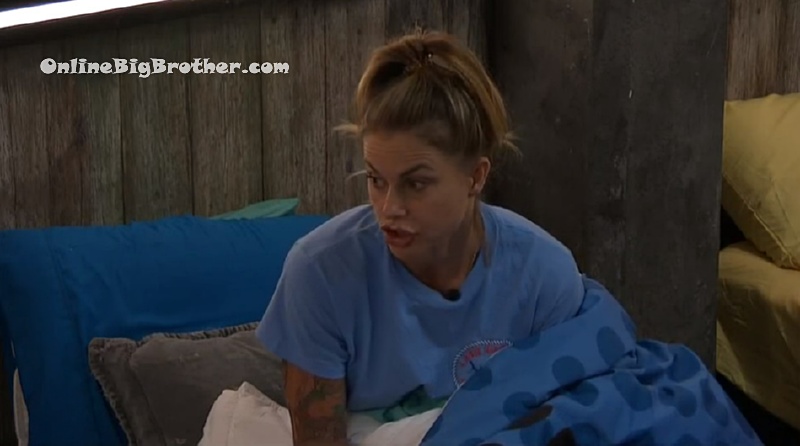 4:25 am NicF and Christmas
NicF – he's not going to do it.
Christmas – We have the numbers to flip the house don't worry we can save you
NicF – everyone knows about it
Christmas – who
NicF – our alliance
NicF back to saying Janelle stared at her the entire comp "That's why I look at you and was like I can't do this anymore"
Christmas – you weren't first out
NicF – I still looked weak
Christmas says Kaysar is trying to rope her into an alliance. "He said we need to lock something in officially"
NicF – do it
Christmas – be in alliance on both sides? I feel so traitorous
NicF – you have to that's what Ian did he won his season.
Christmas says last time she played such a loyal game. She doesn't want to tarnish her reputation by being traitorous.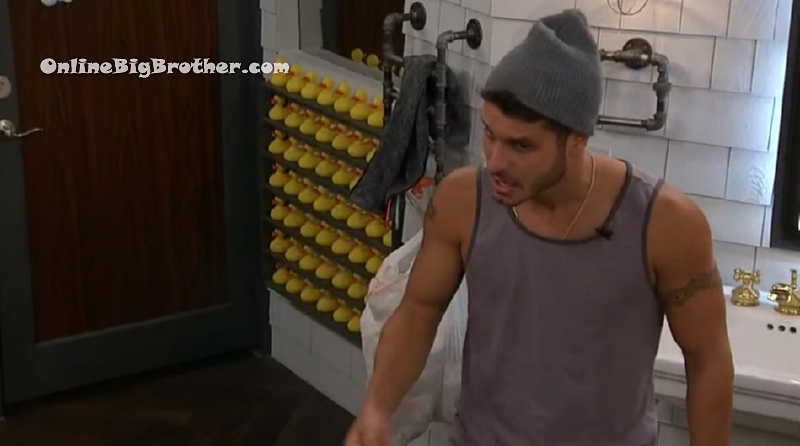 5:00 am Cody and Enzo
Cody going over a conversation he had with Da and Bayleigh
Enzo says it's hard for them to get their alliance in one spot to talk because they are always in the house and there's no room.
Cody is stressing about Da'Vonne and bay spending time with the other side.
Enzo – we have to lay out some rules you can hang out with the enemy
Cody – Kaysar and Janelle have both mentioned my name multiple times.
Enzo and Cody agree that bay and Da are in some sh1t with the other side.
Cody – they are nervous about us
Enzo warns if Kaysar wins HOH he's putting Cody up
Cody goes on about having his name mentioned and how everyone in the alliance (which is a sh1t ton of people) circling the wagons to protect him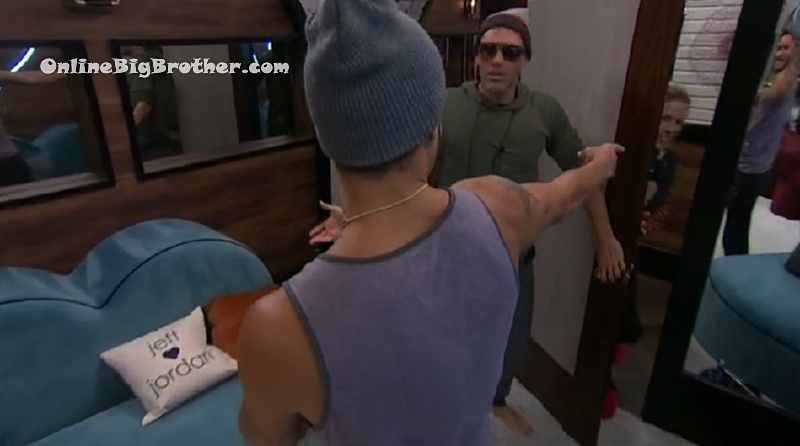 5:18 am Enzo, Dani and Cody
Cody talks about their alliance where they are branching out. the problem is how can they compare notes from their side conversations when their alliance never talks.
Enzo – exactly
Cody asks how they can find out if there's any bullshit going on by not talking.
Cody brings up when he was HOH they would use the room to talk but now he's down here nobody talks.
Cody – a lotta moving pieces.
Dani gets called to the Diary room.
Enzo tells him that Dani is playing with everybody in the house.
Enzo – Da, Bay are with Janelle too
Cody – if you want to be like that I'm going to David, Tyler and I'll grab Ian
Cody – tomorrow we're getting the backyard we're going to play pool. We're going to play pool until we're by ourselves.
6:20 am Sleeping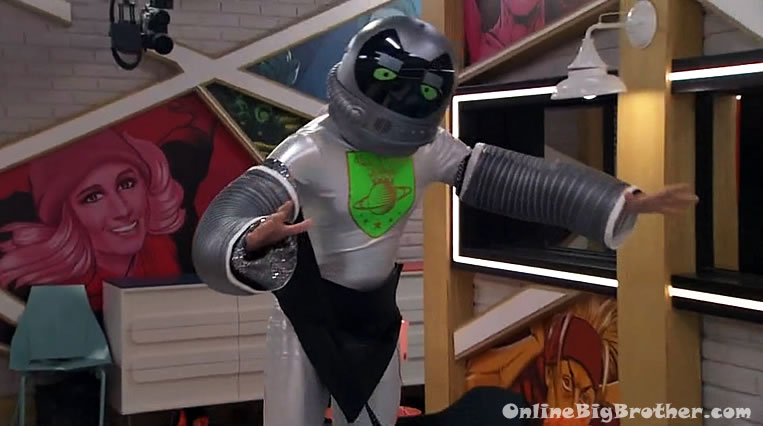 6:30 am Ian's punishment is to wear a robot outfit and read a scene from a sci-fi robot love story.
Da'Vonne also has a costume and some lines. they perform a short skit.
Ian's punishment #BB22 pic.twitter.com/TwrPZvmAmS

— OnlineBigBrother.com (@bigbspoilers) August 16, 2020
6:45 am Feeds back to showing all sleeping houseguests.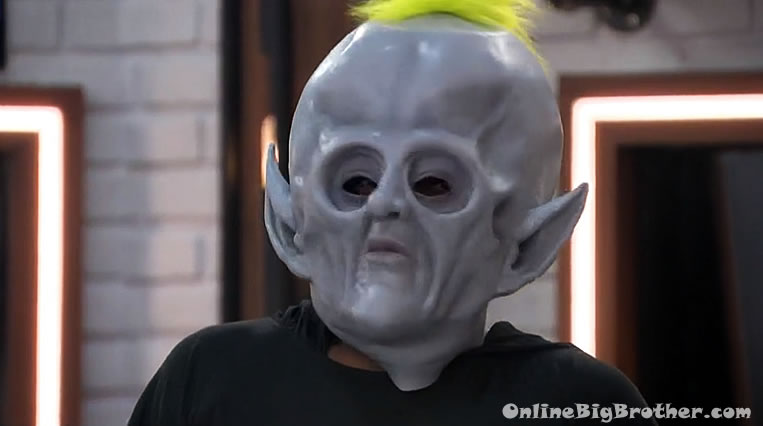 8:01 am Sleeping yo.. and I should be to.
9:40 am Memphis is roaming around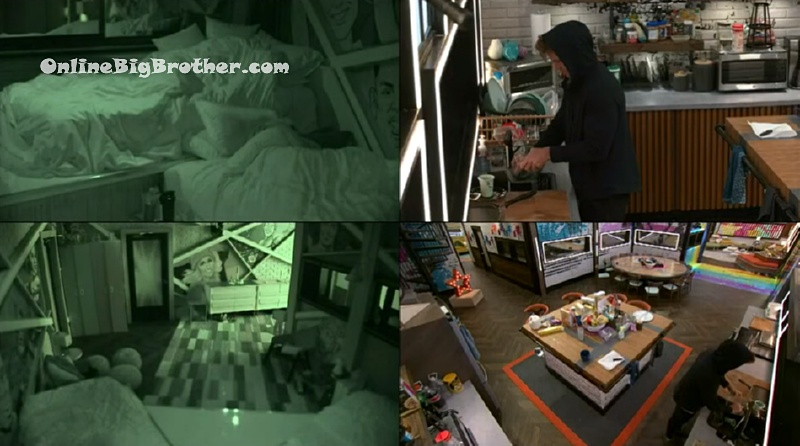 10:47 am ZZzzzzzz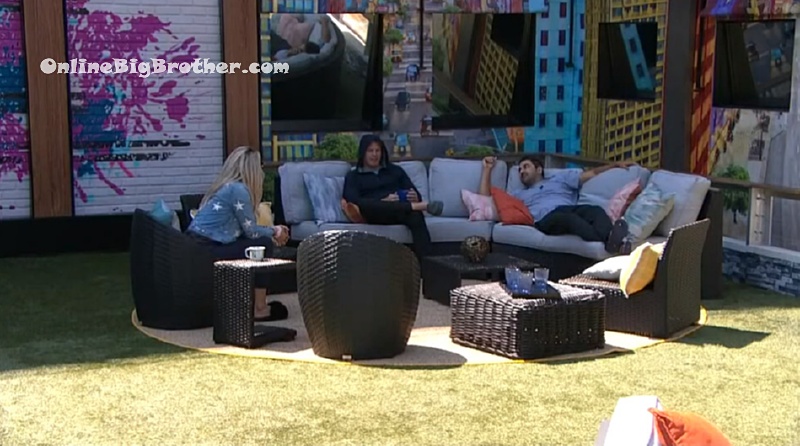 11:19 am Memphis, Kaysar and Janelle
Talking about being 40.
Memphis – the quickest way to age.. the f**ing sun
Memphis leaves to talk to David in the HOH.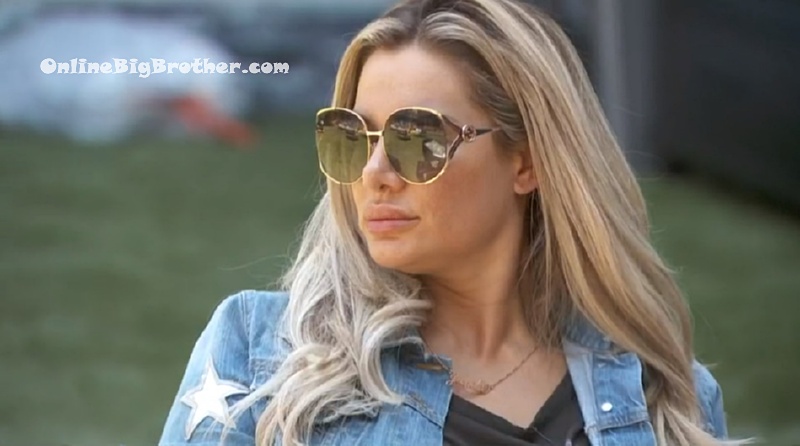 Kaysar tells Janelle about Dani being with the other side of the house. Says that Da'Vonne really doesn't believe it.
Kaysar stressed to her that the other side has the numbers and will pick them off one at a time it happens every season.
Janelle – Bayleighs down
Kaysar – she's the person I feel strongest with
Janelle – shews the one I trust the most.
Kaysar says Bayleigh is competent she's not going to screw up.
Kaysar says he has to keep reassuring Christmas it'll take more work.
Janelle – I'm so happy Memphis beat Tyler
Janelle is shocked that Da'Vonne doesn't believe that Dani is on the other side.
Janelle – Do people not realize how close Dani and NicF are .. outside of this house they are close
Kaysar – I don't know I don't keep track of these things.
Kaysar – Dani is trying to double deal
Janelle – obviously
Janelle – the thing is I'm not putting Dani up and I'm not voting her out that's the deal I have on a personal level.. Whatever.
Janelle – she probably knows we're not going to target her.. NicoleF is the problem. I want to take Nicole out. I know how close they are outside this house. Dani has told me.
Janelle brings up some previous Drama with NicoleF and how she tried to smooth things over. Goes on about how close Dani id with NicF outside the house. \
Janelle says NicF keeps saying that she's close with Ian but it's really Dani that she's with.
Kaysar – it's amateur hour.
Kaysar – we have one job and that is to save NicoleA .. we haven't finished this week yet
They are going to tell NicA to campaign to Ian, Enzo, Dani and Kevin.
Kaysar – she needs to campaign hard with those four I'll secure the rest
Kaysar – we need memphis to stay calm.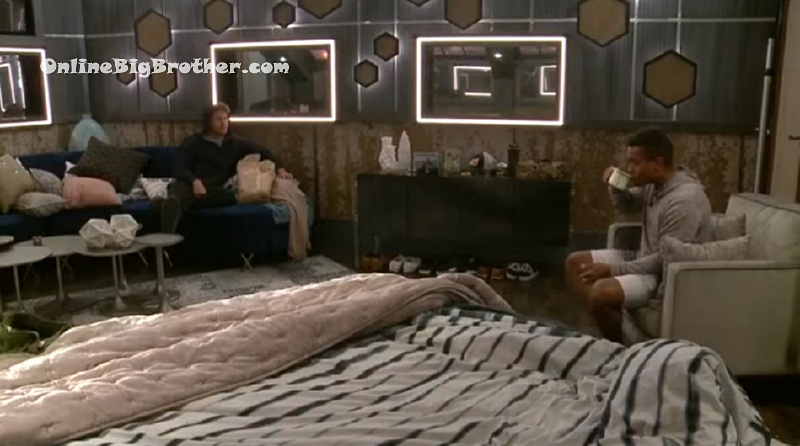 11:25 am David and Memphis
Memphis says David is not his target it's up to the house to decide who is going home.
Memphis says a lot of the house wants someone backdoored but he thinks it's too aggressive right now.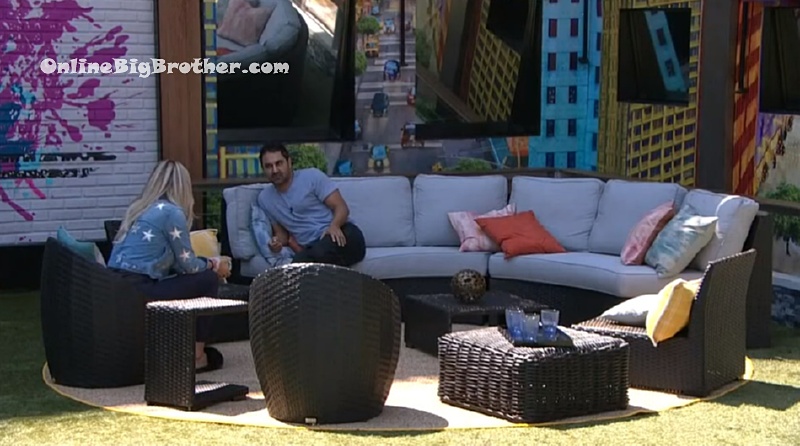 11:37 am Janelle and Kaysar
K – NicA is taking this very personal
Janelle says just on a competition ability David is a more dangerous player
J – We're excited to be here but we're also not this is everything to me
K – Right..
J – it's everything to them
Kaysar – It means a lot to them, we're going to our normal lives and we're going to be happy.
Kaysar – This is like. I'm going to do this next, this is going to make my life into this, I have to prove blah blah blah
Janelle – these people are here for followers I could give a f** less I ll probably lose Followers
K – there's a deep psychology effect
They talk about after season 6 they didn't leave the house for months. Janelle says she drank 2 bottles of wine a night. "By myself"
Kaysar says they had a positive experience in the house whereas a lot of the people playing now had a negative experience. They are trying to prove something
J – we were screwing around we were young we didn't care. I was like ohh well I'll save myself with the power of veto.. not so sure of myself anymore
they laugh
Kaysar – I couldn't win a power of veto 15 years ago
They talk about being on Big Brother 6 and 7, Being young and not caring.
Janelle brings up Boogie teasing her that nobody sees Janelle all day she rolls out of bed and win the Power of Veto .
J – I feel so bad for NicA she's very stressed.
K – Part of the stress is she up against David because they both felt they were bullied last year
J – I wish we could have talked to Memphis
K – I was hoping David pulled himself off..
J – I love David
K – Such a good guy
J – He's a really nice guy
Janelle says David looks up to Cody and Tyler he's happy to be part of something. Kaysar points out with him David is serious but with Cody/Tyler he's giddy.
Kaysar – how to I break into that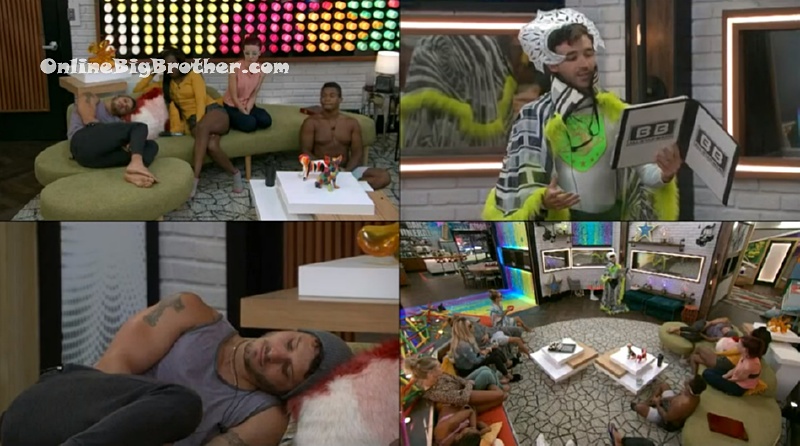 11:50 am Ian calls them inside for him punishment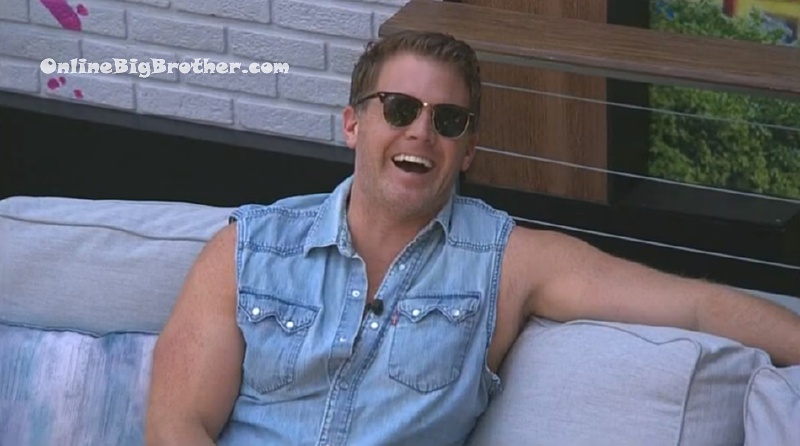 11:55 am Memphis and Janelle
Memphis saying how heavy the board was they had to hold for the veto competition.
Ian's punishment gets called again.
Memphis – Kevin is acting so bizarre to me..
Janelle – he's a shit talker