Head of Household Winner – Memphis
Have nots – Kaysar, NicoleF, Christmas, David
Nominations – David & NicoleA
Power of Veto Players are – Memphis, David, NicoleA, NicoleF, Ian, Tyler
Power of Veto holder –
Power of Veto Ceremony –
Safety Suite – Christmas wins. Ian is her Plus One
Live feeds —-> Grab your Live feeds here. Try it free.
Rank the houseguests —-> Big Brother 22 Ranking
12pm Bathroom. David and Tyler.
Tyler – you can pick me (POV house guest choice) if you want. David – okay.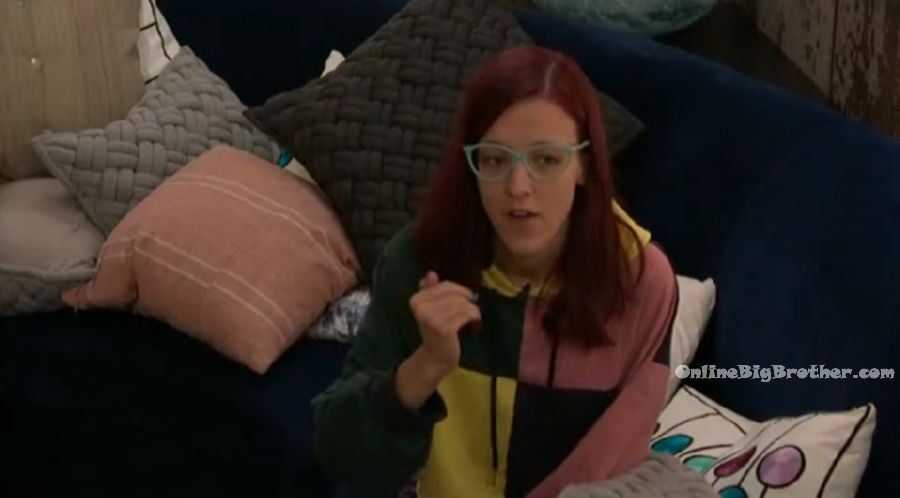 12pm HOH room. Memphis and NicoleA.
NicoleA – I am a very straight shooter. And if I feel like the person is good with me.. I make it known.. I said what I said and then I showed my faith like see I meant what I said I am not playing (safety suite). And I apologize if that come off the wrong way. Memphis – you don't have to apologize. Someone has to go home. Look lets get through the POV and see how it shakes out. Everyone was well who do you want to go home? And I'm like that is up for the house to decide. Its not like I wanted Keesha to go home but We didn't have anything. Nicole – I would just hate for you to lose another number. Memphis – for sure but the house is going to decide. Nicole – and I'm not the type of person that get butt hurt. Memphis – and that is how you have to play. Nicole – thank you for talking to me. Nicole leaves.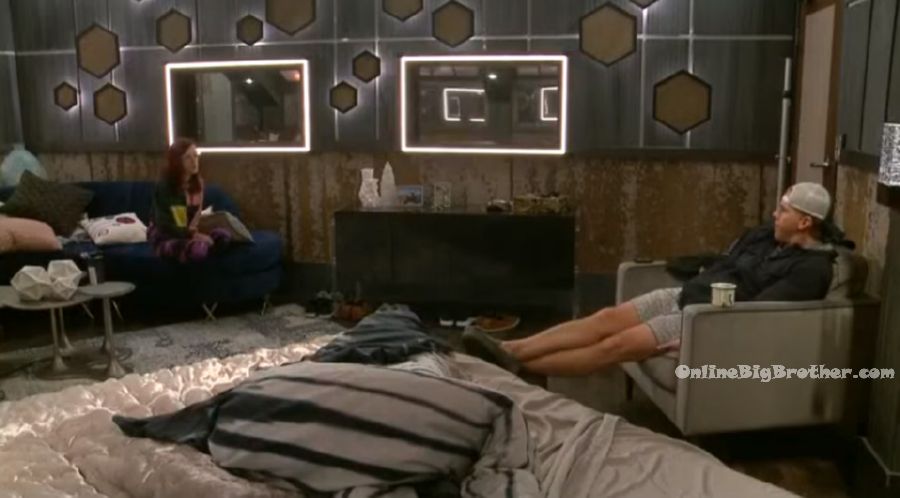 12:10pm Bedroom. NicoleF and Dani.
Dani – Nicole don't freak the hell out ..this doesn't go anywhere. Nicole – Okay I wont. Dani – Janelle is like after you. Nicole – I know. Dani – here is what I am thinking .. Memphis is a freaking tool. He won't listen to anything and he doesn't want to do anything so like. And he doesn't care about us. So lets do this ourselves. If the veto doesn't get used this week and it isn't planned on being used. Lets make an alliance with her. I have no intention of going after her right now. So its stupid not to. And she threw my name out there. Nicole – she threw your name out there? Dani – that's what I'm saying. Also she knows I'm not coming after her .. that's just bad game play. Nicole – its because you talk to me. Dani – if it doesn't get used .. me, you, Kaysar, Janelle and bring in one other guy. Nicole – they're not going to stick to that. Dani – no, but if its one week and its next week and they don't put us up.. good! That is all we need. All we need is to get it till we get HOH. That is all we need. Nicole – its a great idea but they're just going to pacify us. Dani – but that is what we're doing to them.. don't you get that!? Nicole – but they're not going to hold true to it. Dani – but neither would we. For right now yes and for next week I think so too. Nicole – it won't work for a week. Dani – by then we will have the numbers. Nicole – okay we will try. How do you know she is after me? Janelle or Memphis? Dani – Memphis .. she wouldn't tell me. Nicole – He acts like they're beneath him. He thinks that this is just one week when you're an HOH .. he still needs to mingle. Dani – he is trash! He is the worst alliance member. He is Devin. Except not likable. Nicole – I don't even want to associate with him. Dani – at all! On a game basis because he sucks and on a personal level because he is a d!ck to everybody and making people cry. I want to be making this experience fun and enjoyable for everyone. I want nothing to do with him. Nicole – this showed his true colors. Dani – they couldn't get Dan back so we got Memphis. And next week he is going to boss us around and tell us what to do with Safety. I am not doing what he says. He is just so aggressive and doesn't shut the hell up. His girlfriend must not be able to get a word in edgewise. Nicole – but we can't be heard talking about this. Dani – yes, I agree.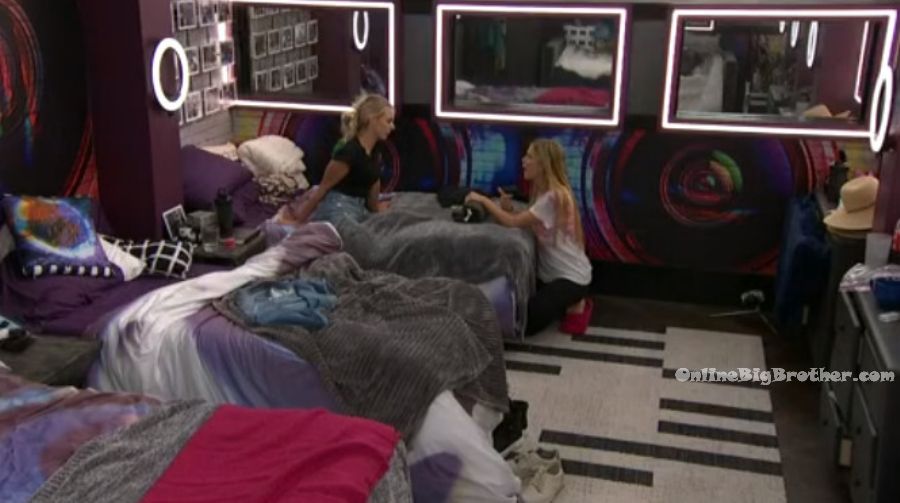 12:25pm Cody, NicoleF, Dani and Christmas.
Cody – he (Memphis) is like I don't care about the group. I care about myself. I'm keeping you guys safe is not how an alliance works. If people (Janelle/Kaysar) are targeting the alliance .. they need to f**king go! Dani – if I was in power I would do everything in my power to keep everyone in my alliance safe. Nicole – can you talk to him? Dani – not now, after the veto. Cody – I said four of us are mentioned and if one of them wins .. one of us are going home. Nicole – he doesn't care because its not him. Christmas – what if we plant a seed that since he's not HOH next week.. and if if he didn't put up someone that they were wanting, thy were going to come after him. Cody – he will never believe it because he is too tight with them. Janelle just literally opened up everything to him last night. So what wait .. not they're targeting me?! Nicole – but he did tell me that he thinks its sketchy that she said everything to him when they're not that close. Dani – I am pretty sure that worst case scenario we could get everyone in the house would back us because we all want her gone. NicoleA hates them now .. she would say it. Last case scenario we could start that lie and everyone would back us. Cody – the problem with that is how confident are you that he wouldn't immediately have a conversation with Janelle. And she will be like who said that!? Dani – he just wont listen .. he shuts you down every single time. Cody – he thinks he has Kaysar, Janelle, Bay, and Day. Plus Memphis.. Plus NicoleA. Dani – Plus Kevin. Christmas – and potentially David. Dani – said that Janelle and Kaysar think they have David. But they dont! Christmas – so lets not give them David. Dani – they don't even talk to David. Nicole – who does he respect the most. They all say Cody. The only way he will put them up is if he thinks he is in danger so make it up. Dani – we have to wait till the veto. Cody – the problem with him is on his season he didn't work with a big group … it was just him and Dan and they threw all the competitions. You're alliance is getting mentioned and you're not going to do a f**king thing about it!? What the f**k! Dani – he basically told me that he is going to do nothing about it. Cody – he cannot be told what he has to do .. he needs to come to the conclusion himself. Dani – guaranteed if we win HOH next week he is going to try and tell us what to do. Cody – we're a group of 6 and 5 of us are saying those two need to go.
12:53pm – 1pm Big Brother blocks the feeds and then switches it to the kitty cam.. Veto picks are happening now!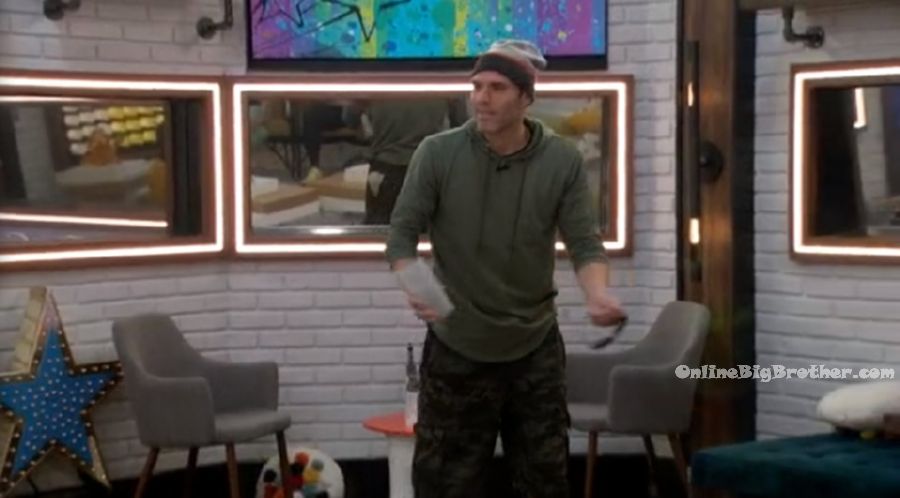 Power of Veto Players Picked: Memphis, David, NicoleA, NicoleF, Ian, Tyler
POV Host: Enzo
They laugh about how Enzo isn't going to read the Host script but will make it up as he goes. Enzo – I'm going to make the veto disappear. NicoleA – well its definitely not a one at a time veto if we have a host.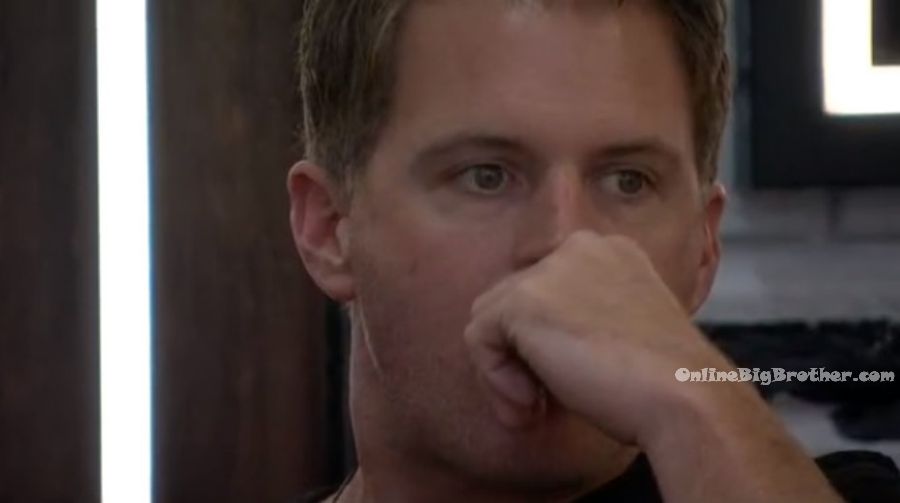 1:44pm – 2pm Bedroom. DaVonne, NicoleA and Janelle.
NicoleA – I can do this! Janelle – you can. DaVonne – just remember your why and you can do this. Nicole – its a big why! Its definitely a group thing because then we wouldn't have a host. Janelle – Oh I don't know. If it remains the same ..that is so bad. You have Kevin's vote right? Nicole – I think so. Janelle – Memphis said he would break a tie. Its so stressful though. Nicole – veto first. I wish you and Kaysar would have been picked. At least I know where you stand. Janelle – I would have done it and shown my hand at this point .. I mean its whatever. You were going to pick Kevin though right? Nicole – only because he offered first. I'll take what I can get at this point.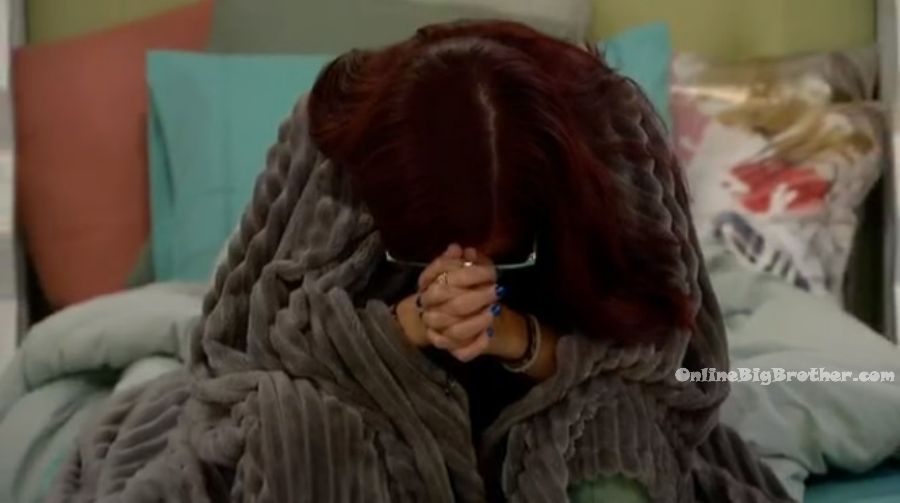 2:45pm The house guests are sitting around waiting for the veto to happen. DaVonne – everyone is saying that they're not playing the game but there are all these DR's .. where are all these DR's coming from?!

3:15pm Outside the HOH room. David talking to himself.
David – I want to win this veto and I want to get Memphis out. I just don't like the vibe. Its an uncomfortable vibe. I am trying not to be angry and aggressive. I'm trying to be calm. Its hard to be calm when someone pokes you. If I show anger it might be potentially difficult to have the house behind me. I want to win this but if I can't I want to make it to at least jury. People that look like me don't make it to jury. Better males don't make it to jury. I don't know the percentages..its low too because theres usually only one per season ..that is part of it. I am trying not to be intimidating ..I am trying to be kind. I am kind.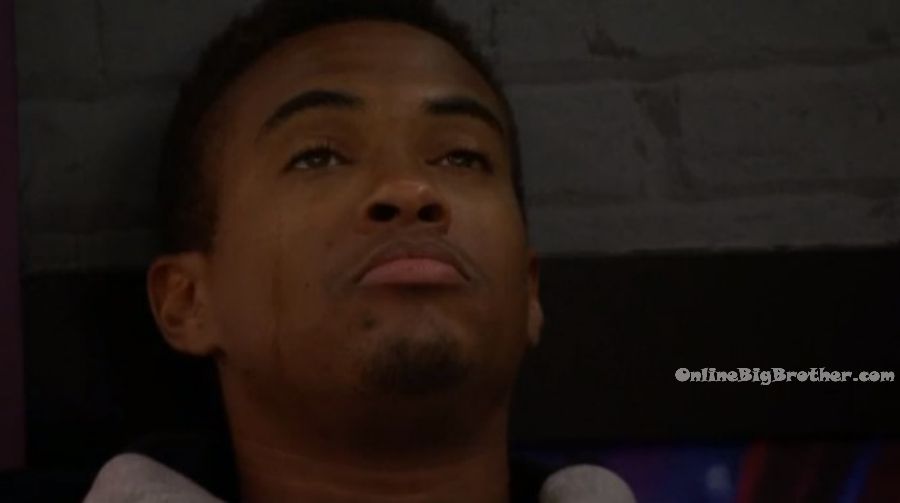 3:47pm The live feeds are blocked for the power of veto competition..
4:58pm The feeds return and …no veto yet. They still haven't played in the veto competition. (No idea when the feeds went to the kitty cam for so long.)
NicoleA, David and Bay talk in the bathroom. Bay tells NicoleA and David – I have heard that there might be a back door plan so you both could stay.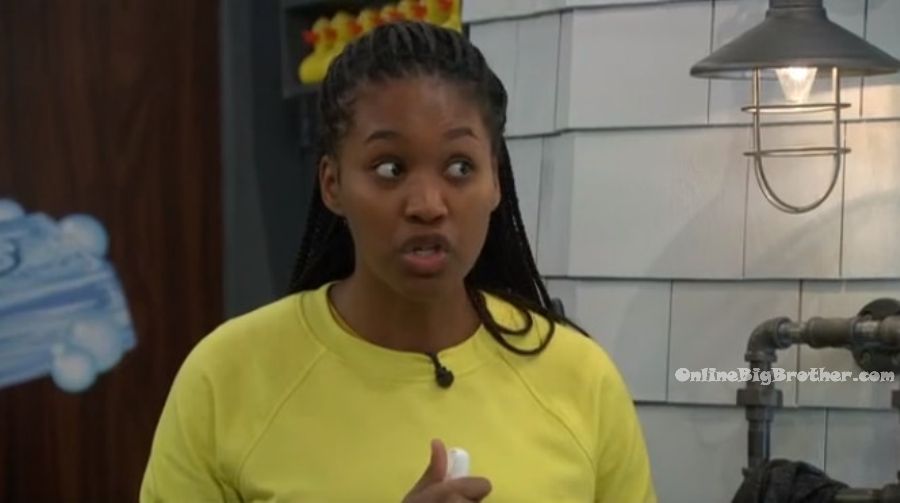 Bedroom. NicoleF, Christmas and Dani.
Nicole – I am just going to try and win the veto so that I have something to say. Dani – anyone who is playing today if we wanted would use it .. except for Ian and Memphis. They all agree that Memphis will not put up Janelle. Christmas – if we let him know that he can have safety next week then we can take one of them (NicoleA or David) off the block and back door either one (Janelle or Kaysar). Dani – he is not going to do it.
Christmas – can we speak to his ego and say that this will be the biggest moves of all time! Christmas leaves and says "Later a$$holes!" Dani tells Nicole about the conversation she had with Janelle where she told her that she and Nicole freaking love you. She says that she told Janelle that her and NicoleF are not coming after her and if she hears anything she (Dani) can squash it.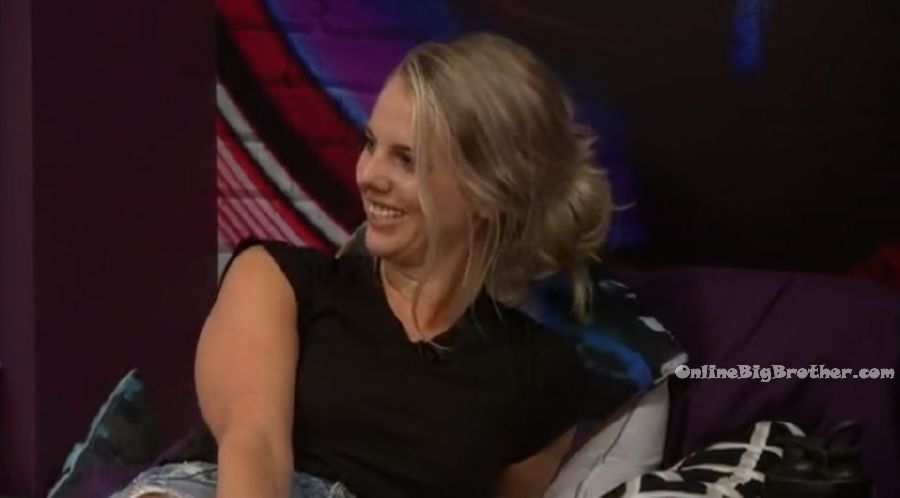 5:17pm Storage room. Enzo and Cody.
Cody – they're trying to get in Memphis's ear about NicoleF. The problem with that is .. if one of them win .. they think that I am NicoleF's closest ally. If they go after her .. they're going after me. I'm worried about the people that we're supposed to be tight with .. Day and Bay ..they're always in a room with them. Dani is sitting in a room alone with them… and then they're not coming and saying sh*t.. what the f**k is that about!?!?! Yo don't play loyalty when it only f**king works.. Enzo – give me some info. Use them like they're using us! We will use Bay and Day until we don't need them anymore. Everyone is scared to get blood on their hands but you watch there will be blood all over the place..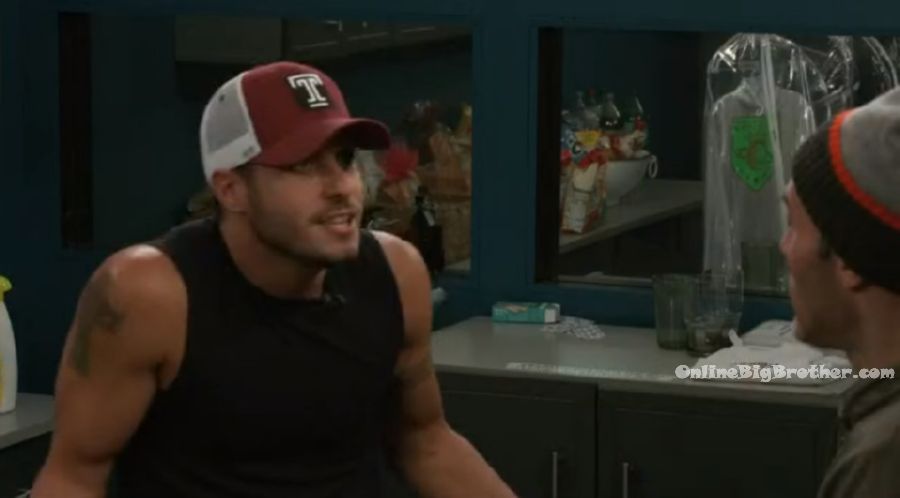 5:45pm The house guests are waiting for the veto to start. Janelle is playing Jenga while Bay and Kaysar watch.
6pm Bedroom. Kevin, Enzo and NicoleA.
Enzo – I wonder if you win veto .. who is he putting up? Nicole – I am ready to win it! Enzo – do you think he would go after Cody? Nicole – I don't think he would go after a guy. All I know is that I have to and I will win this veto today. Enzo – I have a funny feeling that either NicoleA or David are going to win the veto. Just to like f**k sh*t up. Kevin – Tyler is really good .. he'll probably win it.
6:15pm Havenot room. Kaysar and Janelle.
Kaysar – if we don't make a move this week. A Kevin goes home or something and then we lose NicoleA.. imagine.. we're the biggest morons. Janelle – we only have a 50% chance of someone coming off the block. Tyler, NicoleF, Ian is not going to f**king use it. No one will save David. Kaysar – if we have Christmas .. we have the votes. Janelle – if we have DaVonne. Kaysar – you don't think DaVonne would vote for us? Janelle – I don't even know. I am trying to be positive but its not looking good. If NicoleA gets the veto .. perfect. If David gets it .. great. If Memphis gets it .. we will have to convince him. Janelle – Kevin leaving is better than NicoleA leaving for us honestly. He sucks! Memphis is not going to do a big move. He will not target a big player. Kaysar – if he gets the veto we will convince him to put up Kevin. Janelle – you would have to get NicoleA to vote out Kevin .. which she probably would after she hears what he said. NicoleA leaving is really bad. It doesn't matter if there are different pairs in the house .. we're the ones people want out the most. Kaysar – we have me, you, DaVonne, Bay, Christmas ..potentially. And we have one of our members on the block.. Janelle – We need 6 and Memphis to break the tie. Memphis really f**ked us. Its obvious that we're working with him.. and he put someone (NicoleA) in our alliance on the block.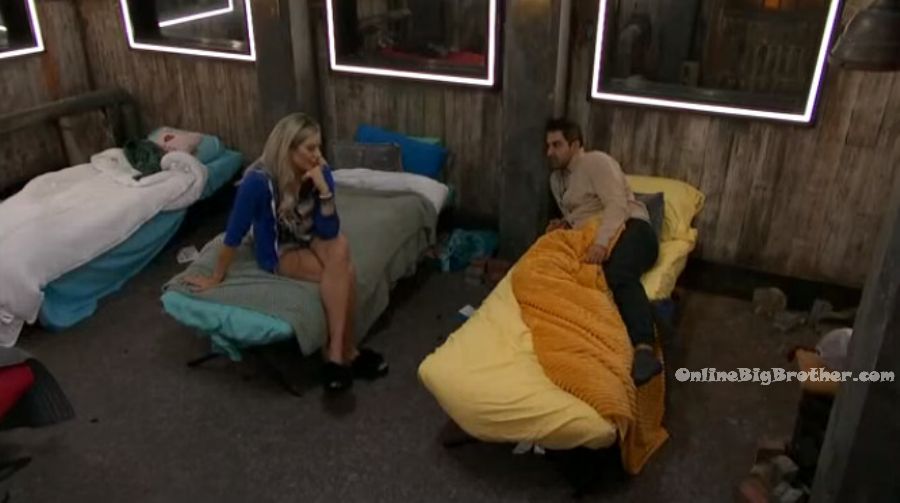 6:46pm – 7:10pm HOH room. Memphis, Kaysar and Janelle.
Kaysar – we were just running scenarios.. Memphis – you already know what I'm going to say .. you use your brain too much.. wait and see what happens and then we talk. Its going to run you ragged. I can't ..my brain doesn't work like that. I can't think about if this or that happens .. because my goal is to win. If something differs from that .. then we can go down the rabbit hole. Kaysar – I can respect that. Memphis – we'll see how bad David wants it. Janelle – he was walking through the halls yelling I'm grown, I'm grown! and punching the walls. Memphis – it seems like everyone is on edge. Janelle – They're scared. Memphis – my agenda is to win. Kaysar – we need to save NicoleA.. because she is a number for us. Memphis – how do you know that? Kaysar – we've run the numbers. Janelle – they have 7 votes and we have 5 maybe. Memphis – why do you think they have Ian. Kaysar – Nicole and Ian are working together. Memphis – I don't believe he isn't sway able. Kaysar – if you win it .. is your plan to keep it the same? Memphis – Yes, my goal is to keep it the same. In week 2 I am not backdooring anyone. I am NOT, I am not going to do that. And that is just me looking out for my best interest. And you have to respect that. To backdoor someone on week 2 .. that is not something you throw a grenade in the middle of the house. And that is what that will do for sure. That is not my plan .. if Nicole takes herself off then obviously that will open the door to backdoor someone. Janelle and Kayar leave the HOH room.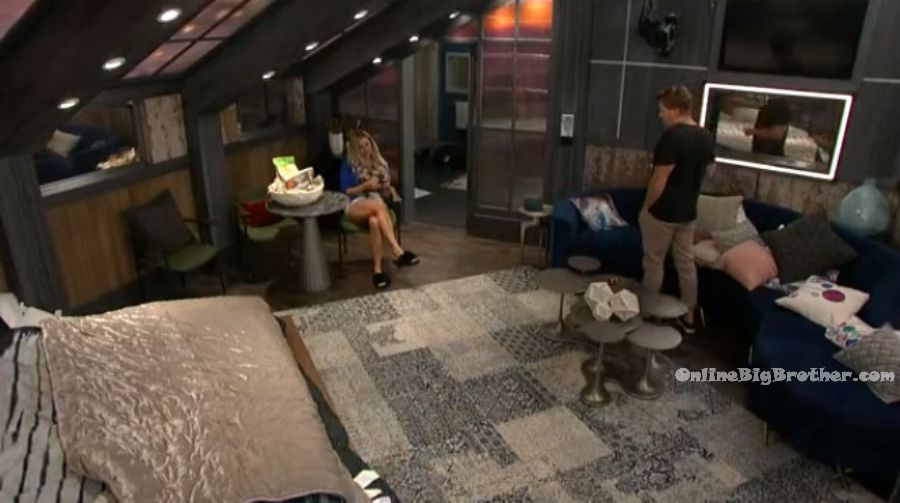 7:10pm – 7:25pm Outside the HOH room. Kaysar and Janelle.
Kaysar – he (Memphis) is never going to come around. We can't wait for him to come around. So we have to form an alliance and ask for forgiveness afterwards and pull him in whenever he is ready. He has it all wrong! Kaysar – we can't sit around and wait for him to come around and be okay with it. He is reading the room all wrong. He doesn't think there are alliances. He doesn't think we're in trouble. He doesn't even believe that they're that loyal to each other. Lets see what happens in the veto but we need to pull in Bay, Day, NicoleA. And he won't take her off .. she has to win it. Janelle – the house has changed because of what happened. Kaysar – its okay we can fix it. Janelle – he is just so predictable. His game is garbage. He (Kevin) is horrible at this game. I don't want to work with him. Kaysar – I would rather get evicted. Janelle – I would rather self evict. After we let keesha go last week and NicoleA this week.. we just look like dumba$$es! Janelle – tonight you need to talk to Christmas and tell her that we love her and want to work with her. Kaysar – okay I will. Janelle – I'm tired. Kaysar – whats wrong with you? Janelle – I'm 40!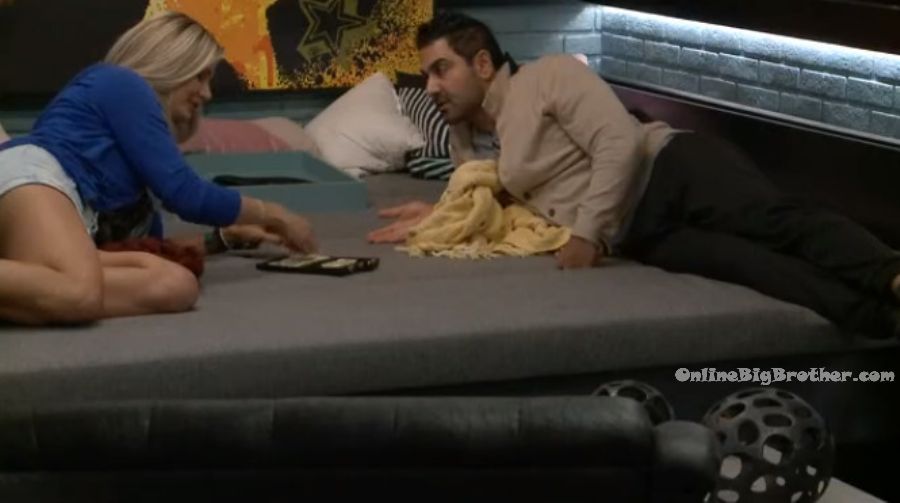 8pm – 8:15pm Bedroom. DaVonne, Bay, Ian, Janelle, Dani, Tyler, David.
They're all sitting around the bedroom – the girls are asking the guys girl questions and the guys are asking the girls guy questions. Enzo – I have a feeling Ian is going to win. You're a superhero now. How old are you now? Ian – 29. Enzo – really?! You look 16!
8:20pm Outside the HOH room. Cody and Memphis.
Memphis – dude they (Janelle and Kaysar) are out of their minds. Cody – they are swarming you. Memphis – they are crazy! Cody – are they trying to get you to backdoor somebody? Memphis – no.. well she mentioned it but I straight up told her I wasn't doing it. Not on week two! Kaysar talked like this. I told him that if he wanted to have this conversation .. he should wait till after the veto. I don't want to talk about scenarios that might never play out. Its like he was trying to catch me slipping. They're scared. Cody – the thing that I don't like is that they've marked NicoleF, Dani and Tyler as the other side. Memphis – I don't think so ..they mentioned it but I don't think its at the point we need to worry about it. Cody – they're spiraling. Memphis – I think they're throwing sh*t up against the wall. Cody – and hoping it sticks with you.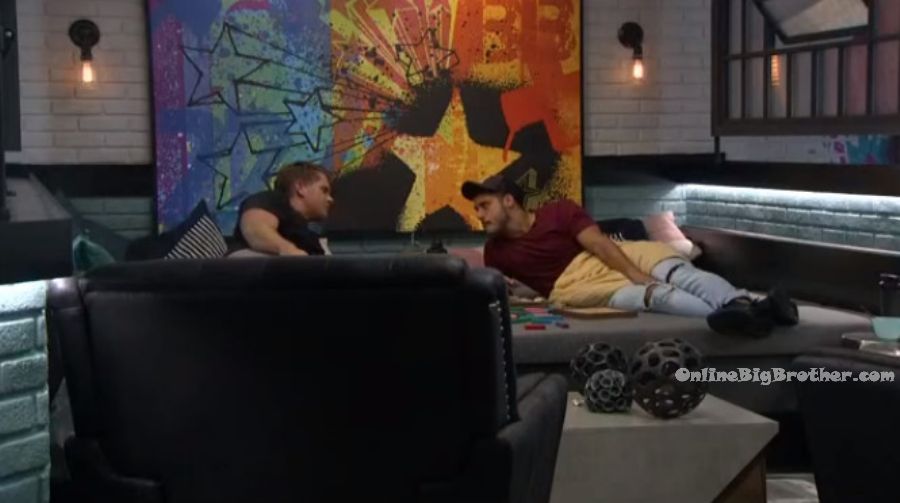 8:54pm Bedroom. Ian and Dani.
Dani – where is your head at? Ian – I think I'm at where you're at. If I win it .. the problem is I don't know what Memphis would do. If I did, its like handing a crazed person a gun. I think its best just to keep the noms the same. Dani – I don't think NicoleA will win it. She doesn't feel well. David won't either he is battling other demons in his head. Ian – if I win I am leaning towards keeping the noms the same.
8:56pm – 9:10pm A voice comes over the PA and tells Ian to act out scene 26. (Its his safety suite plus one punishment.) There are a bunch of costumes and he has to play multiple roles in a scene. Ian has to act out 4 different scenes whenever the announcement comes on over the next week.
Ian gets changed and comes out to act out the scene. All the house guests gather around to listen. He finishes the scene, everyone claps and then he's instructed to do it all over again.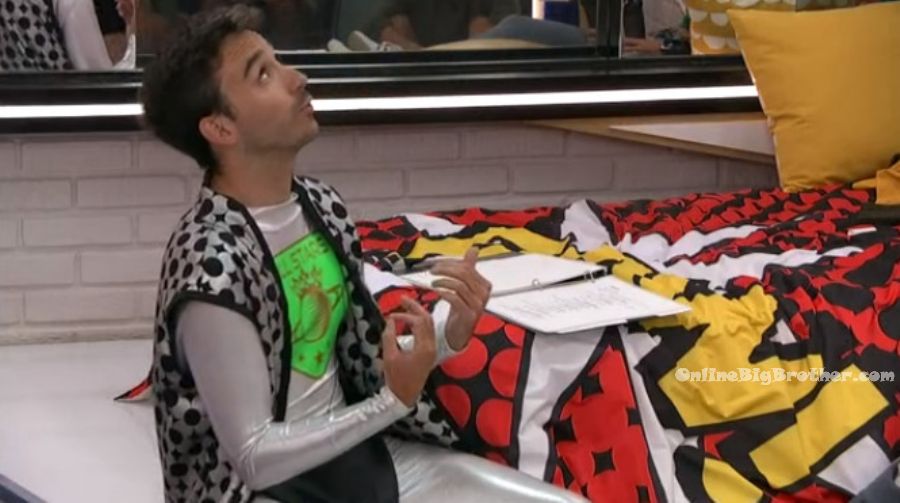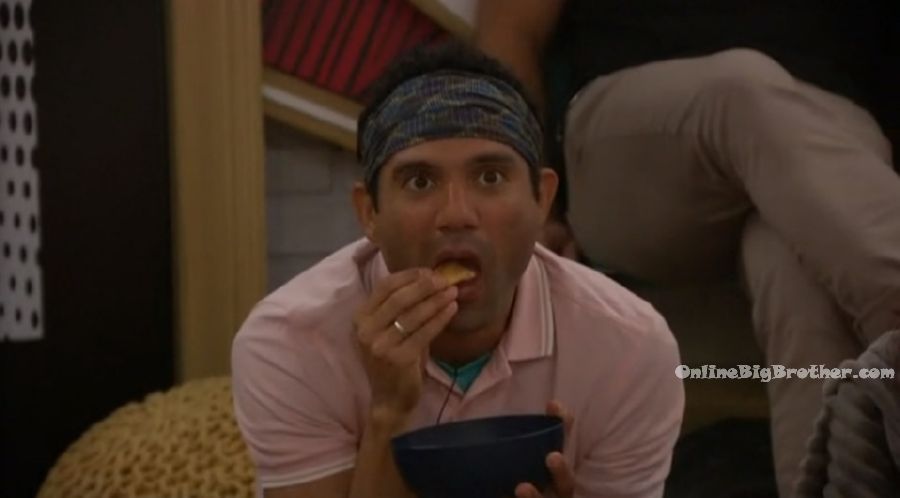 Lounge room. Kaysar and Dani
Dani – he should be a little more gentle with his words because he is going to make people mad at him. Kaysar – I agree .. but he is his own person. I have no idea what he is doing. Everyone thinks that I am working with him. We've never connected on game play. He doesn't want to talk game. No one has talked game to me. If I am not talking game, someone is. Dani – Keesha was so nice but she didn't even ask me if I was voting for her. She didnt campaign. Why would I keep her? DaVonne said that she went up to her and asked Day to campaign to Bay for her. Honestly as long as our intentions are in the same direction .. that is all that matters. Kaysar – I'm game.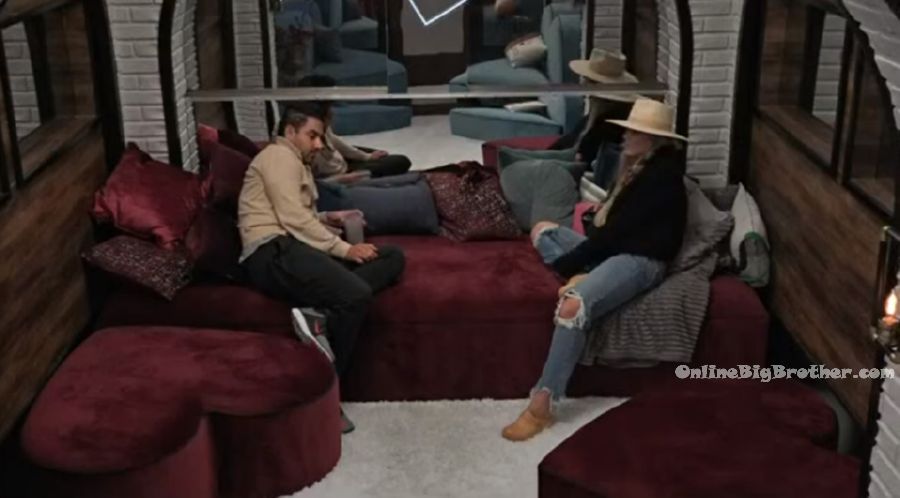 9:35pm Ian is asked to perform another scene..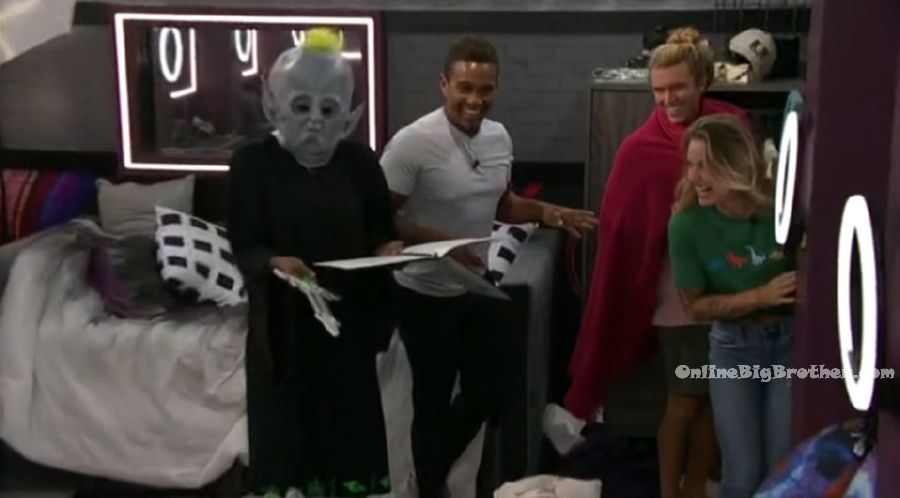 10:30pm Still no veto..
10:50am Kitchen – Cody and Dani. Cody – yo if they wake us up at 9am tomorrow I will be super pissed.
12:05am Ian is asked to perform another scene..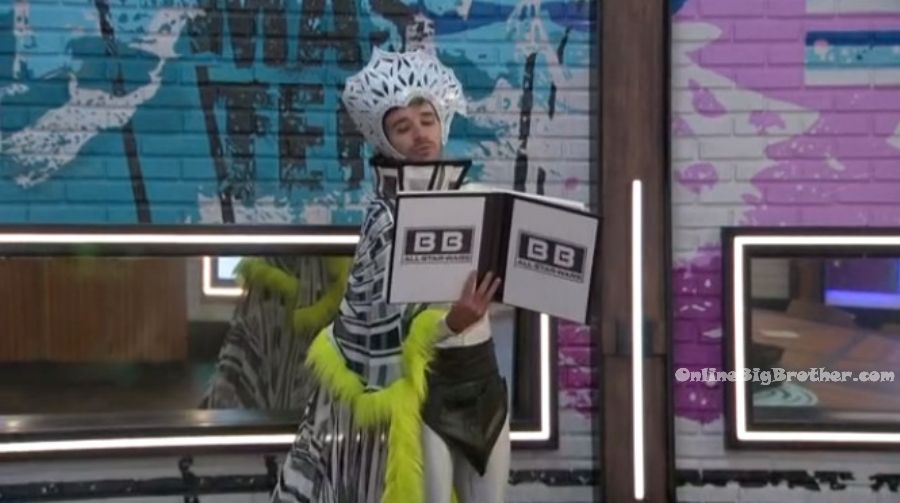 12:19am The live feeds switch to the kitty cam. After waiting all day long the Power of Veto Competition is FINALLY happening..
Show your support by making a donation.
If you're enjoying our live feed updates this season, please consider donating.
Any amount is greatly appreciated! Your donations go directly to paying the fees required to run this site.